What comes to mind when you think of Miami? Postcard-worthy beaches? Glassy high-rises?
Long stretches of glamorous shops and gourmet restaurants? You wouldn't be far off, but here's the thing— there's a world of secluded islands and stunning seascapes just off the Miami coast, and a yacht charter is an excellent way to experience all the surprises this paradise has to offer.
We recently welcomed Adam Cort, executive editor at SAIL Magazine, on a charter aboard the award-winning Moorings 3900 (also available for ownership as the Leopard 39). Along with his wife, Shelly, and daughter, Bridgette, Adam ventured from Miami into the Florida Keys to see what makes this cruising ground so special.
The Cort's voyage began at The Moorings' base in the Miami Beach Marina, a boating mecca situated amongst the sleek skyscrapers and swaying palms of nearby South Beach. While noting the unique location for a charter base, Cort was enthused upon his first impression.
"It would be hard to find a better or more practical chartering platform than the Leopard 39, a product of South Africa's Robertson and Caine boatyard that is also available as The Moorings 3900," Cort said. "It would also be hard to find a better charter manager than Roger Simon, a veteran sailor originally from the Chicago area, with an impressive resume."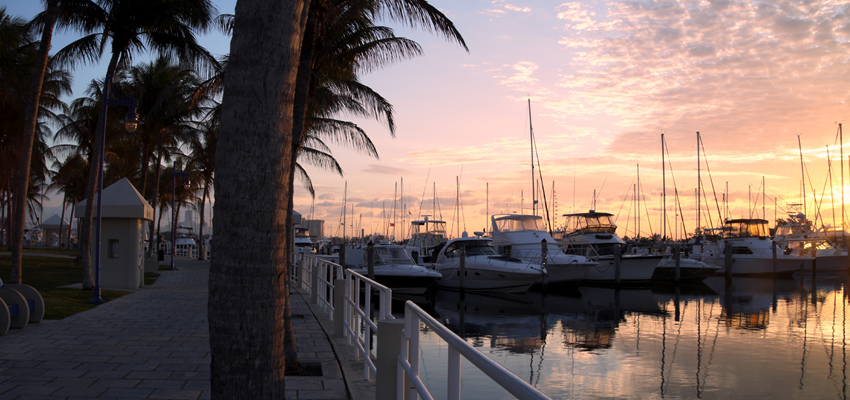 After a restful first night in Dinner Key, Cort and his family faced some headwinds as they slowly sailed to Biscayne National Park, a 170,000-acre oasis of trail-laden keys, turquoise waters and dazzling marine life. Shoring up to sheltered Sands Key, a rewarding swim was a must after their long day at sea.
The Corts then headed to the northern tip of Key Largo, where, despite some signs that prevented them from going ashore, they still made the most of their time here.
"We promptly made lemonade out of the lemons we'd be handed by leaping over the side and going for a swim," Cort said.
The Corts continued down the coast, finally finding some sought-after beach time and providing young Bridgette with the type of memories you know you'll cherish for ages.
"One of my favorite things about chartering is the fact that it allows us to expose our 11-year-old daughter, Bridgette, to things she would never experience on land," Cort
said. "The snorkeling on Grecian Rocks, about four miles offshore, was nothing less than spectacular—the kind of thing I never had a chance to experience as a kid—and the kind of experience I'm happy to provide mine."
As they turned northward back to Biscayne Bay, so did the headwinds, but that didn't hinder their last overnight stop in Elliot Key. With crystal-clear waters and barely a boat
in sight, the Corts couldn't resist a last snorkel where they spotted an array of sea life including a puffer fish, a black seahorse and a spiny lobster.
The next day they awoke to winds finally blowing in their favor. They took their time sailing back to the base, reflecting upon all they'd experienced along the way.
"After days of struggling to get someplace, there was suddenly no place in the world we'd rather be than just moseying along the gentle tepid waters off South Florida," Cort said.
All quotes excerpted from the article "Go South Young Man!" by Adam Cort in the October 2015 issue of SAIL Magazine.
Did you find this useful?