This page provides useful pre-departure, travel and base information. From airport procedures to visa requirements, it will tell you what to expect to make your vacation smooth and care free. We suggest you read the following information carefully several weeks prior to departure and also print a copy to take with you. You might also find our PDF cruising guide helpful in planning your vacation itinerary in more detail.
Address & Map
Address
Moorings, Tonga LTD
P.O. Box 119 
Neiafu Vava'u 
Kingdom of Tonga 
Tel: (+676) 70016
Email: info@moorings.co.nz 
We suggest you notify family and friends of how you may be reached in case they need to contact you.
Hours of Operation
Hours of operation: 8:30 am - 5:00 pm, Monday - Saturday.
(all businesses are closed on Sunday and Christmas day, December 25th) 
In observance of the birthdays of King Tupou VI on July 4th and the Crown Prince on September 17th (except when falling on Sunday, which will be observed on the following Monday), the base in Tonga will not be open for starts/ends. 
Base Facilities
The Moorings base is well stocked with water, fuel, ice, showers, restaurant, provisioning store, boutique, phone and fax, laundry, customs, and VHF.
Base Map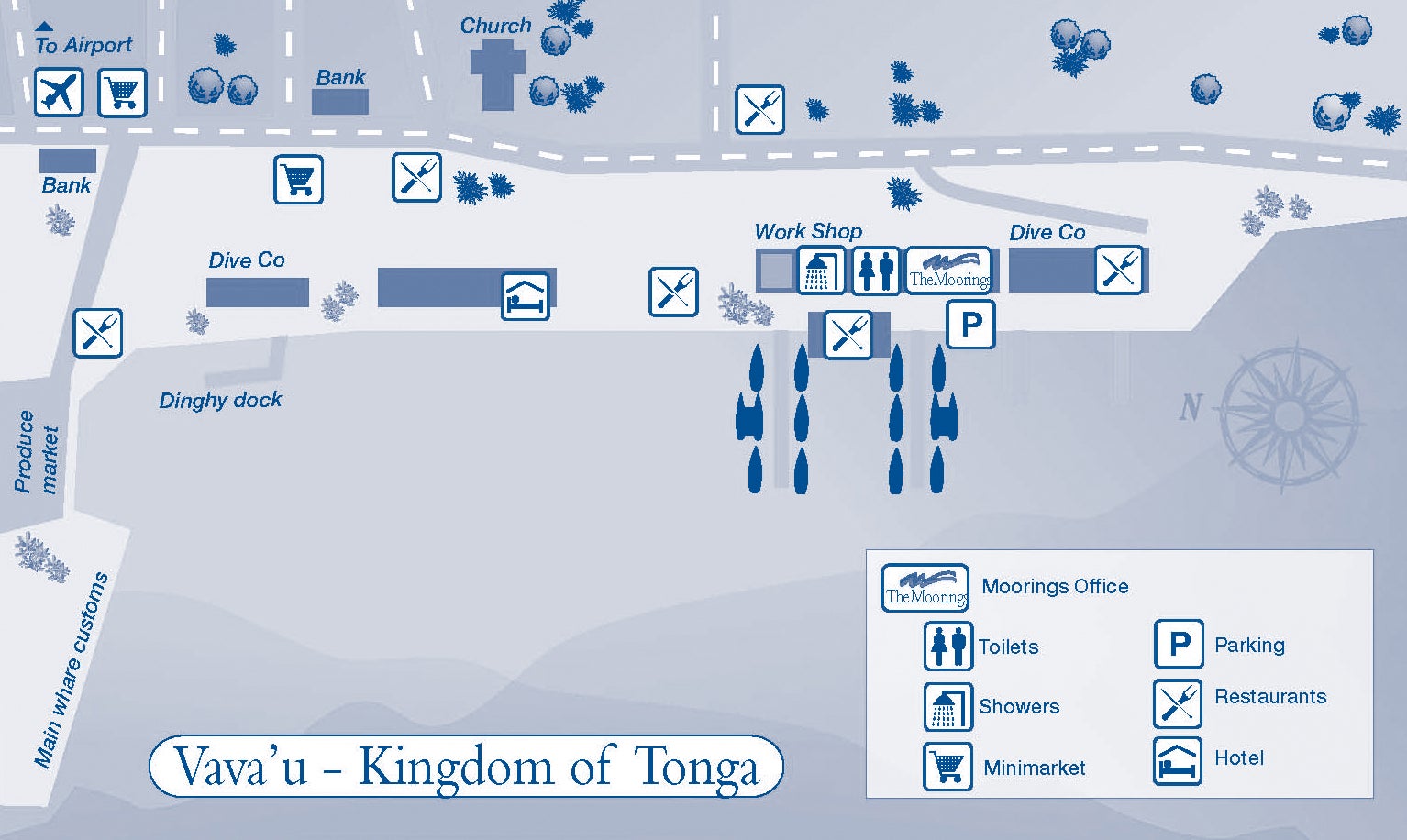 Arrival & Departure
How to Get There
Guests may fly into Nadi International Airport (NAN), then to Lupepau'u Airport (VAV). The taxi transfer from Lupepau'u Airport to the base takes about 15-20 minutes (approximately 10 km).
Servicing Airlines into Tongatapu
Air New Zealand - change in Auckland
Fiji Airways - Change in Nadi
Guests may fly into Fuamotu Airport on Tongatapu (TBU), then fly to Lupepau'u Airport (VAV) on NEW Real Tonga Airlines www.realtonga.to.
Major airlines to the South Pacific area include Air New Zealand, Cathay Pacific and Quantas.
Due to the number of flights which we organize, the Moorings can offer some great rates to many destinations. Please make sure you contact your Vacation Planning Specialist before you book your flights.
Customs / Immigration / Baggage Information - Disclaimer
British and EU Citizens must have a full passport, valid for at least 6 months after their return to the U.K. British Citizens do not require a visa, other nationals should check. Due to safety restrictions, there is a 44lb per passenger limit on baggage when flying to Tonga.  This is strictly enforced.
Airport
Guests may fly into Fuamotu Airport on Tongatapu (TBU), then to Lupepau'u Airport (VAV) in Vava'u.
Airport Transfers
Transfers from Lupepau'u Airport are not included in your charter price. You must arrange and pay for your own on arrival or, for your convenience, you can add pre-paid return taxi transfers to your Moorings booking. Please contact your Moorings Vacation Planning Specialist who will be happy to do this for you. Return transfers cost $16USD (NZD30) per person. On arrival, your driver will be waiting for you in the arrivals hall with a sign displaying your name.
If you have arranged accommodation in Vava'u pre or post your charter, please organize transfers through them as we do not pick up or drop off at any resorts, hotels or supermarkets.
Arrival / Departure Procedure
Embarkation: Charters start at 12 noon or 6 pm (with evening start).
Briefing Times: Boat/chart Briefings are scheduled at: 12 noon or for evening starts 9:00 am the following day, 7 days a week. All Skippers are required to attend the briefings.
All skippers must attend the briefing and everything you need to know will be covered from customs regulations, use of the radio, making dinner reservations, how to get help etc... Please save all questions of this nature until then. The Moorings operations manual will be on board your yacht for your use throughout your charter. 
Disembarkation: All charters end at 12 noon at which time the boat must be returned and ready for debriefing and checks. 
Late Arrival Procedure
You need to advise the base if arriving after office hours.  Afternoon flights usually arrive at 4:15pm and you should arrive at the base around 4:35pm.  If you have booked an Evening Start, the Base staff will meet you to settle you onboard.  Your boat briefing will be held around 5pm (or earlier, as needed) and the chart briefing will be held the next morning when convenient for you, starting at 8am onward.
Security Excess If you haven't purchased Yacht Damage Waiver, a security deposit (amount as per your invoice) is payable at the base by traveler's checks, Visa or Master Card, and is refundable at the end of the charter subject to there being no loss or damage. The liability includes loss or theft of the dinghy and/or outboard.
Taxes / Departure Tax
Departure tax: The airport departure tax is TS$ 25. Exempt are 24-hour transit passengers and children under the age of 12 years.
Car Rental
Car rental companies are available in Tonga for around T$70/day (22GBP).
General Information
Full country name: Kingdom of Tonga
Area: 465 sq. mi.
Population: 120,898
Capital City: Nuku'alofa 
Official Languages: Tongan, English
Ethnic groups: Polynesian, Europeans
Religion: Christian (Free Wesleyan Church claims over 30,000 adherents)
Government: Constitutional Monarchy
Industries: tourism, construction, fishing
Tipping: Tongans do not expect tips, though no offence will be caused if special service is rewarded in this way.
Currency: Pa'anga
Electricity: 240V 50Hz. The standard voltage on all yachts is 12 volts.  In order to use electronic equipment that is 110v or 220v, you will need an inverter suitable for use in a cigarette lighter
Time: UTC/GMT +13 hours
Festivals & Holidays
New Year's Day
Anzac Day
Crown Prince's Birthday
Emancipation Day
King's Birthday
Constitution Day
King George Tupou Day
Due to current regulations, Tonga charters may not start or end on a Sunday. Also, in observance of King Tupou VI's birthday and the Crown Prince's birthday, the base will be closed on July 4th and 17th. If those dates fall on a Sunday, the holidays will be observed the following Monday. Regrettably, our base will be closed these two days and will not be open as a charter start or end day.    
Hotels

Boat House Apartments - Owned and operated by The Moorings. http://boathousetonga.com/
Located directly across the street from the base, this hotel offers brand new accommodations for one night or longer for an extended stay. Contact Ollie Smith for reservations at reception@moorings.co.nz
Other hotels close by:
Tongan Beach Resort
The Balcony
The Port Wine Guest House
Hilltop Hotel
Boat House Apartments
Restaurants
Ana's Waterfront Café
Paradise Hotel
Tongan Beach Resort
Dancing Rooster
Bounty Bar
Ika Lahi
Papau Village Resort
Post Office
Post Office: A Post Office is located in Uturoa, 5 KM from the base.  
Monday to Friday: from 7.30 am to 3.00 pm during the week and from 8.00 am to 10.00 am during weekends. Stamps, post cards, and letterbox are available at The Moorings base.
Internet Connectivity
Available at Aquarium Adventures located next door to our base.
Mobile Phones
Your mobile phone will NOT work in Tonga. Phones are available locally to rent. 

Tourist Information Centers
Tongatapu
P.O. Box 37 
Nuku'alofa 
Tel: (676) 21 733 or 23 507
Fax: (676) 22129
Banks & Money Exchange
Banks
The Bank of Tonga has branches in Tongatapu and in Vava'u. Westpac and ANZ Banks in Vava'u have ATM's. There is also a currency exchange at Nuku'alofa airport. Banking hours are 09.30 am to 3.30 pm - Monday through Friday. On Saturdays the MFB Bank is open in Neiafu town 09.30 am to 11.00 am. Banks remain open throughout the day. They do not close for lunch.
Currencies / Money Exchange 
Currency: The Tongan Dollar is called the Pa'anga.
Pa'anga (T$) = 100 seniti. Notes are in denominations of T$50, 20, 10, 5, 2 and 1. Coins are in denominations of 50, 20, 10, 5, 2 and 1 seniti. 
Accepted Forms of Payment: Tongan currency is called Pa'anga. Foreign currencies are not readily accepted in Tonga except at the charter base. Credit cards (Visa and MasterCard only) are accepted at a few restaurants in Neiafu town and at The Moorings base. In general, the shops in Neiafu do not accept credit cards. 
The best place to exchange currency is by using ATMs because the exchange rate is better than at the bank. There are two in town. We suggest to get cash from the ATM at the airport upon arrival in Tonga. It is best to estimate as closely as possible to what you will need because although unused Tongan currency can be exchanged back to USD, the rates are very high. People likely return to the base for water, produce or fuel, so you have the opportunity to get more money from the ATM at those times. There is a $10 fee to use the ATM.
Activities & Sports
In addition to exploring the Vava'u group under sail, the following list may prove helpful in planning other aspects of your time with us in Tonga. We are happy to arrange any extra activities for you at the base.
Fishing 
No Fishing permits are required for fishing. No spear fishing allowed. Fishing equipment is not supplied at the base, but can be hired locally.
Snorkeling or Diving
Snorkeling gear is provided at this location and is included in the charter price. Please check availability for children's sizes.  You may wish to pack your own snorkelling gear. Scuba diving packages are available through local dive operators. Make arrangements either in advance with Beluga Diving or Dolphin Diving (acquire contact information from your Vacation Planning Specialist). Reservations can also be arranged on arrival at our base.
Water Sports
Kayaks can be added to your charter contract.
Cruising Information

Experience / Qualification requirements
A sailing qualifications is not mandatory to charter here - but you must demonstrate that you have the necessary experience and ability. If our base staff are not confident in your ability when you arrive, they will arrange for a Moorings skipper to travel with you - at your own expense. Please ensure you have completed a Sailing CV or a Power CV to ensure you have the necessary experience required.
Marina Information
Local Dockage Facilities
The marina has full facilities. The following facilities are on the Moorings Marina or within a short walking distance:
-provisioning
-fuel
-ice
-laundry
-boutique
-restaurant
-hotel
-shower
There are NO shops or stores on any of the outer islands.
Fuel - the only place that clients can fuel the boat and refill their water tanks is at the base.
At any stage throughout the cruising ground, clients will be no further than 20 miles from the base; therefore returning to the base to refill the fuel and water tanks will not be a problem.
The cost of fuel is $3.00 Pa'anga per liter
Electricity Information
Ashore, 220V, 50 cycles. 110V is available at the base office using US two-prong outlets.
No shore power for yachts.
There is a 12V cigarette lighter outlet by the chart table on the majority of our yachts.
Sailing Area Restrictions
Restricted Zones
This information is covered in the chart briefing.
Cruising area for this base is limited to the Vava'u Group (which is a very large area!).
We ask that clients stay away from the windward (east side) of the Group.
Interesting Sites
Please visit the Itinerary Page for more of the best places to visit on your trip. While you are in Tonga take the opportunity to visit these other cultural attractions.
Tonga's main island is Tongatapu, the home of the Royal Family and the capital of Nuku'alofa. Highlights include the Royal Palace and tombs, the spectacular blowholes in the southwest, and the ancient Lapaha area in the east.
Vava'u Group - With its beautiful beaches, sheltered anchorages and steady trade winds, Vava'u group is a sailor's paradise. There are numerous offshore islands to explore, excellent diving and fishing, and whale watching in season.
Other things to do: Tongan Feasts; Whale Watching; Surfing; Historical Sites; Caving.
Provisioning (Food & Drink for your boat)
Moorings Provisioning
This destination offers the convenience of The Moorings Provisioning Service! Let The Moorings take all the hassle out of provisioning your yacht with the highest quality beverages, fresh foods, and non-food items. Order complete packages when booking online or over the phone. Or choose to order online from our Online Provisioning Store which also offers all packages and an extensive a la carte inventory. We'll coordinate the details and guarantee that everything is aboard your yacht when you arrive. Visit our Provisioning Page to learn more.
Supermarkets
If you wish to shop for your own provisions, please be aware that there aren't any supermarkets in Tonga; there are just little shops, neither of which are likely to carry all the necessary supplies/provisions needed, so you will have to visit a variety of stores to get all you need. 
Also, if clients arrive on Saturday (unless on the early morning flight), they will NOT be able to get any shopping done till Monday as all the stores close at 12 noon Saturday and don't open again till Monday morning.
Health & Safety
Travel Insurance
Moorings offers comprehensive travel insurance for your complete peace of mind. If you have your own travel insurance, please make sure that it covers all of the destinations and activities of your Moorings vacation. Click for more details
Vaccination and Immunization Information 
Tonga is generally risk-free of contagious disease. 
At time of publication, an International Vaccination Certificate is not mandatory
*Please note country entry/exit and vaccination/immunization requirements can and do change. The Moorings is not accountable for these requirement changes and we advise visiting the destination's authority website to receive the latest updates.