This page provides useful pre-departure, travel and base information. From airport procedures to visa requirements, it will tell you what to expect to make your vacation smooth and care free. We suggest you read the following information carefully several weeks prior to departure and also print a copy to take with you. You might also find our online cruising guide helpful in planning your vacation itinerary in more detail.
Sailing Requirements
Click here to review the sailing requirements for Italy while planning your sailing vacation.
Address & Map
Address
Sailitalia/The Moorings
Via Marina del Vescovado
89861 Tropea (VV), Italy
Tel: (+ 39) 096 360 3902
Email: [email protected]
After hours & Sunday
Tel: (+ 39)  331 853 4490
We suggest you notify family and friends of how you may be reached in case they need to contact you.
Hours of Operation
Monday - Thursday: in case of embarkment
Friday and Saturday: 9:00 am to 7:00 pm or until the last arrival
Sunday: 9:00 am to 12:00 pm in case of embarkment
Season: This charter destination is closed from early November to end of March.
Base Facilities
Your comfort is assured by extensive facilities including laundry room, hotel, restaurant, public phones, bank and fuel.
Base Map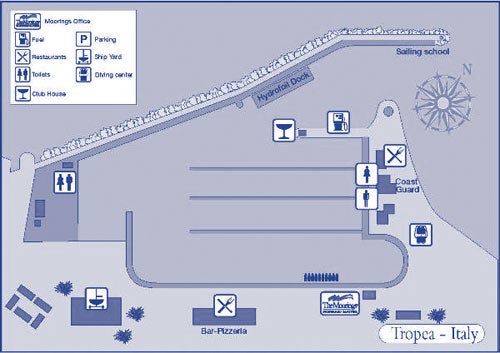 Arrival & Departure
How to Get There
Lamezia Terme Airport is approximately 50km from the Base. By car, the journey to the Base is about one hour. You can also travel to the town of Tropea, by train. Lamezia Terme Train station is 1.5km from the airport.  From this station you can take a local train to Tropea. The journey takes approximately one hour and a ticket will cost approximately 3.50 euros. From the station of Tropea it is a five minute taxi ride to the Port.
Servicing Airlines
Alitalia
Air One
Alpieagles
My Way
Volare
Helvetic Airways
Due to the number of flights we organize, The Moorings can offer some great rates to many destinations. Please make sure you contact your Vacation Planning Specialist before you book your flights.
Customs / Immigration Information - Disclaimer
A valid passport (for each passenger) and crew list is compulsory for clearance. Expiration date must be no earlier than 6 months after your planned return. A customs declaration form must be completed at the port of entry.
Airport
Lamezia Terme airport
Airport Transfers
Transfers are not included in your charter price, so you must arrange or pay for your own on arrival (see below) or, for your convenience, you can arrange return taxi transfers in advance. Please contact your Vacation Planning Specialist who will be happy to do this for you. While we will arrange these transfers, they must still be paid for locally in Euro.
From Lamezia Terme Airport

(1 & 1/2 hours) On arrival, look for your driver holding a sign with 'The Moorings' displayed on it. Approximate cost: 1-4 pax €120 each way, 5-8 pax €200 each way, 9-12 pax €240 each way.
Transfers can also be arranged from Lamazia Railway Station for the same cost.
Returning paperwork
- In order to provide you with the flawless charter you expect from The Moorings, we require that specific information be provided in a timely manner.  
- Please return all items, such as the guest list, provisioning selections, transfer form and resumes to us at least 30 days prior to your charter start.  
- Any information provided or changed within 90 days of your charter start date, which The Moorings considers crucial to the planning process, is subject to an additional fee.  
Arrival / Departure Procedure
Embarkation: Charters start at 3:00 pm.
Briefing Times: Chart briefings are scheduled between 1 pm and 3 pm local time depending on arrival followed by the boat briefing.
All skippers must attend the briefing and everything you need to know will be covered from customs regulations, use of the radio, making dinner reservations, how to get help etc. please save all questions of this nature until then. The Moorings operations manual will be on board your yacht for your use throughout your charter.
Disembarkation: All charterers must return to base by 5:00 pm the night before disembarkation for debriefing and checks. Disembarkation is at 9:00 am the following morning. 
Late Arrival Procedure
The Base personnel wait for you until 9:00 pm. After 9:00 pm, you will find an information sign at our reception office with a message for you indicating your yacht's name and berth. Your boat will be open and indicated by a sign with your name. The boat's equipment will be ready for the night. The Base personnel will be available the next day from 9:00 am.
Security Excess If you haven't purchased Yacht Damage Waiver, a security deposit (amount as per your invoice) is payable at the base by traveler's checks, Visa or Master Card, and is refundable at the end of the charter subject to there being no loss or damage. The liability includes loss or theft of the dinghy and/or outboard.
Taxes / Departure Tax
There is no departure tax payable.
Taxi
Tel: 39 96341490
Car Rental
Driving licenses and other traffic documents valid in other countries are recognized in Italy. Distances are indicated in kilometer (1 km = 0.621 miles).
An international insurance certificate is required for citizens from non-EC countries.
The wearing of seat belts in front and rear seats is obligatory.
An appropriate harness system is obligatory for children from 2 to 12 years of age.
Traffic drives on the right. Road signs are international.
Many petrol stations are closed 12 -3 p.m.
Visitors are advised to check locally about exact opening times.
Parking
Inside the Port of Tropea there is parking for 200 cars. The cost is €35 per week but can't be booked in advanced.
General Information
Area: 187,244 sq. mi.
Population: 58,126,212
Capital city: Rome
People: Italian (includes small clusters of German-, French-, and Slovene-Italians in the north and Albanian-Italians and Greek-Italians in the south)
Language: Italian (official), German (parts of Trentino-Alto Adige region are predominantly German speaking), French (small French-speaking minority in Valle d'Aosta region), Slovene (Slovene-speaking minority in the Trieste-Gorizia area)
Religion: Roman Catholic, other (includes mature Protestant and Jewish communities and a growing Muslim immigrant community)
Government: Republic
Major industries: tourism, machinery, iron and steel, chemicals, food processing, textiles, motor vehicles, clothing, footwear, ceramics
Tipping:  This is a matter of personal discretion. Although bills normally include a service charge, it is customary to tip in restaurants and other places that cater to tourists. You may use the following as a guideline:  Porters: 50¢ per bag; Waiter/Waitress: $1.00 per person; Chamber Maid: 50¢ per person, per day; Bus Driver: $3.00 per person, per day; Group Tour Guide: $6-7 per person, per day; Private Car Tour Guide: $10 - $15 per person, per day.
Currency: Euro
Electricity:  voltage 230V/50Hz (European or Italian plug)
Time: UTC/GMT +1 hour.  Daylight saving time: +1 hour
Some Major Events
* January - Fair of Sant'Orso in Aosta
* February - Feast of the almond-blossom in Agrigento
* February/March - Carnival in Venice, Viareggio and Ivrea
* March/April - "Scoppio del carro" in Florence
* May - Candle race in Gubbio; "Cavalcata sarda" in Sassari; "Maggio musicale" in Florence
* May/June - "Festival of the Two Worlds" in Spoleto
* June - Flower festival in Genzano
* July - "Palio" horserace in Siena; "Festa del Redentore" in Venice; "Umbria Jazz"
* August - Quintana tournament in Ascoli Piceno in Siena ana tournament in Arezzo
* August/September - "Settimane musicali" in Stesa al & Opera seasons in Milan and Verona
* September - Historical regatta in Venice; Chess Game in Marostica; Palio in Asti; National Cinema Festival in Venice.
* October - Grape feast in Merano
* November - Feast of the Madonna della Salute in Venice
* December - Franciscan crib in Greccio
Hotels *most hotels open in the Spring
Hotel Villa Antica ****
Hotel Roccanettuno ****
Hotel Umberto ***
Hotel Orizzonte Blu ***
Le Roccette Mare & Club ***
Restaurants
Il Normanno
Antico Borgo
L'approdo di Ulisse
La Pergola
Osteria del Pescatore
Tre Fontane
Post Office
Post Office: The post office is located in the town of Tropea and you will need a taxi to get there. The Post Office is open from Monday to Friday from 8:00a m to 1:30 pm and Saturdays from 8.00 am - 12.00 pm.
Internet Connectivity
Most hotels offer wireless internet access (Wi-Fi) in at least one public space, such as the lobby or lounge. 
Mobile Phones
Companies in Italy will rent you a GSM mobile phone all set to make and receive calls. You can usually arrange such rentals at your hotel, or on the Internet before you arrive in Italy.
Tourist Information Centers
Valentour, Tropea – Tel:  + 39 0963 62100 – Website: ww.valentour.it
Banks & Money Exchange
Banks
Opening hours: Monday – Friday: 8:30 am - 1:30 pm
Saturdays: 8:30 am-1:00 pm (during the summer months only)
Cash Machine operational 24 hours a day.
Currencies / Money Exchange
Currency Exchange: You can exchange currency and traveler's checks in Italy at most major banks, airports, large hotels, or at one of the many money exchange centers. Generally, banks will give you better rates - so check around.
Always carry additional cash to cover both anticipated and unanticipated expenses.  The following are anticipated expenses to aid your advance planning.  A Charter Planning Specialist can assist you in approximating costs:  
-Airport/Shuttle Transfers
-Taxes & service charges
-Customs & Duty fees
-Refundable deposits
-Additional beverages
-Additional meals
-Personal incidentals
-Gratuities
Activities & Sports
Snorkeling and Diving
In order to save you from carrying extra luggage, The Moorings provides snorkeling equipment: flippers, mask and snorkel for your use. The equipment is stored in the office.  Just ask the customer service representative for the sizes needed for you and your crew.
BIG SUR DIVING - Email: [email protected] - Tel: 3920464475
Cruising Information
Marina Information
Tropea Marina has an office, shopping area, an open-air theatre inside the marina. The new base office is only 44 yards from the yachts and has excellent reception, briefing and storage areas.
Electricity Information
Electricity in Italy is 220 volts, 50 cycle's alternating current (AC). For comparison, in the United States it is 110 volts, 60 cycle AC current. Regardless of voltage, if your appliance has flat prongs, you will need a plug adapter: Italian sockets are designed to accept round prongs. Do get one before your leave!
Wi-Fi
WiFi is available, cost is as follows:
€80 per week per boat (5GB) - 5 connections
€100 per week per boat - 10 connections
WiFi is not included in your charter price. Please contact your Vacation Planning Specialist who can add this service to your contract.WiFi must be paid for locally in Euro upon arrival.
Marina Prices
Sail Italia/Moorings has reserved berths in the Marina, just a short walk from the SailItalia/Moorings Office. Your first and last night moorings are complimentary.
All other nights are at customer's expense and subject to availability. Payment details will be confirmed at the Base.
Pre-charter briefing 
- All head charterers are required to attend a pre-charter briefing and yacht orientation prior to the charter start.  
- You will be advised of navigation and customs procedures between the various islands, points of interest, proper yacht and equipment operation, and emergency information.  Please hold all questions of this nature until that time.
- Specific yacht operation and navigation questions will be addressed during this briefing.
- A yacht operations manual will be aboard the yacht for your use.
Sailing Area restrictions
Restricted Zones
Information will be given at time of briefing.
Cruising Information
Information will be given at time of briefing. 
Interesting Sites
While you are in Calabria take the opportunity to visit these other cultural attractions:
The Chapel of Santa Maria dell'Isola, situated right on the cliff above the sea, can be reached by a winding path from the beach. Visit the church and do not miss the garden that offers breath-taking views of the sea from above – also because of its hidden terraces and panoramic benches.
The Museum of Traditional Trades of Calabria– The various churches, palaces and decorated front doors are free to be discovered in every corner of the town. Just walk around in the shade of the late afternoon and enjoy the lost feeling of ancient history in every stone, the voices of the present being mixed with those of the past and if you are lucky you will discover the special feeling of time never moving that is particularly strong in the enchanted town of Tropea.

What to pack
Our years of experience have taught us that extra time planning your wardrobe in advance guarantees a trouble-free vacation. Life aboard a sailing yacht requires some packing strategy.  We recommend the following guidelines to enhance your charter:
- Pack clothing that can be layered to be comfortable in the varied conditions you are likely to encounter.
- Pack clothing that is multi-purpose and easily washed. Less luggage means less burden.
- Soft duffel type luggage eases storage aboard both the yacht and the airplane.
- Try not to have check-in baggage at the airport.  Should you need to pack check-in luggage, make sure it contains less essential items in case it is lost.
- Use your Moorings luggage labels to assist in identification by The Moorings or airport personnel.
- Non-skid rubber-soled shoes, sun screening products and insect repellent are a must for life aboard a sailing yacht.
- Pack an adequate supply of all prescription medications with a doctor's permit. The Moorings has a "zero tolerance" policy in regard to illegal drugs.
- Remember to take along your travel insurance policy (if applicable.)  In case of an emergency you will need to refer to the claim procedures specified in the policy.
Provisioning (Food & Drink for your boat)
Moorings Provisioning
This destination offers the convenience of The Moorings Provisioning Service! Let The Moorings take all the hassle out of provisioning your yacht with the highest quality beverages, fresh foods, and non-food items. Order complete packages when booking online or over the phone. Or choose to order online from our Online Provisioning Store which also offers all packages and an extensive a la carte inventory. We'll coordinate the details and guarantee that everything is aboard your yacht when you arrive. Visit our Provisioning Page to learn more.
Supermarkets
The large supermarkets are located in the town of Tropea and you will need a taxi to get there at approximately 20 Euros each way.The supermarkets are open Monday through Saturday from 8am-1pm and 4:30pm-8:30pm. During the summer months, supermarkets are also open on Sunday mornings. 
Health & Safety
Travel Insurance
Moorings offers comprehensive travel insurance for your complete peace of mind. If you have your own travel insurance, please make sure that it covers all of the destinations and activities of your Moorings vacation. Click for more details
Vaccination and Immunization Information - Disclaimer
Croatia is generally risk-free of contagious disease.
*Please note country entry/exit and vaccination/immunization requirements can and do change. The Moorings is not accountable for these requirement changes and we advise visiting the destination's authority website to receive the latest updates.