Base Location
American Yacht Harbor
Nearest Airport
Cyril E. King
(CEKA)
Provisioning Service
Online Provisioning
Not Available
Cruising Licenses
No formal license
is required
This page provides useful planning, pre-departure and travel information. From servicing airports to base arrival procedures, it will tell you what to expect to make your vacation smooth and care free.
We suggest you read the following information carefully several weeks prior to departure and also print a copy to take with you.
Before You Travel
Travelers who want access to all base amenities will have to purchase a wristband on arrival. The cost is $12 per person, payable in cash at the check-in desk. Travelers will need to hold onto the band(s) for the duration of their charter if they wish to use the facilities post-charter as well, without being asked to pay again.
The band provides access to:
Facilities that don't require a band & are free to all guests:
Laundry
Showers
Bathrooms
Time Zone
UTC/GMT -4 hours
Tourist Information Center
Head Office – Nassau
P.O. Box N 3701
Tel: (242) 302-2000 / Fax: (242) 302-2098
General Information
Area: 5382 sq miles (13,940 sq km)
Population: 382,600
Capital City: Nassau
Official Languages: English
Ethnic groups: Black 85%, White 12%, Asian and Hispanic 3%
Religion: Baptist, Anglican, Roman Catholic
Government: Constitutional Parliamentary Democracy and a Commonwealth Realm
Industries: tourism, banking, cement, oil transshipment, salt, rum, aragonite, pharmaceuticals, spiral-welded steel pipe
For more information, view this destination's Cruising Conditions.
How to Get There
Airport
Fly to Lynden Pindling International Airport (NAS) in Nassau. Take 30 minute transfer to the base.
Flights
Due to the number of flights we organize, the Moorings can offer some great rates to many destinations. Please make sure you contact our inhouse flight specialist at 033 0332 1513* before you book your flights.Private Charter Flights
Through our partnership with Tropic Ocean Airways The Moorings offers private charter flights from Fort Lauderdale or Miami (Florida) that take you directly to your yacht. Contact our in-house flight specialist at  033 0332 1513* to book a private seaplane.
Transfers
Taxis are lined up at both the Airport and the base, available and easy to access.
Car Rentals
When driving, British rules apply, so please drive on the left and watch those roundabouts! Visitors may use their home license for up to three months and may also apply for an international driver's license.
Boarding Time/Check Out
Boarding Time Procedures
Charter Boarding Time: 10 a.m.
Sleep Aboard: Time: 4 p.m.
Briefing Times: 9 a.m. for morning starts and 3 p.m. for evening starts.
All skippers must attend a Chart Briefing which covers all you need to know about the cruising area, use of the VHF radio, how to call for assistance, and more. A Boat Briefing will also be provided onboard your yacht.
Late Arrivals
If arriving after hours, a message will be left on the front door indicating the location of your boat. The Chart Briefing and Boat Briefing will be held the following morning prior to departure.
Check Out Procedures
Charter End Time: 10 a.m.
A debriefing and final walkthrough will be done upon return so please allow enough time to complete this before the charter end time.
What's on Board
Coolers
One cooler is on board, a second can be requested if needed.
Provisioning
Moorings Care packages are included on every yacht. These packages contain some of the basics to get you started for your vacation. Additional items are available to be purchased and delivered directly to your yacht. Visit our Provisioning Page to learn more.
Mobile phones
Check with your service provider for information about cell coverage in this region. The base offers Wi-Fi Internet through a service partner for approximately $150 to $200 for a 7-day rental. Cash is accepted and can be paid upon arrival or requested in advance.
Music/iPods
While most of our newer boats have Bluetooth capability, we cannot guarantee all boats are outfitted with this equipment. For your convenience, we highly recommend you bring an AUX cord so you can listen to music from your mobile devices.
Electricity
The electrical service on The Bahamas is normally 120 volts, 60 cycles AC, in which case North American appliances are fully compatible, while European appliances will need both converters and adapters. Voltage varies with location, however, and some places in the islands may have 220 volt electrical service. Call your hotel ahead of time to find out which system they use. The standard voltage on all yachts is 12volts in order to use electronic equipment that is 110v or 220v; you will need an inverter suitable for use in a cigarette lighter.
For more information on what's included on your yacht, please view the full list here for Bareboat Charters or here for Crewed Charters.
What to Bring
Customs & Immigration
Entry, exit, and visa requirements depend on the locations you are departing from and traveling to. You are responsible for having the correct documents so make sure to check with the consulate of the countries you plan to visit before you travel. Visit travel.state.gov for the latest information.
Cruising Licenses
A formal sailing license is not mandatory to charter here. A completed Sailing or Power resume is required to ensure you have the necessary experience required to charter yourself.
Luggage & Packing List
Soft-sided luggage or duffel bags are best, as luggage storage space on your yacht may be limited. We have no facilities for holding luggage at the base. Pack lightly and review our suggested packing list for required and necessary items to bring.
Pack essential prescription medicine and change of clothing in a carry-on bag*
Passport and other travel documentation
Tickets and paper confirmations for pre-planned activities
Light-colored, light-weight clothing
Formal wear for upscale dining establishments
Swimwear and cover up
Hats and sunglasses
Sandals and flip-flops
Athletic shoes and hiking boots
Travel-sized toiletries and hygiene products
Insect repellent and OTC pain relievers/ointments
AUX cable for playing music through your device
12V DC to 110V AC power inverter (for boats without generators**)
12V to USB power adapter for charging mobile devices
*We would highly recommend packing prescription medicine and essential clothing (swimsuit, t-shirt and shorts) in your hand luggage as occasionally your luggage may arrive at the base after you do.
**All boats include a 12V DC outlet (a "car" outlet). Boats with generators have 110V outlets in the Caribbean and 220V in the Mediterranean and Exotic locations.
Drones
A Certificate of Registration must first be secured from the Civil Aviation Department in order to import a drone. The Customs Department will detain drones at the border if a Certificate of Registration has not been obtained. To register your drone online visit the Bahamas Civil Aviation page. Further details on the Special Regulations may be obtained from the Civil Aviation Department, at 242-397-4700 or email hadderley.fsi@gmail.com.
Currency
The local currency is the Bahamian Dollar. U.S. currency is accepted by all vendors. Visa and MasterCard are also accepted in most places. American Express is usually NOT accepted.
Gratuity
Tip according to quality of service. Porters usually receive US$1 per bag, while most other servers (waiters, taxis, etc.) receive 15%. Some establishments include the gratuity in their bills.
Taxes & Fees
You might incur some costs while on charter such as mooring and docking fees or cruising taxes. We highly recommend bringing enough of the local currency to cover these costs as they are not always payable by USD, debit, and/or credit cards.
Security Deposit
A security deposit must be paid at the base by Visa or Master Card and is refundable at the end of your charter subject to there being no loss or damage. To significantly decrease your security deposit, purchase our Yacht Damage Waiver ahead of time.
Health & Safety
Daily Health Survey
For the length of your stay in the Bahamas, you are required to complete a mandatory daily health survey. This requirement is stated in your application for a Bahamas Travel Health Visa. You will receive an email with a survey link on the day you arrive and each subsequent day. Failure to meet this daily requirement will result in a fine. Please be advised, you will need mobile phone service or WiFi to connect to the survey.
Vaccination and Immunization Information
This destination is generally risk-free of contagious disease. Visit cdc.gov for the latest information.
Travel Advice
A travel advisory is in place for Nassau/Exumas. Current travel and safety information can be obtained by visiting travel.state.gov
Swim Safe:
Swimming is often a fun and important part of a vacation. However local rules, flag systems, currents and where swimming may be permitted, can be different and vary from country to country. Snorkel vests, Life Jackets and Diver Down flags are all available on board.
Children
Talk to children about water safety at the start of a vacation, making them aware of the potential dangers.
Accidents can happen at any time on vacation, but often they happen on the first and last day, so keep watch and do not get distracted when your children are playing by, or in the water.
Children in or near water should always be supervised by an adult and never left unattended. Keep an eye on them and do not get distracted in and around the water.
Get in the water with them, it is easier to keep an eye on them as well as good fun. Floatation devices are highly recommended for children but are not a substitute for supervision.
Be aware of your surroundings
Check warning flags and signage on the beach and only swim where it is permitted.
Beware of dangerous currents, these can be very powerful. Not all beaches have lifeguards and/or warning flags.
Beware of underwater hazards, such as reefs, rocks, sudden changes in depth and marine life. Although shark attacks in the Bahamas are very rare the Bahamian authorities issued advice urging the public to exercise extreme caution in and around the waters of New Providence, adjacent islands, and cays.
Never swim where a sign says not to e.g. in zoned areas for jet boats or jet skis.
Never swim at night or after drinking alcohol.
Look out for others
Never swim alone, 'buddy up' with others in your party and use the snorkel vests provided.
Know how and where to get help. If you see someone in difficulty; raise the alarm, preferably the emergency services. Ensure you know the correct number for the country you are in.
Do not overestimate your ability
Consider swimming lessons before you go if you think it would be useful to learn proper swimming technique.
Even if you regularly swim in a pool, remember that open water swimming can be very different.
Safety
All yachts are equipped with adult life jackets, harnesses, snorkel vests & diver down flags. You can see all this equipment demonstrated in our online safety briefing, and we strongly recommend that you make use this equipment during your vacation. This safety equipment will be displayed in the saloon of your boat on boarding – If you have any questions feel free to ask our base staff during your briefing.
We have a very limited supply of children's life jackets on base so highly recommend that if you are travelling with children, you bring their own. This ensures that children have correctly fitting jackets that are comfortable for them.
Children should not be allowed in the dinghy without a life jacket or buoyancy aid and should wear a buoyancy aid or harness whilst on deck.
Children under the age of 16 should not operate an outboard engine and should be supervised at all times when in the dinghy.
Travel Insurance
The Moorings offers comprehensive travel insurance for your peace of mind. If you have your own travel insurance, verify that it covers the destinations and activities of your Moorings holiday.
Whether this is your fifth trip or the first of many, we want you to feel at home when you're at a Moorings base. At Palm Cay Marina, we welcome you to explore the base before boarding and setting sail from Nassau.
About the Marina
Address
Palm Cay Marina
Yamacraw Hill Rd
Nassau, The Bahamas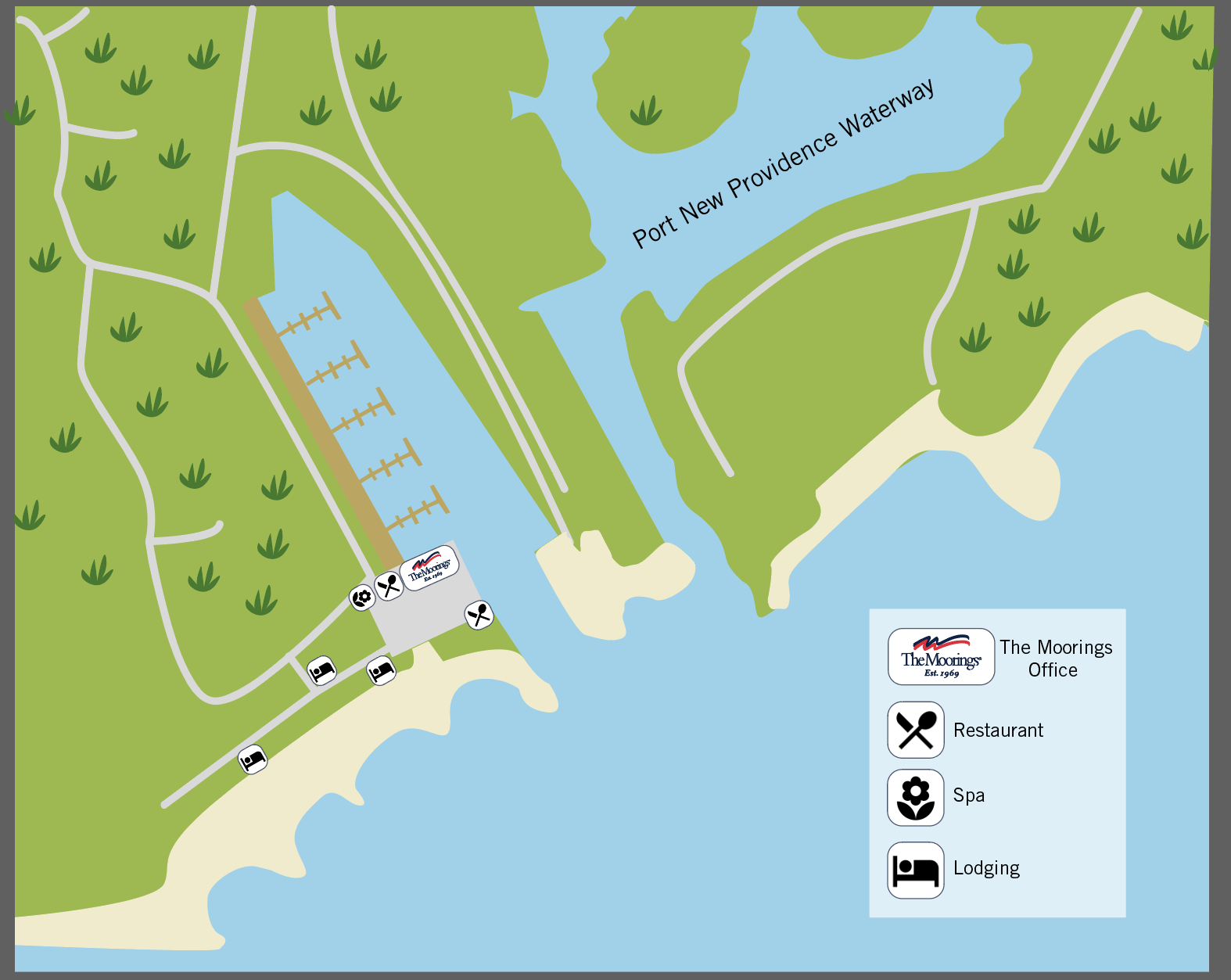 Base Hours
The base is open from 8:00 a.m. to 5 p.m., seven days a week (evening staff to cover until all flights have arrived).
Marina Facilities
Laundry
Restaurant
Hotel
Boutique
Dive shop
Showers & Bathrooms
Telephones
Fuel & Ice
Shopping
Use of pool, pool bar, and private beach available for an additional fee ($12/person).
Diving and Snorkel Equipment
Dive Exuma – Dive Shop
Open 24 hours · (242) 357-0313
Staniel Cay Adventures – Tour Operator
7:30AM – 5:30PM · (242) 524-8062
Bahamas Scuba Diving Services
Open 24 hours · (242) 535-8396
Dock Facilities
Dock space can be reserved (credit card requested) at most harbors prior to arrival by calling ahead on VHF channel 16 or by requesting confirmation via The Moorings office on VHF channel 16.
Cruising Grounds
Experience Level
A formal sailing license is not mandatory to charter here. A completed Sailing or Power resume is required to ensure you have the necessary experience required to charter yourself.
Cruising Area
The cruising area stretches from Nassau in the north to Great Guana Cay in the South East. In and around Nassau we recommend anchoring in Nassau Harbour and at Green Cay.
Cruising Area Restrictions
Permission from the base manager is needed to go outside the Exumas.
It is strictly forbidden to sail alone, we require two persons minimum on board.
Charts & Pilot Books
All the charts and pilot books you will need for the sailing area are issued at your chart briefing.
Nighttime Sailing
You must be moored at least one hour before sunset. Night Sailing is not allowed without permission from the base manager. The decision to allow night sailing is based on your skill level and can be requested in advance. You will need to fill out the Sailing or Power resume for the base to review but we cannot guarantee approval.
Cruising Permits & Taxes
Within the Exuma Cays Land and Sea Park, headquartered at Warderick Wells Cay, there is a cost of $10 USD per person to go on land. All fishing is prohibited in the park.
Moorings Fees & Taxes
Mooring and dock fees are based on the size of your vessel. Moorings fees range between $30 and $50 USD. The dock fee schedule ranges from $2.50 to $3.50 per foot.
Around the Base
Accommodations
Comfort Suites Paradise Island
The Ocean Club
The Cove at Atlantis
Harborside Resort
Warwick Paradise Island Bahamas
Graycliff Hotel & Restaurant
Courtyard Nassau Marriott
Banks
Nearby ATMs can be found at Scotiabank and FirstCaribbean International Bank
Post Office
The Post office is situated on the main island in Nassau.
Dining
Onsite tiki bar restaurant named Green Parrot.
Nearby Restaurants include Margaritaville and Anthony's. The Atlantis resort offers many restaurants.
Shopping
Convenience Store and Dunkin' Donuts nearby.
Taxis
Cheryl's Taxis is very reliable: 1-242-423-4982 (also on WhatsApp)
Scuba Diving
Collie at Bahamas Scuba Services: 1-242-535-8396 (also WhatsApp). Tanks $15/day (other places $25 or $35). Pick up/drop off – $20
Provisioning
The Moorings Provisioning
Online Provisioning is available. Provisioning must be ordered 6 days prior to the start date of the charter for this destination
Visit our Provisioning Page to learn more about delivery direct to your yacht.
Supermarkets
Supervalue Quality Market, a large supermarket, is situated 15 minutes drive by taxi from base. Open Monday through Saturday from 7 am to 9 pm and Sunday from 7 am to 5 pm.
Solomon Fresh Market, a large Supermarket is situated 15 minutes by taxi from the base. Monday through Thursday from 7 a.m. to 8 p.m., Friday and Saturday from 7 a.m. to 9 p.m., and Sunday from 7 a.m to 5 p.m. Solomon's also delivers, free of charge – arrange delivery through their website.
Small provisioning stores can also be found while sailing at Highbourne Cay Marina and Staniel Cay Yacht Club Marina.
Things to Do
Tours
We recommend you visit the Itinerary Page or consult your chart briefer and cruising guides for the best places to visit, but among our favorites – Highborne Cay, Allan's Cay, Norman Cay, Shroud Cay and Warderick Well Cay. A must do is Staniel Cay with the famous swimming pigs.
Golf
Visit the One and Only Ocean Club for a round of golf.
Water Toys & Sports
For your convenience, you can add water toys to your charter prior to arrival at the base. They will be waiting on your boat upon arrival. You are able to rent these at the base; please keep in mind that we have limited availability. For more information, please view our Water Sports Options.
Scuba Diving
We recommend renting the gear at Bahamas Divers P.O. Box SS 5004, East Bay Street, Nassau. Staniel Cay Yacht Club offers instructors but you need to bring your gear with you there.
Snorkeling
The Moorings provides snorkeling fins for all charters for your pleasure. Children's sizes are very limited; you may wish to pack your own snorkeling gear.
Fishing
Fishing is allowed and a licence is not required for charterers. To protect the marine environment, spear fishing using scuba gear and possession of spear guns are illegal in The Bahamas. This area is protected and fishing is not permitted: Within the Exuma Cays Land and Sea Park, from Shroud Cay to Cambrige Cay, all fishing is prohibited.
Spiny Lobster season is from August 1 – March 31. Minimum size is a 5 1/2 inches tail length or 3 1/4 inch carapace length (measured from the base of the horns to the end of the jacket). Unlike Florida, lobster may be taken by spear. It is illegal to take or possess female lobster with eggs. The vessel bag limit is six per person at any one time.
There is no closed season on conch, but it's illegal to take or possess immature conch. In order to be legal, conch must have a well formed lip (or flared-lip). The vessel bag limit is ten per person at any one time.
The vessel bag limit for scale fish is 20 pounds per person. The minimum size for any member of the grouper family is three pounds.
Stone Crabs may be taken if the claw length is four inches or greater. The season is closed from June 1 – October 15. It is illegal to harvest female stone crabs.

For more information on what's included on your yacht, please view the full list here for Bareboat Charters or here for Crewed Charters.
General Conditions
The trade winds that blow almost continually throughout The Bahamas give the islands a warm agreeable climate, which varies little year round. The temperture hovers around an average of 83°F.

The summer is a bit warmer with temperatures around 85°F (27-29°C) and higher humidity.
Tides
The tidal range in The Bahamas is up to 3.5 feet.
Due to the shallow nature of these waters it is extremely important that close attention is paid to the tide while underway as well as entering and departing harbours.

Weather Forecasts
The base provides clients with daily weather forecasts.
Historical Weather (Averages by month):
| | | | | | | | | | |
| --- | --- | --- | --- | --- | --- | --- | --- | --- | --- |
| Month | °F Max | °F Min | °C Max | °C Min | Ave Precip (in) | Ave Precip (mm) | Ave Water Temp (°F) | Ave Water Temp (°C) | Ave Wind Speed |
| January | 78 | 60 | 25 | 18 | 2 | 50 | 76 | 24 | NE 5-20 kts |
| February | 78 | 60 | 25 | 18 | 1 | 40 | 76 | 24 | NE 5-20 kts |
| March | 79 | 62 | 26 | 19 | 1 | 40 | 75 | 23 | E 5-20 kts |
| April | 81 | 69 | 27 | 21 | 2 | 76 | 79 | 26 | E 5-20 kts |
| May | 84 | 70 | 29 | 22 | 5 | 130 | 81 | 27 | SE 5-20 kts |
| June | 87 | 72 | 31 | 24 | 9 | 250 | 83 | 28 | SE 5-20 kts |
| July | 89 | 72 | 32 | 25 | 6 | 152 | 84 | 29 | SE 5-20 kts |
| August | 89 | 72 | 32 | 25 | 8 | 190 | 84 | 29 | SE 5-20 kts |
| September | 88 | 74 | 32 | 25 | 7 | 178 | 84 | 29 | E 5-20 kts |
| October | 85 | 74 | 29 | 22 | 7 | 178 | 83 | 28 | E 5-20 kts |
| November | 81 | 70 | 28 | 21 | 2 | 50 | 79 | 26 | NE 5-20 kts |
| December | 78 | 64 | 25 | 17 | 2 | 50 | 79 | 26 | NE 5-20 kts |
Step Aboard Here
Start your experience with The Moorings on land and sign up to receive e-mails from us about yachts, offers and destinations.
By clicking 'Sign up' you confirm that you have read and understood our Privacy Policy and consent to our use of your information.