We look for innovation in the design, build, and materials used to create our yachts as well as exploring new ways to power them.
Our OCEAN Promise identifies our 5 core pillars of focus. Below you will find more information around our "Yachts" initiatives:
Replacing antifouling
Let's dive under the waterline.
Obviously, our yachts sit in the water and therefore the submerged part of the hulls need to be protected. For years, most yachts are treated with a chemical anti-fouling paint formulated with biocides. These chemicals can be harmful to the ocean and marine life: however, it is essential that the yacht is coated to prevent 'fouling' of a boat's hull with organisms such as barnacles and seaweed. Failing to protect the hull will ultimately impact the performance of the yacht and its life cycle, meaning the yacht's life span will be significantly reduced.
This has concerned us for many years, and we have trialled various alternatives in pursuit of a more environmentally friendly solution. We are now pleased to finally have an option that protects the yacht whilst simultaneously protecting our oceans.
MacGlide™ fouling protection first caught our eye in 2021. This replaces the traditional anti-foul paint with a silicone foil wrap that covers the hull of the yacht. The foil has non-stick properties which protects the hull from marine micro-organisms and can simply be wiped clean every 6 months. The fouling protection also has a 5-year guarantee, meaning this only needs to be fitted every 5 years vs traditional anti-foul that is applied annually.
We first tested the solution on 3 different yachts in 2021 in the British Virgin Islands and in Dubrovnik. We raised the yachts every 6 months and wiped the hulls clean and are really pleased with the results to date.
We are pleased to share that all our NEW 2023 monohull fleet in both Greece and Croatia are being fitted with this new technology. This is the first set of yachts that will not use any of the traditional antifouling paint and we are excited to be implementing this for all new monohulls in the Mediterranean moving forward. As the trial in the British Virgin Islands was also successful, we will be looking to introduce the use of MacGlide™ in this location as well in the not-too-distant future.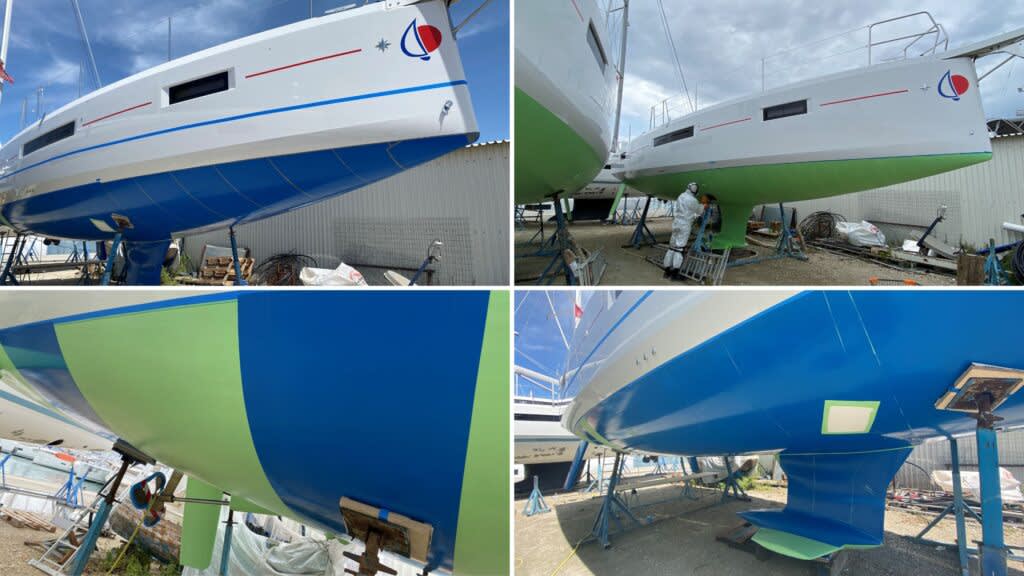 Solar power and renewable energy
In recent years our customers have come to expect more amenities from our yachts to make their time out on the water more comfortable. Facilities such as air conditioning, water makers, large refrigerators, Wi-Fi, and even the ability to charge their devices anytime are seen as necessities, however, all these items require energy. With this in mind, we recognised the need to provide our customers with additional energy without the use of fuel. Therefore, our product development team focused on renewable energy, and given the portfolio of destinations we offer, solar energy.
Solar energy is not a new concept, in fact, it is increasing in popularity, and today, globally, Solar PV generates 3.6% of all electricity (source: IEA). Solar photovoltaic (PV) uses solar cells to convert sunlight directly into electricity. Depending on the size of the cell, this will dictate the amount of power that is created. Done right, solar energy is a fantastic opportunity to reduce the amount of fossil fuels being burned to produce energy thus reducing carbon emissions.
We are dedicated to taking care of the beautiful destinations and oceans that our customers enjoy therefore finding ways to minimise our carbon footprint is very important. For several years now we have had a small amount of solar panelling on board all our yachts, the power created is predominantly used to charge the battery bank, however, this power has never been enough to support the amenities highlighted above.
We are pleased to share that the newest power catamaran in the fleet, the Moorings 403PC, is equipped with 4 solar panels of 400 watts each. This means the yacht will create more renewable energy than ever before to sustain and power more amenities on board. By inverting more systems and appliances along with a new battery management system, we are dramatically reducing the need to use the generator that uses fuel to create power. Facilities including lights, in-cabin fans, toasters, stereo, and sockets will all be powered completely by solar energy.
Although, today, the power created from solar isn't sufficient to power the generator or air conditioning, this is a step towards a more self-sufficient yacht that can sustain domestic life.
Step Aboard Here
Start your experience with The Moorings on land and sign up to receive e-mails from us about yachts, offers and destinations.
By clicking 'Sign up' you confirm that you have read and understood our Privacy Policy and consent to our use of your information.