Published:
September 26, 2018 Terese Kerrigan
Comments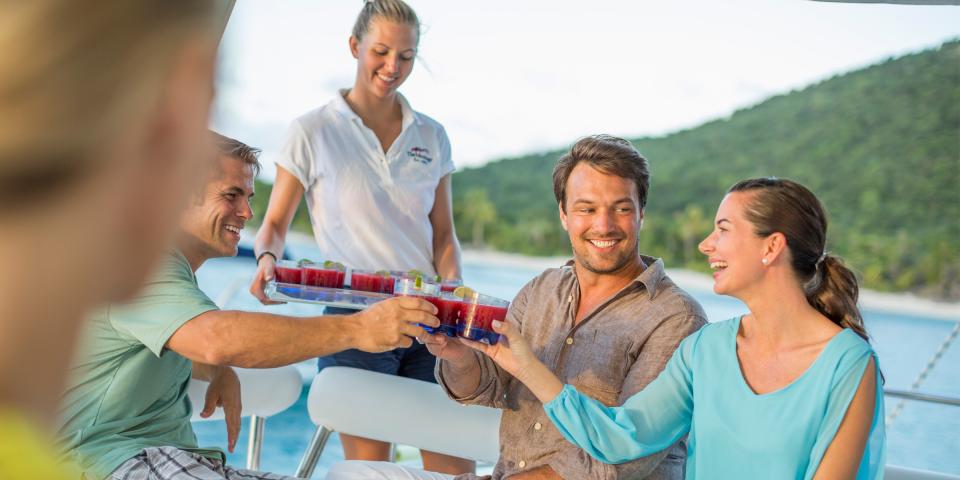 The ultimate all-inclusive experience on the water is no longer limited to families or groups of friends. Our Stateroom Package vacations provide couples or even solo travelers with a single en-suite room of their own on board a Crewed yacht, making it easy to enjoy the same advantages as if you were to charter the entire yacht.
Following her recent shared Crewed yacht charter in the British Virgin Islands, Krystal Bick, founder of This Time Tomorrow style and travel blog shared some details from her trip to give you a first-hand look at the Sail by the Cabin Stateroom Vacation experience. Since leaving her full-time job at Google to pursue a career in content creation, Krystal has become a prominent social media influencer, appearing in notable publications such as Elle, Marie Claire, Cosmopolitan, and O. Clearly, people value her opinion so keep reading to see what she had to say about her on-the-water vacation with The Moorings.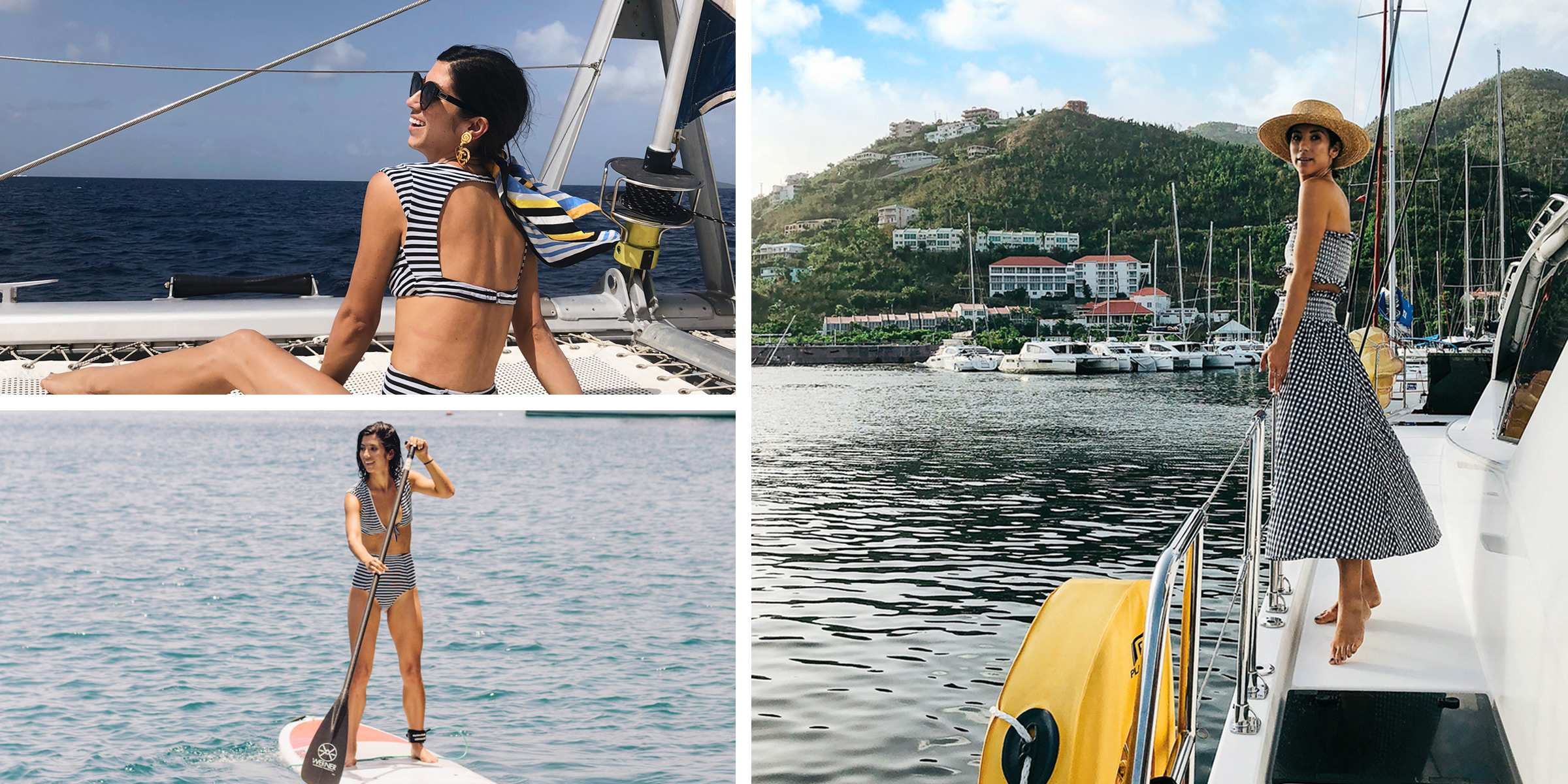 Q: Krystal, you recently completed your first charter vacation aboard a Moorings Crewed yacht in the British Virgin Islands. Leading up to the trip, what would you say were you most excited about?
A: Given that I had never been on a yacht, let alone one as beautiful as our Moorings catamaran, I was most excited about the sailing experience and picking the brain of the captain (thankfully, Martin was a good sport!). 
Q: Regarding living onboard a yacht for a week, did you have any concerns prior to the trip?
A: I've been on large-scale commercial cruises before, but I had never spent a dedicated week on a smaller-scale vessel, like a Moorings sailing catamaran. I was hesitant that my sea legs might give out from me and I'd experience more than my fair share of motion sickness. Thankfully, I powered through! I was also partially concerned that we wouldn't have enough land time, which is important to me when I go on cruises. I want to make sure I get a chance to experience as much of the on-land local culture as possible. I'm happy to report we managed to sneak in a lot of time on a number of islands -- my most favorite evening being on Anegada, where we had the most delicious lobster dinner on the beach.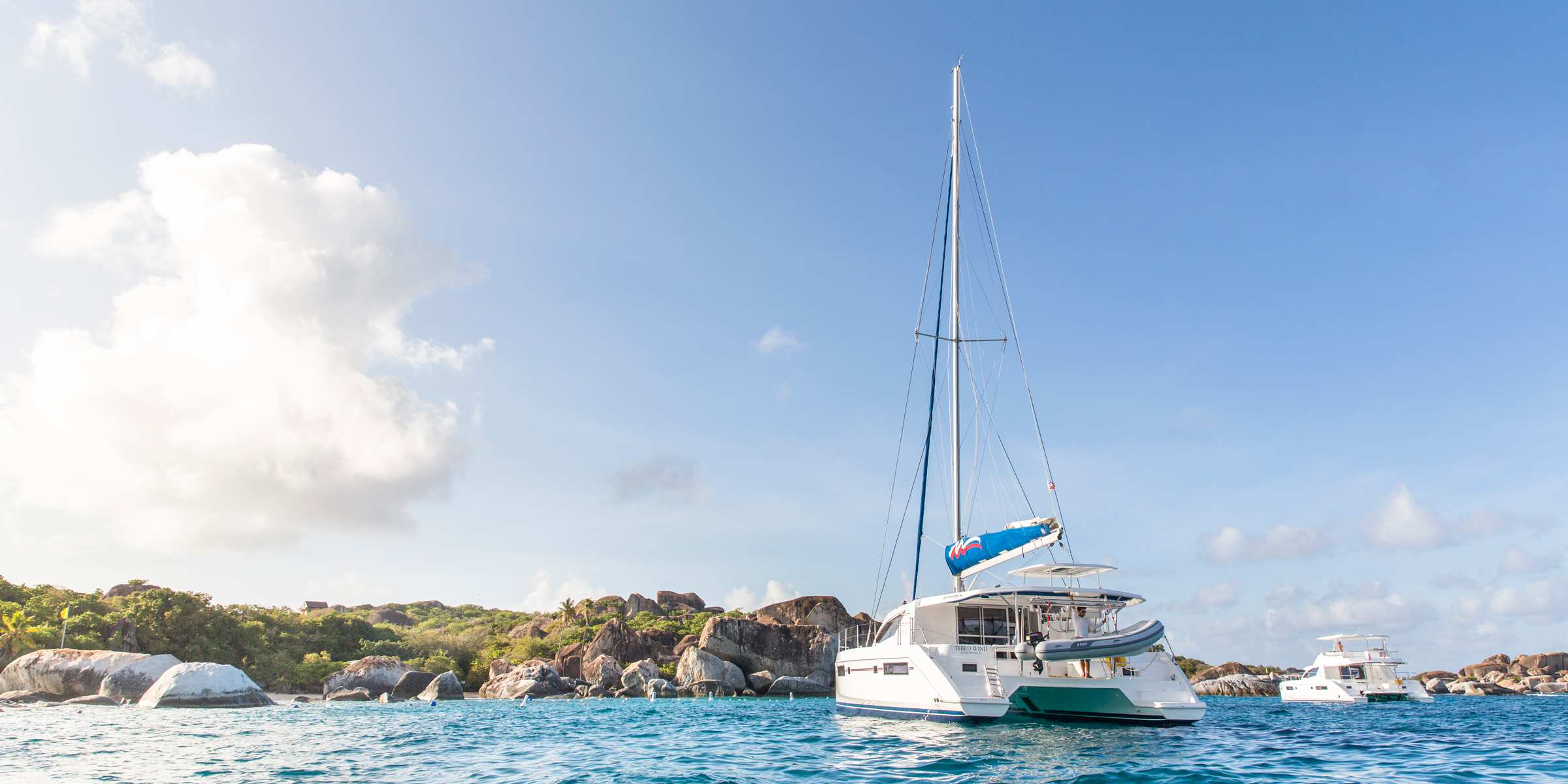 Q: You were already acquainted with a few of the other guests that would be on the trip with you prior to arriving, but not everyone. Did you have concerns not knowing everyone ahead of time, and ultimately how was the experience after being introduced to the other guests, and how did you all interact on board?
A: While I didn't know everyone prior to embarking on our trip, I think given the very nature of our adventure at sea, I wasn't too concerned about the dynamic of the group. I assumed my fellow sea companions would be kindred spirits of sorts -- curious, adventure seeking folks -- and I wasn't disappointed! By the end of the trip, we were laughing and joking with each other like old friends.
Q: It has been well-publicized that the British Virgin Islands recently experienced one of the worst hurricanes in recent memory. Now nearly one year later, how would you describe the territory, and how does it compare to other destinations you have visited?
A: It's hard to deny that the hurricane aftermath is still apparent throughout the British Virgin Islands, but what I think made this trip particularly special for me was getting to meet a lot of locals who are working hard to rebuild the area. There's a sense of pride and determination in their efforts and it's one that will stay with me long after this trip.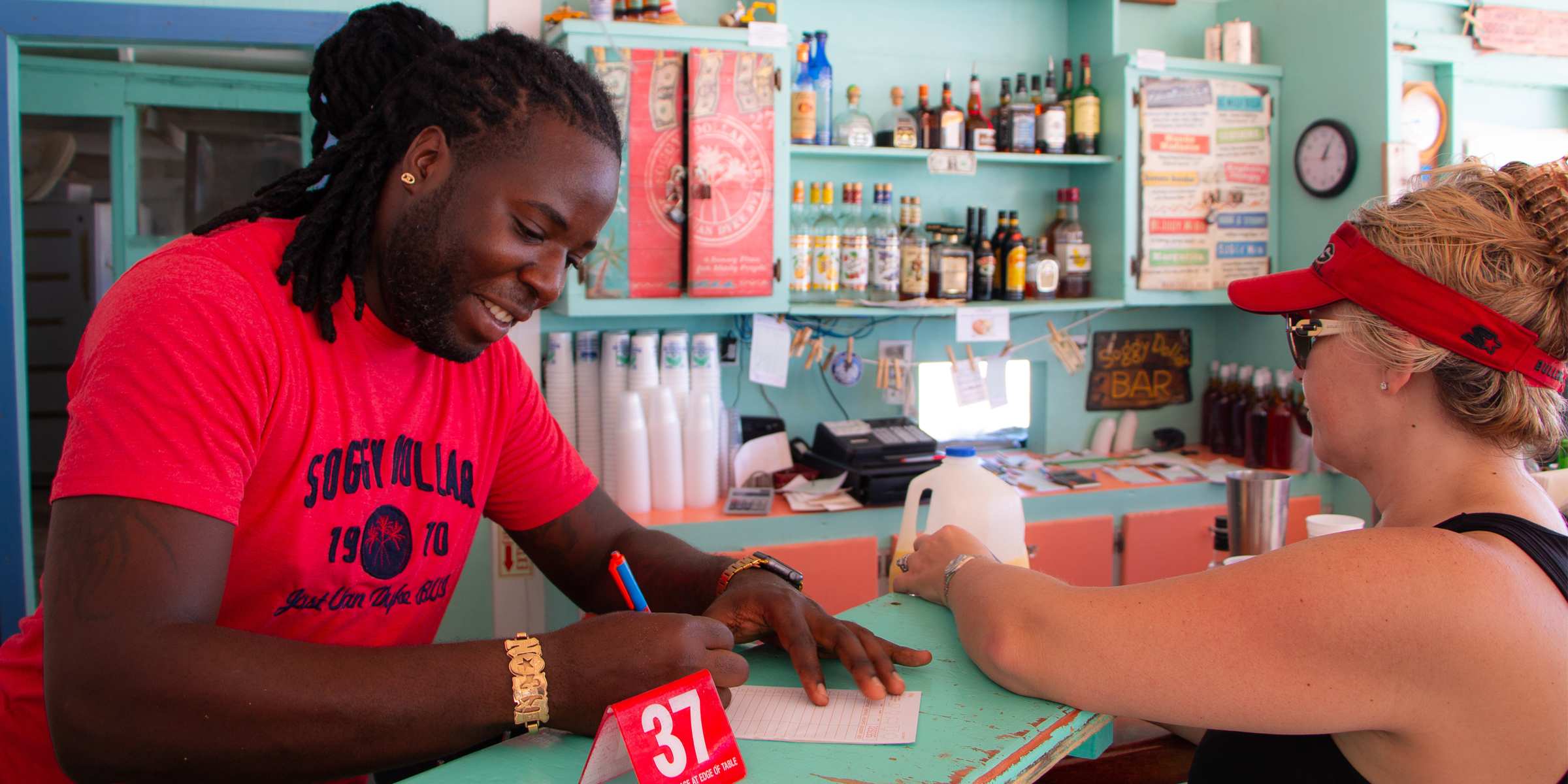 Q: How would you describe your experience with The Moorings crew on board?
A: Short answer: HILARIOUS. Long answer: The most gracious, fun-loving and hard-working group of individuals I have ever met -- with so many stories to share, I think we'd need another week-long trip with them just to get through them all! Martin was incredibly knowledgeable -- I loved picking his brain about sailing early in the morning before anyone else was awake. Katie, through sheer magic or skill or both, whipped up the most incredible meals each day, accommodating not one, but many food preferences and allergies. And Kay, was everywhere all at once, which still baffles me to this day. Need her to drop the anchor? Done. Need help with those paddle boards? She was showing you the right technique. Thirsty for a pain killer cocktail? She makes a mean one (but mark my words -- pace yourself with those bad boys!).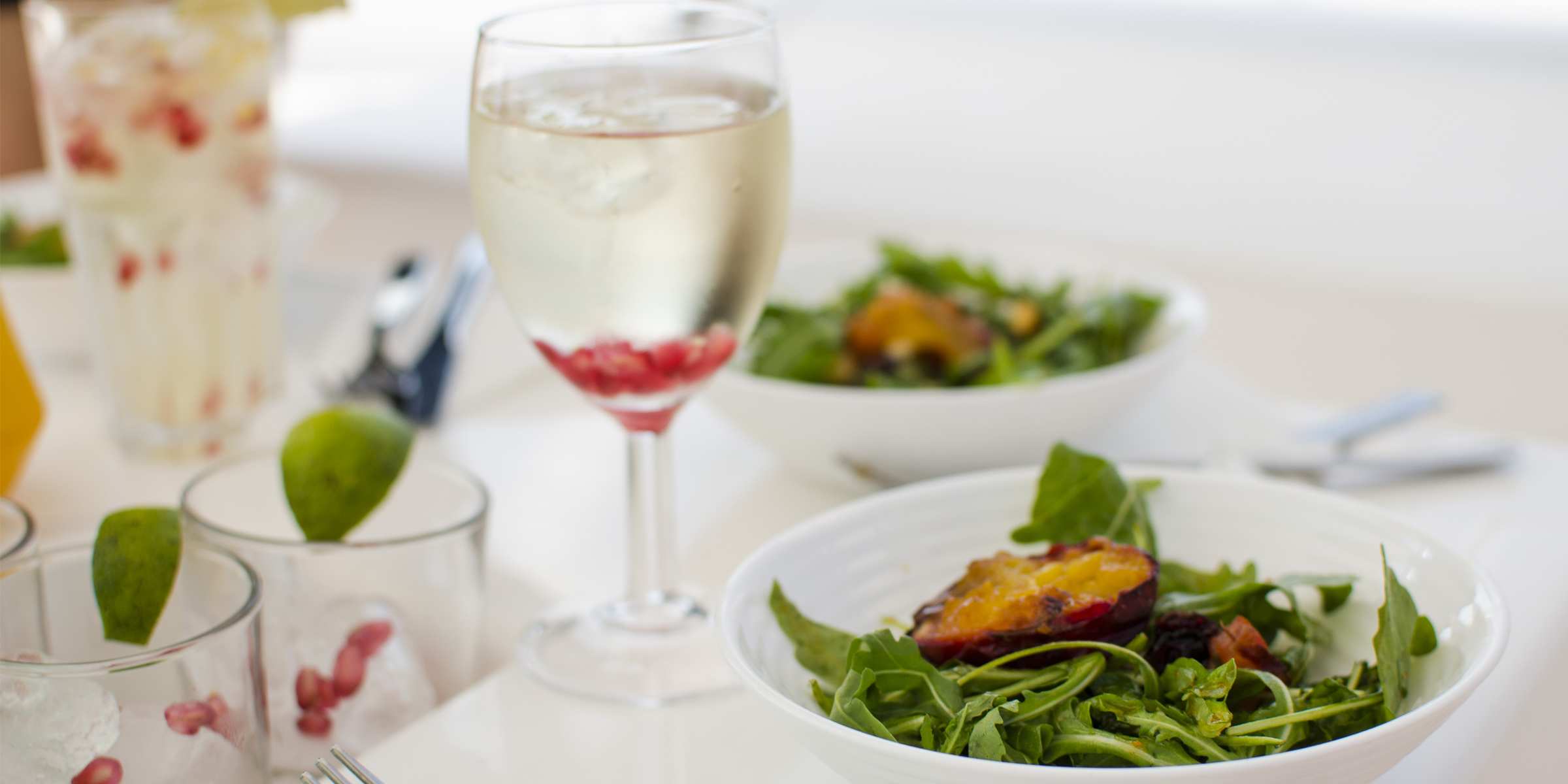 Q: Overall, do you have any advice you would share with anyone thinking about taking a Crewed charter vacation for the first time?
A: We didn't have many rough days at sea, but I would say, for anyone concerned with motion or sea sickness, lying out at the very front of boat was my personal heaven. I loved lying out at the front, feeling the rhythm of the water underneath and the expansiveness of the sky above me. I always felt very centered there.
Q: For those who may not have prior experience boating or sailing, can you briefly describe a day-in-the-life on board? What exactly do you do while on a yacht charter vacation?
A: I think what's important to remember for a trip like this, that it's exactly what you make it. A day out at sea can be adventurous (snorkeling, diving, swimming, paddle boarding, exploring), it can be relaxing (napping, reading, writing) and it can be all those things at different points of the day. Some of my favorite days at sea usually involved all of those activities and let it suffice to say: I fell asleep quickly each night!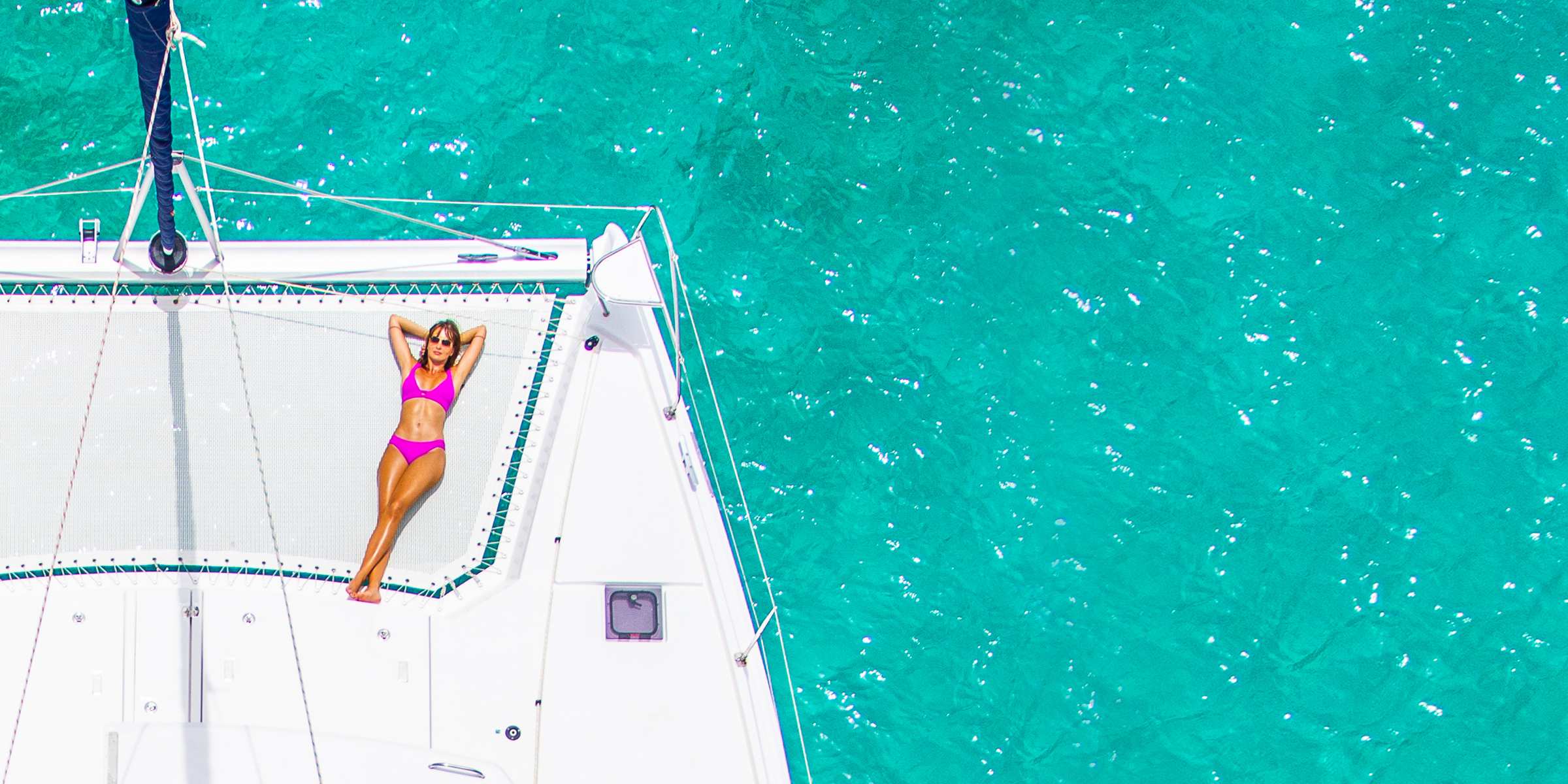 Q: Can you see yourself taking a shared yacht charter again with other "strangers"?
A: Yes, most definitely. I think what made this trip really special for me was getting to know my fellow travel enthusiasts -- hearing about their lives, their children, their jobs, their favorite trips, their past lives. It's what makes travel so personal for me -- you can become a part of someone's life, a person you may not have otherwise ever have crossed paths with.
Did you find this useful?