The Moorings offers a wide range of charter options to choose from and services to help make your vacation easy and unforgettable. Regardless of your experience, you can charter with The Moorings on our custom built fleet in any or all of our breathtaking worldwide destinations. 

View the sections below to find your ideal charter style, essential extras for your trip, important details & policies, and more…
The Moorings Charter Options and Extras
Travel Services
The Moorings is a full service travel agency and can help you arrange all travel services and advise you on the easiest and quickest manner to arrive at your vacation destination.  We are able to provide you with low prices on airfare, arrange hotel rooms and land tours, and in many locations, book land and ferry transfers from the closest airport to our base.  Please contact your Vacation Planning Specialist to take advantage of this valuable service!
If you prefer to stay on board your yacht the evening before you depart, we offer evening starts in North America, the Caribbean and South Pacific. By getting settled the evening before, you can get an early start the next day. Mention to your Vacation Planning Specialist while planning your charter to check for availability.
Hire a Skipper, a Cook, or both
Find more time to enjoy your charter when you hire a Moorings Skipper and/or Cook.
Add a skipper* - A charter with the option of a Moorings Skipper is an excellent choice if you have never chartered before, want to book a yacht that's larger than you're comfortable handling, or simply want more time for rest and relaxation. With years of cruising experience and a wealth of local knowledge, our Skippers are the ideal guides to your cruising area.
Add a Cook* - Let us take all of the work out of cooking and serving the meals, including cleanup in the common areas and the galley, leaving you even more time to spend with your family and friends sailing, snorkeling, or simply relaxing.
Visit our skippered yacht charters page to learn more about adding a skipper to your charter vacation.
Provisioning Services
Begin your vacation sooner while saving time and money with our personalized
Provisioning Services
. Let The Moorings take all of the hassle out of provisioning your yacht with the highest quality in beverages, fresh foods, and vacation essentials. Order complete packages or choose from an extensive a-la-carte inventory of everything you need to provision your yacht. Add Provisioning while booking your charter online. If you have already booked your trip and would like to add Provisioning, please visit
The Moorings Online Provisioning Store
.
Watersports
Take your adventure at sea to the next level with a variety of watersports options. Pre-ordering your watersports equipment is encouraged to ensure availability and an unforgettable time at sea. Add your water toys while booking your charter online. If you have already booked your trip and would like to add watersports equipment, please contact a vacation planner at (888) 978-8548. These items must be rented for the entire duration of the charter and the charges are typically based on a daily rate.
Wi-Fi Internet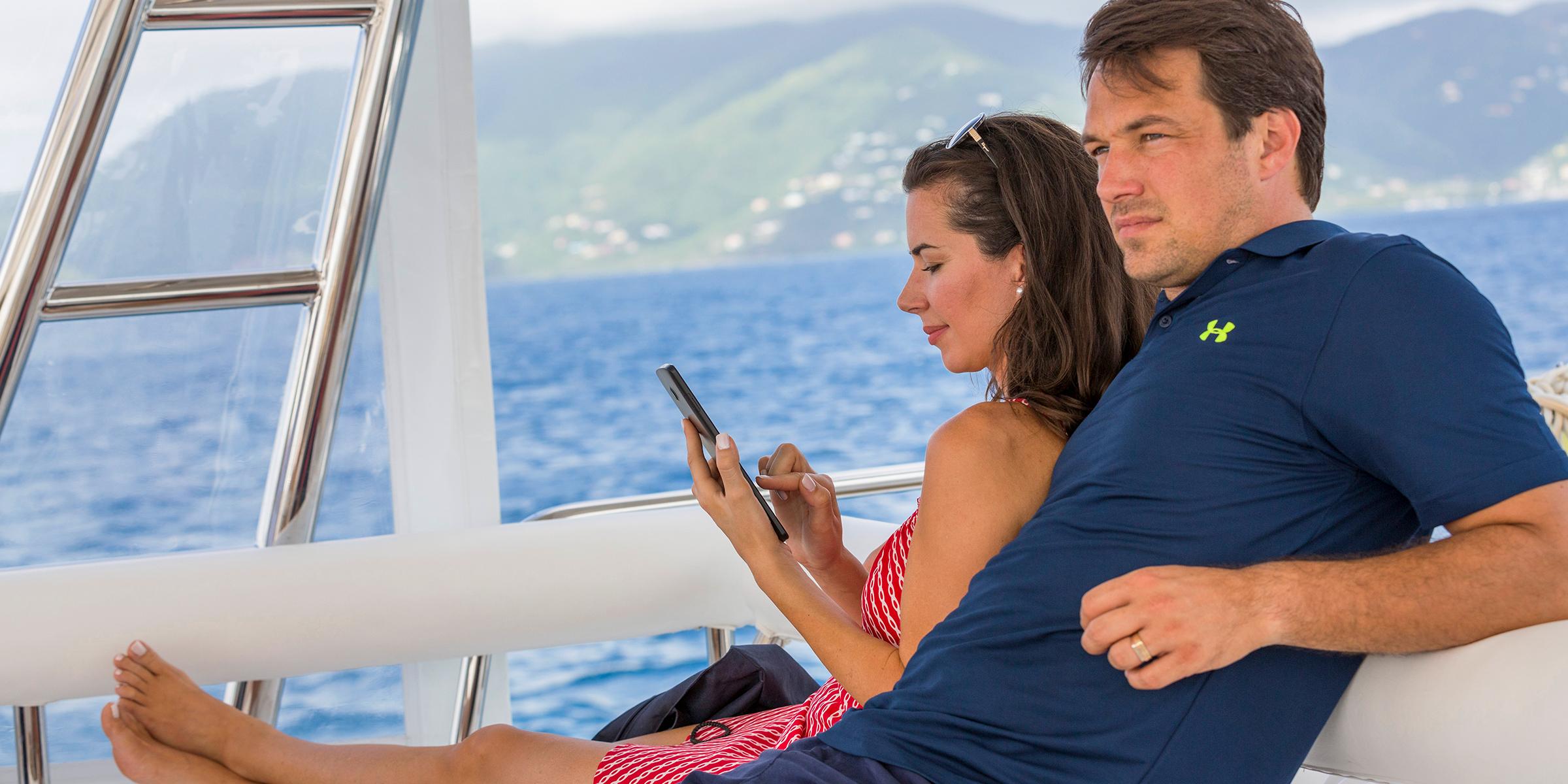 In order to provide charter guests with the best travel experience possible, The Moorings is pleased to offer free and reliable Wi-Fi on all Exclusive Plus class yachts in the British Virgin Islands, St. Martin, St. Lucia, Grenada, Croatia, Greece, Italy, Spain & Thailand. This complimentary service will make it easy for you to browse the Internet, and access email and social media apps.
In addition to the free Wi-Fi option, there are two upgrade packages available for those interested in streaming capabilities during their Caribbean charter vacation. These packages allow guests to stream videos, music, and conference calls, as well as download/transfer large files:
Gold Streaming Package – 6 hours streaming per day
Platinum Streaming Package – 24 hours streaming per day
If you wish to upgrade to an Exclusive Plus yacht with complimentary Wi-Fi, or upgrade to a streaming package, please call a Vacation Planning Specialist today at 800.334.2435.
Due to the ongoing recovery post Irma, we are unable to guarantee complimentary Wi-Fi onboard our yachts at this time. If you wish to ensure Wi-Fi while sailing in the BVI, please contact Renport.
Renport - Electronics Rentals in the BVI
Renport is conveniently located in The Moorings Village and offers portable electronics, entertainment and communication packages to The Moorings guests chartering in the British Virgin Islands. A Moorings Vacation Planner can assist with adding electronics packages directly to your charter package.