All-Inclusive & All About You
A Crewed yacht charter delivers the ultimate all-inclusive vacation on the water aboard your own private Sail or Power catamaran. Complete with a professional captain and gourmet chef, your group of up to 10 will enjoy spacious accommodations and a premium, personalized yacht charter experience. 
Your Moorings Crewed yacht charter blends the comfort of luxury vacations with the spirit of adventure travel. Aboard your private Sail or Power yacht, you'll enjoy the nautical skills and local knowledge of your captain, while your gourmet chef surprises you again and again with delectable meals tailored to your particular tastes.
Sleep to the gentle waltz of the water in the comfort of your private stateroom, and emerge each day to a new awe-inspiring seascape. Rejuvenate with a day of snorkeling over dazzling reefs gently unfolding into a breezy evening of cocktails and dining under a canopy of stars. Kayaking, fishing, shopping local markets, secluded walks on the beach—it's all included—and yours to explore at your own pace, on your own schedule. 
Choose from over 15 amazing destinations throughout the Caribbean, Americas, Mediterranean, Indian Ocean, Far East, and South Pacific.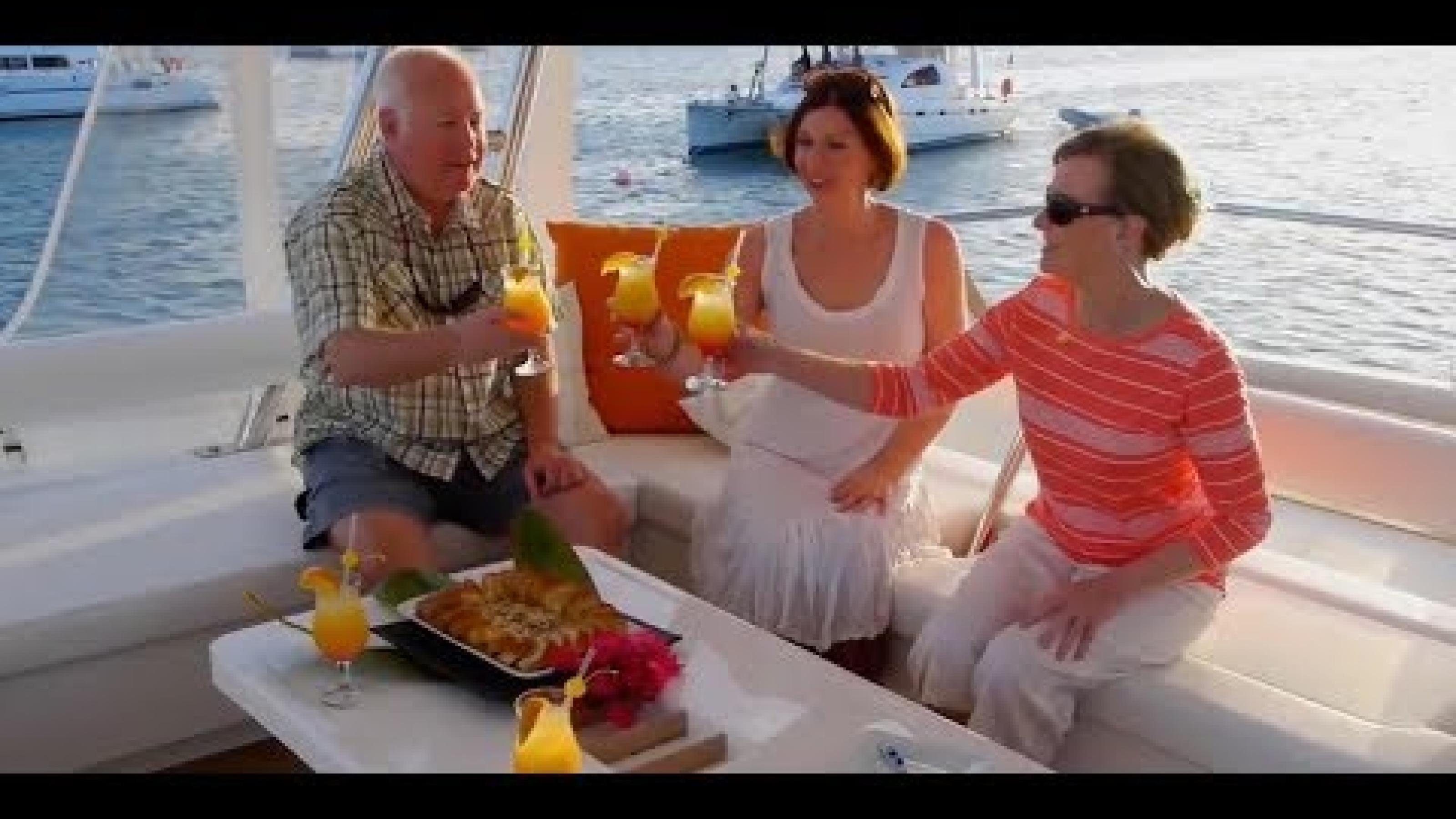 The Moorings Crewed Yachts are all-inclusive and customized to your preferences, so all you need to do is relax—and indulge.
Enjoy a dazzling array of drinks, delicacies and hors d'oeuvres from sun up to sundown, all catering to your personal preferences.
When an entire yacht charter is more than you need, escape with a Sail Away Stateroom vacation perfect for a party of one or two.
We invite you to savor a truly unique and once-in-a-lifetime experience in quaint Martinique, while enjoying premiere all-inclusive on-the-water service and accommodations.
Our expert Crews are some of the best in the industry. See pictures and profiles including qualifications, experience and specialties.
Our Crewed Charter Destinations
Cruise in a destination where each anchorage leads you to something new and every moment on board is unforgettable. All-Inclusive Crewed yacht charters are available in the Caribbean, Americas, Mediterranean, and the far-flung exotics. And no matter where you travel, your preferences, from the gourmet meals to the daily excursions, are always first priority.
Our Crewed Fleet
The crewed charter experience begins with your expertly crafted yacht, which leaves you with a smooth ride, open spaces, and state-of-the-art features to give you the best onboard experience. Each yacht's spacious decks and open interiors mean you can spend as much time as you want onboard without ever feeling crowded.
Harness the wind with a sailing vacation aboard an innovative catamaran or sleek monohull in one of over 20 idyllic destinations. If you're new to sailing, an expert Moorings Skipper can take the helm for an amazing adventure of discovery on the water like no other.
Whether you choose to take the helm yourself, or hire an expert Moorings Skipper, with a Moorings Power charter you'll arrive in comfort and style. Our state-of-the-art Power catamarans are a stable, fast and fun vacation platform for an amazing vacation escape with family and friends.