This Travel Notes page provides useful information about Palma. From airport procedures to currency exchange it will tell you what to expect to make your vacation smooth and worry free. You might also find our online cruising guide helpful in planning your vacation itinerary in more detail. 
Boating Requirements
Click here to review the power or sail requirements for Spain while planning your sailing vacation.
Address & Map
Base Location
The Moorings Spain 
S.L. Avinguda Gabriel Roca
15 Entresuelo 
07914 Palma de Mallorca

Map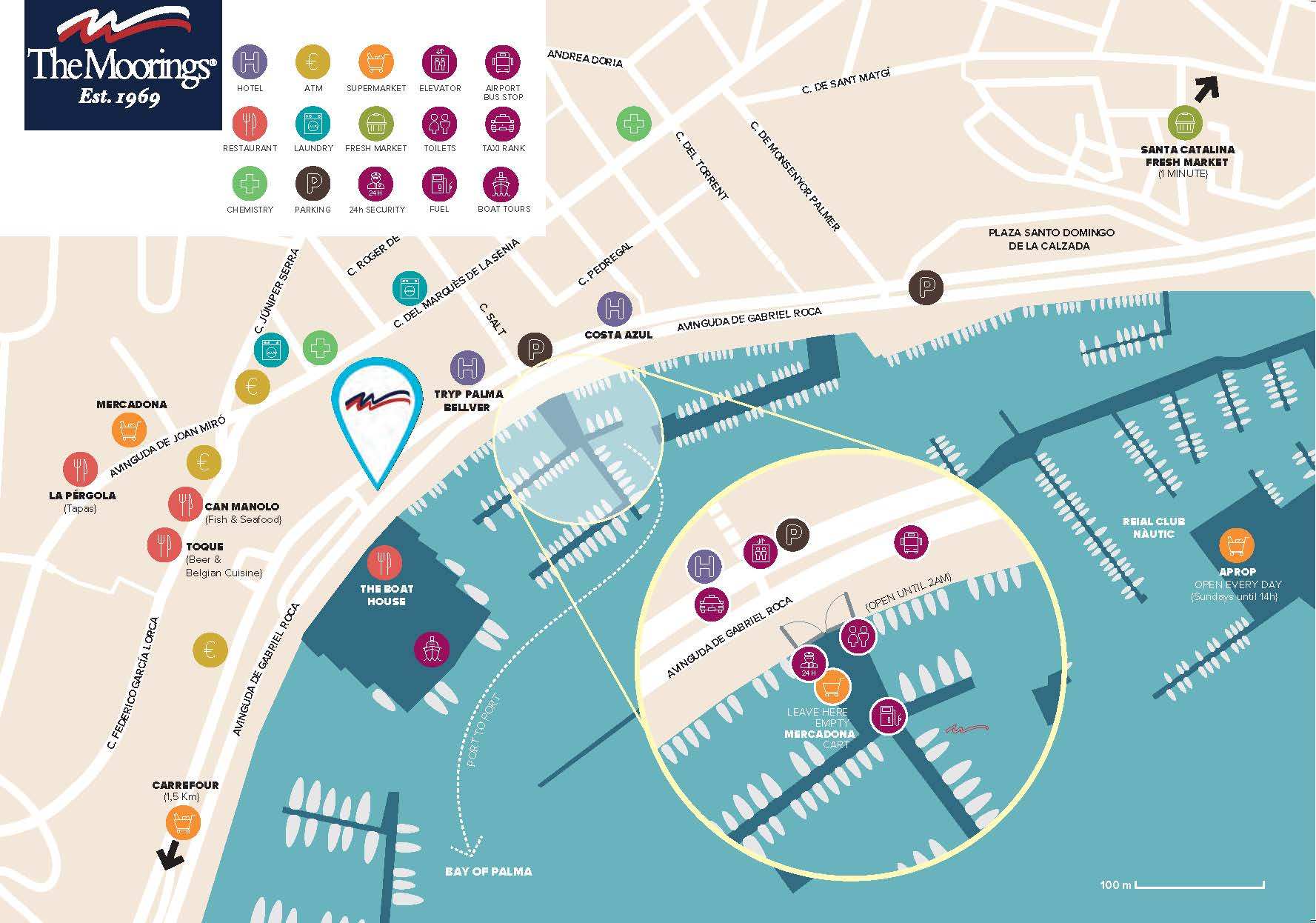 Hours of Operation
Monday - Thursday: 9:00 a.m. to 5:00 p.m.
Friday: 9:00 a.m. to 7:00 p.m.
Saturday: 8:00 a.m. to 7:00 p.m.
Sunday: 8:00 a.m. to 5:00 p.m.
Season: This charter destination is closed from early November to early April. 
Base Facilities
Our base in Palma is located just 10 minutes from the airport. The base is just a short walk from the city center, with quick access to the supermarket, restaurants, banks, the post office, laundromat, shopping and much more. Palma is a great place to spend time before or after your charter with many regattas and events taking place throughout the year.
On site marina facilities include: showers, toilets, fuel, and water. Ice can be purchased at the base.
Base Map
Arrival & Departure
How to get there
Mallorca's airport is situated five miles (8km) east of Palma. It's about a 10 minute drive from the airport to The Moorings base, depending on traffic. The airport has four terminals of which terminal A is used for domestic flights and terminal B, C, D is used for international flights.
Servicing Airlines
Adria Airways, Aer Lingus, Air Algerie, Air Arabia, Maroc, Air Berlin, Air Europa, Air Mediterranee, Air one, Arkefly, BMI, Bmibaby, British Airways, City Airline, Condor, Darwin Airline, EasyJet, Edelweiss Air, Finnair, Flybe, Germania Airline, Germanwings, Iberia Express, Iberia, Jet2, Jetairfly, Lufthansa, Luxair, Meridiana Fly, Monarch, Neos, Niki, Norwegian Air Shuttle, Onur Air, Ryanair, S7 Airlines, Scandinavian Airlines, Swiss International Airlines, Thomas Cook Airlines, Thomson Airways, Transavia, TUIfly, Ural Airlines, VIM Airlines, Volotea, Vueling
Customs & Immigration
A valid passport, travel document or National Identity Card is required (for each passenger).
IMPORTANT: The document must be valid until three months after the expected date of departure from the territory of the Member States and must have been issued within the previous ten years. Citizens of any State of the European Union, Switzerland, Norway, Iceland and Liechtenstein only need the National Identity Card or passport in force. The United Kingdom and Ireland do not belong to the Schengen area and need a passport. In the case of being a minor and traveling with the National Identity Card, it must be accompanied by parental permission.
Note: Country entry/exit requirements are subject to change. The Moorings is not accountable for any requirement changes.
Airport
Palma de Mallorca Airport (PMI)
Mallorca's airport is situated five miles (8km) east of Palma. It's about a 10 minute drive from the airport to The Moorings base, depending on traffic. The airport has four terminals of which terminal A is used for domestic flights and terminal B, C, D is used for international flights.
Airport Transfers
Transfers from the airport to the base are not included. However, they can be arranged by special request. Please advise us of your requirements at least 3 weeks prior to the charter start date by providing your arrival information to your Vacation Planning Specialist. 
Arrival / Departure Procedures
Embarkation: Charters are available to start from Saturday only. Short-term reservations may be available upon request. Charters start at 3:00 p.m.
Briefing Times: Boat & Chart briefings are typically scheduled for 1:30 p.m., but we can be flexible during business hours to schedule briefings at a time that best suits our customers. All head charterers are required to attend the briefings. Chart briefings are conducted in a meeting room at the Tryp Hotel Bellver located opposite the base. 
Disembarkation: All charterers must return to base by 5:00 pm the night before disembarkation for debriefing and checks. Disembarkation is at 9:00 am the following morning. 
Late Arrival Procedure
The base personnel will wait for you until 8:00 p.m. After 8:00 p.m., you will find an information sign at our reception office with a message for you indicating your yacht's berth. Your boat will be open and indicated by a sign with your name. The boat's equipment will be ready for the night. The base personnel will be available the next day at 9:00 a.m.
Taxes / Departure Tax
Departure tax is generally included in the price of the airline ticket.
Airport Transfers
Public transportation - Bus (Airport - Palma de Mallorca)
The transport between the airport and Palma de Mallorca is very well organized, from early in the morning until late at night you can take the bus line 1 to travel between both places. In the city the bus stops at the main tourist sites, the port of Palma de Mallorca is the last bus stop. The journey to Placa d'Espanya in the center of the city is 18 minutes. You can buy a ticket with cash with the bus driver for a price of € 5.00 and children under 5 can travel for free. The bus line 1 departs every 13 minutes from the city and next to the arrivals hall located on the ground floor of the airport (Arrivals). For more information visit, website and guide of schedules bus line 1.
Local Transfers - Taxis
Taxis are ready waiting at the taxi stands in front of the airport. The price for a taxi ride to Palma de Mallorca is around € 27.
Car Rental
At the Airport, you can rent a car from the following car rental companies: Avis, Europcar, Goldcar, Hertz, Enterprise Atesa, Record Go and Sixt. Clients will need a driving license and an identification document, such as a passport or ID. A driver's license alone is not enough documentation.
Driving Directions
Palma de Mallorca Airport (Aeropuerto de Palma), S/N
07071 PALMA (MALLORCA), España - 902 404 704
Head southwest  650 m
Turn left - 23 m
Slight right - 300 m
At the roundabout, take the 2nd exit onto the Autovia de Llevant ramp to Palma - 1.1 km
Merge onto Autovia de Llevant - 4.2 km
Continue onto Avinguda de Gabriel Roca/Ma-19 Destination will be on the right
Naviera Balear S.L. Avenida de Gabriel Roca, 4
07014 Palma, Spain
Parking at the base
A secured car park is located at Joan Miro Av, 65 971 18 09 59. Cost - 24h: 14€- One week: 74€
General Information
Area:  4.992 Km2
Population: 1.144.396
Capital city: Palma
People: Spanish, and from European countries.
Language: Majorcan and Spanish.
Religion: Catholic
Government: Government of Spain
Major industries: tourism
Tipping: 10-15% is generally acceptable, normally not included on the bill
Currency: The Local currency is the Euros (€)
Electricity: The voltage used is 220/240 Volts (European Standard)
Time: UTC+01:00
Palma is the major city and seaport geographically located in the southwest of Majorca. The city lies on the large coastal Bay of Palma in the western Mediterranean Sea. The land area of the city is about 13,269 square miles with an altitude of 43 feet.
Palma is bordered by rocky inlets and marinas on the south side, while many of the tourist resorts are positioned towards the east side of the city. The central zone that extends from Palma is generally a flat fertile plain known as Es Pla. There are two uninhabited islands, Cabera, which is located southeast of Palma, and Dragonera which is west of Palma.
Language
The official language of Palma is Majorcan. Spanish is considered a second language. However, English, French and German are generally understood at most attractions, museums, hotels and restaurants that cater for visitors. In smaller towns and villages a phrase book is a useful item to carry.
Business Hours
Generally shops and businesses in Mallorca and open from around 8:30 a.m. until 1:00 p.m. and then close for a traditional afternoon siesta, reopening at around 4:00 p.m. until 8:00 p.m., although some shops do stay open later in the summer.
Tipping Policy
Tipping is standard and Hotel and restaurant bills usually include a 7% tax and additional tip of about 10-15% is preferred.  Restaurants, Bars & Nightclubs: 10-15% of the bill is generally acceptable if it has not already been added to your bill. Taxi drivers: 10-15% of the fare and usually charge baggage by the piece. Tour guides: 5-10% tip.
Currency
Local currency is the Euro (EUR €)
Time
Standard time zone UTC/GMT +1 hours
Daylight Saving Time: DST in use +1 hour
Daylight savings time (summer time) moves the clock one hour ahead of standard time.
Holidays & Festivals
Mallorca is a lively island, with many of its principal resorts hosting all kinds of summer events. The island's biggest cultural festivals and religious processions tend to take place around Palma. Banks, government offices, post offices, and many stores, restaurants, and museums are closed on legal national holidays.
Mallorca National Public Holidays
January 1st - Año Nuevo / New Year's Day
January 5th - Epifanía / Epiphany
January 6th - The Kings Day (Spanish "Santa Claus")
January 17th - Saint Anthony ("Sant Antoni")
January 20th - Sant Sebastia ("Sant Sebastiá")
40 days before Easter - Carnival
March 19th - Dia de San José / St. Joseph's Day
Late March or early April - Jueves Santo / Maundy Thursday
Late March or early April - Viernes Santo / Good Friday
May 1st - Fiesta del Trabajo / Labour Day
June 24th - Saint John ("San Juan")
July 25th - Saint James ("Sant Jaume")
August 15th - La Asunción / Feast of the Assumption
October 12th - Nacional de España / National Day
November 1st - Todos los Santos / All Saints' Day
December 6th - Dia de la Constitución / Constitution Day
Good Thursday ("Dijous Bó")
December 8th - La Inmaculada Concepción / Feast of the Immaculate Conception
The Good night (Before Christmas)
December 25th - Navidad / Christmas Day
2nd Christmas Day (After Christmas)
December 31st - New Year's Eve
* If a holiday falls on a weekend - the following business day will be considered a holiday as well.
Hotels
Hotel Tryp Bellver 4-Star - directly across from The Moorings base
The Melia Palas Atenea 4-star - 5 minute walk away from The Moorings base
Hotel Puro 4-Star - stylish hotel in the old town
Hotel Portixol 4-Star - small hotel at the harbor of Portixol
Restaurants
Many establishments close mid-afternoon for a siesta and do not open for evening meals until 7:00 or 8:00 p.m.
Palma has a wide and exquisite gastronomical variety. The offering extends from the excellent Majorquine cuisine, through tapas bars and specialties' restaurants to classic international cuisine.
Post Office
Regular mail sent within Spain and Andorra takes approximately three working days for delivery. Mail sent to European destinations takes two to four working days.
Stamps may be purchased at post offices and tobacconists as well as some stationary shops. Stamped mail can be posted at a post office or a public post box (which are yellow).
For more information visit www.correos.es
Internet Connectivity
Public access to the Internet is easy to find, with terminals appearing in cyber cafés, shopping centers, hotels and hostels throughout the city center.
Cellular Phones
Your cellular phone may work in Palma de Mallorca. Please check with your service provider for coverage details and call costs as you may need to activate international call roaming on your contract.
Drone
The use of flying drones may be restricted in some areas. For current drone regulations in this destination, please visit https://uavcoach.com/drone-laws-in-spain/
Shopping
In Palma, the Plaza Juan Carlos I, next to the Cathedral, and the streets around are probably the best shopping areas. Shops usually open from 10:00 am and close at 1:30 p.m., to open in the evening from 5:00 p.m. 8:00 p.m. However, big shops usually do not close for lunch and are open all day. On Sundays all shops are closed. Keep in mind on Sundays only the bars and restaurants are open.
Taxes
The internal sales tax in Spain is known as IVA and varies between 7% and 33% depending on the item bought. Food, wine and basic requirements are taxed at 7%, most goods and services are charged at 16% and luxury items such as jewelry and cigarettes attract 33% tax. Hotels have a special 7% rate.
Clothing Suggestions
Be sure to bring the appropriate sailing gear when visiting Palma, hat, sunscreen, long sleeved tops. Layered clothing and a jacket are recommended as the weather can be variable.
Tourist Information Centers
Información Turística del Centro Histórico de Palma de Mallorca  
Tourist Information Center
Address: Carrer de l'Almudaina, 9, 07001 Palma, Illes Balears
Phone:971 22 59 63
Banks & Money Exchange
Banks
Banks in Palma: Deutsche Bank, Triodos Bank, Banco de España, Novo Banco, Banco Santander, BMN Sanostra, Banco Sabadell, Bankia, BBVA, ING Direct, Banco Sabadell.
Hours of Operation: 8:30 am – 2:00 pm / Monday – Friday
Currencies / Money Exchange
Accepted Forms of Payment: USD Dollars and GBP are accepted, Visa and MasterCard are also accepted in most places.
Post Office
Address: Progreso Square 07013 PALMA DE MALLORCA (Baleares) Phone:(+34) 971280997 Fax: 971288006
Hours of Operation: Mon-Fri 08:30 to 20:30 - Sat 09:30 to 13:30
Sunday and Festivities: No Service
Activities & Sports
Fishing
A fishing license, or rod license, (permiso de pesca) is required to fish both inland and sea waters in Spain.
The Balearic Islands are very popular for sea fishing; to fish, it is obligatory to have an: Individual recreational fishing license (Llicència de pesca marítima recreativa individual), which allows the person to fish from land or boat, for people over 14 years of age. There is no fishing allowed in any of the harbors in Majorca or any other Balearic island. In addition you must not fish within 250 meters (820 ft.) of professional fishing boats or within 100 meters (328 ft.) of other shore users (i.e. sun bathers, swimmers, etc.).
Licenses can be obtained from the Director General of Fishing (Dirección General de Pesca) at:
C/ dels Foners,
10 - 07006
Palma.
Getting your license in person is actually very quick, but the process may be a little strange to the uninitiated. Fill in the application form (available in English) and hand it in. You will then be given an invoice, which you take to the local bank where you pay the license fee. The bank will give you a receipt, which you then return back to the office where they will issue your license.
You can also order your license online. It can take up to 1 month for the license to be issued this way and you will still need to collect it in person from the office, remembering to take your ID with you.
There are 4 marine reserves around Mallorca which are marked by large white post along the coast. You are allowed to fish the reserves in places, at certain times of the year and on specific days of the week. A booklet is given out when you get your license explaining where the marine reserves are located and the restrictions placed on them.
Licenses are only available for sea fishing and each license covers all the Balearic Islands. For more information go to http://www.holidays-majorca.co.uk/trips/beaches/bay-palma-badia-de-palma-marine-reserve
Water Toys
Snorkeling equipment (fins, masks & Snorkels) will be available for use. A dingy and outboard will also be provided. Stand Up Paddleboards are available to hire at a cost.
Cruising Information
Marinas

Marinas – Palma
Marinas -  Ibiza
Marinas -  Menorca
Sailing Area Restrictions
The island of Cabrera, a tiny piece of land off Majorca's southern coast, has been declared a national park and access is restricted. The island has developed its own unique range of flora and fauna and for anyone interested in wildlife it should not be missed. The bay is beautiful, peaceful and sheltered.
Position 39° 09'N, 02° 55'E. (entrance to the Port)
The harbour entrance is hidden until you are upon it, and then opens up into a beautiful natural bay with a 15th Century fortress on the port side that rises from a clump of stones. Entrance is possible in all winds, but would be tricky if the wind was blowing very strongly from the north. Good shelter once inside. Around 50 moorings have been laid here (anchoring is forbidden) and must be reserved in advance here.
National Marine Parks
Most marine reserves are marked with signs and/or posters.
The posters show a map of the location of the reserve and indicate the activities that can be done, as well as some basic aspects of the regulations.
The signs can be either concrete pylons on the coast or rectangular areas painted white on the cliffs which, correctly strung in pairs, draw an imaginary line in the sea. These lines mark the limits of special protection zones.
The Marine Reserve of the Bay of Palma
This reserve includes the coastal area, up to 30 meters deep, between the Club Nautico del Arenal and Cabo de Regana.
In the reserve, almost 50% of the two ecosystems characteristic of the Mediterranean coastal areas are represented: posidonia (Posidonia oceanica), authentic biodiversity concentration points, mainly invertebrates and fish fry, and sandy bottoms, with Fauna: mollusks, crustaceans, echinoderms, etc.
The reserve comprises a total of 2,394 hectares, and its importance lies in protecting an area that has been subjected for centuries to strong human pressure.
The Marine Reserve of the north of Menorca
It is characterized by its good state of conservation and by a high attractive landscape and naturalistic, and this is also valid for its funds, which very close to the coast and exceed 30 m depth, and have a great heterogeneity and variety of habitats.
The Marine Reserve of Freus d'Eivissa i Formentera
Posidonia grasslands (Posidonia oceanica) are undoubtedly the paradigmatic community of the reserve because of its great extension and good conservation status. The fish communities that we find in the reserve are constituted by species typical of Mediterranean coastal environments.
The Marine Reserve of Mitjorn de Mallorca
Basically, the continental shelf that constitutes its bottoms is covered by carbonate sediments (sands). The biological communities that develop in this substrate, which have not yet been accurately studied, are the meadows of marine phanerogams (Posidonia oceanica and Cymodocea nodosa), with a high biological production and are the focus of many species of fish. Fishing interest; The communities of red calcareous algae ("maërl"); And coral and mollusc communities (bivalves, gastropods).
The Marine Reserve of the islands of El Toro
The great bathymetric gradient of this area and its location make it an exceptional place to find migratory pelagic species. It is hoped that their declaration as a reserve will cause populations of those sedentary species (grouper, croaker, etc.), negatively affected by recreational fishing activities, to recover over time.
The Marine Reserve of Malgrats Islands
The marine area around the Malgrats islands (Calvià, Mallorca), as well as the waters on the neighboring coast, have a high ecological and fishing value because of the diversity of habitats, benthic communities and fish that you can find. The meadows of the Posidonia oceanica phanerogama occupy great extensions. We also find circadian and infralittoral rock bottoms, which are the habitat of large sedentary fish species. The meadows of the Posidonia oceanica phanerogama occupy great extensions.
The Marine Reserve of Llevant de Mallorca
This marine area presents a great diversity of habitats and of fish and benthic communities. To date, 32 communities have been counted, most of them in good conservation status, and more than 900 species.
The Marine Reserve of the Freu de Sa Dragonera
The marine area of the Freu de sa Dragonera has considerable ecological and fishing value, in which a high diversity of habitats and communities can be found in a relatively small space. The underwater landscapes of sa Dragonera are an example of the ones that can be seen on the coast of Majorca, where the Posidonia oceanica grasslands, very extended to the south, stand out, which act as areas of great biological production and repopulation of fry Species of fishery interest.
Provisioning (Food & Drink for your boat)
Moorings Provisioning
Provisioning is available at this location. Click here for more information or to order provisioning online.
Supermarket
Provisioning is available at the Supermarket Mercadona, a 5-minute walk from the marina. For more convenience, you can bring the trolley over to the marina and leave it there, and the supermarket staff will come and pick up trolleys from there.
As soon as you have finished, we will pick you and your goods up and drive you back to the marina, you just have to call us. This service is free of charge.
Palma's supermarkets are open daily from 10:00 a.m. to 10:00 p.m. (except for national holidays and Sundays). Shops are usually open Monday to Friday from 10:00 a.m. to 7:30 p.m.; Saturday from 10:00 a.m. to 1:30 p.m. and closed on Sunday.
There are also some small supermarkets along Paseo Maritimo near the marina where you will find basic food (bread, milk, etc.). Some of them are open 24 hours a day.
In the tourist villages and on the beaches, shops are generally open all days.
The Santa Catalina market is located at Av Argentina where you will find fresh produce until 2:00 p.m.
Health & Safety
Travel Insurance
The Moorings offers a Charter Care Protection Plan which is a comprehensive travel insurance scheme for your complete peace of mind. If you have your own travel insurance, please make sure that it covers all of the destinations and activities of your Moorings vacation.
Vaccination and Immunization Information
To travel to Spain does not need to be vaccinated against any disease. As in any part of the world, it is recommended to have the tetanus vaccine updated if you are going to be in contact with nature and the rural environment, as well as have updated the official immunization schedule. More information can be found here.
*Please note country entry/exit and vaccination/immunization requirements can and do change. The Moorings is not accountable for these requirement changes and we advise visiting the destination's authority website to receive the latest updates.