Published:
February 24, 2020 Terese Kerrigan
Comments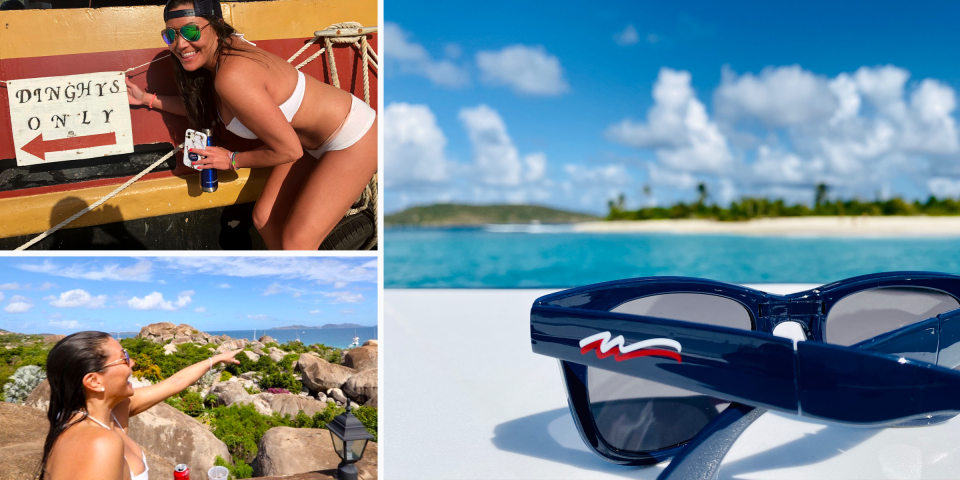 You know that magical feeling children get when they visit Disney for the very first time? Well, that's exactly how I felt when I had the opportunity to visit the British Virgin Islands for The Moorings 50th Anniversary Event last November. Like many travelers who have never been there, I was really curious….Do the British Virgin Islands really live up to all the hype? Well, I'm here to tell you—YES. THEY. DO.
The BVI was everything I hoped it would be, and more. Even though I didn't get to visit ALL of the top-spots in the British Virgin Islands during this trip, every day was a sun and fun-filled delight that I wouldn't trade for anything. Here are some specific things that I discovered along the way… 
Planning Ahead
As a strong type-A personality who always likes to plan ahead, having access to various online resources such as The Moorings Mainsheet blog, suggested itineraries, base guide, and travel information definitely helped me prepare for my first BVI yacht charter vacation. For instance, we chose to fly directly into Beef Island instead of opting for a cheaper flight into St. Thomas after realizing that we would lose a lot of time on ferry and taxi transfers. We also opted to pre-purchase most of our provisioning online, so we wouldn't have to lug all our groceries from the store to our boat. It was so convenient and I highly recommend doing this. The more you utilize your resources ahead of your trip, the easier your charter experience will be.
The Mariner Yacht Club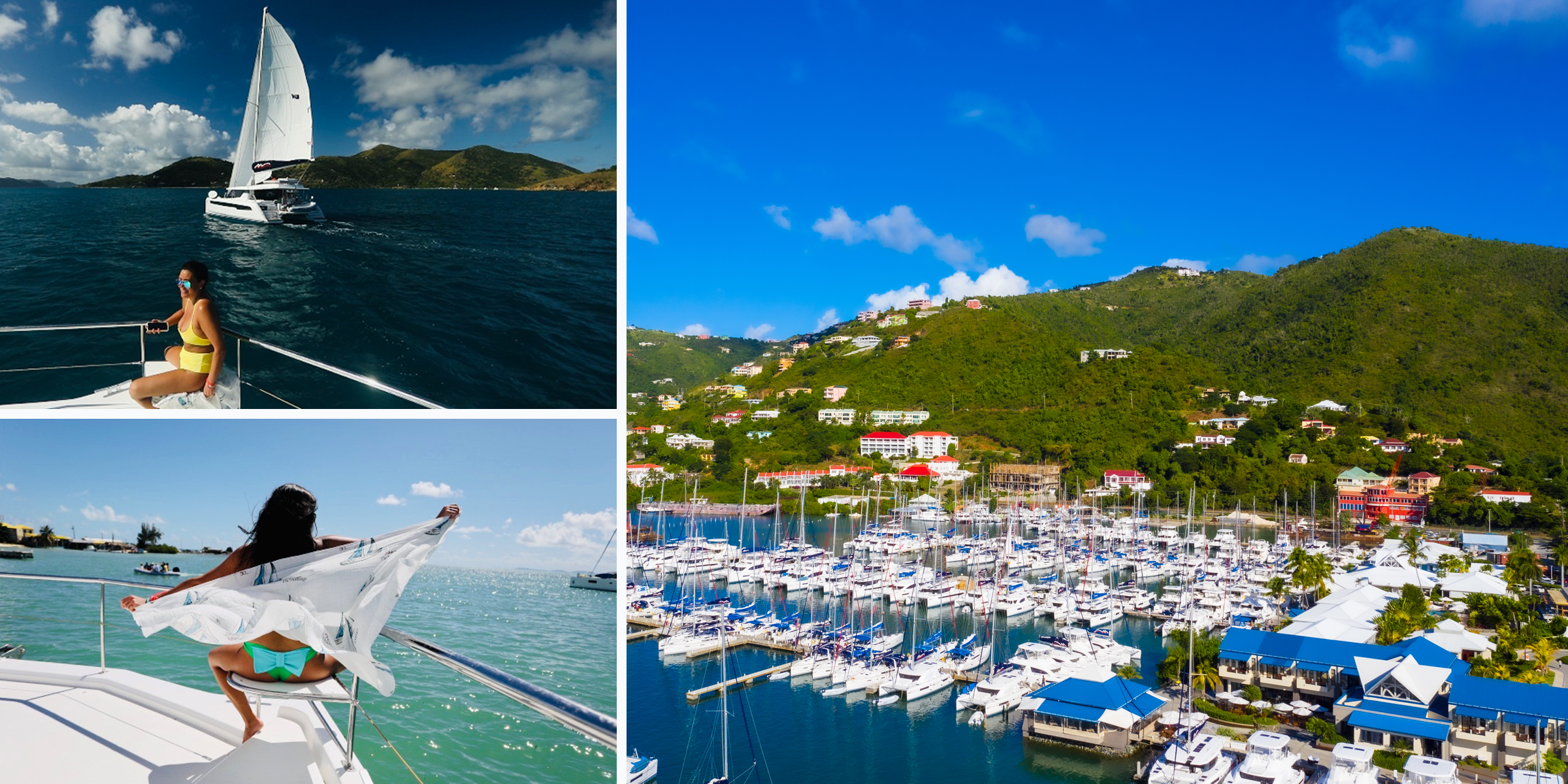 Hands down, there is nowhere else like The Moorings Road Town base in The British Virgin Islands. Even as someone with very high hopes and expectations for this trip, I was blown away by the marina. Not only is it massive, but seeing the hundreds of yachts lined up on the multiple docks was quite impressive. When you add in the swimming pool, two restaurants, shops, and individual locker rooms complete with fancy dual-shower heads, you've got a place where I'd be perfectly happy to stay an entire week! Plus, the omelet and potatoes I had at The Mariner Yacht Club Hotel Restaurant was one of the best breakfasts I've ever eaten.
Hurricane Recovery
Many of the stories I had read in advance of the trip were understandably about Hurricane Irma, and the subsequent damage she caused to the British Virgin Islands just over 2 years ago. Just how far along the recovery had actually gotten was a big concern of mine, but there was only ONE time where I encountered any sign of Hurricane Irma—a small harbor holding some damaged boats that I saw from the van during the ride from the airport to the marina on Tortola. Beyond that, everywhere we went showed no signs of damage at all.
Chart and Boat Briefing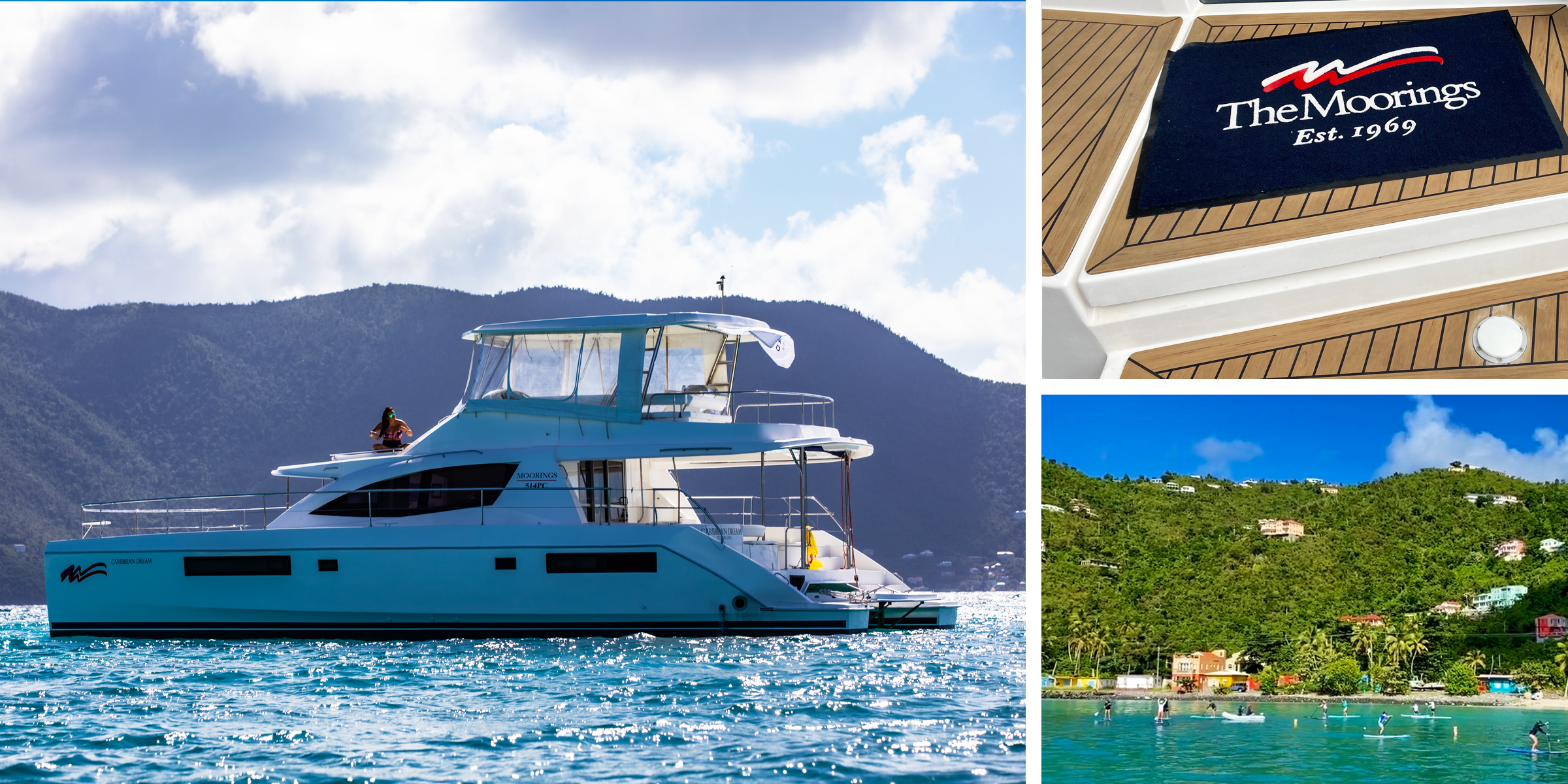 The mandatory chart and boat briefings at the base are a lot more entertaining than they sound—and very informative. Our boat briefer, Captain Morgan (the fun began right there!) was a hoot and was able to not only answer all questions regarding The Moorings 514PC, but as a local could also share additional "insider tips" and recommendations such as—get to The Baths early to catch a mooring ball before the rush, and avoid Cane Garden Bay on days when a cruise ship is in town.
Cell Phone Connectivity
Like most people these days, I rely heavily on my iPhone and can't imagine getting through a day without it. But my time in the BVI taught me a valuable lesson—how to truly live in the moment—so much so that I actually forgot my cell phone on two different occasions when going ashore. And I'm a Millenial! It is a rare thing to be so completely blissful and in-the-moment that you forget you even have a phone, but the British Virgin Islands did that for me. I mean this is a true vacation in all its glory. 
The Moorings 5800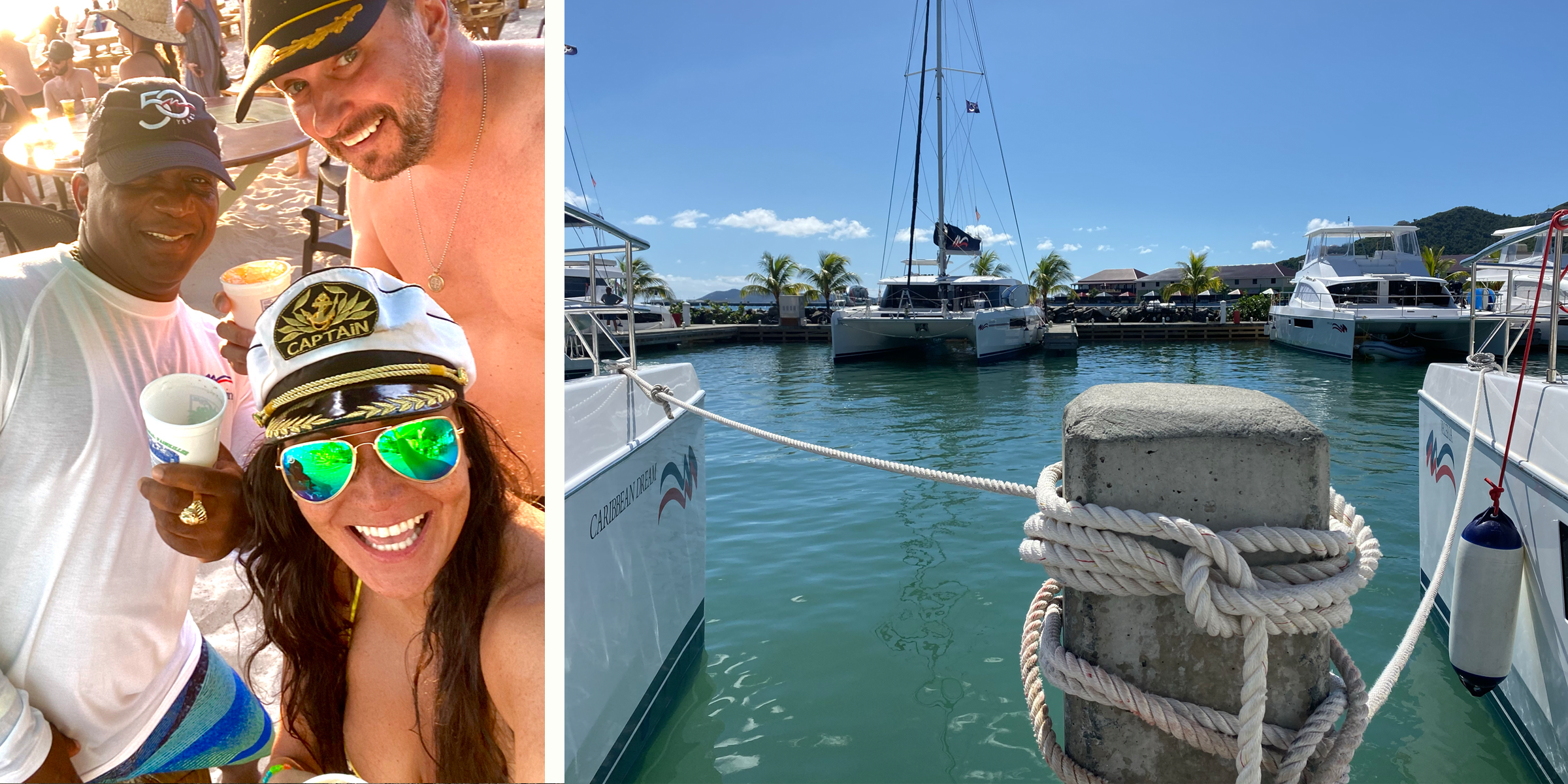 Even knowing that The Moorings 5800 is the largest catamaran in the fleet, I was in awe of its size upon seeing it in person. It's huge. And gorgeous. But the moment when things were really put into perspective was when our spacious 514 powercat was sandwiched by two 5800s. It looks so small in comparison!
Getting in the Dinghy
Completely embarrassing yourself while trying to get back into the dinghy from the water is a rite of passage of sorts for charterers. We've all been there. So if you and your crewmates decide to take the dinghy out to explore some of the popular snorkeling sites like The Caves or The Indians, you may want to practice hoisting your body back into the dinghy from the water beforehand because I learned the hard way just how challenging it can be. It was not a flattering moment, but luckily my friends were more experienced and were able to help pull me up. Don't say I didn't warn you!
Bug Spray
I live in Florida and typically get eaten alive by mosquitos, so naturally, I was worried about what the bug situation would be like in the BVI. I am happy to say they weren't an issue at all during my BVI vacation. While on the boat, you are offshore and generally the breeze is very steady, so bug encounters are rare. If you go ashore, as with everywhere else just bring along a bottle of repellant in a dry-bag and that should do the trick.
When in Rome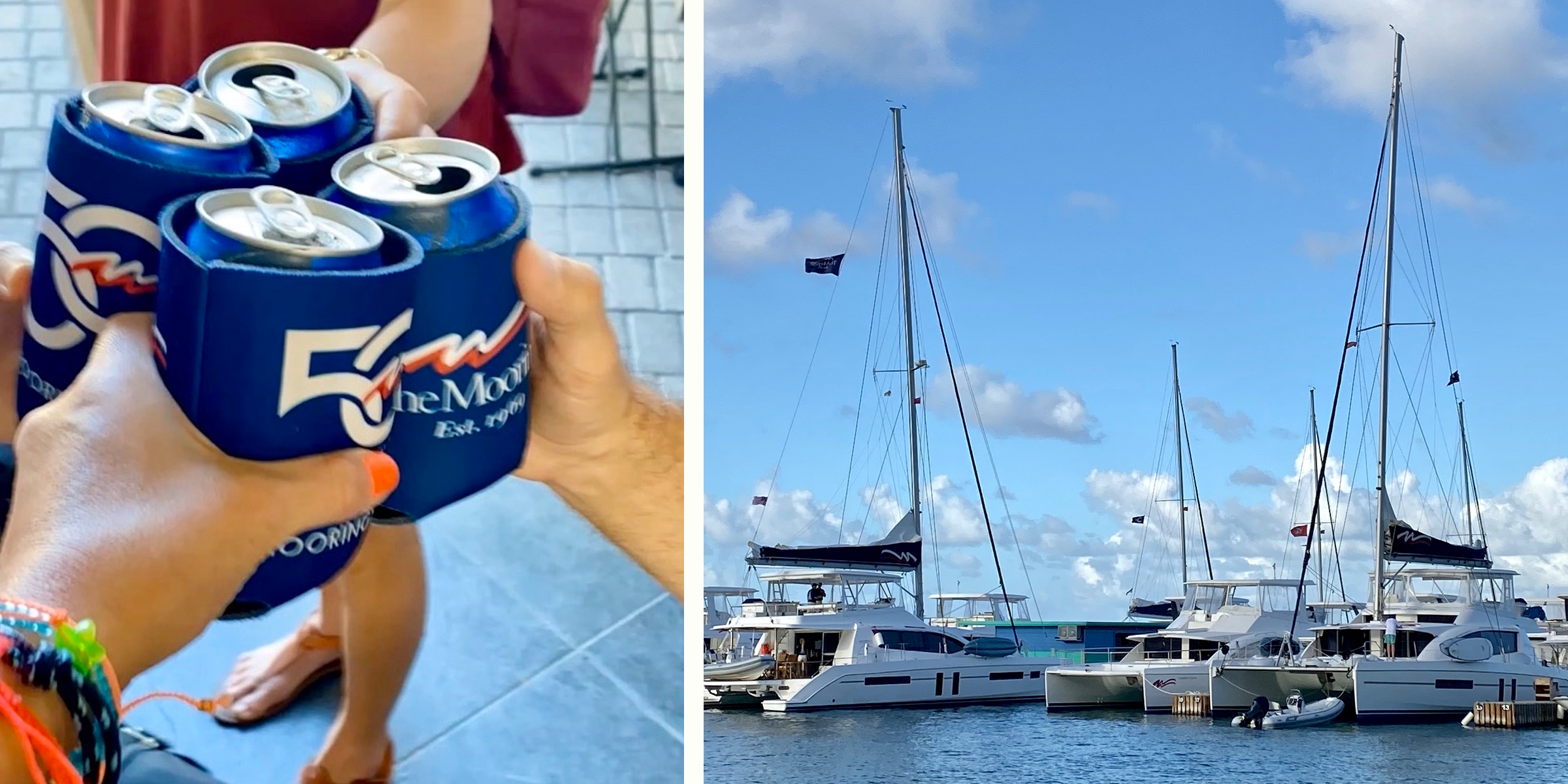 I'm typically not a beer drinker, but one of my biggest regrets of this trip is that I didn't crack open a can of Carib until the last day, because it was really good! Next time I'll grab my favorite koozie and enjoy Caribs throughout the entire vacation like everyone else I was with. (Note: This is not a sponsored post, just a personal recommendation. Please drink responsibly.)
The BVI was a dream come true. I can't wait to go back and honestly can't imagine experiencing these Caribbean islands any other way than by boat, with The Moorings—the "granddaddy charter company of them all" (Mark Pillsbury, Editor | Cruising World).
Did you find this useful?