Published:
June 25, 2018 Terese Kerrigan
Comments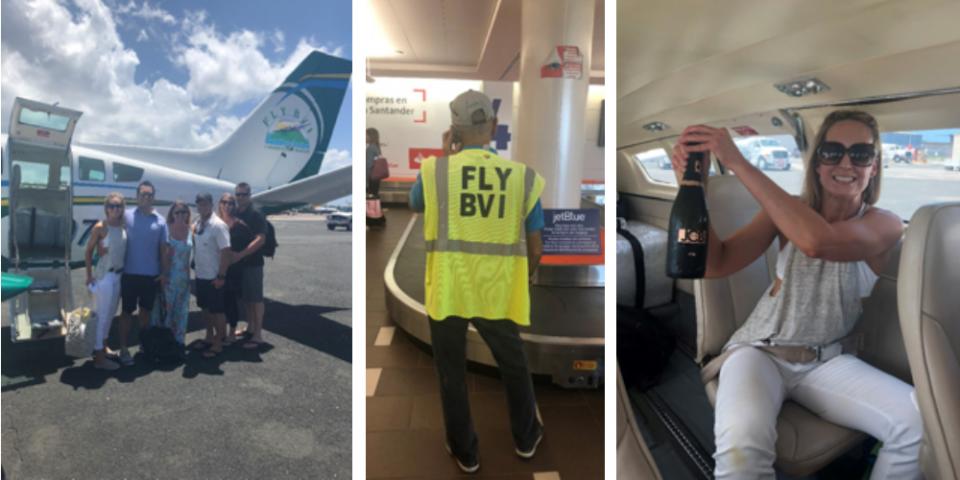 There's just something about the BVI. We can't seem to get enough, and neither can our guests! So even if you've island-hopped your way through this Caribbean cruising playground once, twice, or ten times before, follow along with our very own Laura Brafford, Vacation Planning Specialist, as she takes you on a detailed journey of her recent 10-day charter adventure in the always incredible British Virgin Islands and provides some insider tips on how to make the most of your travel experience...
Day 1 – Travel & Cooper Island
Flying from Tampa, Florida and celebrating two 40th birthdays, we decided to upgrade our travel experience by reserving a private flight through Fly BVI. We booked a scheduled flight to and from San Juan, Puerto Rico and they coordinated the rest for us. Our round-trip price was comparable to booking a scheduled fare and came to $943.30 per-person (which included our Jet Blue flights). We only had 6 people on a 9-passenger plane, so this could actually beat some of the published fares out there if you had more people with you. For the added benefits and potential savings, I would highly recommend this service. (If you call them for a quote, let them know you are a Moorings client!)
When we landed in San Juan and disembarked our Jet Blue flight, a Fly BVI representative was waiting to escort us down to baggage claim. They had a handler, which was included in the price, collect our bags and take us to a private shuttle that promptly took us to our private flight. We arrived in San Juan at 12:45PM and landed on Beef Island at 2:10PM. This gave us an entire extra day to enjoy the islands, prevented airport delays, and saved us an expensive tab at the airport bar! All in all, I believe this is the way we will choose to travel to the islands in the future.
Once we cleared through customs at Beef Island, Wheatley's Taxi Service took us to Trellis Bay, where our captain and boat were waiting for us. Trellis Bay still had quite a bit of damage from Hurricane Irma, but for a Moorings Signature Pick-Up it worked out perfectly! Although we are all experienced power boaters, we choose to hire a local skipper so we can kick up our feet and fully relax. The local knowledge always leads us to at least one spot we have never been to before.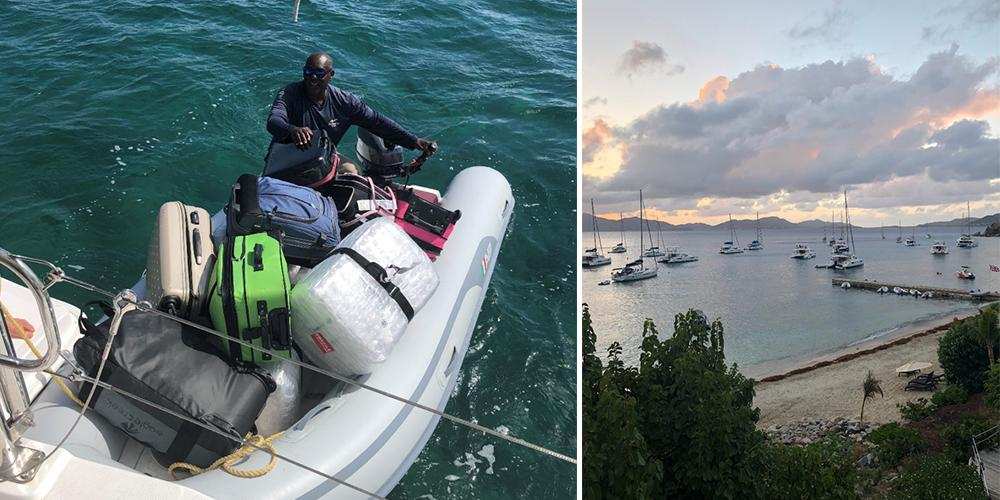 Our first night was spent at Cooper Island, an eco-friendly resort with an impressive dedicated Rum Bar. We had reserved rooms here for that night because originally our boat wasn't scheduled to be ready for us until June 2nd. Getting sailed over on our boat and hooking up to the resorts private mooring ball, which is reserved for hotel guests, really made us feel like super stars! We were able to unpack, get settled, grab a few items and head to shore for a relaxing start to our vacation. A dinner on shore here is an absolute must!
Aside from the fact that the grounds look completely unaffected from the recent storm, they source all locally grown organic produce and grass-fed meat for their menu. If you are looking for a 2 or 3-night stay on either end of your trip, Cooper Island Beach Club should definitely make your list of contenders. The rooms encompassed everything you would want out of a Caribbean vacation, and more. This is also one of my favorite gift shops, boasting a variety of items that go beyond the typical island trinkets.
Day 2 – Virgin Gorda
As sad as we were to leave our first day behind, we were eager to get to Virgin Gorda and explore The Baths! We spent a good portion of the day here, crawling through the caves, swimming, and of course eating lunch at The Top of the Baths. In years past, I would say shoes are optional – however now I would recommend wearing water shoes or throwing a pair of flip-flops in your dry bag if you plan on making the trek to the top. Although not a far walk, the foliage is not quite as lush as it used to be, which made the walkway extremely hot due to lack of shade. We dashed up to the top and purchased flip-flops in the gift shop—easily the best $40 we spent this trip!
We had two friends with us who scheduled three dives with Sail Caribbean Divers, so once we left the Baths we sailed to Spanish Town to meet the dive crew for their first dive pick up. While they went to explore the Dogs, we snorkeled and did some boat yoga! We planned to stay in Spanish Town that night, but all agreed Leverick Bay would be a better view for the night. After a quick sail to Leverick, we had dinner on board then went ashore for some after dinner drinks.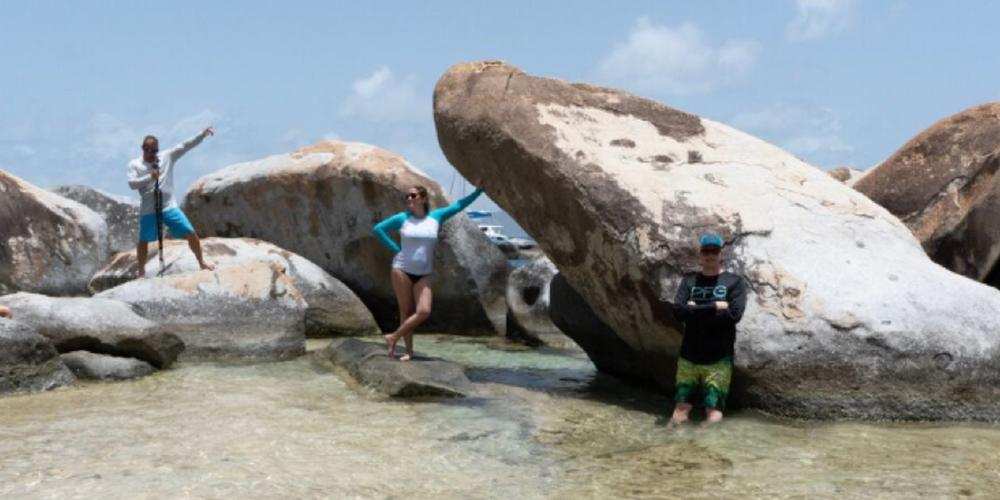 Day 3 – Scrub Island
The divers of the group did one more dive out of Spanish Town in the morning and then we headed over to Scrub Island for a relaxing day by the pool and spa. Not all of their shore power and water hook ups are available right now, so just know that you might be running your generator at night. However, the top-level pool bar, restaurant, mini mart, and spa are all open. We all got couples massages and were able to enjoy the resort's private pool with a bottle of champagne. The spa truly is 5 stars and definitely worth visiting if you want to take your relaxation up a notch! We also left a load of our travel clothes and towels at the front desk to be laundered… it was $30 a bag… just be sure to drop it off by 2:00PM for it to be ready the following morning.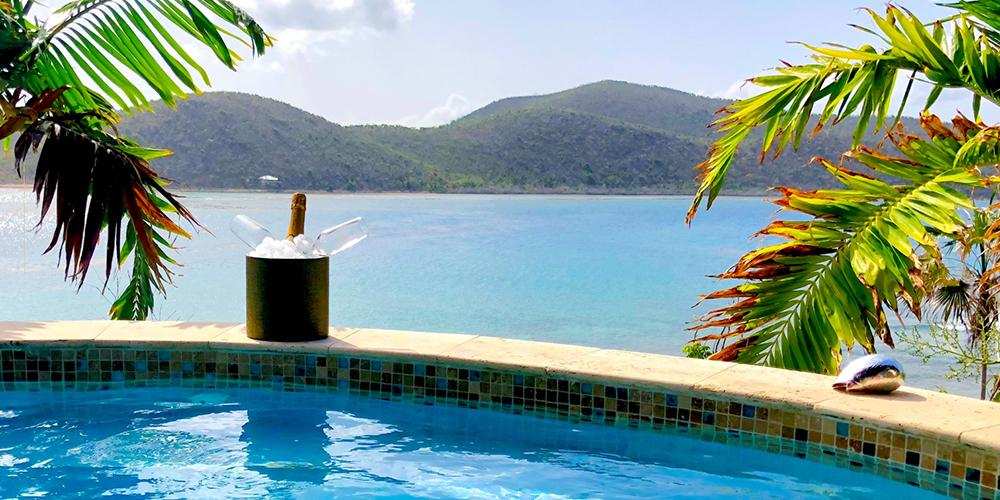 Day 4 – Anegada
We made the beautiful and long sail over to Anegada and arrived around 1:00PM. As soon as you pull in, an array of boat boys will come serenade you to dine at their restaurant, take your trash from you, offer ice, and even arrange for scooter rentals. We always choose to eat at the Anegada Reef Hotel for our lobster dinner, so we promptly radioed them and ordered the largest lobsters they had. This place's "toes in the sand" ambiance cannot be beat in my opinion!
We then made our way to shore to secure our scooter rentals for the next couple of days. As a tip, we would opt for the dirt bikes in the future as there is deep sand on some of the roadways, which made the scooters a little wobbly and slightly more challenging. Luckily, one couple in our group rented a Jeep, so we were able to hop in with them!
We originally had planned to spend two days here, so we could take Kitesurfing Lessons, but unfortunately the wind didn't cooperate. This is a great example of why it is best to make loose plans and go with the flow!! I am so glad we decided to stick with our plan to stay 2 nights there anyway, as we were able to see everything on island.
Before dinner, we made it over to Loblolly Bay for a round of drinks and exploration, went through the settlement to enjoy a long ride, and spent quite a bit of time talking to the owner of Flash of Beauty. Her homemade Chicken Roti is a must try! It is made to order, so plan on using that time to snorkel out front.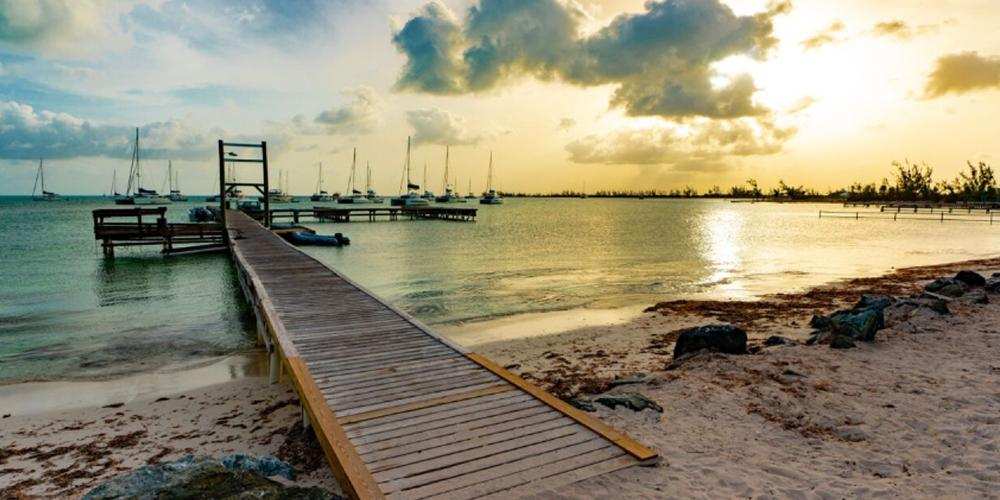 We finally headed back to the boat to enjoy a happy hour on the water and get ready for a meal under the stars.
Day 5 – Anegada
We woke up early, excited to continue our explorations! Our hired cook went on shore to the local bakery and picked us up homemade banana bread for breakfast. It was divine, and I highly recommend swinging by the bakery to get some goodies for yourself. We headed to Cow Wreck beach for a morning happy hour. Because as Jimmy Buffett says—it's 5'oclock somewhere!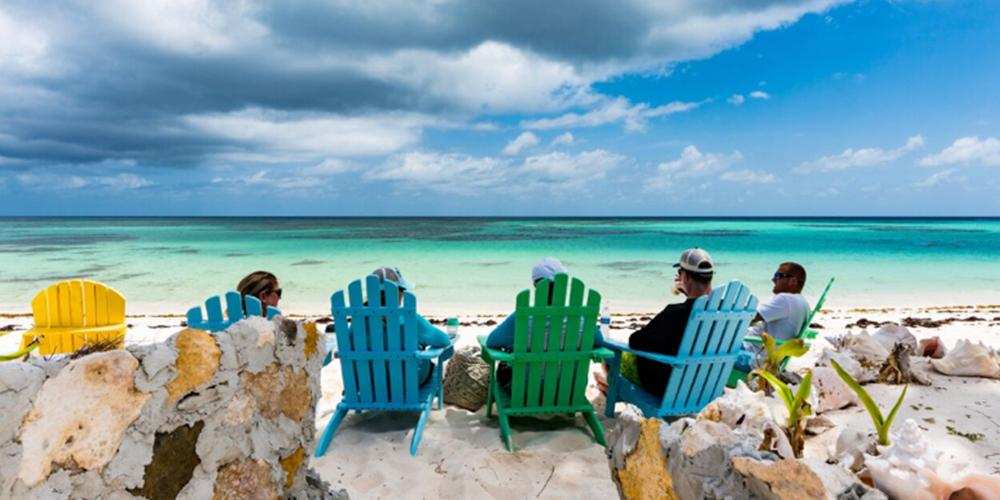 It was a beautiful and peaceful view that time of day and we had the entire place to ourselves. We sluggishly collected ourselves and headed over to The Anegada Beach Club for the rest of the day, which looked completely unharmed from the storm. We all loved the shade they provided on the beach as well as near the pool area. The food was delicious too and I highly recommend the shrimp & quinoa salad! We did a quick drive-by to take a peek at the flamingos and then turned our scooters in and headed back to the boat for another happy hour on the water and dinner on board. We finished the night with a night cap at The Wonky Dog, which was still hosting a few dinner patrons.
Day 6 – Cane Garden Bay
We left Anegada early and sailed down towards Cane Garden Bay. On the way, we stopped by Guana Cay, which was perfect for snorkeling, paddle boarding, and kayaking. After enjoying the peaceful surroundings, we continued our trek. Once we arrived, we were able to top off our water tanks, take trash off, and grab a few more bags of ice. We went directly on shore, so we could visit Callwood Distillery before it closed (it is open until 5:00PM) – although the pathway up to it wasn't as lush, it was interesting to hear how they prepared for the hurricane while tasting all of their regularly offered samples, including the infamous "Panty-Dropper" rum.
The beach front market is not currently open, but there is one on the back road on the way to the distillery. It was one of the better ones we saw in the sailing area, offering fresh produce, beer, wine, spirits, snacks and other staple items.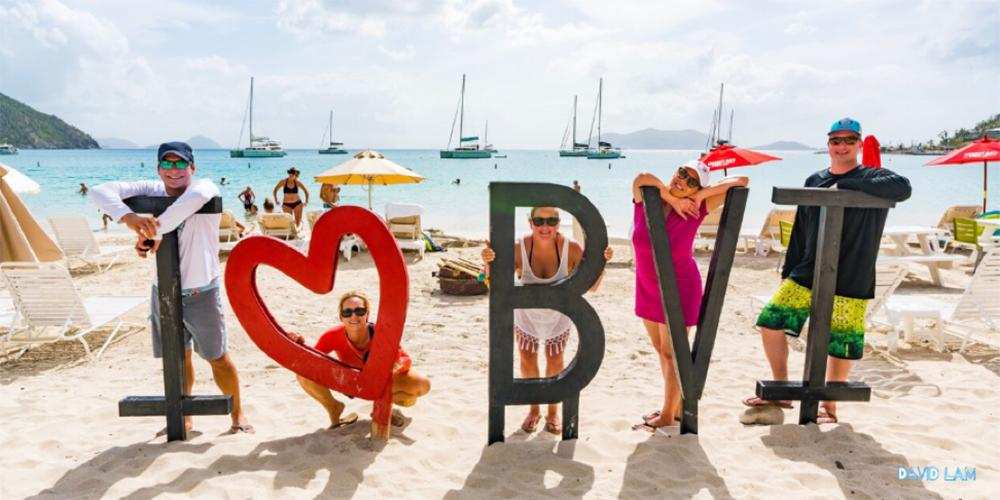 We spent the rest of the day enjoying the calm waters in our floats with a drink in our hand. We were not really sure what to do for dinner here, as we usually eat at Myett's, which was only serving a limited lunch menu. Per Myett's recommendation, we walked down to The Paradise Beach Club to check out their menu. I have to say, we were extremely iffy on whether we wanted to dine here. It looked like it would turn into more of a party spot at night and the building was mostly put together by tarps post-Irma (insert mom's old saying about never judging a book by its cover). We ultimately decided we would give it a chance, and man oh man are we glad we did! Since we put in a reservation in the afternoon, they had our reserved table covered with a white table cloth right in the sand with a fire pit close by. Hands down, this was one of the best meals we had throughout the week. From homemade pizza crust to lobster alfredo, the menu did not disappoint. The two vegetarians on board were ecstatic with all of the fresh vegetables they were able to order, and the service was out of this world.
Day 7 – White Bay & Norman Island
We were on a roll going to bed and waking up early, so we decided to fit in The Bubbly Pool before heading over to Soggy Dollar Bar. I will say, I probably would not recommend going here if you haven't been before. There is a sign that says it is currently closed and there is quite a bit of debris blocking the entrance. It would be hard to find the path if you weren't familiar with what it used to look like, but the hike itself was still enjoyable. The bubbly pool itself looked very similar to what it always has, but the surrounding landscape was completely flattened.
After my husband completed his rock sculpture (If anyone goes here and sees it still standing, let me know! He would be very proud of himself!) we headed over to White Bay for a day of shenanigans. One of our best friends, who happens to be an avid BVI lover too, ordered us a few rounds of "Painkillers" through the Soggy Dollar. This is a super fun surprise to treat someone to if you know they will be at the bar. Just be sure to give them a heads up so they can look for their name on the Drink Board.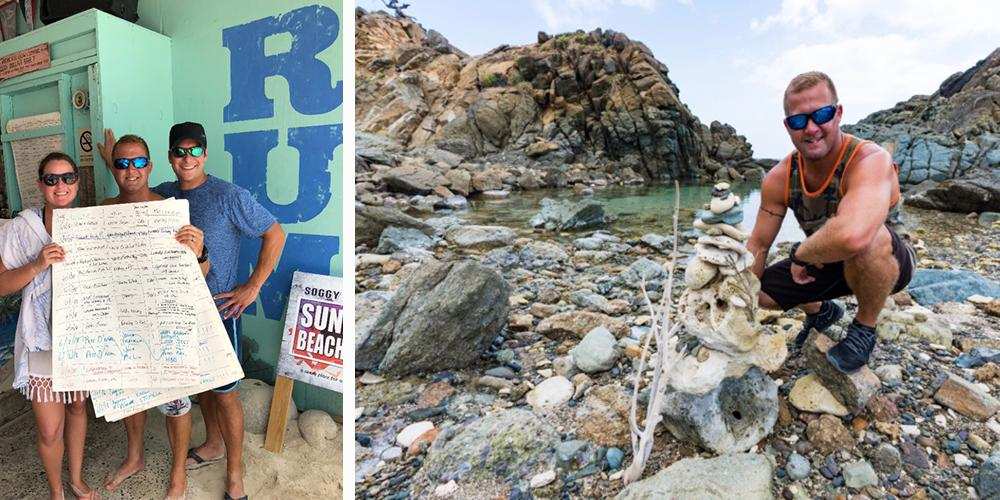 Soggy's looked absolutely fantastic. They saved all of the 100's of patches that patrons have left throughout the years and already had them rehung. We were so happy to find the ocean lifeguard patch we left two years ago proudly hanging by the ceiling fan. The original bar was intact and everything else got a nice face lift. It now boasts a larger gift shop, newly planted palms, and tons of tables and shade where the cottages used to sit.
After getting our fill of rum, we headed to Hendo's Hideout, which was also in pristine condition. The service and food were great, and it caught a nice breeze from the water. After trying to decide if we wanted to Karaoke at Foxy's or enjoy a more low-key night, we decided to opt for the latter and sailed over to Norman Island.
Day 8 – Peter Island & WILLY T
The divers of the group had their last scheduled dive for The Indians, which they said was hands down their favorite dive of the trip. We decided to spend the morning exploring Norman Island by foot. There is only one car on the island, but there is a clear path that goes a few different directions. We really enjoyed the hike up to the top and caught a breathtaking view of the other side.
We had lunch at The Bight, which offered a delicious selection of salad, roti, burgers, and curry. While our friends were out on their dive, we went ahead and sailed over to Peter Island to celebrate the newly-opened Willy T! We caught a quick drink during the day to really get a good look at her but made our official group entrance later that night.
After a few jumps off the back and one too many shot-skis later, we found our way back to the boat for a little late-night dancing and our last night's sleep on board. The new anchorage for the infamous floating bar is absolutely gorgeous, but there aren't quite as many moorings balls as there are in Norman Island, so make sure you don't wait too long to head over there for the night. It is a little deep to anchor and no one wants to be on watch after a night of pillaging fun.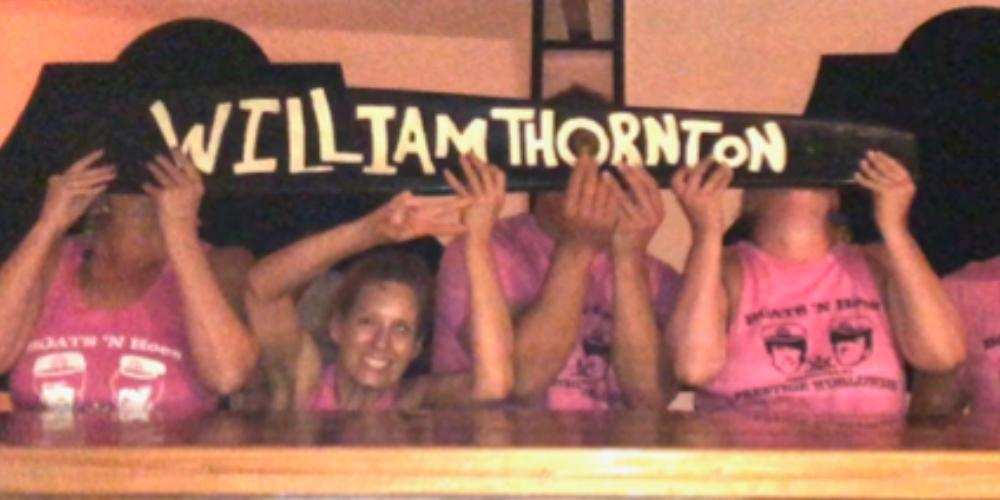 Day 9 – Private Villa in West End
We woke up pulling into The Moorings base, and while we were sad to go we knew it wasn't goodbye but see you later! Our journey wasn't quite over, as we planned to stay at a villa we found on Airbnb overlooking Long Bay Beach towards West End, named Silver Palms. It was about a 25-minute cab ride from the base, and it was actually one of our favorite spots of the trip. It offered a private pool, lush landscaping, and a breathtaking view of the beach. We hired a private chef, Chef Chet, to prepare the most fantastic farewell dinner. If you have the opportunity to use his services during your time in the islands, I would highly recommend it. His dishes were prepared with love and tasted delicious.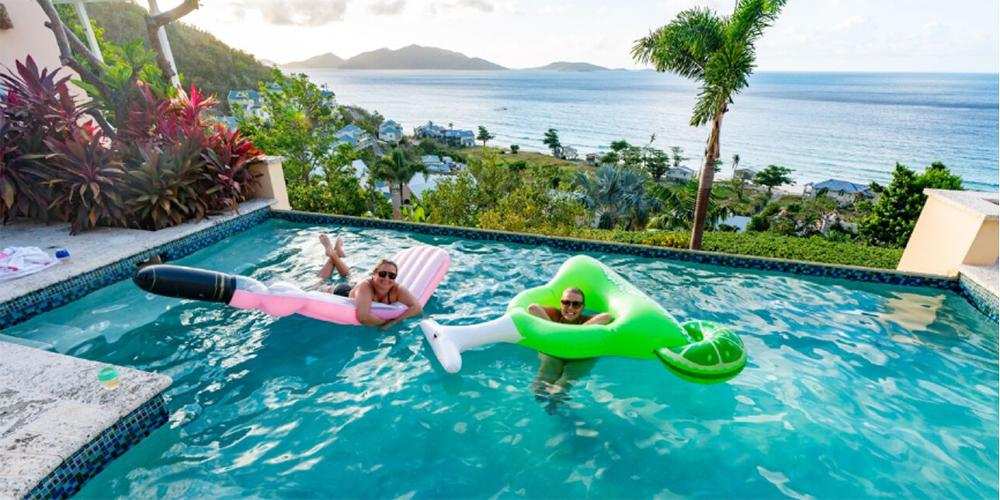 Day 10 – Heading Home
Now it really was time to say farewell…for now. We headed to the airport, finished one last bottle of champagne (because only on vacation is it semi-acceptable to pop a bottle of champagne in the airport at 9:00AM) and met our Fly BVI captain to take us away from paradise and back home. Fly BVI was every bit as amazing as they were on the way in, with a dedicated representative helping us through the airport and making sure we got to where we needed to be.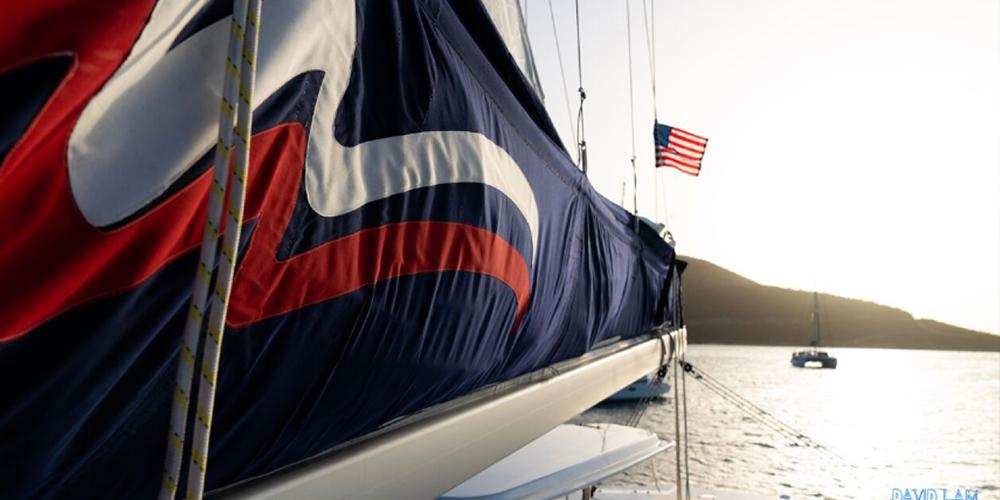 So, all in all, what did we think of the islands post Irma?...
My husband and I have been to the BVI many times and the other four in our group were BVI newbies. We debated which of our fabulous destinations to visit when we first started planning and by the time we left, we 100% knew we made the perfect choice. Although some areas are still facing hurricane damage, we wouldn't have changed a single thing about our time there and we were glad we got to spend money to help support the local economy. Restaurants were plentiful, ice & water were incredibly easy to find, and natural beauty surrounded us everywhere we went.
Whether you're a BVI veteran or a soon-to-be first-time visitor, rest assured—the British Virgin Islands are a little different than they were prior to Hurricane Irma, but they are still a wonderful destination worthy of your precious vacation time. So, stop worrying about what to expect and start looking forward to all the great things that await when you arrive—sun-soaked relaxation and rum-infused cocktails, stunning white-sand beaches and Caribbean-blue waters, warm trade winds and even warmer smiles from the island locals eager to welcome you back to the BVI!
Did you find this useful?