Before You Travel
Address 
Marina Agana, Marina 
Dr. Franje Tudmana 5  
21222 Marina, Croatia  
Tel: 00 385 21 889 477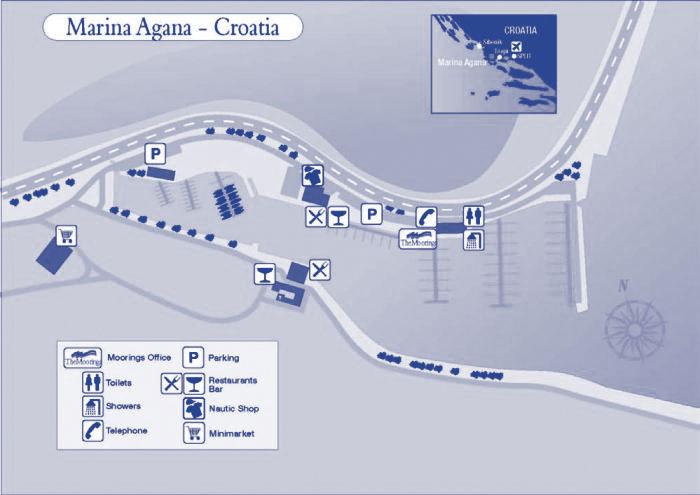 Base Hours  
In high season, the base is open from Sunday to Thursday from 8.30 to 16.30, Fridays and Saturdays from 8.30 to 19.00. If you are arriving to base outside of working hours, please try to inform the base staff. A letter of arrival will be waiting for you on the reception doors, detailing the whereabouts of your yacht and further procedure. The yacht will be prepared for you with lights left on and the name of head charterer written on a table visible from the dock. 
Season: This destination is closed from mid-November to end of March.
Time Zone
UTC/GMT +2 hours
Tourist Information Center
Tourist office in Marina: +385 983 605 96
General Information
Area: 35,134 sq. mi c
Population: 4,489,409
Capital city: Zagreb
People: Croat, Serb, other (including Bosniak, Hungarian, Slovene, Czech, and Roma)
Language: Croatian, Serbian, other and (including Italian, Hungarian, Czech, Slovak, and German)
Religion: Roman Catholic, Orthodox , other Christian, Muslim, other
Government: Presidential/Parliamentary Democracy
Major industries: chemicals and plastics, machine tools, fabricated metal, electronics, pig iron and rolled steel products, aluminum, paper, wood products, construction materials, textiles, shipbuilding, petroleum and petroleum refining, food and beverages, tourism
How to Get There
Airport 
Split Airport (SPU) is situated south from Trogir town, making the ride to marina Agana a short 30 minute trip direction north. To get to the center of Split town, which is further south from the airport, approximately 40 minutes are necessary. 
Arrival by Ferry
It is possible to get to Marina Agana from Ancona, Pescara (Italy), via Split. It takes approximately 9 hours by ferry, or 5 hours by hydrofoil.
From April to September there is a daily connection by ferry and hydrofoil.
Parking at the base
Parking is available at Marina Agana for clients arriving by car for 75 HRK per day or 350 HRK per week and must be arranged and paid for at the main reception desk locally.
Flights
Due to the number of flights we organize, the Moorings can offer some great rates to many destinations. Please make sure you contact our inhouse flight specialist at 866.649.2003 before you book your flights.
Transfers 
The distance from the Split airport to the base in Marina Agana is 12 miles. The transfer takes approximately 30 minutes and costs varies by the number of people.
Split Airport – Agana Marina
1-3 persons; HRK 397/car
4-7 persons; HRK 644/minivan
8+ persons; HRK 88/person
Split  Harbour- Agana Marina
1-3 persons; HRK 832/car
4+ persons; HRK 176/person
Car Rentals
Avis, Budget and Hertz are located at the airport.
Check In/Check Out
Check In Procedures
Charter Start Time: 3:00 PM
Sleep Aboard Time: Not available 
Briefing Times: Boat & Chart briefings are personalized and arranged upon arrival. 
All skippers must attend a Boat Briefing where all of the yachts operations will be explained, inclusive Safety briefing, dinghy and outboard usage etc. We kindly ask you read through the Briefing List provided upon your Check In, ensuring you meet with your technitian ready. A Chart Briefing of the area is held. We recommend participating in order to get local information on current weather and details on various destinations on the region.  
Late Arrivals 
The base personnel will wait for you until 19:00 pm. After 19:00 pm, you will find a letter at the reception door with a message indicating your yacht's name and berth. Your boat will be open and there will be a sign on board with your name. The boat's equipment will be ready for the night. The base personnel will be at your disposal the next day from 8:30 am and will then handover the boat to you.
Check Out Procedures
Return to Base: 18:00 the night before disembarkation. Disembarkation is at 9:00 AM the following morning.
A debriefing and final walkthrough will be done upon return so please allow enough time to complete this before the charter end time. Agana base offers a Morning Yacht Return Option, but availability and prices vary from boat to boat, so make sure to ask at reception for more details. 
What's on Board
Provisioning
Moorings Care packages are included on every yacht. These packages contain some of the basics to get you started for your vacation. Additional items are available to be purchased and delivered directly to your yacht. Visit our Provisioning Page to learn more.
Mobile phones 
Check with your service provider for information about cell coverage in this region. Using your own GSM mobile phone in conjunction with a prepaid SIM card is also very popular and convenient.  Telephone and internet facilities are available in marina Agana. 
Music/iPods 
While most of our newer boats have Bluetooth capability, we cannot guarantee all boats are outfitted with this equipment. For your convenience, we highly recommend you bring an AUX cord so you can listen to music from your mobile devices.
Electricity
230V AC, 50 HZ, two-pin plugs are standard. All yachts are equipped with power cords, a battery charger and 220V plugs. The piers in the Marina are equipped with 220 V outlets. The inventory includes an adaptor. The piers of the other marinas are generally equipped with 220V outlets. You will find numerous 12V USB ports throughout your yacht, so we recommend you bring a USB charger for your phones.
Coolers
Every The Moorings catamaran is equipped with a cooler on board. 
For more information on what's included on your yacht, please view the full list here for Bareboat Charters or here for Crewed Charters.
What to Bring
Customs & Immigration
Entry, exit, and visa requirements depend on the locations you are departing from and traveling to. You are responsible for having the correct documents so make sure to check with the consulate of the countries you plan to visit before you travel. Visit travel.state.gov for the latest information.
Cruising Licenses
A formal sailing license is mandatory to charter here so make sure you pack your original sailing license.. Review the power or sail requirements for Croatia while planning your vacation. Please contact our Vacation Planners at 888.952.8420 if you have any questions.
It is imperative that you bring these sailing certificates or sailing qualifications with you.You will not be able to sail without these papers, and failure to supply information in advance could delay your departure from the base. The sailing experience you provide on your booking confirmation is required as proof of sailing experience for the Croatian Port Authorities. Please bring any sailing certificates or sailing qualifications with you.
Luggage & Packing List
Soft-sided luggage or duffel bags are best, as luggage storage space on your yacht may be limited. We have no facilities for holding luggage at the base. Pack lightly and review our suggested packing list for required and necessary items to bring.
Pack essential prescription medicine and change of clothing in a carry-on bag*
Passport and other travel documentation and original sailing license
Tickets and paper confirmations for pre-planned activities
Light-colored, light-weight clothing
Formal wear for upscale dining establishments
Swimwear and cover up
Hats and sunglasses
Sandals and flip-flops
Athletic shoes and hiking boots
Travel-sized toiletries and hygiene products
Insect repellent and OTC pain relievers/ointments

AUX cable for playing music through your device

12V DC to 110V AC power inverter (for boats without generators**)

12V to USB power adapter for charging mobile devices
*We would highly recommend packing prescription medicine and essential clothing (swimsuit, t-shirt and shorts) in your hand luggage as occasionally your luggage may arrive at the base after you do.
**All boats include a 12V DC outlet (a "car" outlet). Boats with generators have 110V outlets in the Caribbean and 220V in the Mediterranean and Exotic locations.
Drones
The use of flying drones may be restricted in some areas. For current drone regulations in this destination, please visit here.
Currency
The kuna, also written as HRK, is the official currency used in Croatia.  Kuna (HRK; symbol Kn) = 100 Lipa. Please note this is the only accepted currency in Croatia.
Credit Cards:
Visa and Master Card are accepted.
American Express accepted at rare locations.
Please Note: This base cannot accept cash, American Express and Diners Club.
Traveler's Checks are not accepted. Exchange offices can be found on the airport or in numerous towns along the islands, included one in Marina Agana (open daily in high season), offering a better exchange rate than the bank. 
Gratuity
Tipping in Croatia is expected in all establishments, especially in restaurants and nautical-related venues. 10-15% is considered polite, although it is dependent mostly on the customers satisfastion.
Taxes & Fees
We highly recommend bringing enough of the local currency to cover mooring fee costs as they are not always payable by debit and/or credit cards. Please see our local eGuide for additional information.
Security Deposit
A security deposit must be paid at the base by Visa or Master Card and is refundable at the end of your charter subject to there being no loss or damage. To significantly decrease your security deposit, purchase our Yacht Damage Waiver insurance ahead of time.
Health & Safety
Vaccination and Immunization Information
This destination is generally risk-free of contagious disease. Visit cdc.gov for the latest information.
Travel Advice  
Your health and safety are important to us. For advice on how to stay safe while on charter, please review our Travel Advice Information. Current travel and safety information can be obtained by visiting travel.state.gov
Swim Safe
For your safety and for environmental reasons, the feeding of fish is not recommended and may be prohibited in some destinations.
Travel Insurance
The Moorings offers comprehensive travel insurance for your peace of mind. If you have your own travel insurance, verify that it covers the destinations and activities of your Moorings vacation.

*Please note country entry/exit and vaccination/immunization requirements can and do change. The Moorings is not accountable for these requirement changes and we advise visiting the destination's authority website to receive the latest updates.