Published:
June 13, 2017 The Moorings
Comments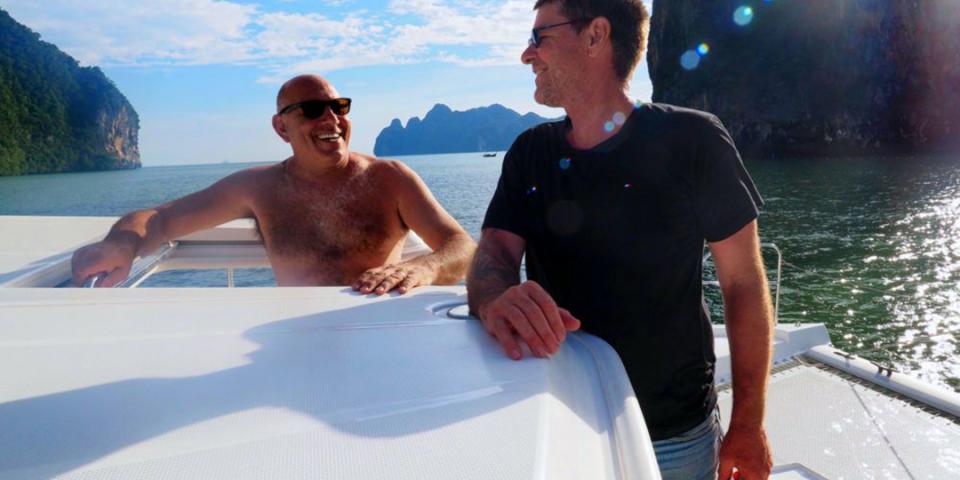 By: Paul Gelder 
Transport yourself to exotic paradise as Paul Gelder takes you on a vivid journey through Thailand's Andaman Sea aboard a Moorings 4800 with his so-called "motley crew" of travel buddies in this excerpt from the article originally published in the May 2017 issue of Sail Magazine...
You almost have to pinch yourself sailing around Thailand's Phang Nga Bay. It's like entering a lost world in a Hollywood movie. Rising dramatically from an emerald sea are surreal, gravity-defying limestone towers (karsts) which have been sculpted by millennia of monsoon rain and winds into spectral spires. The surrounding seascape is dotted with islands cloaked in forests of greenery. Many islands have sea caves and hidden lagoons that can be entered at certain states of the tide by kayak or on foot. It's like sailing into a fantasy world. Having been fortunate enough to sail five of the world's Seven Seas, I can report that only the fabled South Pacific islands come close to matching the Andaman Sea's spectacular, exotic backdrop.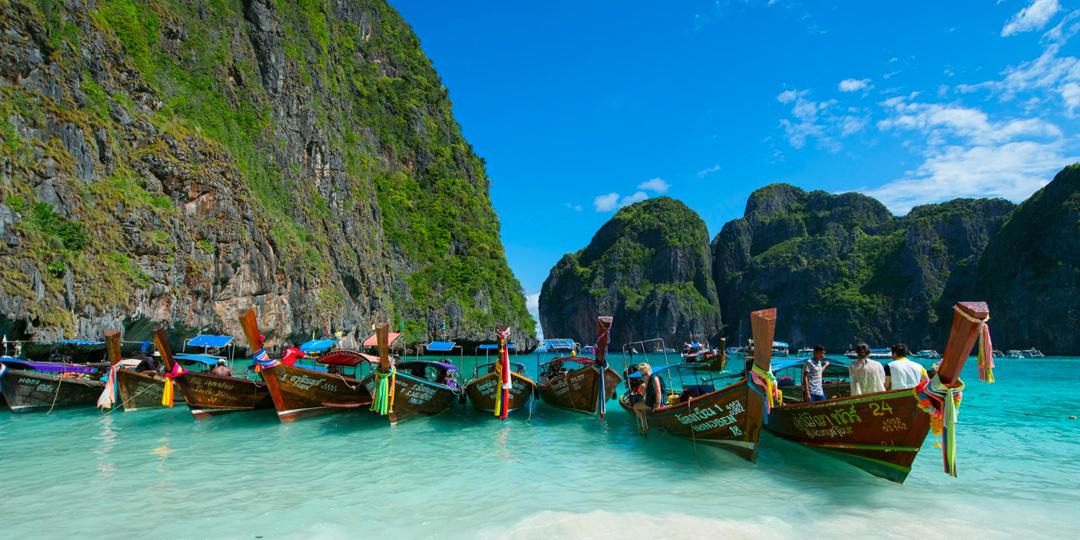 If the combined age of our motley five-strong crew of farangs (Thai for foreigners) had not been 316 (averaging 63 years each!) we could have been stars in one of those famous "Five Go" adventuring novels by English author Enid Blyton. Our skipper, Peter Nielsen, eminent editor of this publication, had invited along as crew two retired Brit sailing magazine editors (myself and Andrew Bray), plus two greenhorns, Ralph, who owns a flooring business in Marblehead, Massachusetts, and Bill, a Kiwi biker friend. Bill and Pete hadn't seen each other for more than 20 years. 
In the second week of December we each flew into Phuket from different parts of the world and met up by a Christmas tree in the lobby of a downtown budget hotel. The next day we crammed into a taxi to head for Ao Po Marina, on the northeast corner of Phuket Island, where The Moorings Charter fleet is based.
Aboard Apakorn, a Moorings 4800 catamaran, our home for the next seven days, we were given an orientation tour of the boat's systems, plus a briefing on the cruising area and do's and don'ts. Do keep a watchful eye on the ubiquitous longtail boats, used by fishermen and water taxis. They're fast and, unnervingly, they prefer to pass across your bows, believing they'll inherit your bad luck if they cross your wake.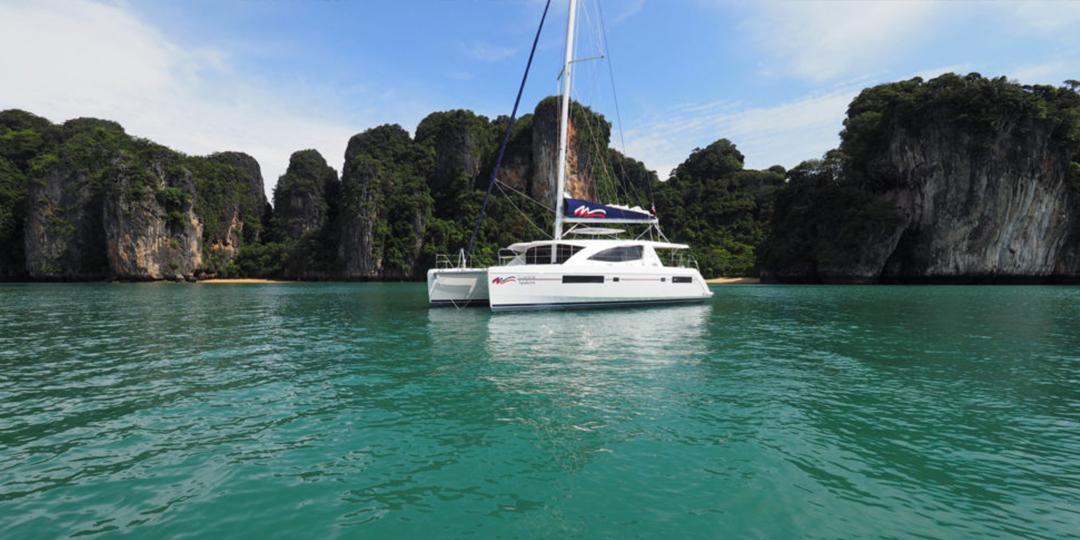 The only flies in the ointment were gray clouds and wet weather. It was meant to be the dry season (November to April) promising northeast winds at 10-15 knots. With a plaintive cry of  "This wasn't in the brochure!" we set off with 26 knots of wind and a forecast of occasional rain squalls. At least the air was warm. It was a short hop to number 6, Loh Paret Bay, where a host of wooden villas clung to the verdant terraced hillsides. Dropping the hook just south of a pier belonging to the posh Santhiya Resort & Spa, we went ashore in the tender for a beer. That night we ate at a table on the beach with our feet in the sand, choosing our food by touring the kitchen and pointing at what took our fancy as the cook threw it on the grill. "Street food," or even beach food, in Thailand, like many countries, can be a delicious bargain.
Next morning, fortified by Ralph's hearty scrambled eggs and bacon breakfast, we weighed anchor for the famous island of Phi Phi Don. Ko Phi Phi Don has been described as one of the most beautiful islands in the world. Its twin sandy bays are like two emerald butterfly wings separated by a fragile body created by a sandbar, or isthmus, covered in coconut trees. Its neighboring island, Ko Phi Phi Leh, astern to the south, was made famous as the backdrop for the 2000 Hollywood film The Beach, with Leonardo DiCaprio playing the young American backpacker in Alex Garland's best-selling novel.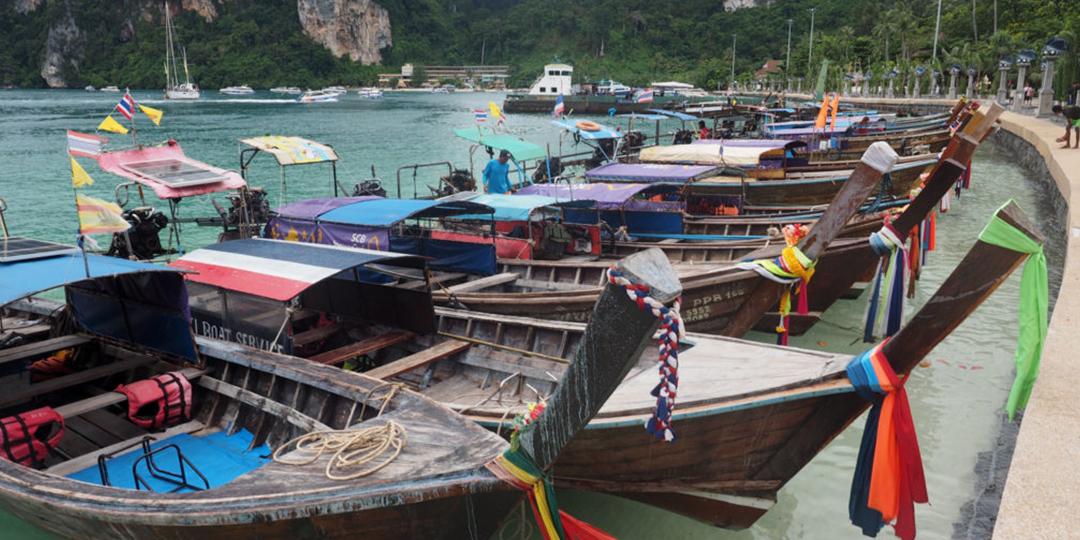 Boarding our tender, we joined boats of all sizes buzzing to and from the town's dock. Ashore we found the town thronging with tourists, day-trippers and backpackers. Swept along with the crowds in a spirit of joie de vivre, I explored a maze of back alleys hosting restaurants, beach party bars, dive shops, souvenir stalls and massage parlors. 
Leaving the crowds behind, we pointed our bows east and sailed in search of tranquility. It must have been serendipity, or karma, that brought us to our next stop, which proved to be an oasis of peace and my favorite island of the entire trip. Please keep it to yourself. Technically one island, the hilly north is called Koh Pu, while the flatter south, where we landed on a white sand beach, is Koh Jum, sometimes referred to as Koh Jam, just to confuse!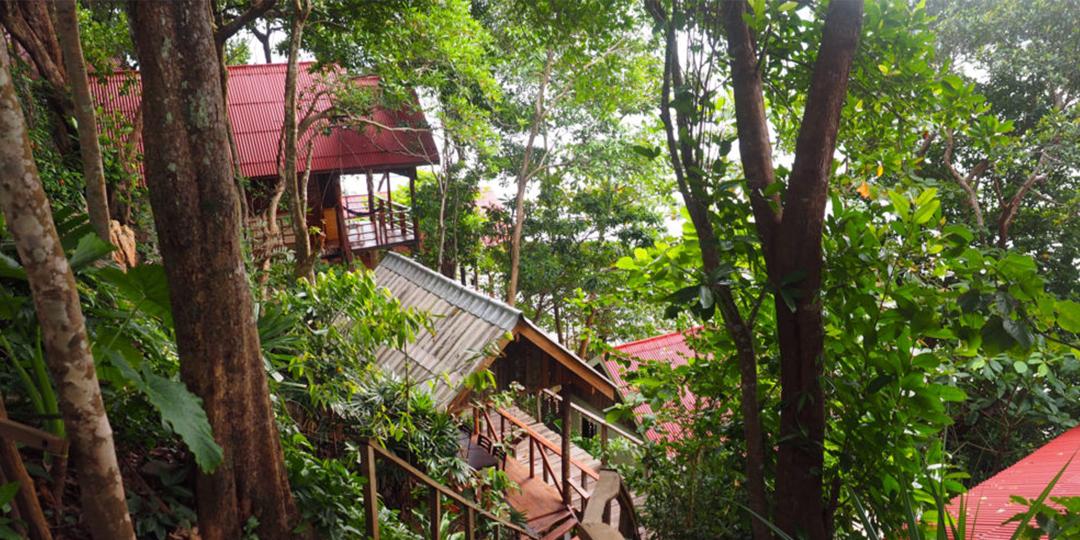 Idyllic and unspoiled, the island had a hidden, secluded feel with jungle villas and verandas built into the cliff sides and camouflaged by undergrowth. The island lies between Krabi, to the north, and Ko Lanta, to the south. We almost had Ao Si Beach to ourselves, and as we strolled along the shoreline in the late afternoon the sun broke through the clouds for the first time.
We returned that night and ate ashore at the northern end of the beach at a villa straight out of Swiss Family Robinson. Handrails and furniture were made from twisted branches and tree trunks. Cocktails came with a moonlit view of Phi Phi Don silhouetted on the horizon. "Restaurant" might be too fancy a description, but the food was good and there were huts up the hillside for rent. 
By now we'd lost track of days of the week, a sure sign of a relaxing holiday. A perfect, lazy 4-knot beam reach in bright sunshine took us north the next day to bustling Ao Nang, to stock up on beer, ice and eggs and change money. We escaped the midday crowds, rounding Laem Hang Nak cape as the setting sun glinted on the gold roof of the King of Thailand's hilltop summer palace, and celebrated a great day's sailing by opening a bottle of champagne.
We couldn't miss calling at Koh Phing Kan, made famous as the secret limestone lair of villain Scaramanga (Christopher Lee) in the James Bond movie The Man with the Golden Gun, starring Roger Moore. We made sure we arrived early and succeeded in avoiding the daily invasion of longtails and tourist boats from mainland resorts.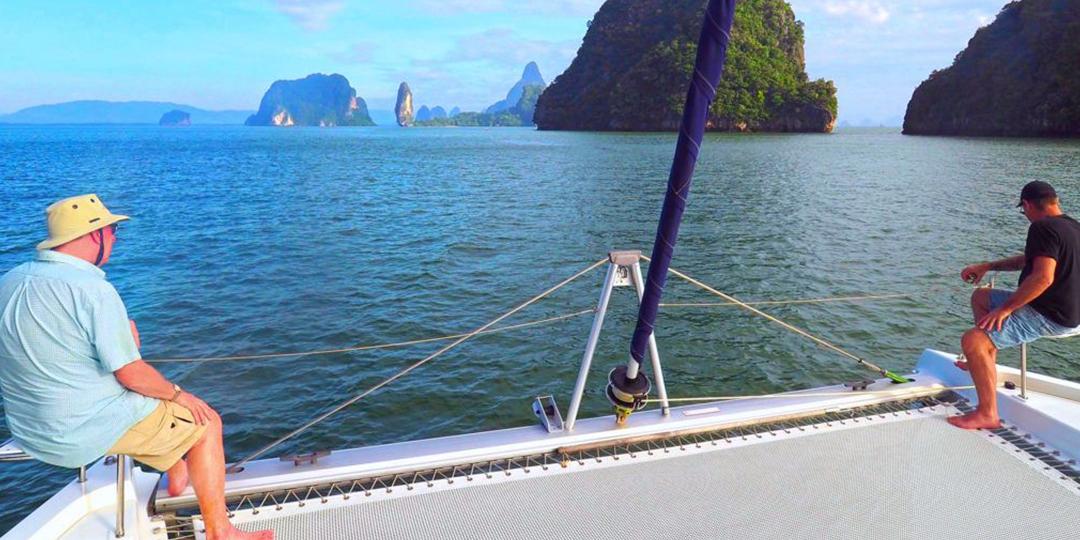 Our final highlight was more Indiana Jones than 007. We spent a magical night anchored off Koh Hong, Phang Nga Bay's biggest hong. "Koh," if you didn't know already, is the Thai word for island and a hong (room) is a collapsed limestone open-air cave or sea cavern. These magic places attract hordes of tourists who arrive on ferries accompanied by flotillas of canoes. Traffic jams in the caves are common, they say.
But for liveaboard sailors like us, the advantage is you can plan your arrival before the crowds get there or stay after they've gone back to their hotel rooms on the mainland. The tides weren't right to enter the hong in our tender that evening, but we explored one nearby the next day. High tides can shut off entry (or exit!) but it was low water as we walked from the beach through an arched entryway into an enclosed world. Rich vegetation and trees hung from the cliffs. Wading up to my thighs through mangroves in murky water, small fish swam between my legs. Not piranha, I hoped! I was glad to read later that piranha are indigenous to South American rivers. Was it screeching monkeys or fruit bats rustling in the branches and sounding a chorus?
In Thailand the sailing is otherworldly and discovering it all at your own pace from the deck of your own boat with friends or family makes it extra special. The living is easy, the food is delicious and the locals are friendly. It's been called the Land of Smiles. Our voyage seemed timeless. But time had flown so fast it was time to sail back to the marina. No time for a Thai massage on the beach. No full moon party. But who needs an excuse to return to paradise?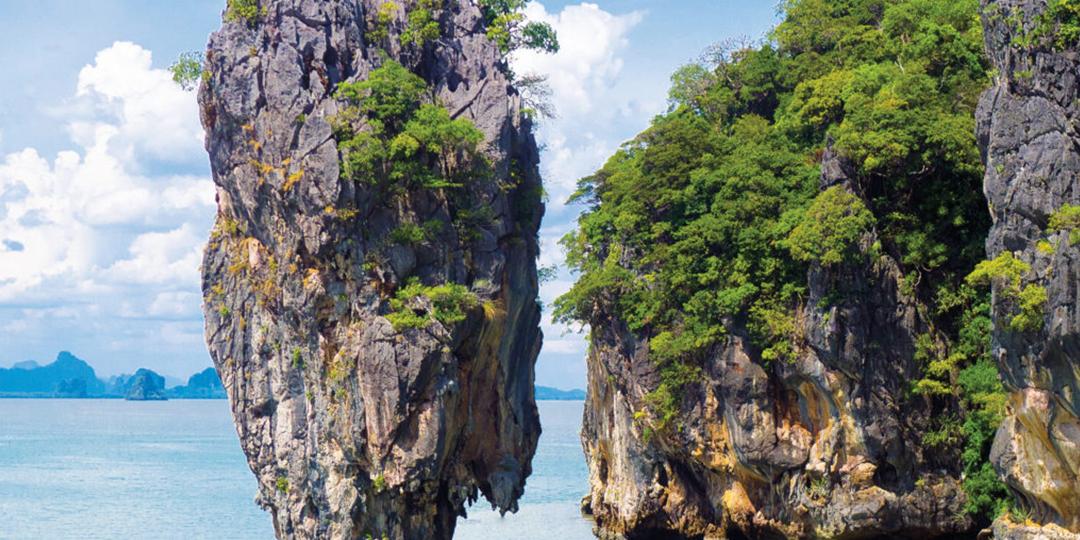 FACT FILE
Sailing Season: Phuket is 8 degrees north of the equator, so the season is all year round. The "dry" monsoon season (November–April) makes a great winter break with light to moderate northeast winds. The "wet" monsoon season (May-October) has southwest winds, adding a swell on the open sea. Most of the time winds are typically Force 4 or less and rarely exceed Force 6, though you can get squalls.
Temperatures: These average between 75-90 degrees in the daytime. We found that mosquitoes were no problem in the northeast monsoon season, but beware of the critters in the mangroves.
Navigation: Don't rely on GPS and chart plotters in Thai waters. They should only be used as a support because the GPS position is not as accurate as in the USA. Eyeball navigation with paper charts and an awareness of currents when sailing in narrow areas between islands is essential. 
Did you find this useful?