Published:
June 20, 2019 Terese Kerrigan
Comments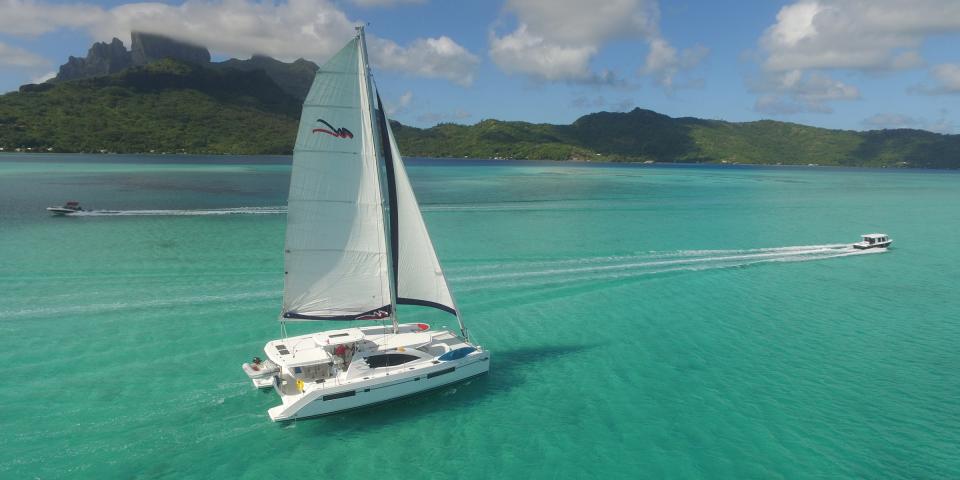 Vacation Planning Expert Roland Jervis recently returned from a sailing trip in French Polynesia and was simply amazed by the friendliness of the people, the abundance of fish, the brilliant visibility under water, and the sheer natural beauty of this island paradise. The Moorings cruising grounds in French Polynesia encompass the Society archipelagos and its main islands Bora-Bora, Raiatea, Tahaa, and Huahine. We sat down with Roland to learn more about his trip:
Q: Roland, you started your charter in Raiatea, where the Moorings base is located. First of all, how did you get there?
A: We flew from Florida via Los Angeles to the main airport Papeete (PPT) on the islands of Tahiti and then took another flight with one of Air Tahiti's 60-seaters to the island of Raiatea to get to the Moorings base.
Air Tahiti jumps via a variety of small islands to get there and it took about 60 minutes, going up and down twice to drop off/pick up other passengers. At the Raiatea airport, we were greeted with flower necklaces and then taken to our transfer to the base which we had prearranged when we booked our yacht. From the airport, it only took us about 10 minutes to get to the base.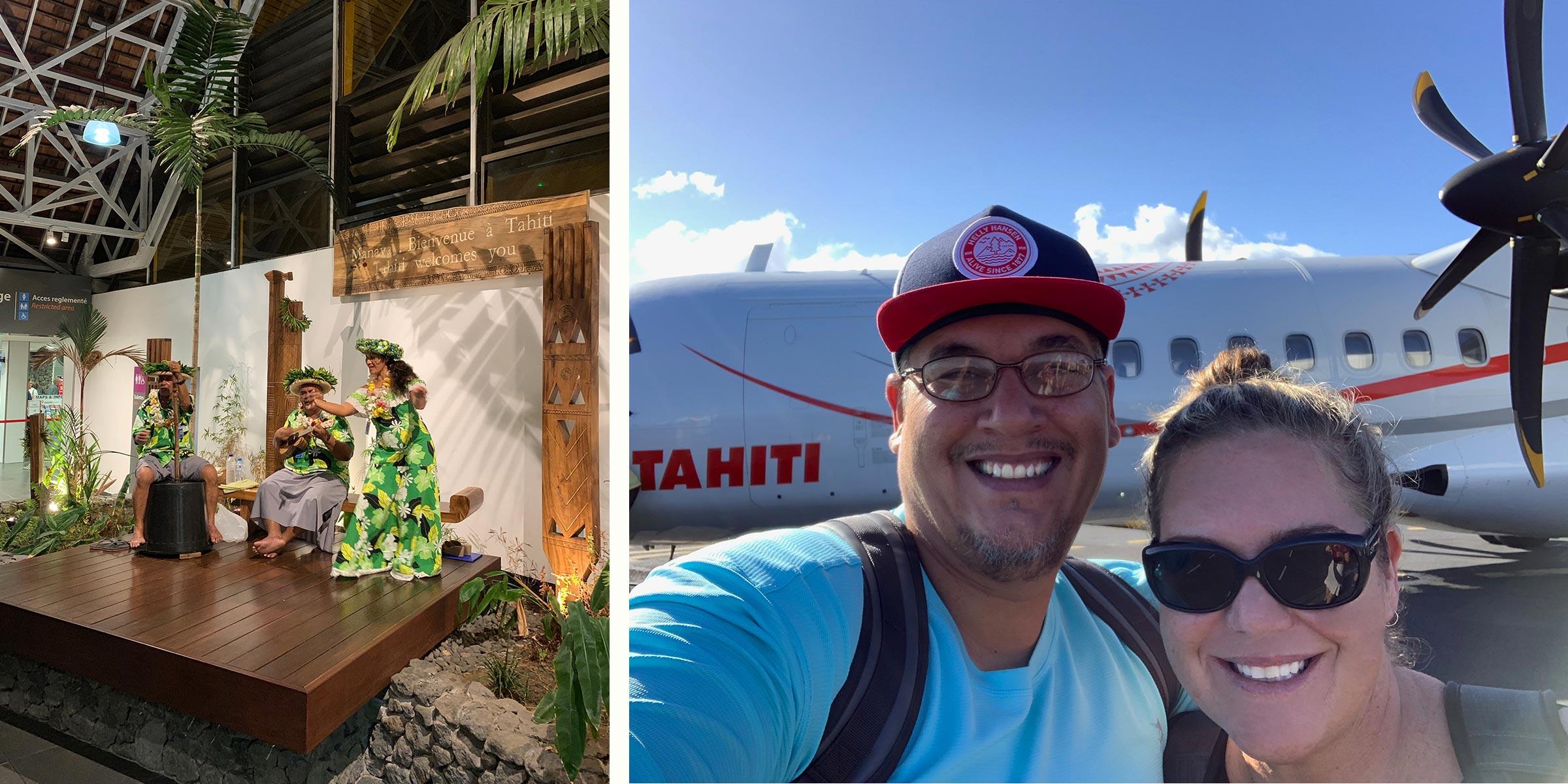 Q: Did you pre-provision your boat?
A: No, we did not, and looking back that was a mistake. There are not many provisioning options on the islands. The island of Raiatea has 2 supermarkets, both in Uturoa – about a 5-minute taxi ride from the marina. However, these are the only supermarkets on the island and the locals tend to do their grocery shopping early. So it's possible that once you get to the market, all fresh fruits and vegetables are already sold out. Store hours are limited too, and on Sunday the supermarkets are only open in the morning.
The neighboring island of Tahaa doesn't have a supermarket at all, so the closest alternative is on Bora Bora, which only has one supermarket too.
Q: How did you get around on the islands?
A: We found that taxis were readily available, and restaurant/hotels will also be happy to call one for you.
Q: Did you skipper the yacht yourself?
A: Yes, I did. For sailing vessels, French Polynesia is purely experience based, just like the Caribbean, and no formal qualification is required.
I have sailed in many of The Moorings' cruising grounds and found Tahiti comparable to Belize in terms of difficulty level. Within the reefs, you can only motor due to the shallow waters and it really helps to have a second pair of eyes on deck to navigate. Stay close to the over-the-water-huts and away from the actual island. The passages between islands make for fun sailing and sailing distances tend to be on the longer side. For example, from northern Raiatea or from Tahaa it takes about 4 hours to sail to Bora Bora. In order to get to your overnight location, you need to leave before 10 AM in the morning on those long stretches. It gets dark early in French Polynesia. When we were there in May, the sunset happened around 5:30 PM; and you want to have good sunlight to better motor around the reefs.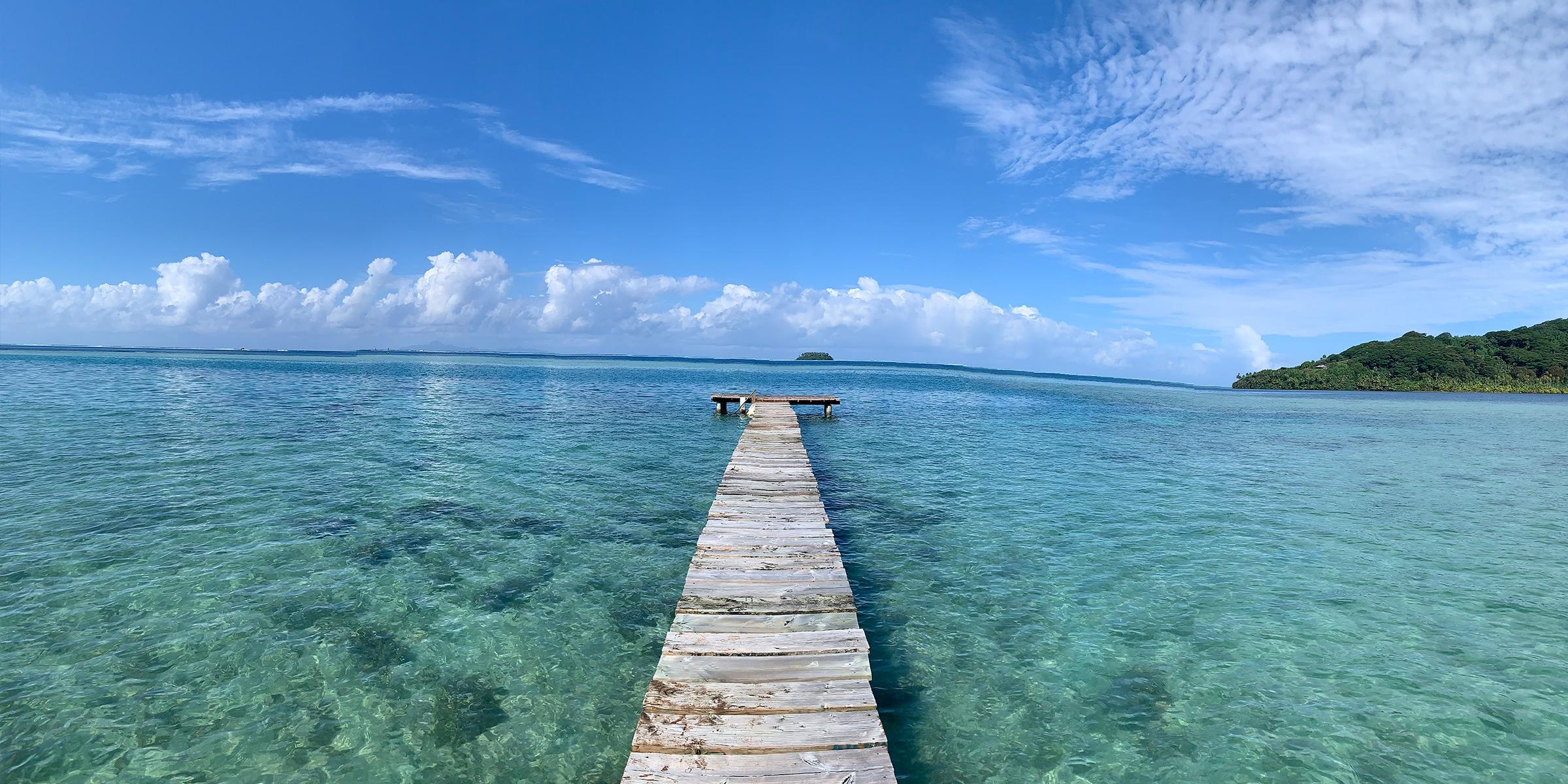 Q: When you think about your time on Raiatea, which experience did you enjoy the most?
A: That would be our excursion in the Faaroa Bay that the base had arranged for us. From the Moorings base, we sailed south-east to get to the bay. It took us about 40 minutes. In the Faaroa Bay, there are two mooring balls available that are owned by The Moorings. We took one of them and were met by our local guide James in his kayak. We followed him on our stand-up-paddleboards and kayaks into the river. My wife and I took our dinghy, but I have to say it would have been a better experience without the fumes and noise from the engine, especially as we had to go very slow all the time.
James took us into the river surrounded by lush vegetation and the sounds of the jungle. About halfway we came to a shallow area in the river, like a natural pool with much colder water than the rest of the river, which made for a great refreshing swim. We then continued to a botanical garden and James showed us the fruits and flowers there and gave us fresh coconut water to drink. The tour took about 2 hours and there was no set price for it. James' only form of compensation was his gratuity at the end of the tour.
Back at the boat, we continued a few minutes south to Hotel Atiapiti, where we moored and spent the night. I very much enjoyed our dinner there.
Mooring buoys around Raiatea and Tahaa are free, however, there seems to be no governing body around to make sure there is proper maintenance or a unified system of actual mooring "balls". Buoy locations will be explained during the charter briefing.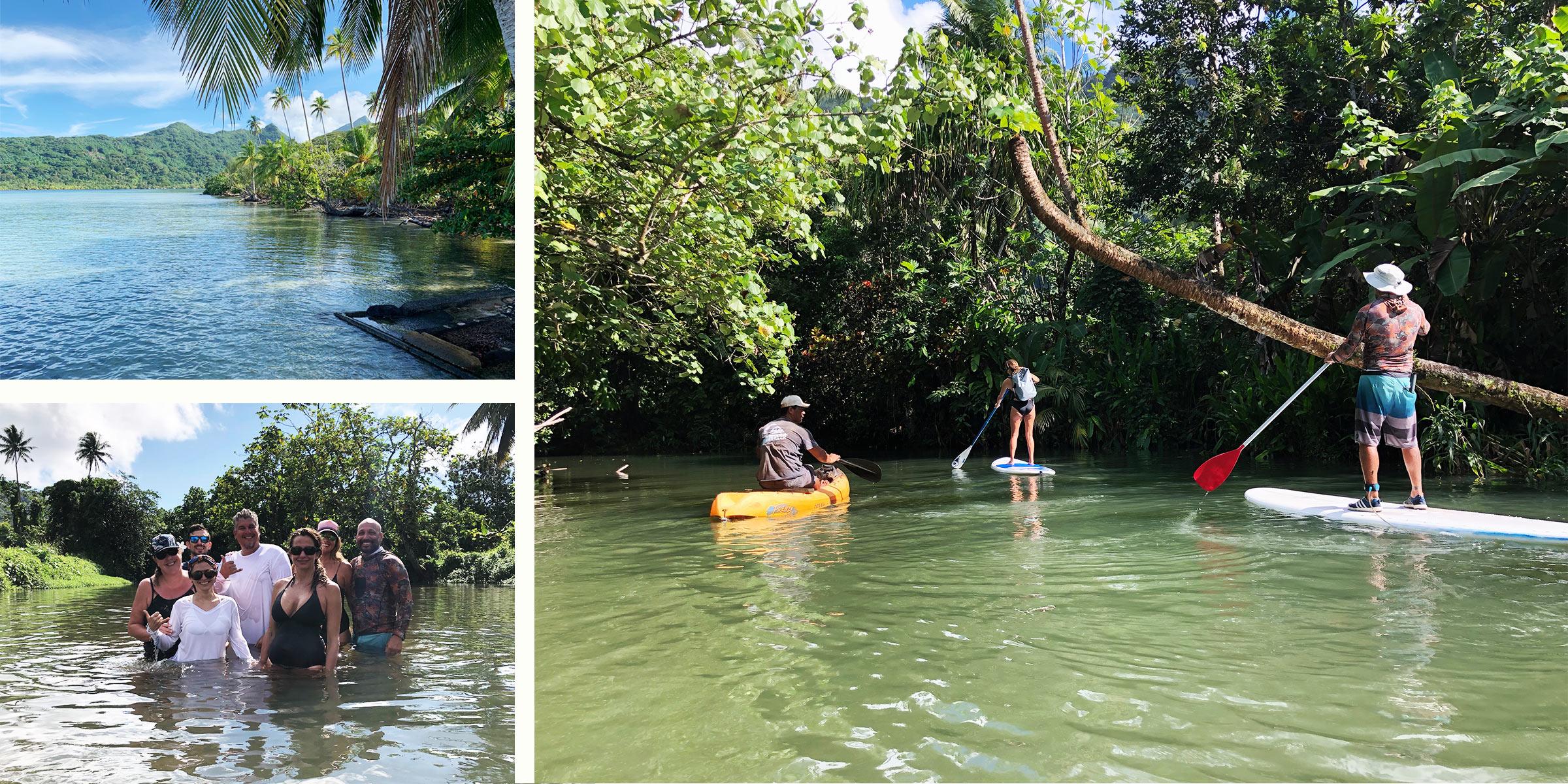 Q: So what else did you do while in French Polynesia?
A: Well, Raiatea has a rich history and was once the religious center of the islands. It has, therefore, a lot of sacred historical sites and we set out to explore the most famous one – Marae Taputapuatea – from Opoa on Raiatea's southern tip. To get to this "marae" you can take one of the red mooring buoys and then head over to the wooden dinghy dock to hike to the site. We spent the night in Opoa and enjoyed the turquoise waters and virgin beaches there. For our last night, we moored at Sunset Beach (Tenape Bay), allowing us a quick stop at Passe Rautoanuui - a popular surf spot - on the way before returning to the base the next morning.
Q: I understand your group spent 1 night in Tahaa, 4 nights in Bora Bora and 3 nights in Raiatea. If someone wanted to spend a few extra nights on the island, do you have any more tips regarding things to do in Raiatea for them?
A: Oh, absolutely. Raiatea offers a lot of land-based excursions and a hiking or jeep tour from Uturoa to Mount Tapioi offers marvelous views and really lets you appreciate the mountainous panoramas. You can also rent bikes in Uturoa to explore the island – even electric ones – and maybe stop at a local oyster farm to learn more about the black pearls French Polynesia is famous for. There is also good snorkeling at Motu Ofetaro with gorgeous views of the local underwater world.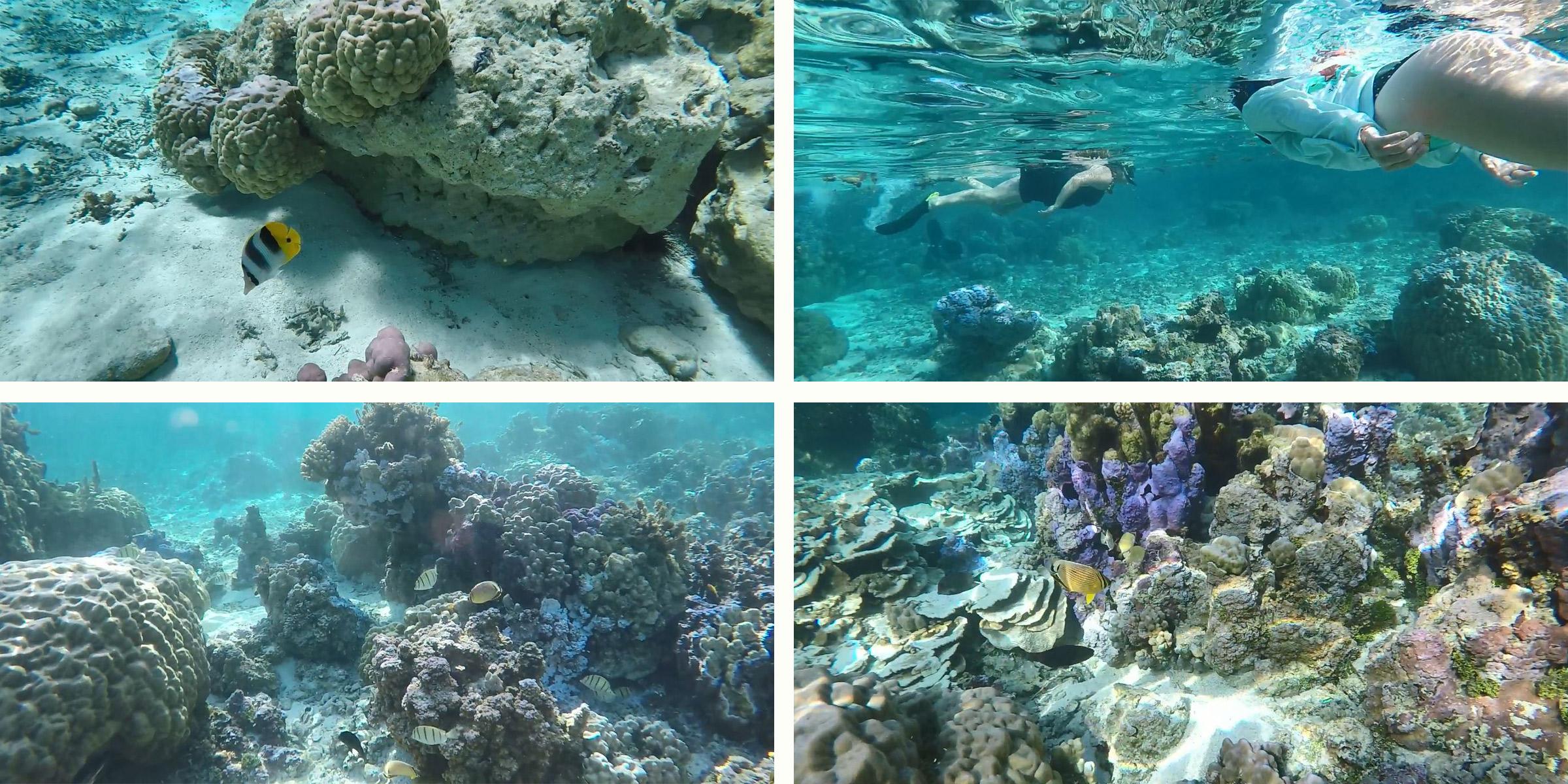 Q: Do you have any final words for our readers?
A: Just that French Polynesia is not comparable with any other cruising destination I've seen. I've been to Greece, Croatia, the British Virgin Island, St. Martin, and Thailand, and Tahiti is just the Number One for me in terms of beauty, amazing snorkeling, crystal clear waters, and the friendliness of the local people there. 
Did you find this useful?