Published:
June 2, 2022 dom.wright
Comments
The Moorings recently teamed up with Youtube sensation Sailing la Vagabonde and our friends at Cruise Abaco to provide 7 lucky winners with the sailing vacation of a lifetime in the newly reopened Abacos, Bahamas. Bright turquoise waters, friendly faces, pretty pastel homes, and a candy-striped lighthouse. These are images that our team and our customers have come to adore in the Abaco Islands of the Bahamas. 
On September 1, 2019, Hurricane Dorian struck the beloved Abacos and caused enormous loss and damage. The death toll is still unknown. Sadness in the loss of boats or buildings pales in comparison, and our hearts continue to go out to the resilient locals. After much rebuilding and healing, our new Moorings base opened near the end of 2021, welcoming a wonderful staff and eager customers shortly thereafter. It has since become one of The Moorings' most beloved destinations, in just a few months. 
The Abaco Islands have captured the hearts of many a sailor. YouTube sensation Sailing La Vagabonde recently posted their top 5 sailing destinations worldwide, and Bahamas topped the list. Their love of the islands is no secret to their viewers, so it was the perfect spot to choose for a charter giveaway in partnership with The Moorings, and Cruise Abaco. In late April, a few lucky winners were chosen to participate in a Flotilla along with Riley, Elayna, Lenny, and Darwin, in the pristine waters of the Abacos.
Landing at the Marsh Harbour Airport, the entry was quick and easy. Upon arrival, there were plenty of taxis waiting and we sat down with Barb, our gracious driver. She offered a stop at Abaco Groceries and the liquor store next door on the way to our base. Easy and convenient, we highly recommend this for provisioning your yacht. 
Dinner at sunset was a relaxing reward for the day of travel, and the restaurant at Abaco Beach Resort - the site of The Moorings' new Abaco base - did not disappoint! Stretching our legs that evening we caught a glimpse of a baby sea turtle swimming around the docks. If the water is that clear in the marina, you can only imagine what awaits outside.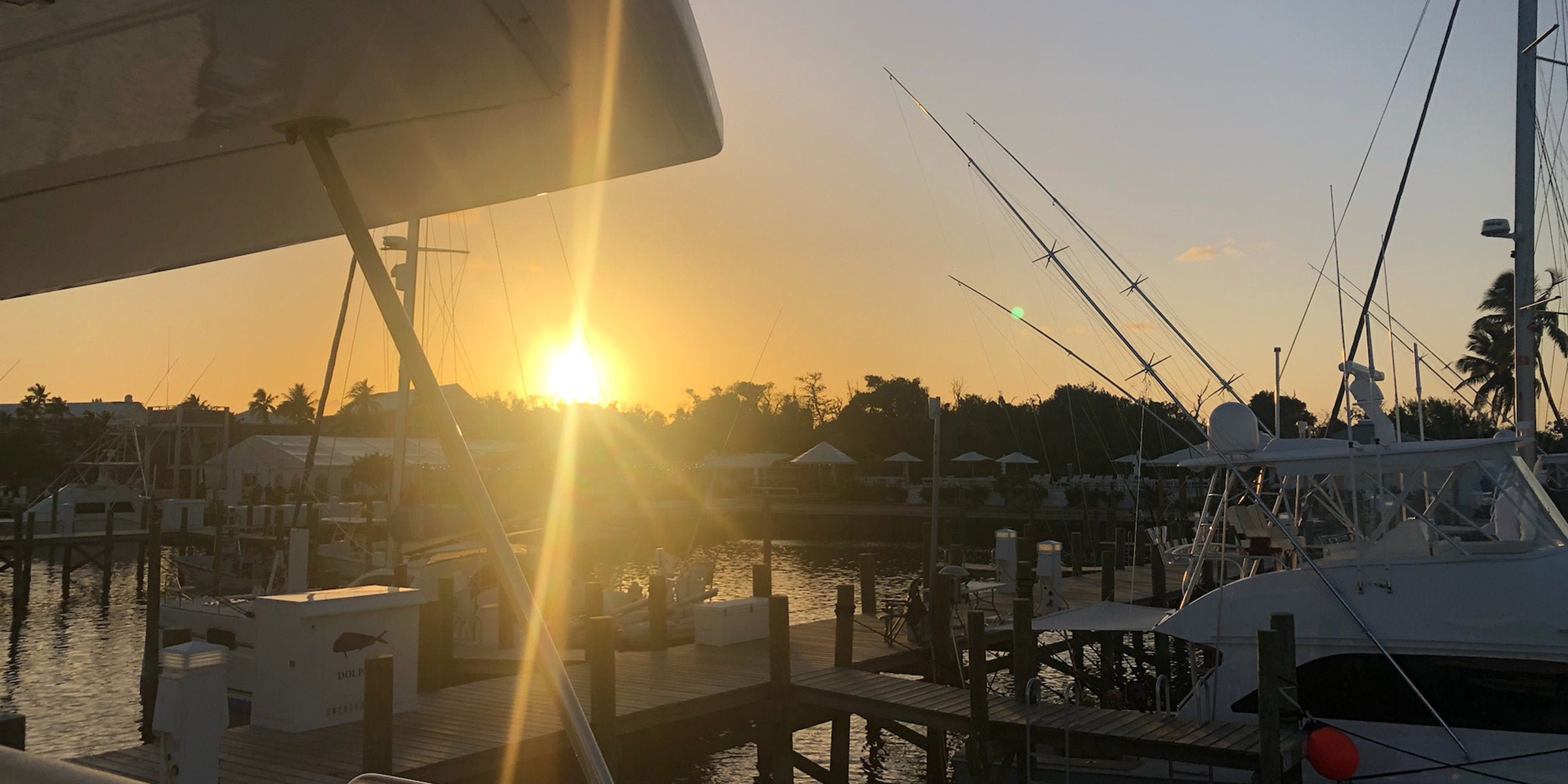 The following morning, we found Riley and Elayna from La Vagabonde taking a quiet walk with their kids. They are every bit what they seem online; humble, genuine, and passionate about life at sea. Greeting the guests, from all over the US and Canada, it was clear in an instant what a week this would be. After a welcome tour and a safety briefing aboard our beautiful Moorings 514pc, we were off on an unforgettable adventure!
Tahiti Beach was decided as our first destination by Captain Jack, of the 40ft sailing catamaran. Jack is quite the sailing sensation in his own right, instantly recognized by some of us from Sailing Virgins, another YouTube sailing channel. What an experience for the winners to get to sail with and learn from such a team!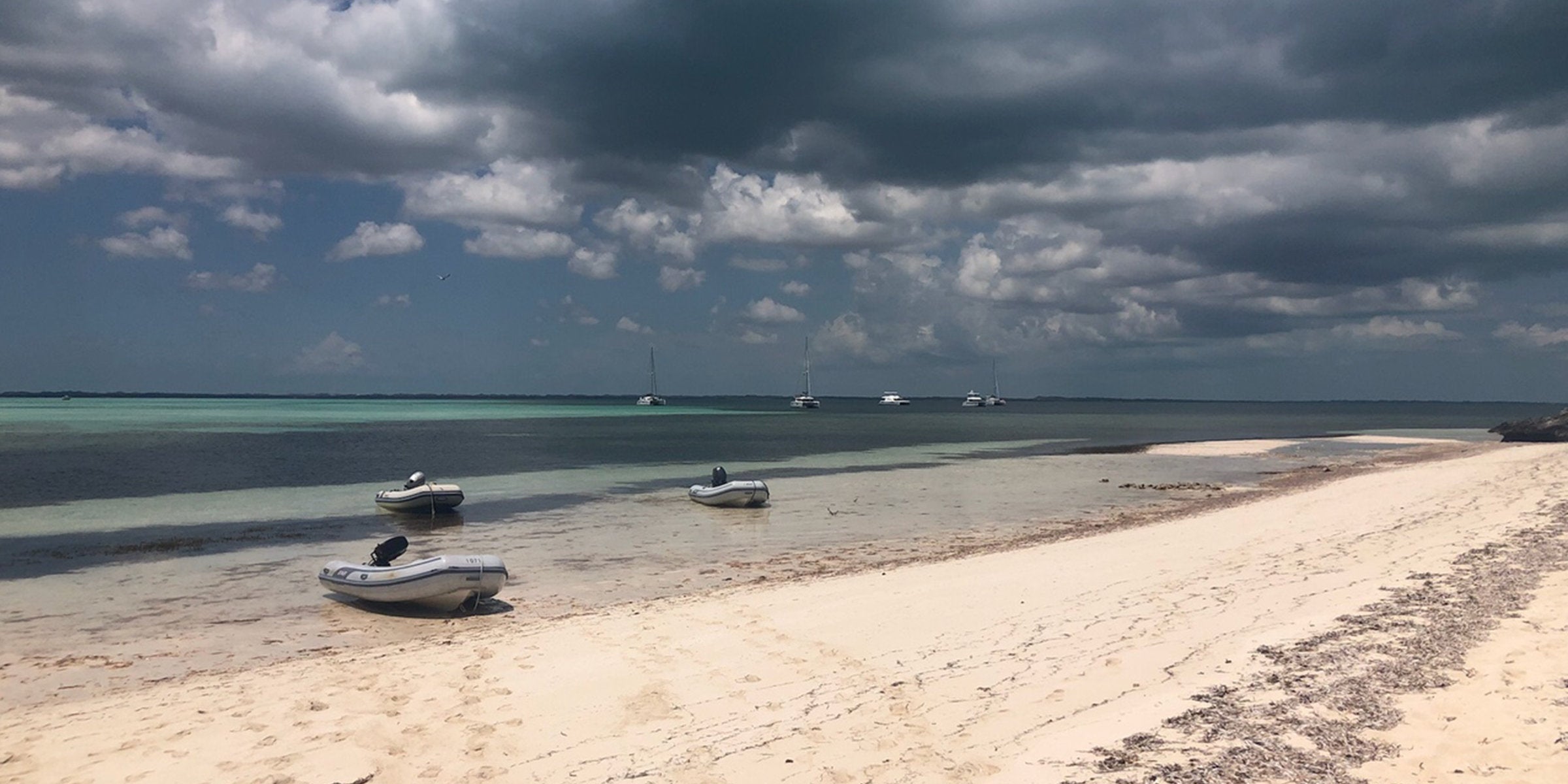 Near Tahiti Beach is the Abaco Inn and Restaurant with incredible views and a delicious menu offering everything from gnocchi to fresh-caught grouper. Tahiti beach is a large stretch of calm, clear waters on one side and crashing waves across the strip of land on the other. Surrounded by starfish, the group enjoyed a swim, getting to know each other, and a few drinks upon arrival of the Thirsty Cuda, a pink floating swim-up bar.
While La Vagabonde and Jack took some of the guests sailing, we skidded slowly behind, watching as their purple code D foresail filled with wind.  As their sails came to life in front of us, so did the sea below. We spent the afternoon gliding through sparkling water, pausing to snap photos of the nurse shark swimming alongside and admiring our boat.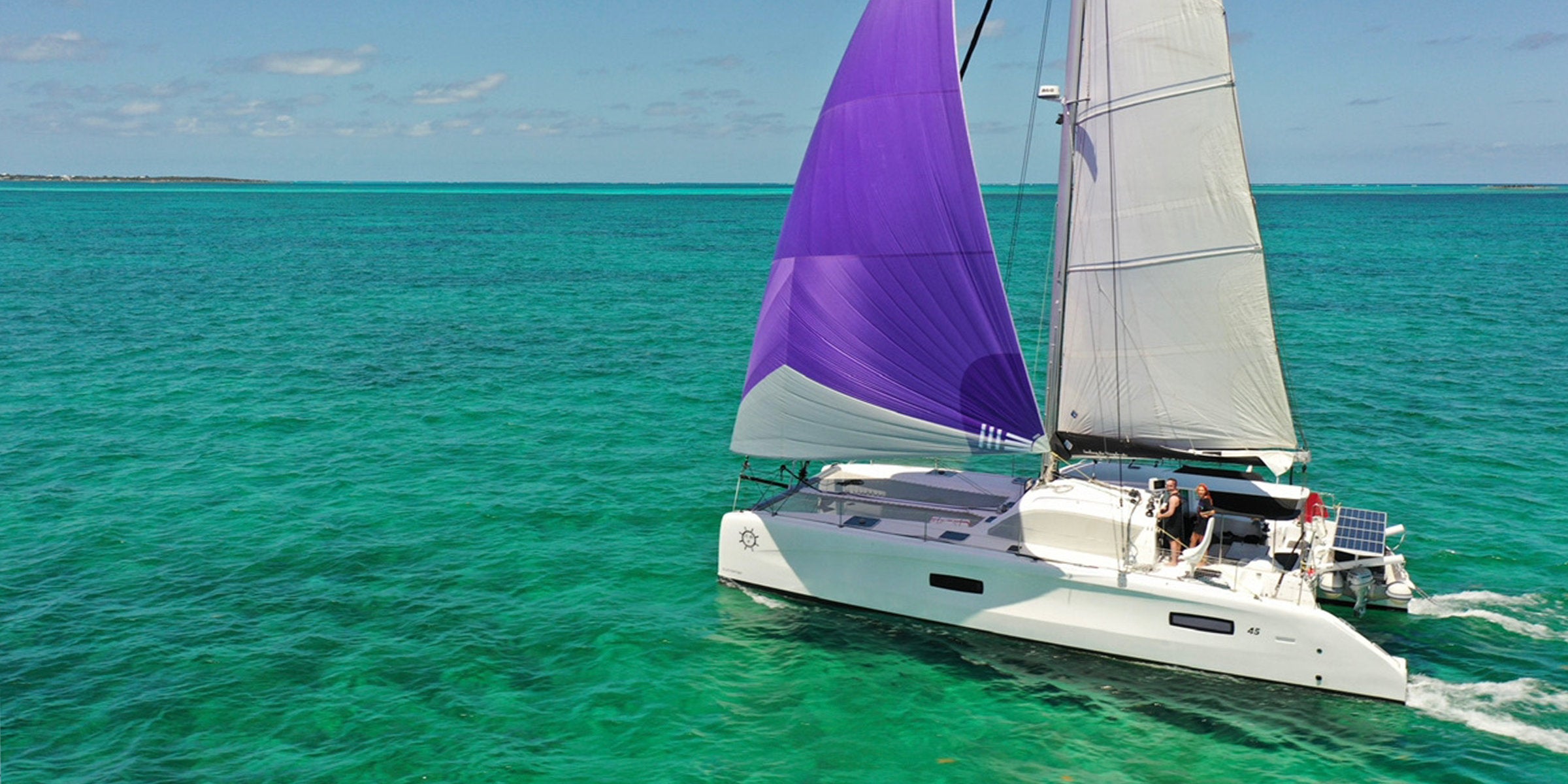 Who could help but admire the 514pc with its large, open flybridge and spacious interior? Anchored safely at Guana Cay, our Moorings 514pc played host to all skippers and crew from the Flotilla for sundowners and appetizers as the evening cooled and the sky began to melt into the most beautiful sunset of the week.
Grabbers on Guana Cay is impossible to beat for beautiful views, beach-side games, and a laid-back evening. From the beach, Moorings representative Melissa pointed out the moon jellies and sea slugs most of our new friends had never seen. The sea life in the Bahamas is incredible, and the week would unveil countless examples of its beauty.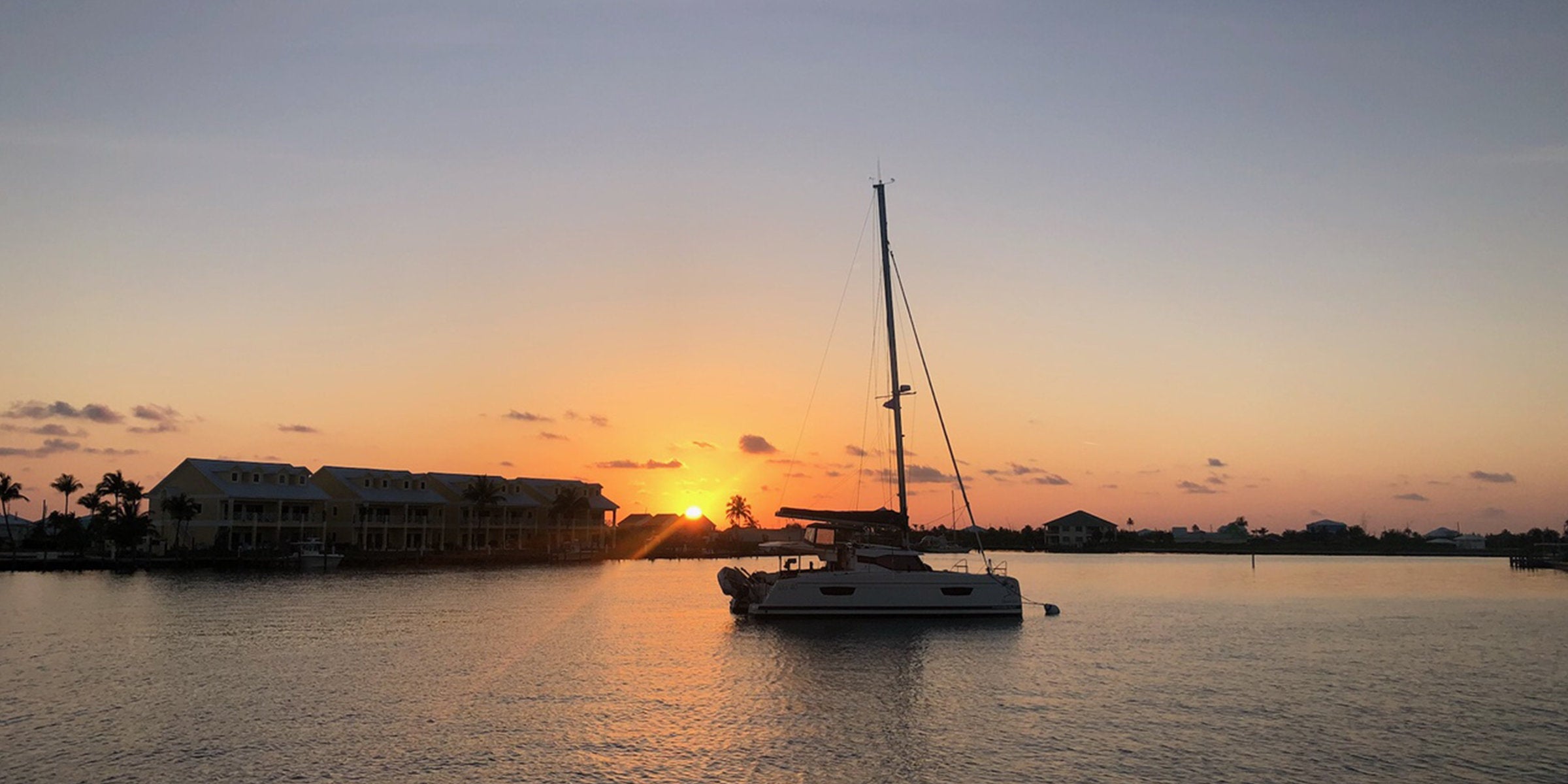 The following day brought more sailing and more breathtaking scenery. Treasure Cay is a gem for beach lovers. Offering a small shop to stock up on provisions and a nice bar, the real treasure here is the beach itself. Powdery white sands that your feet sink into, shining blue water that appears lit from below, swaying palm trees dripping with coconuts. This is a paradise beyond imagination, and with very few people in sight.
Wednesday brought what became the highlight for many of us. Melissa offered the perfect snorkeling recommendation, and we anchored off the beach at Fowl Cay for a few hours and took the dinghy to a stunning reef with multiple coral heads to investigate. Below the surface, you find an abundance of life. Sea fans, coral, colorful fish and lobsters, even Riley, Elayna, and Jack, who have snorkeled the world over, commented that this was among the best they had ever seen.
Hope Town was the anchorage of choice and another highlight. Climbing a little path into the town, church bells began to chime. Pastel cottages enjoy expansive views of waves crashing below. The sound is thunderous as one wave after another explodes into the rocks. What a place to live, and to explore.
Wandering Hope Town, the feeling is appropriate - hopeful. There are remnants of damage from Hurricane Dorian but in repair. The lighthouse frames postcard quality photos. Homes are being rebuilt. Captain Jack's bar and restaurant is alive and well, training reef fish to graduate to the open sea.  We found baby parrotfish swimming happily in just a few inches of water below the dock. Another sunset, another Goombay smash, and another unforgettable evening with newfound friends. What a life we live during days at sea.
Followers of Sailing La Vagabonde know their passion for spearfishing. They caught enough by Thursday to feed the whole crew.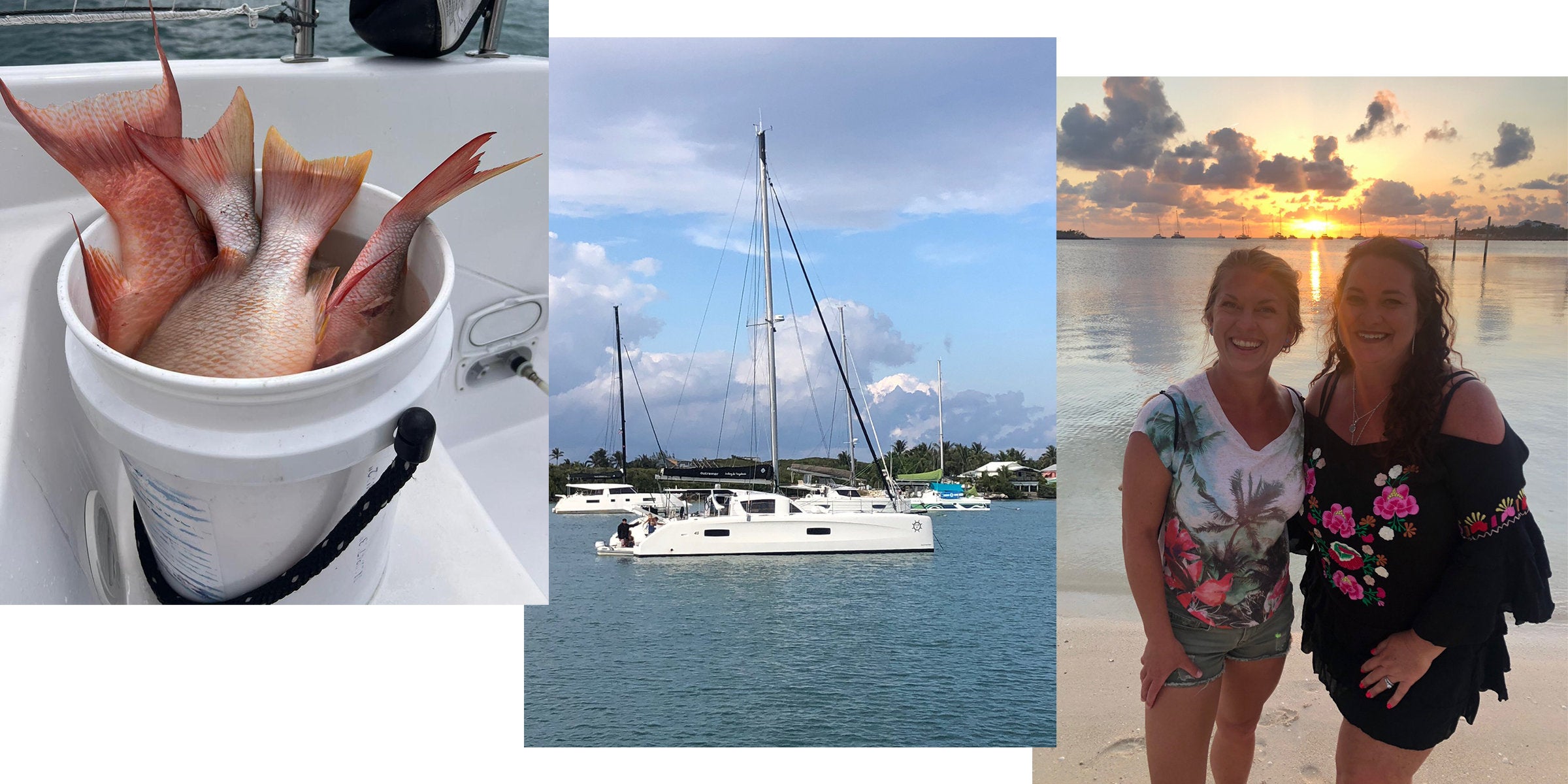 In an idyllic scene, our boats convened at Tilloo Cay. While still en route along the shallow but splendid waters, we caught a whiff of the campfire. On the beach is a teepee, a small table, and a feeling that you might not have been the first to come up with this idea, but you are certainly one of the lucky few who get to enjoy it. Hogfish and snapper browned on the grill and delivered a gourmet beach picnic only the Bahamas could offer.
Later that evening, our last night out at anchor we gathered at Pete's Pub. A fun little place, right on the water. Sculptures of fish and birds line the walls and old t-shirts with funny slogans drape from the open ceiling. The sound of crashing waves is heard from the bar, but you have to climb the stairs to watch the show. 
Friday brought stormy skies and higher winds, but still, the place was beautiful. Nature's mood seemed to match our own. A little sad it's over, but thankful for the ride. Dinner at Colors, just a short walk from the base was the perfect toast to a thrill of a week.
Saturday we met for a final lunch. With souvenirs of t-shirts and tan lines, new friends, inside jokes and countless memories, we said our goodbyes to new friends. Particularly nice for Melissa and myself was a friendly farewell with our base staff. Though all part of one big work family, it is amazing how a trip like this can highlight the characteristics of coworkers and earn you all an even greater respect for one another.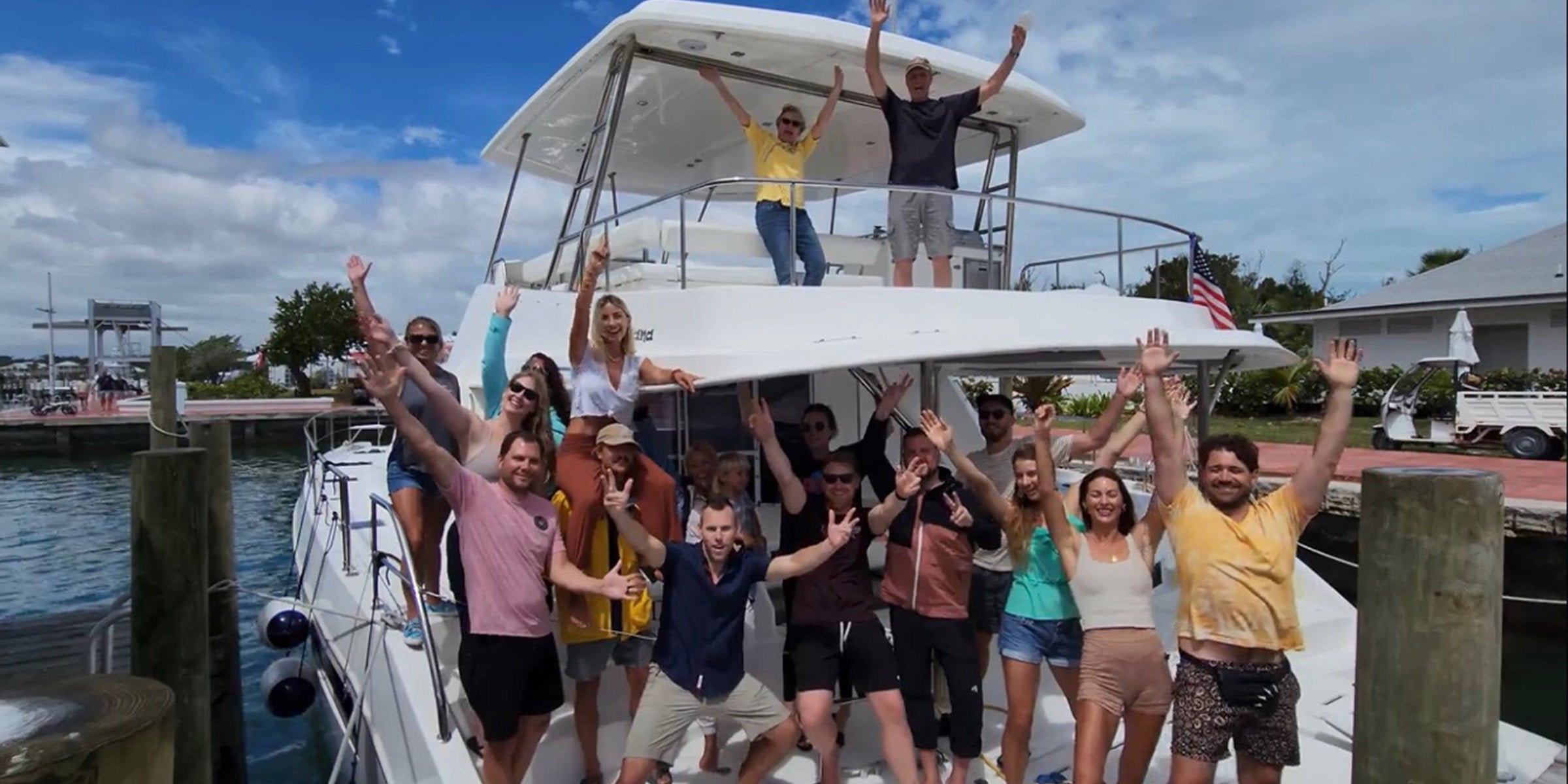 Our Moorings staff at this base is fantastic. Friendly, helpful, responsive, and willing to go the extra mile to make sure each guest feels how much they care. Their reputation preceded them from excellent feedback we received from customers but seeing their dedication first-hand was a real treat.   
The base manager, Travis, would check in with photos, anchorages, tips, and appointments for us. Seanna took her own car out on a Sunday to buy champagne for our welcome toast and attended to our every need. Tekoyo and Juan checked every system to make sure all was running smoothly, tanks were topped and the cooler was full. They are shining stars of our Moorings staff that Melissa and myself feel honored to work with and trust wholeheartedly to care for our customers the same way they cared for us.
After a week on the water in the Abacos, it was clear not only why people loved this place before the hurricane, but just how much there is to love now.  Abaco, you proved your strength, and you are even more beautiful because of it.  
Did you find this useful?