Published:
January 31, 2018 The Moorings
Comments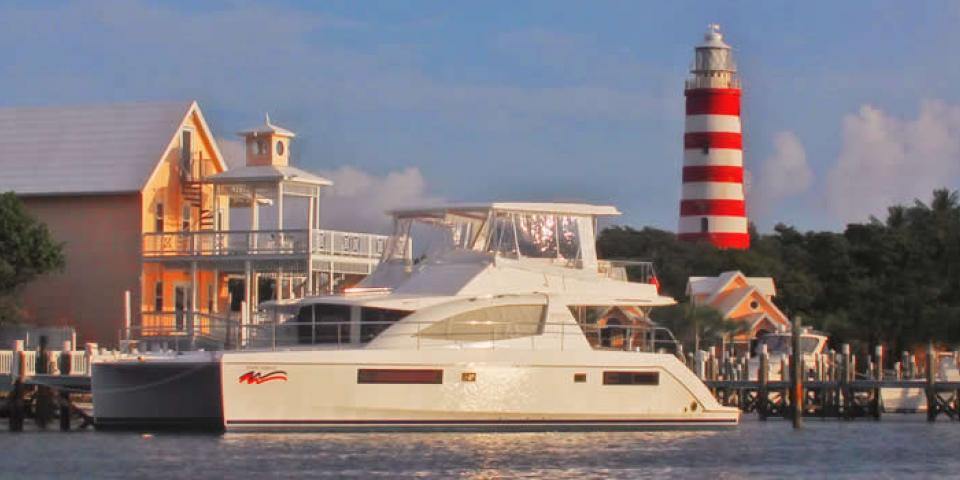 The following blog post comes to us from a guest author, who is also a veteran guest of Moorings charters. Chris Caswell wrote this all about Abacos article, which originally appeared in the Winter 2015 edition of Charter Savvy magazine. Chris has some great travel tips for anyone planning a trip to the Abacos. Read his blog post below. 
While the massive crowd of people counted down to the New Year in Times Square in freezing cold temperatures, we were counting in the opposite direction, in the middle of the Atlantic Ocean, aboard our Moorings 514 Power Catamaran. As we watched the numbers start to creep upwards from the helm....3.8---3.9---4.0. And then we had our celebration and cheers broke out on the bridge of the yacht as our depth sounder showed we had tiptoed over the bar at the entrance to Black Sound on Green Turtle Cay in the Abacos at mid- tide. It was better than New Year's Eve!!
Anyone who has chartered or cruised the Sea of Abaco knows that it is a plateau rising in mid-ocean, which means that it's shallow. Really shallow. For those of us who do our boating off the coasts of North America, we're used to seeing readings in the hundreds, not three feet. 
We were bareboating the Abacos for several reasons. First, to test the shallow waters in the off-season, and second, to try out the new Moorings 514PC, which just so happens to be the largest power cat in the fleet. And lastly, of course, we wanted to get away and explore new cruising destinations.
Prime charter season for the Abacos is the winter, when the temperatures and breezes are mild, not to mention when most of America is trying to escape the icy grip of winter. Our Abacos adventure was in September and, yes, it was hot, hot, hot! High's in the 80's, lots of humidity, and water that felt like bath water. In fact, as you waded into the water, it was hard to tell where the air stopped and the water started.
As we approached Treasure Cay, we called ahead to see if we could get dock space since this is one of the most popular marinas in the Abacos. I could almost feel the dockmaster's grin over the VHF when she said, "Sure, Cap'n, take any you want." As we turned into the basin, I could see why she smiled. --- Most of the docks were empty and we had our pick of the best.
That's a double-sword, of course, since the off-season means that some marinas, resorts and restaurants are closed as they repaint and refit. But you also don't have hundreds of other boats fighting for the same mooring buoy or long waits as tourists fill the restaurants. It's your call, but we loved the off-season.
The Abacos are just a one-hour hop by air from Florida, and we tucked into the Conch Inn, which is just steps from the Moorings base in Marsh Harbour, the social and business center of the Abacos. I remembered the Conch Inn from a previous visit in the mid-70s, but things were completely different now, with airy rooms, powerful air conditioning and hot showers.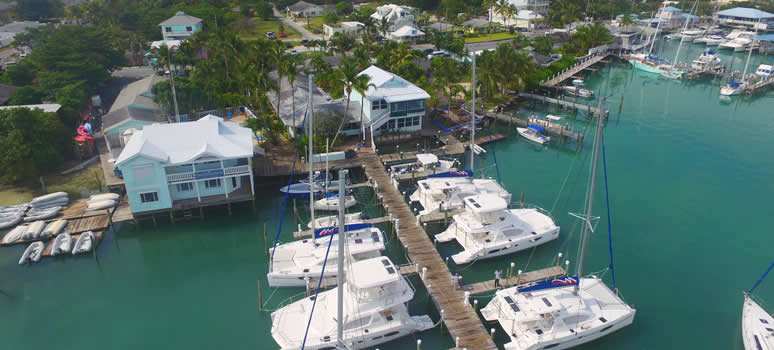 There were four of us, including my wife, Rhea, as well as our longtime friends and charter companions, Bob & Cathy Debusk. Rhea and Bob are both gourmet chefs, so we had dueling chefs aboard for our adventure. The next day, they quickly emptied Maxwell's, the American-style supermarket, for our provisions. I should have bought stock in Maxwell's first!
As has been our ongoing experience with the Moorings, our boat was impeccably cleaned and prepped, and Travis provided a comprehensive briefing that covered everything from the best anchorages to warnings of the local hazards.
Our first stop was Man-o-War Cay, which is notable for several things, not the least of which is that it's a dry island with no booze sold or served. Not a problem, though, as our lockers were clinking merrily. You can drop the hook or pick up a buoy in either of the two harbors, but we opted for shore power, air conditioning, and an end tie at Tommy Albury's charming Man-o-War Marina where we rented a golf cart to explore.
*Fun History Fact - The Abacos were settled by Loyalists fleeing the American Revolution in the late 1700s, and Man-o-War is well populated by the Albury clan, whose speech remains close to Olde English.*
Distances are short in the Abacos (Man-o-War is just an hour from Marsh Harbour) so we took our time heading north to Green Turtle Cay the next day. The end of Great Guana Cay had once been a stop for Disney's cruise ships, with a faux pirate village ashore and a channel dredged for liners. That faded when the weather didn't always cooperate, but the spoils from the dredging left a sizable islet that was inviting. We anchored off and easily launched the tender from its hydraulic platform. We motored ashore, and browsed the beach for shells, finding a couple of nice conchs in the process before heading on.
To reach Green Turtle Cay, you have to go through Whale Cay Passage, which has a formidable reputation for "rage seas" when northerly or easterly swells suddenly climb onto the Sea of Abaco plateau. Whale Cay is what dissuaded the ocean liners from Great Guana Cay and, on an earlier trip, I had seen 30-foot breakers turn the passage into an impassable maelstrom. This time, however, we found mild conditions and were soon through the danger zone.
New Plymouth is the hub of three- mile-long Green Turtle, with Loyalist street names (Parliament and Crown) and brightly painted homes. There are must-sees here, but our first stop was for Goombay Smashes at Miss Emily's Blue Bee Bar. This, for Caribbean skippers, is an initiation right equivalent to crossing the equator for Pacific voyagers. Basically, one Goombay means you're no longer a landlubber. More than one means you're crazy.
Our other goal at Green Turtle was to find fresh conch meat, as our crew was demanding homemade conch chowder. A word of warning: preparing conch means pounding the conch endlessly with the hammer from your toolbox. Endlessly, or it won't be tender. Be prepared.
We had a golfer aboard and Bob was getting fidgety from GDS which, of course, is Golf Deficiency Syndrome. So our course was set back through Whale Cay passage toward Treasure Cay on the main island of Great Abaco. This time, Whale was showing what it could do with just a 20-knot easterly and it wasn't pretty, with lots of holes in the road and white water as we carefully followed the precise course headings through the reef.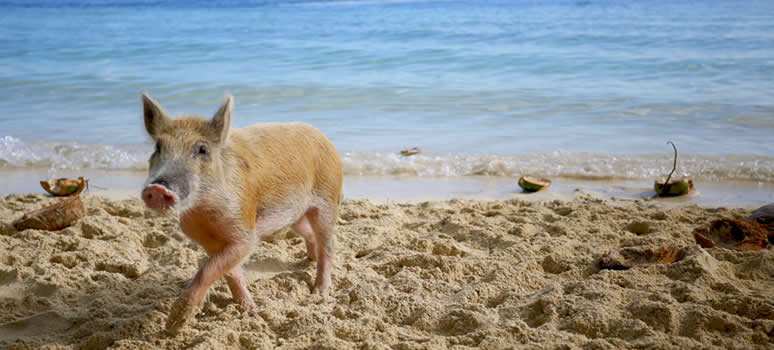 Just before the Whale Cay passage, we made a quick detour to visit No Name Cay, with its growing family of swimming pigs. Big Major Cay in the Exumas has long been famous for its nautical pigs, but No Name is now a contender. We saw a number of pigs ashore who came to the water's edge to study us.
Treasure Cay is where we had our "take any dock you want" moment, and General Manager Stephen Keppeler had arranged a golf fix for Bob, our linksman. This is the only public golf course in the Abacos and our golfer tells me it's a fun one: a Dick Wilson-designed 6,985 yard course lined with island vegetation and cooled by the tradewinds. Bob was soon bounding over the fairways in a loaner golf cart with loaner clubs. The only thing missing, according to Keppeler, was a box of the local Kalik beer. 
*Skipper Tip - If you're visiting Treasure Cay in season, you might pick a dock away from Tipsy, which can be enthusiastic well into the night. In fact, Treasure Cay has a well-protected outer harbor for anchoring ($10) or picking up a mooring ($20), which includes full Treasure Cay privileges as well as a dinghy dock. A great place for bareboaters.*
Our charter clock was ticking, and we set off on a straight line course across the Sea of Abaco, bending a bit as we neared Marsh Harbour to head for Elbow Cay. Elbow Cay is hard to miss with its candycane striped lighthouse that can be found on everything from postage stamps to Bahamian currency. It's one of the few lighthouses in the world that is still hand- wound and kerosene burning. You can climb the 101-steps (my knees have counted each one!) to reach the 89-foot-high viewing platform with a superb view over Hope Town and Elbow Cay.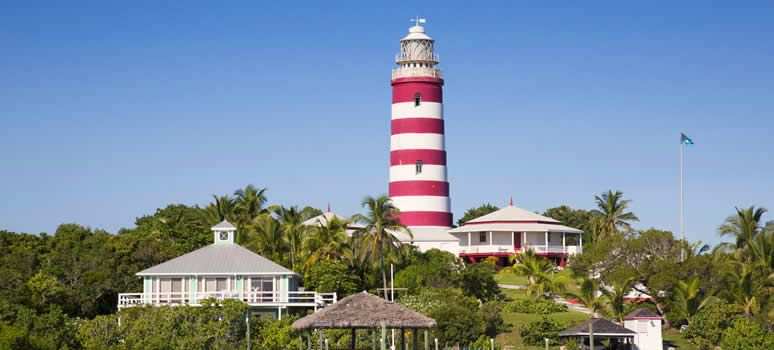 That night, the sweep of the beam from the lighthouse lulled us to sleep. With regret, we returned our bareboat the next morning.
Once we got used to seeing "5"s on the depth sounder for hours on end, this was a relaxing and pleasant charter. Whether you want to snorkel amidst brightly-colored tropical fish, beachcomb for conch shells, relax poolside at a resort, or loaf at anchor with a good book and a refreshing cocktail, the Abacos have something for everyone.
The most important thing we discovered is that, for bareboat charterers, there is nothing "off" about the Abacos off-season. 
Did you find this useful?