Published:
March 21, 2018 Terese Kerrigan
Comments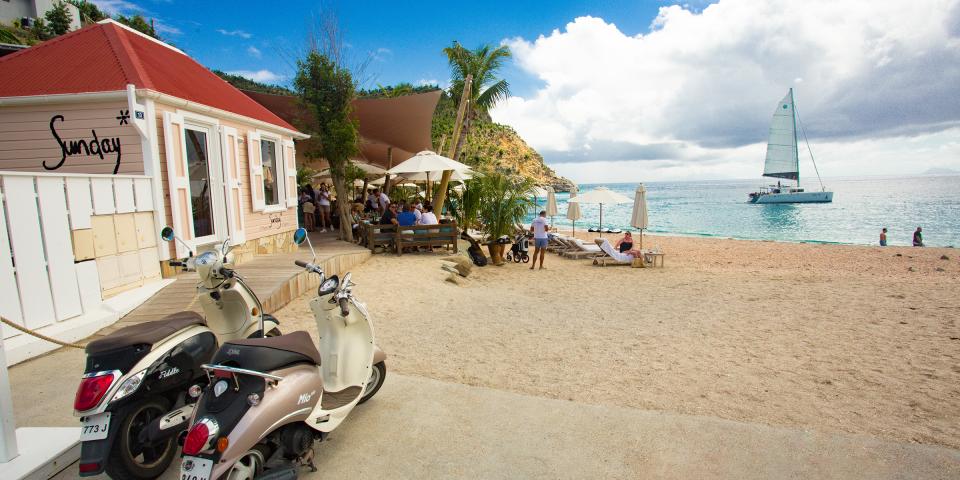 The Moorings staff Carol Hansen and Josie Tucci recently traveled to St. Martin for the grand re-opening of the new base, just over five months following Hurricane Irma. Read the detailed account of their 5-day trip aboard a Moorings 514PC power catamaran.
Having traveled to St. Martin for sailing vacations two times in the past, I was pleased to be returning for the third time to meet the local staff once again, and to see for myself how St. Martin and the surrounding islands are recovering following the record-setting hurricanes last year.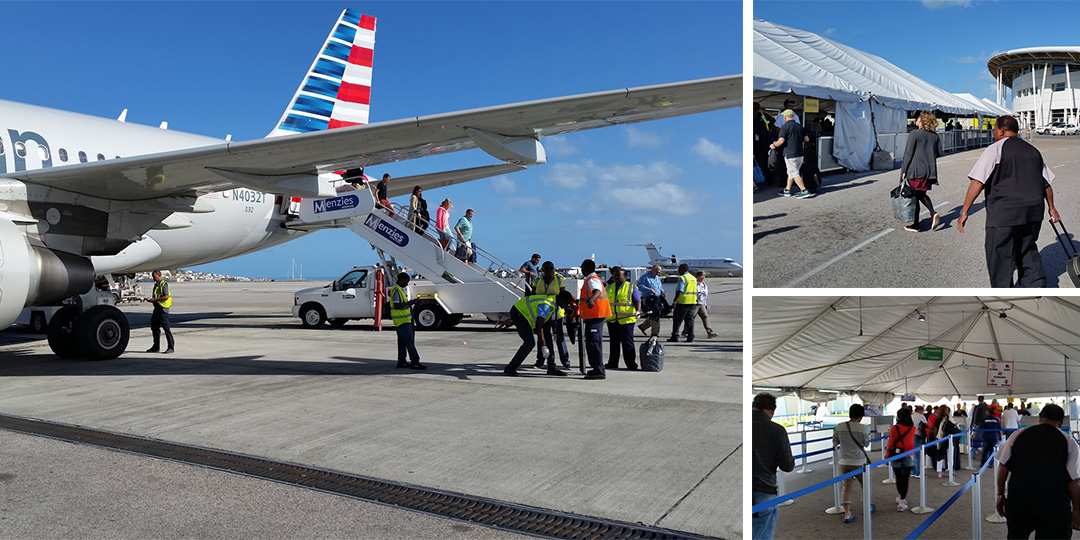 DAY 1 – February 23, 2018
Arrival in St. Martin
The flight in with a connection in Miami was on time and uneventful; the more interesting part was the arrival at the Princess Juliana International Airport in St. Martin. My first glimpse while descending the outdoor boarding stairs was of a large white tent – which I learnt is the temporary airport, as repairs are still underway on the main building. But don't expect this to cause any inconvenience or delay. We entered the tent and showed our passports to the very friendly personnel at the tables inside. Moments later we were collecting our luggage as it was being lined up along a walkway for passengers to pick up. Bags in hand we followed the exit signs and found the taxi driver that The Moorings had arranged for us just steps away. I'm quite certain that this was the fastest and most efficient airport arrival I have ever experienced in all my travels – and possibly the friendliest arrival greeting, as well!
Our taxi driver was friendly too, explaining that his father had worked for The Moorings before him, this was his 18th year. Sunny skies and lush green hillsides accompanied us on the short 15-minute ride to the new Moorings base location in Marigot, capital of French-side St. Martin. In Marigot we saw some evidence of hurricane damage, but locals were out shopping and dining, and most businesses looked to be up and running.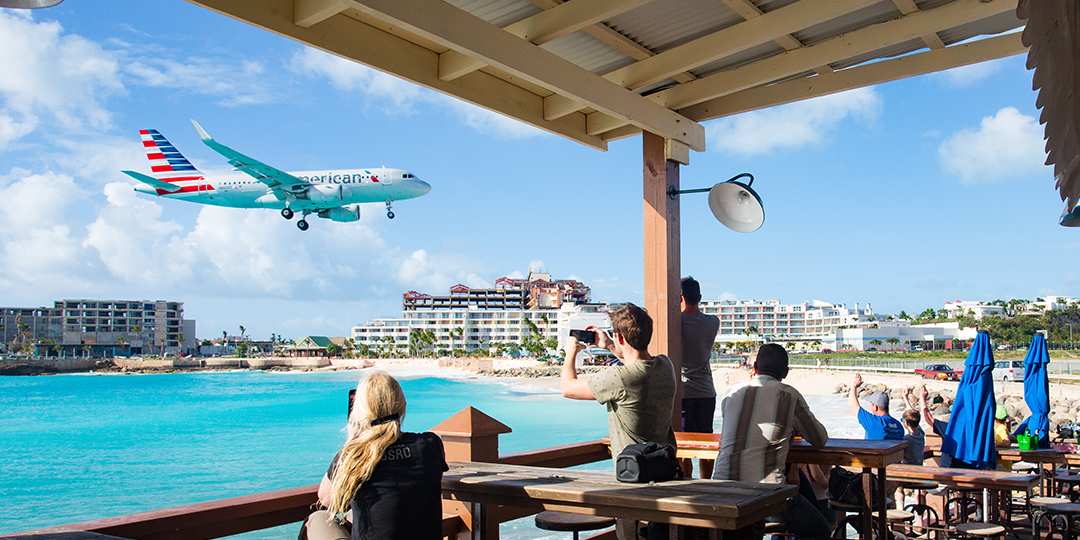 We arrived at the marina and took a quick tour of the building and docks. It's a lovely marina, with convenient shower facilities, Wi-Fi and a short walk to the boats. Most of all, the location can't be beat. Several dining options are within steps of the marina, and the upscale Le West Indies shopping plaza is just across the street.
O'Plongeoir is a local Moorings staff favorite for lunch and dinner, so after settling in aboard our yacht, we headed out to dinner. I was told that this open-air restaurant is usually busy, and tonight was no exception. With no tables free, we sat at the bar, ordered dinner and chatted with the bartender. The Mahi Mahi filet was fantastic, as is a specialty drink they serve, the frozen Caipirinha cocktail.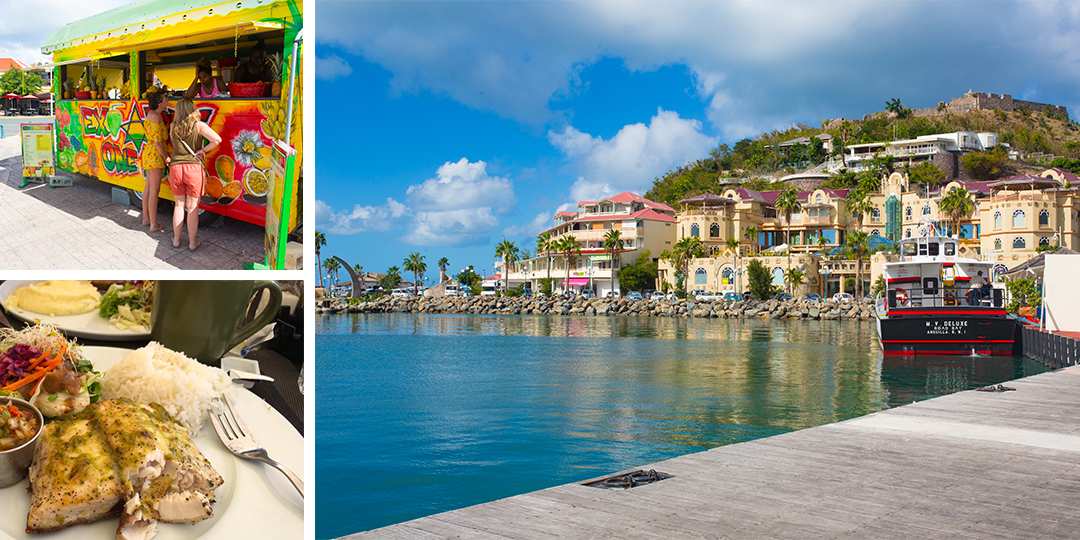 DAY 2 – February 24, 2018
Marigot – Anguilla
We got an early start today and walked a few blocks for some coffee, and also discovered "Johnny Cakes" – a tasty Caribbean fried bread which I made a point to have more of often during our stay in St. Martin. Our next stop was Super U, the grocery store in Marigot. Saturday morning is a busy day at the Super U, but we managed to find our last-minute provisions amongst the unfamiliar French brands and made our way back to the marina.
Back at the base, we met our local skipper, Jaco, and prepared to get out on the water. It was a beautiful day, and with a light chop on the seas we set out for Anguilla. This was going to be my first time visiting Anguilla, which I somehow missed during my previous two visits.

Just two hours later, we were cruising along Anguilla's beautiful rugged rocky coastline, dotted with stretches of white sand beach. As we sailed by Mead's Bay there was scattered evidence of hurricane damage, but many establishments appeared to be open, and there were people out enjoying the beach. Next, we cruised by Little Bay, a tiny little beach surrounded by rocky cliffs on either side – a lovely and private stop for lunch and swimming.
We doubled back to anchor at Road Bay and went ashore to clear in. Most of the restaurants and bars have re-opened, and we headed to the east end of the beach to visit the most well-known – Elvis' Beach Bar. The vibe was super laid back, with a perfect beachfront view. A few other tourists and locals were enjoying the bar, and playing corn hole out on the beach. Elvis himself was in the building this day, and he's easily recognizable as well as very welcoming. He prepared his "World Famous Rum Punch" for us, a recipe that he's kept the same since his start on Anguilla.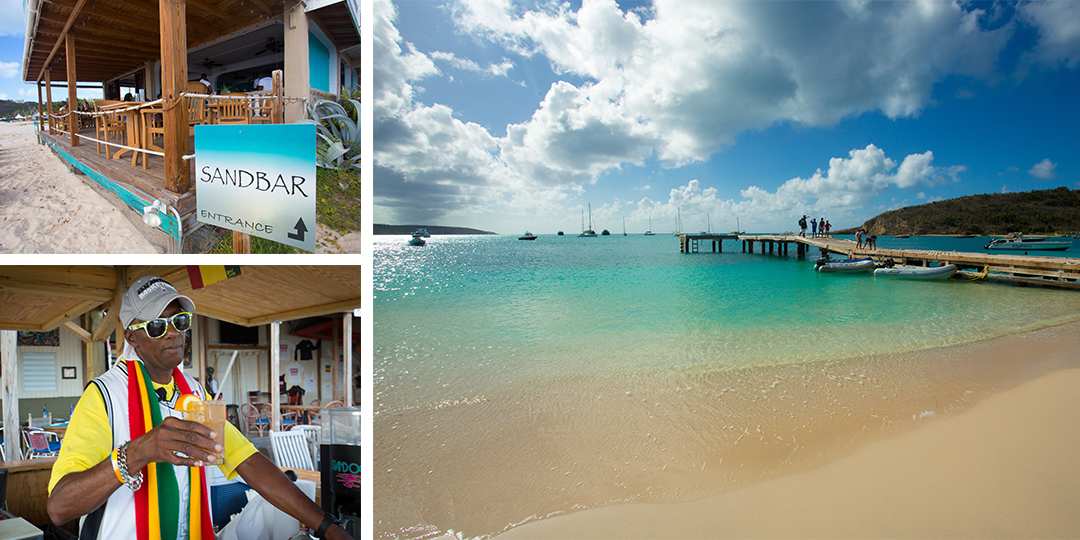 Next, we visited the Sand Bar and listened to some great live music, complete with a lively "local vibe." There are not many tourists and charters visiting here yet, but those that do are enjoying light crowds and more interaction with the welcoming local people. Many of them enjoy telling their personal stories about the hurricane, recovery efforts and how they are ready for tourists to come back.
As the sun started to dip down, we enjoyed watching the local kids playing on the dock while taking a stroll down the beach to find a little hidden gem, Charley's Multi-Cuisine. Serving mainly Indian food, the chef prepared Tandoori chicken in a small glassed-in room while we watched. Dining beachfront with a spectacular sunset, our videographer comments, "it's not often that the cuisine can match a view like this." I couldn't have agreed more.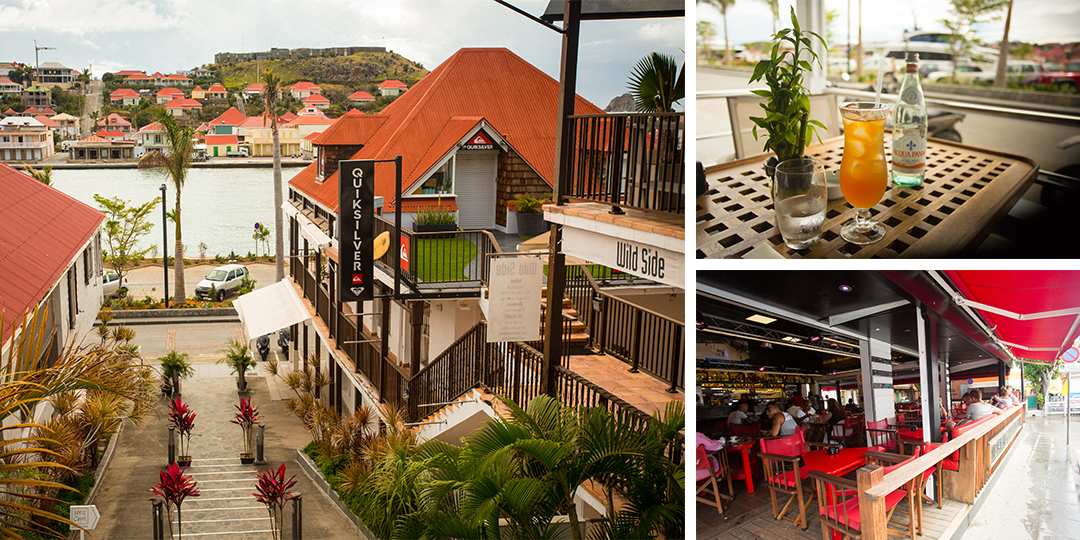 DAY 3 – February 25, 2018
St. Barts & Columbier
Off to St. Barts today! After three hours of motoring with blue skies overhead we anchored near the entrance to Gustavia's harbor. All around us in every size and shape of vessel, there was no shortage of luxury yachts and even a handful of mega yachts. We tied up to the dinghy dock to have a look around Gustavia. It was immediately apparent that St. Barts is as lovely as ever, with what appears to be very little damage from the hurricanes.
It was a Sunday, and most shops and restaurants were closed. We enjoyed a walk around town, with excellent window shopping – and something new to discover around every corner. A stop for refreshments at Bar de l'Oubli, and we learned from the locals that the place to be on Sunday is nearby Shell Beach. It's an easy walk (or short sail) from the docks in Gustavia, and it didn't disappoint.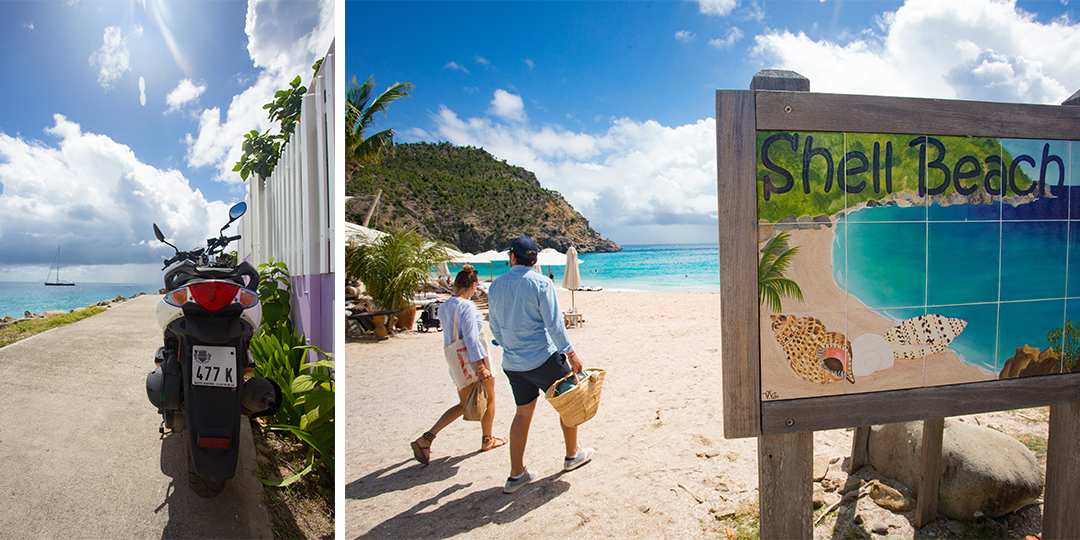 We found a good crowd of locals at Shell Beach, sunbathing, lounging, and dining. The beach itself is fairly small and surrounded by rugged cliffs on either side making it look like we could very well be in the Mediterranean. The aptly-named restaurant "Shellona" has casually chic ambiance, with cushioned lounging, shade canopies and a selection of excellent Mediterranean cuisine.
It was getting late in the day, and we had to tear ourselves away from this paradise and head to the next. We headed for Columbier and dropped anchor for an overnight. Some say the beach here is the most beautiful on St. Barts. And, the anchorage is refreshingly quiet, as it's accessible only by foot or boat. Tonight's dinner was prepared on the grill with a stunning sunset backdrop.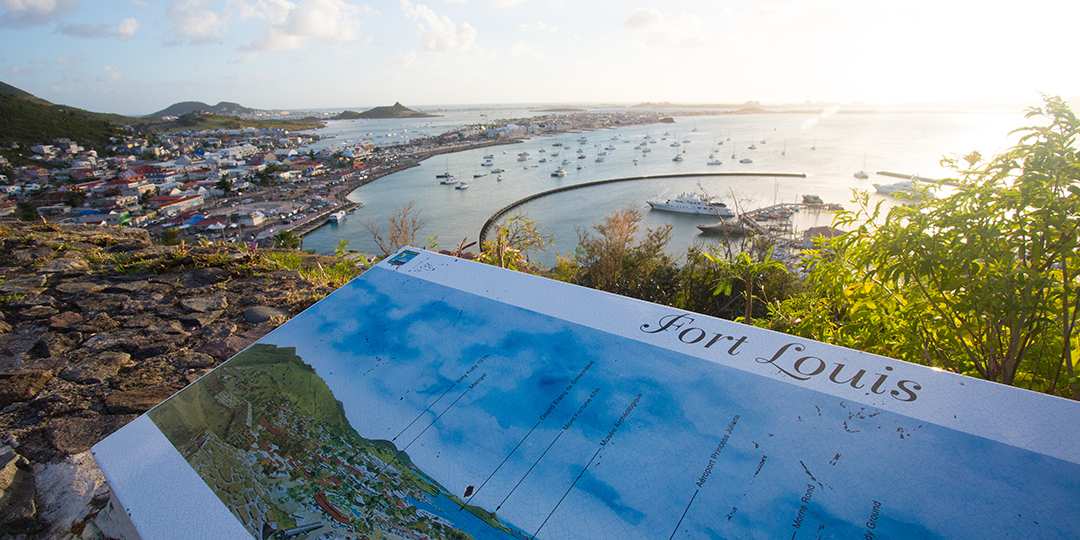 DAY 4 – February 26, 2018
Orient Bay – Pinel Island – Tintamarre
Today we headed back toward St. Martin. We cruised along the coast at Orient Bay, having already heard about the post-hurricane conditions here. The beaches are still gorgeous and stretch for what seems like miles. Sadly, most of the bars and restaurants have been destroyed. There are still some watersports rentals available, along with lovely secluded beaches and swimming.
Pinel Island, just across the channel, was also hit hard but the two restaurants here have made significant progress. Yellow Beach is rebuilding its recognizable tiki huts and will open soon. At neighboring Karibuni, the rebuild is nearly complete, and they are open for drinks, with a limited food menu. There aren't many people visiting here yet, but with the excellent service and views, it certainly won't be long!
The final leg of the day's journey was a quick jaunt over to the uninhabited island of Tintamarre. It's still beautiful here, with a long stretch of secluded beach and excellent snorkeling. Some of the beach was washed away, and it's now quite steep pulling a dinghy onto the shore. But the moorings are reasonably close in, so we swam in for an afternoon walk around the island.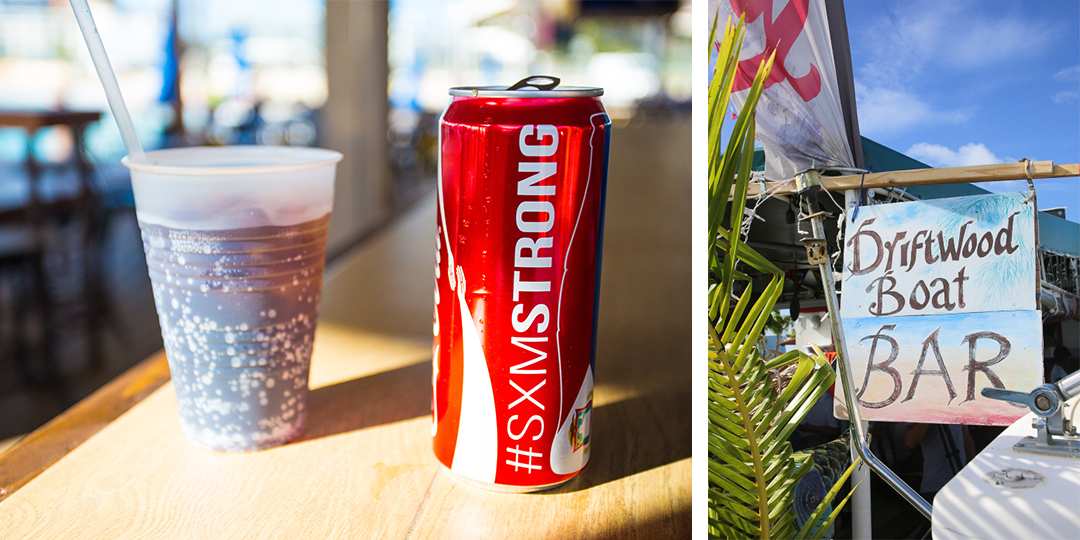 DAY 5 – February 27, 2018 
Maho Beach – The Moorings base, Marigot
Reluctantly, we headed back to The Moorings base in Marigot to disembark by noon. Back at the marina, The Moorings base was getting busy as several charter guests arrived to participate in the 38th Annual Heineken Regatta. The Moorings staff were busy with arrivals, and there was a vibe of excitement. It was great to see so many charterers at the new base returning to support St. Martin. This evening we would help celebrate at The Moorings' "Welcome Back to St. Martin" party for both guests and staff to enjoy.
Until then, we had a few hours to spend ashore, and we headed for Maho Beach – another stop that I'd missed on my previous St. Martin trips. Maho Beach is located at the end of the airport runway, where tourists gather to hang out and watch the jets take off and land – it's an absolute blast. I can see why it's a tourist favorite. The two bars on either side of the beach are both fantastic. Drift Wood Boat Bar & Grill is the slightly more casual beach bar. Sunset Beach Bar is at the other end of the beach, with a deck overlooking the water, as well as a pool.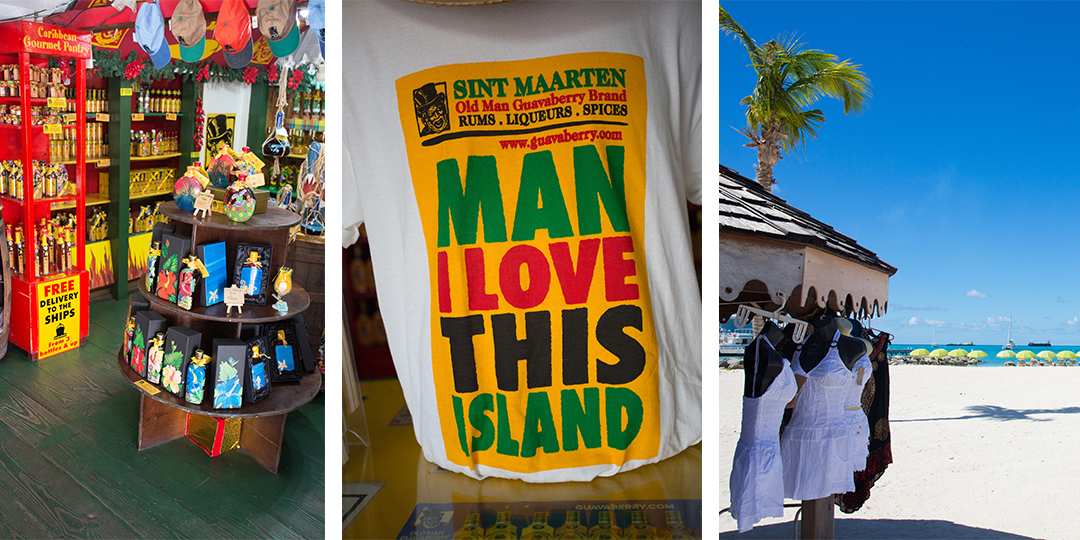 A drive to Phillipsburg for a quick stroll was our last stop. The shops along Front Street were open, and we made a point to stop at the Guavaberry Emporium. The folks here are super friendly and ready with complimentary rum samples. With our remaining time, we circled around and walked the waterfront where restaurants and beachside shops and stands were buzzing with fun-loving cruise ship passengers. The stretch of beautiful beach is lined with inviting lounge chairs as far as the eye can see, making us wish we had time to stay longer.
Back at the base, the Welcome Back party was getting started at the Yacht Club Restaurant overlooking the marina. Talking with guests that evening we heard many stories from returning charterers eager to help, as well as stories of recovery from the staff – strength, support, and visions of an even better St. Martin.
The perfect way to end our tour.
Did you find this useful?