Published:
October 31, 2018 Terese Kerrigan
Comments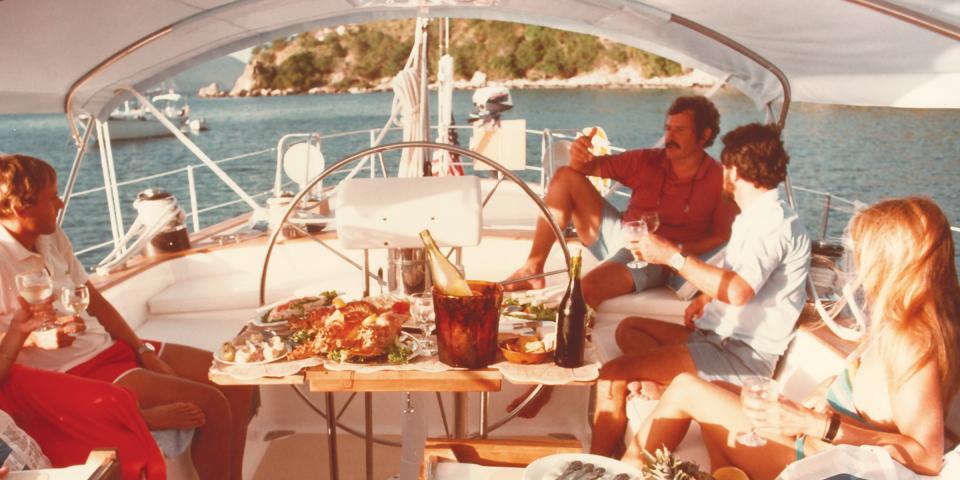 One of the most rewarding things about celebrating The Moorings' 50th Anniversary is being able to reflect on the past through old photos, company milestones, and shared stories about Charlie and Ginny Cary, the admirable couple who took a chance on life to make a living doing what they loved—sailing. While most of us did not have the chance to meet the Carys, Chris Caswell, esteemed bareboat chartering author and editor of CharterSavvy.com, was blessed with the opportunity to charter with The Moorings during the early years. In the excerpt below, Mr. Caswell takes us on a journey back in time, when the boats and the BVI were quite different from today....
In the Beginning
My first bareboat charter with The Moorings was in the very early 1970's and boy, was that a different world!!
Charlie and Ginny Cary had started their fleet with a half-dozen Pearson 35's, which were a far cry from The Moorings bareboat yachts of today. The Pearson 35 had a pleasant cockpit, although the steering wheel was at the forward end so all the fun was behind the skipper. Cockpit table?—hadn't been thought of. Drink holders?—wish I'd patented them!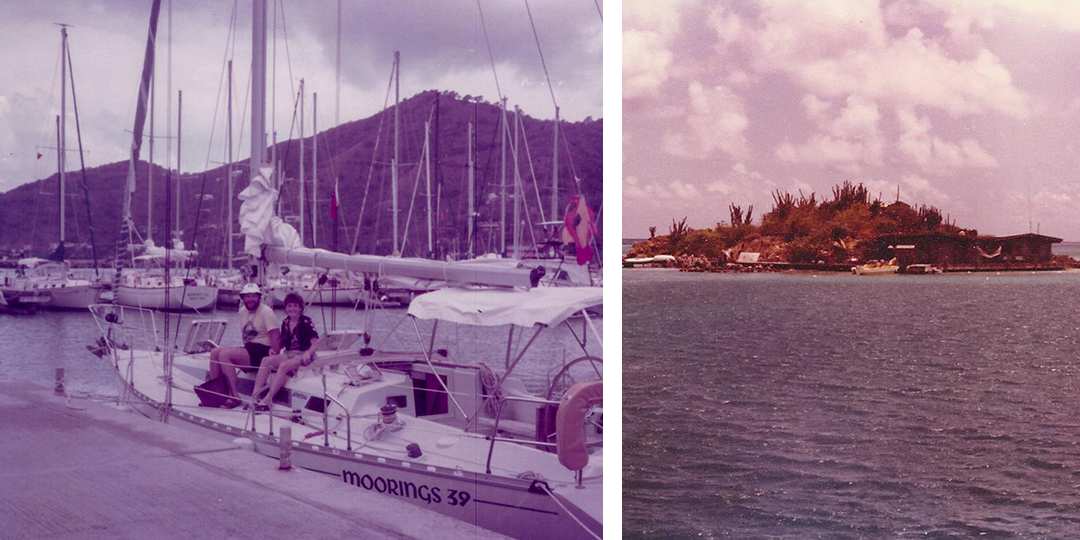 Below, the galley wrapped around stairs from the cockpit and, in fact, the top step was the galley counter. This became quite evident when one of our crew stepped into the neatly arranged peanut butter sandwiches that were being made for lunch. (Talk about a "sticky" situation!)
Sleeping accommodations were also, um...limited. There was a vee-berth forward that guaranteed tangled toes, and a convertible dinette with a single narrow pilot berth opposite. The small head compartment had a hand-pump toilet (no holding tank in those days—straight to the water!) and the sink faucet pulled out to become the shower, which soaked everything in sight.
Under sail, the 35 was equally primitive, with a roller-furling jib that worked at least half the time without jamming, and no one had thought of stack-pack mainsails. When you dropped the mainsail in 1970, you had to beat the Dacron into a roll and lash it to the boom.
Modern transom platforms make both swimming and getting to and from tenders easy, but the 1970s-era swim ladder was a rickety aluminum frame that hung precariously from one rail. I think I may still have indentations in my feet from its painfully narrow steps. 
But the bottom line—I loved it. It was an experience that literally changed my life, and I've never been able to get enough bareboat charters since that week in 1970.
The BVI Back in the Day 
The BVI in the early 70's seemed like a scene from a "Twilight Zone" show. Case in point: Charlie Cary handed me the keys and his briefing was mostly about making sure I didn't put water in the fuel tank by mistake. When I asked which harbors might be busy, he just grinned and said, "If there's another boat already anchored, just sail on to the next cove. It'll probably be empty."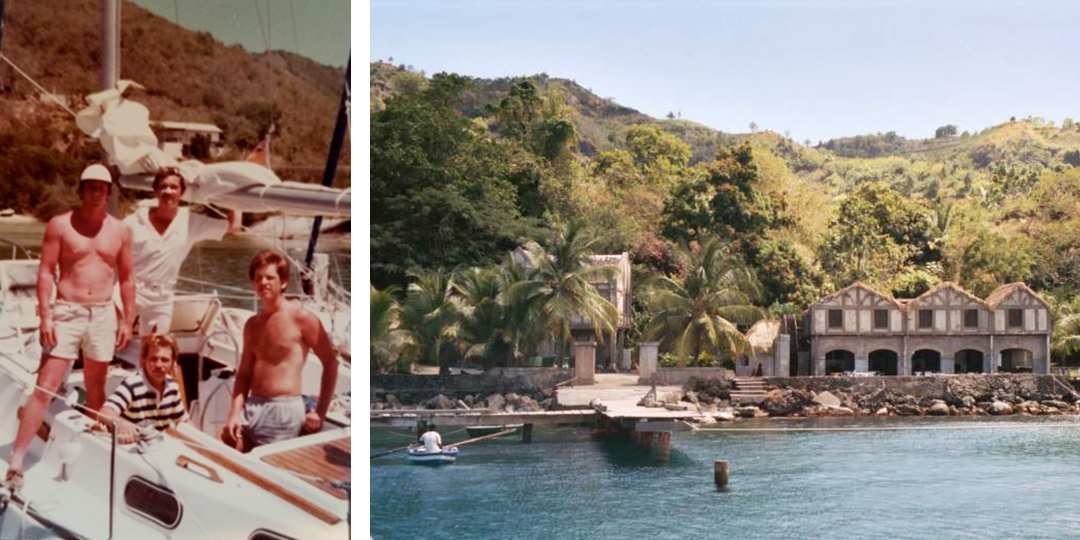 On Jost Van Dyke, there was a skinny kid named Foxy selling rum drinks and beer from a thrown-together shack on the beach. There was occasionally food, but you had to watch for the goats and cows that would wander through the tables looking for hand-outs. There was certainly no gift shop or souvenir t-shirts, but you could always count on Foxy with his battered guitar, making up songs about his guests...."You from San Diego? Hmmmm. Don't know what rhymes with San Diego, but I'll puzzle it out". And soon thereafter would come a puzzled-out melody about the bareboaters from Dago —"Dey Come, Dey Go..."
Peter Island had long been owned by Percy Chubb, a big name in the yacht insurance business, a former Commodore of New York YC and a trustee of Mystic Seaport. He sold it in the late 1960's to a Norwegian millionaire who dredged the bay for larger yachts and built A-frame chalets for visitors, but the fabulous beaches remain as they were when Dutch privateers used it as a base in the late 1600's.
Bitter End, now that was different in 1970! It was owned by Basil Symonette, quirky black-sheep son of the former Premier of the Bahamas, and brother of Bobby Symonette, who represented the Bahamas in five Olympics in sailing, winning two gold medals. Bitter End Yacht Club, named because it was the last 'jumping-off point' to cross the Atlantic, was just a one-room waterfront pub with a few very rustic cottages on the hillside and some moorings. Helping Basil build the pub and cottages had been a young man, Robin Lee Graham, who sailed his 24-foot sloop "Dove" around the world at the age of 16 and later wrote the book, Dove.
Guests in the cottages had paper sheets on their beds, cold water showers, and electricity only from the generator, which shut down at Symonette's whim. Anyone wanting to come ashore had to sound an air horn, and Symonette would shout back with a megaphone if he was having visitors.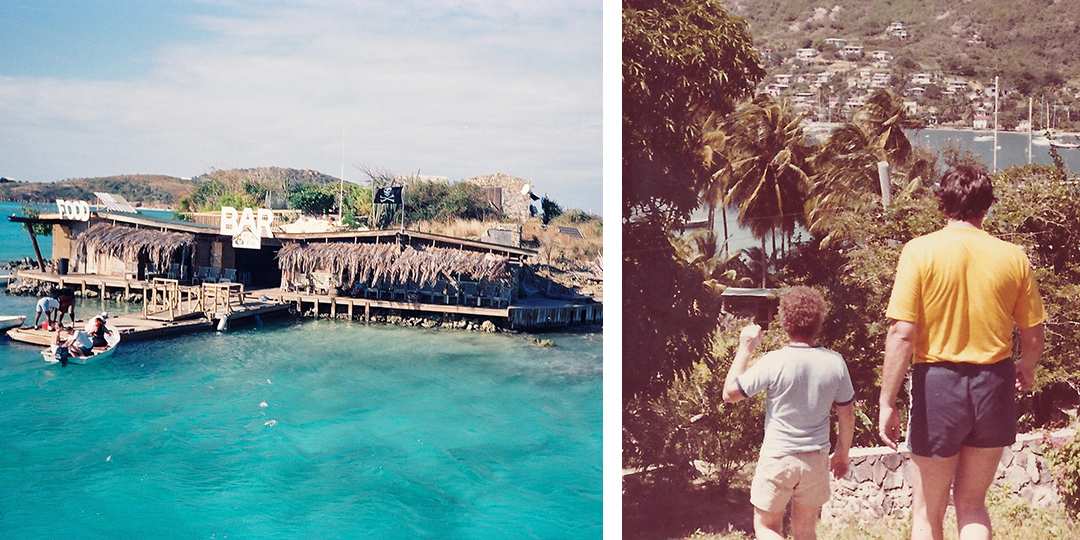 Marina Cay was where Tony and Jackie Snell's Last Resort had one big table for everyone, with rowdy entertainment by Tony and his donkey. No really, a donkey in the pub! Snell was an Englishman who had flown Spitfires during WWII, been shot down over Italy, and escaped with the help of partisans after being shot. A natural musician and comedian, Tony played London, Paris, New York, and ended up in the BVI. A fire burned down his first pub on Jost Van Dyke, and he moved to Bellamy Cay in Trellis Bay. His restaurant, which opened in 1973, was known for its "Gargantuan Buffet" and "Year's Supply Of Belly Laughs". Tony was renowned for making guests laugh at themselves and for his vast intake of brandy.
Cooper Island also had a beachfront pub, where Tim and Jan Short served amazing Cornish pasties, delicious conch fritters, and pina coladas. The Windjammer Barefoot Cruise sailing ship, Flying Cloud, would anchor nearby and bring their guests ashore, and this became a must-stop for the growing bareboat fleets.
The British Virgin Islands have certainly changed but today, nearly 50 years later, several things remain constant—warm water as clear as gin (and I would know!), amazing beaches with sand-like sugar, and the (almost) ever-present trade winds.  Without a doubt, it's my favorite place in the world to charter.
Note: The customer images pictured above were provided by Jerry Bradley, Wayne Carron, Leslie Troyer, and Patrick Williams. A special thank you to these Moorings charter family members for sharing their photos with us.
Did you find this useful?