Before You Travel | How to Get There | Check In/Check Out | What's On Board | What to Bring | Health & Safety
February 11, 2020: French Polynesia has made changes to their entry requirements. Please review the information attached and check with your airline and the Travel Advisory page to stay up to date on any restrictions.    
This page provides useful planning, pre-departure and travel information. From servicing airports to base arrival procedures, it will tell you what to expect to make your vacation smooth and care free. 
We suggest you read the following information carefully several weeks prior to departure and also print a copy to take with you.
Before You Travel
Address 
The Moorings Raiatea Base
BP 331 
98735 Uturoa
Raiatea Island
Tel: (+689) 777 003
We suggest you notify family and friends of how you may be reached in case they need to contact you.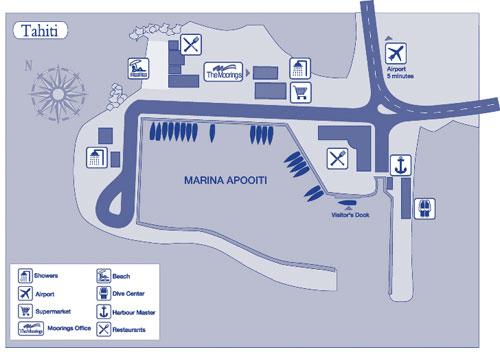 Base Hours 
7:30 AM - 17:00 PM, 7 days a week.
Time Zone
UTC/GMT - 10 hours.
Tourist Information Centers
Tourism Information, TAHITI - Tel: (689) 50 57 00 
Tourism Committee Information, RAIATEA Tel: (689) 600 777 / fax: (689) 600 776 
Many Moorings clients may obtain tourist information from their own country – please visit www.tahiti-tourisme.com for more details.
General Information
Area: 2,589 sq. mi. (118 islands and atolls)
Population: 287,032
Capital City: Papeete 
Official Languages: French, Polynesian (official), Asian languages
Ethnic groups: Polynesian, Chinese, local French, metropolitan French
Religion: Protestant, Roman Catholic, other.
Government: N/A - overseas lands of France
Industries: food processing, wood and paper products, textiles, machinery, transportation equipment, banking and insurance, tourism, mining
Tipping: 10-15% is generally acceptable if it has not been added already.
Currency: The Pacific Franc is the common money in French Polynesia.
Electricity:  220 Volts, alternating at 60 cycles per second. If you travel to French Polynesia / Tahiti with a device that does not accept 220 Volts at 60 Hertz, you will need a voltage converter. The standard voltage on all yachts is 12 volts.  In order to use electronic equipment that is 110v or 220v, you will need an inverter suitable for use in a cigarette lighter.  
Time: UTC/GMT - 10 hours.
How to Get There
Airport 
Raiatea airport - Tahiti/Faa'a airport.
Flights
Air Tahiti Nui
Air France
Air New Zeland
Lan Chile
Due to the number of flights we organize, the Moorings can offer some great rates to many destinations. Please make sure you contact our inhouse flight specialist at 866.649.2003 before you book your flights.
Transfers 
Transfers from Raiatea Airport are not included in your charter price. You must arrange on your own on arrival or you can add pre-book taxi transfers to your Moorings booking and pay the driver locally upon arrival. Please contact your Moorings Vacation Planning Specialist who will be happy to do this for you. Return transfers cost £5 per person and takes approximately 5 minutes. On arrival, your driver will be waiting for you in the arrivals hall with a sign displaying your name.
Car Rentals
Foreign and International licenses accepted. All the main car rental companies are present at the airport. You will find small car rental companies that offer very competitive daily rates.
Avis /TAHITI tel: 689 41 93 93
Avis/RAIATEA tel: 689 66 20 80 FINI
Europcar /TAHITI tel: 689 45 24 24
Europcar /RAIATEA tel: 689 66 34 06
Garage Motu Tapu/RAIATEA tel: 689 66 33 09 FINI
Taxi
Taxi can be easily hailed at airport.
The journey lasts 10/15 minutes and costs about 1500 Fcp (US$15.00).
Central Booking Office in TAHITI tel: 689.83 30 07
Central Booking Office in RAIATEA island tel: 689.66 20 60
Check In/Check Out
Check In Procedures
Charter Start Time: Charters start at 10:00am or 4:00pm (with a Sleep Aboard.
Briefing Times: 9:00am for morning starts; 3:00pm for a Sleep Aboard.
All skippers must attend a Chart Briefing which covers all you need to know about the cruising area, use of the VHF radio, how to call for assistance, and more. A Boat Briefing will also be provided onboard your yacht. Please save all questions of this nature until then. The Moorings operations manual will be on board your yacht for your use throughout your charter.  
Late Arrivals 
Clients need to advise the base if arriving after office hours. The Base staff will meet the clients, settle them onboard and brief them the following day.
Check Out Procedures
Charter End Time: All charters end at 10:00am at which time the boat must be returned and ready for debriefing and checks.
A debriefing and final walkthrough will be done upon return so please allow enough time to complete this before the charter end time.
What's on Board
Provisioning
Moorings Care packages are included on every yacht. These packages contain some of the basics to get you started for your vacation. Additional items are available to be purchased and delivered directly to your yacht. Visit our Provisioning Page to learn more.
Mobile phones 
To use your mobile phone in Tahiti, you have a few options:
You can check with your service provider to obtain an extension for your phone to work in French Polynesia. 
Wi-Fi Coverage is good in all main villages so, if you have a smart phone, you can utilize Skype to call internationally.  
You can buy a SIM card that works off of the VINI network.  You can purchase a VINI SIM card in one of the VINI shops (in Papeete) or at the post office in the airport when you arrive.  
The Moorings can provide one mobile phone for free that can be used to call internationally.  We sell pre-paid calling card and the cost is about 1.5 dollar per minute.  With these phones, you can accept incoming calls at no cost.
Music/iPods 
While most of our newer boats have Bluetooth capability, we cannot guarantee all boats are outfitted with this equipment. For your convenience, we highly recommend you bring an AUX cord so you can listen to music from your mobile devices.
Electricity
The standard current is 220 volts AC with European-style plugs.
The Moorings pier is equipped with 220V. power outlets.
The majority of our yachts are equipped with power cords, battery charger and 220V. plugs (220 V available only at the dock).
There is a 12V. cigar lighter outlet by the chart table on our yachts.
Internet Connectivity
Internet access available at the base (briefing room). There are two internet cafes near the Marina. Huahini and Bora Bora also have internet cafes available. You can also find Wi-Fi zones on each island.
For more information on what's included on your yacht, please view the full list here for Bareboat Charters or here for Crewed Charters.
What to Bring
Customs & Immigration
Entry, exit, and visa requirements depend on the locations you are departing from and traveling to. You are responsible for having the correct documents so make sure to check with the consulate of the countries you plan to visit before you travel.
A valid passport (for each passenger) and crew list is compulsory for clearance. Expiration date must be no earlier than 6 months after your planned return. A customs declaration form must be completed at the port of entry. Visit travel.state.gov for the latest information.
Cruising Licenses
Cruising permits are not required in Tahiti.
Luggage & Packing List
Soft-sided luggage or duffel bags are best, as luggage storage space on your yacht may be limited. We have no facilities for holding luggage at the base. Pack lightly and review our suggested packing list for required and necessary items to bring.
Pack essential prescription medicine and change of clothing in a carry-on bag*
Passport and other travel documentation
Tickets and paper confirmations for pre-planned activities
Light-colored, light-weight clothing
Formal wear for upscale dining establishments
Swimwear and cover up
Hats and sunglasses
Sandals and flip-flops
Athletic shoes and hiking boots
Travel-sized toiletries and hygiene products
Insect repellent and OTC pain relievers/ointments

AUX cable for playing music through your device

12V DC to 110V AC power inverter (for boats without generators**)

12V to USB power adapter for charging mobile devices
*We would highly recommend packing prescription medicine and essential clothing (swimsuit, t-shirt and shorts) in your hand luggage as occasionally your luggage may arrive at the base after you do.
**All boats include a 12V DC outlet (a "car" outlet). Boats with generators have 110V outlets in the Caribbean and 220V in the Mediterranean and Exotic locations.
Drones
The use of flying drones may be restricted in some areas. For current drone regulations in this destination, please visit  https://www.seac.pf/aeronefs-telepilotes/
Gratuity
10-15% is generally acceptable if it has not been added already.
Taxes & Fees
You might incur some costs while on charter such as mooring and docking fees or cruising taxes. We highly recommend bringing enough of the local currency to cover these costs as they are not always payable by USD, debit, and/or credit cards. Please see our Base Notes for additional information.
There is no departure tax.
Security Deposit
A security deposit must be paid at the base by Visa or Master Card and is refundable at the end of your charter subject to there being no loss or damage. To significantly decrease your security deposit, purchase our Yacht Damage Waiver insurance ahead of time.
Health & Safety
Vaccination and Immunization Information
French Polynesia is generally risk-free of contagious disease. Visit cdc.gov for the latest information.
Travel Advice  
Your health and safety are important to us. For advice on how to stay safe while on charter, please review our Travel Advice Information. Current travel and safety information can be obtained by visiting travel.state.gov
Swim Safe
For your safety and for environmental reasons, the feeding of fish is not recommended and may be prohibited in some destinations.
Travel Insurance
The Moorings offers comprehensive travel insurance for your peace of mind. If you have your own travel insurance, verify that it covers the destinations and activities of your Moorings vacation.
Medical Information
French Polynesia enjoys a high standard of health, with excellent medical and dental services, pharmacies, private clinics and a large government hospital in Tahiti, which is open 24 hours. The outer islands have hospitals or dispensaries, and a few private practitioners.

*Please note country entry/exit and vaccination/immunization requirements can and do change. The Moorings is not accountable for these requirement changes and we advise visiting the destination's authority website to receive the latest updates.