In preparation for the reopening of our global charter destinations, we are hard at work reshaping our policies with the safety of our staff and charter guests being of upmost importance. We have aligned our cleaning procedures with the current guidance of the relevant authorities including the WHO, CDC and local operating governments. Rest assured that when you set sail again, we have taken precautions which endeavor to keep you and your family safe and provide you with peace of mind to make the most of your time on the water.
These policies have been introduced specifically in response to the Covid-19 pandemic. We are continuing to monitor and respond to the ongoing circumstances surrounding Covid-19 and local government regulations and therefore we may update our policies accordingly in the future. You are encouraged to check this page, or contact your Vacation Planner, for an update on plans relevant to your vacation dates.
The video shown may depict procedures that are no longer in practice. With regards to the various elements of our operations our current intention is as follows:
Our Team
Staff will be instructed to adhere to strict social distancing guidelines (2 meters / 6 feet apart).
All staff members will be required to wear protective masks, gloves, and other personal protective equipment where necessary and/or follow applicable local government policy.
Strict handwashing and sanitizing policies have been put in place.
Onboard Crew has been trained in our Cleaning, Sanitizing, and Disinfecting (CSD) procedures, and has extensive knowledge of food handling, waste management, and medical requirements.
The onboard crew will be instructed to adhere to social distancing while on charter and encouraged to wear protective equipment when this is not possible. We ask that you also do your utmost to maintain social distancing from our onboard crew.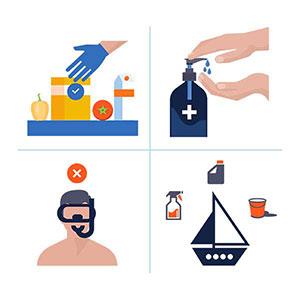 Our Yachts
Each yacht will be disinfected via fogging immediately upon return to the dock. They will then be cleaned, sanitized, and disinfected again prior to the next boarding.
NEW care pack to be provided including disinfectant spray, hand wipes, and sanitizing products.
Complimentary masks and snorkels will no longer be provided on charter, however, we will still be providing complimentary fins for guests.

It is recommended that guests bring their own snorkel masks. In some destinations, new snorkel equipment may be available for purchase upon arrival at the marina.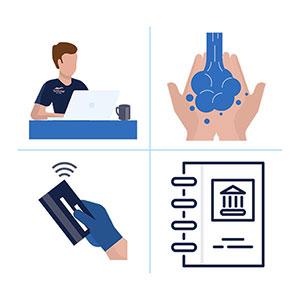 Arrival at Marina
Transfers arranged by us will be conducted in line with government regulations. Guests will be seated in accordance with local government policy.
Where possible we recommend reserving your private base transfers in advance, which can be arranged and pre-paid through your Vacation Planner.
Direct Boarding – A customer service team member will meet the guests on arrival and show them directly to their yacht. However, if we are unable to do so, the guests will be shown to a secondary area that will adhere to social distancing requirements. Luggage will be taken to the yacht by a team of porters equipped with necessary PPE.
All payments at the marina will be made via debit or credit card where possible to reduce the handling of cash and support hygienic practices.
Hand washing and sanitizing stations are available.
All required chart briefings and yacht briefings will be carried out on board. Mask and gloves are to be worn as necessary, and social distancing (6ft/2m) is to be conducted.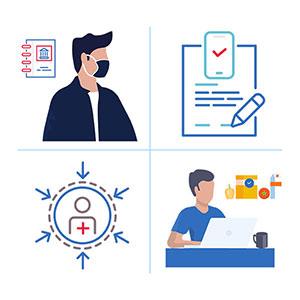 What You Can Do to Help
During your time with us on the base or any interaction with our staff, it is mandatory that you use a face mask and follow hygiene and social distancing guidelines.

Bring your own face masks as they will not be provided at the base.

Complete all required documentation online prior to your arrival, provided to you via email.

In some cases, your signature may be required; therefore, it is advised to bring your own pen.

Order your provisioning online in advance of your charter*.
Bring valid forms of identification and travel documents as well as a copy of each guest's passport, if required**.
Pre-order watersports equipment in advance of your charter.
While on charter, we request that the captain and first mate monitor their crews' health via ships log and notify the proper local authorities if there are any passengers with COVID-19 symptoms.
Be certain that no member of your party displays symptoms of Covid-19 in the four weeks prior to your departure. Please check with your local government health department for advice on these symptoms.
Brighter days are ahead, and we look forward to enjoying them with you in paradise someday soon.
*Online provisioning available in select destinations worldwide
**Our bases in Greece require a copy of the skipper's passport and sailing license. Please bring these copies with you to the base.
Step Aboard Here
Start your experience with The Moorings on land and sign up to receive e-mails from us about yachts, offers and destinations.
By clicking 'Sign up' you confirm that you have read and understood our Privacy Policy and consent to our use of your information.