Ultimate Dive BVI Experience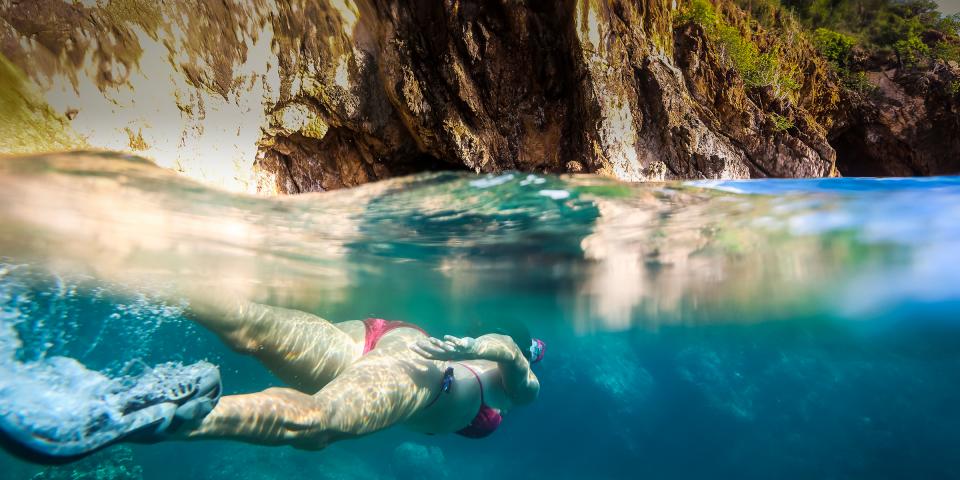 Experience the Ultimate Underwater Adventure
in the British Virgin Islands
Our Ultimate Dive Vacations treat you and yours to a diving getaway aboard your very own Crewed yacht in the British Virgin Islands. Complete with a private captain, gourmet chef and hostess this experience lets you enjoy the best of both worlds—an all-inclusive charter experience with the opportunity to explore some of the British Virgin Island's most beautiful dive sites.
Step aboard, cruise to new underwater playgrounds and dive directly from your luxury catamaran. Your captain is also a PADI certified dive instructor who will guide you to the best of the BVI's 73 designated dive sites—from the famous "Wreck of the Rhone" to some of the best-kept-secret spots.
Reserve your Ultimate Dive Vacation
or learn more by calling a Moorings Vacation Planner
at 1.888.952.8420 today.
Perfect for certified divers* of all levels, this exclusive and private dive opportunity includes shallow dives, blue water dives and an optional night dive! With onboard equipment (tanks, BCDs, regulators, fins) for up to six guests, no rendezvous with a dive boat is required—you'll cruise to your chosen spot, drop anchor and dive in accompanied by your captain!
To experience an Ultimate Dive BVI vacation, 6-dive and single-dive packages can be purchased in advance. While aboard the dive boat, you may also purchase additional single dives:
6-Dive –$450 per person
Single Dive Add-On – $100 per person
Dive packages are priced per person and dives in the package cannot be shared with others in your group. Packages can be purchased for any number of people in your group, up to 9 guests – but please be aware that a maximum of 6 guests can dive at one time*. i.e. If you purchase one 6-Dive package, those dives will be exclusive to one guest. If you would like 5 guests to dive, you must purchase 5 packages.
Your Yacht
The largest yacht in our fleet, The Moorings 5800 is an ultra-stylish vacation platform specially outfitted for divers and groups of up to 10. Featuring five en-suite guest cabins in a spacious split-level layout, this stunning Sail catamaran exemplifies resort-style living at sea. Your yacht also includes complimentary Fishing Gear (2 rods), Keeboard, Water Skis, and 4 stand up paddleboards. This yacht does NOT have any Kayaks.
Your Crew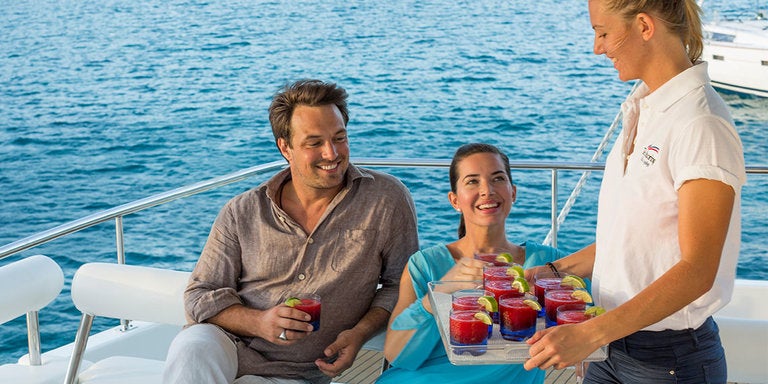 Your Crew includes a PADI-certified captain along with your own chef and hostess. In addition to their in-depth diving knowledge, your crewmembers are happy to accommodate your vacation activity and dining preferences. Prefer croissants and fruit over omlettes in the morning? We'll be glad to take care of that. A fun place where the kids can play? We have just the spot. 
Read more in Captain's Anna's Blog post. 
Other Dive Details
Each guest that will be diving will need to complete a PADI Medical Statement.  Please download, complete the form and return with your other charter paperwork following your charter booking.

Please note that there are inherent risks associated with drinking alcoholic beverages and scuba diving. If a guest chooses to drink alcohol during their time aboard, they may not be cleared to dive for 36-48 hours.
*The Ultimate Dive Vacation is ideal for relatively experienced divers who want more of a concierge dive experience in addition to their Crewed charter. It is not recommended for first-time divers.

**A fishing license is required