Published:
August 30, 2019 The Moorings
Comments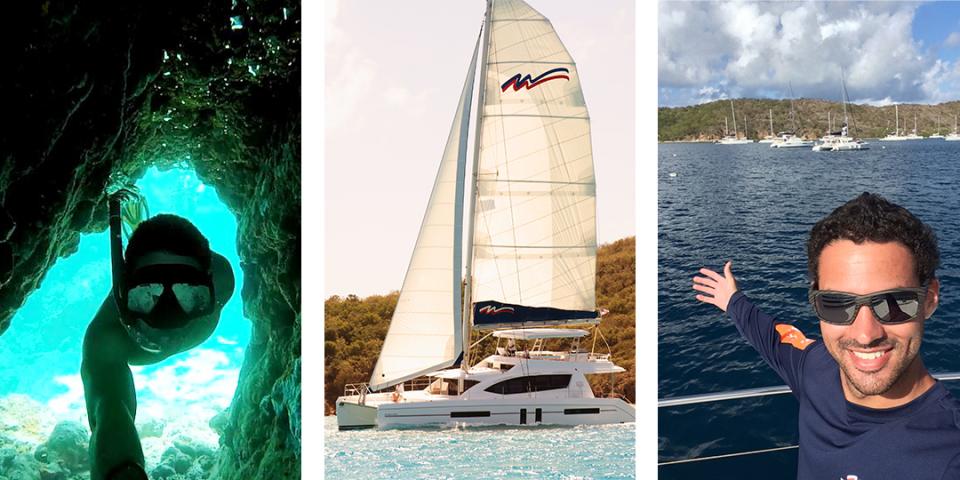 As someone who has worked for The Moorings for over eight years, I have had the unique opportunity to experience many of the amazing vacations we offer our guests. From the British Virgin Islands to St. Martin, Croatia, and beyond—aboard Moorings monohulls, sailing catamarans, power catamarans, and Crewed yachts. Each destination I've visited holds a place in my heart, and each type of yacht is special in its own way, but there is only one trip that I can say was truly perfect – my Crewed charter aboard the Moorings 5800.
About the Yacht
At 58' long and boasting a beam of nearly 28', the Moorings 5800 is far and away the largest yacht available in The Moorings' global fleet. It comes with six en-suite cabins in a unique split-level layout, maximizing the onboard space and easily accommodating up to 10 guests, plus a 3-person crew. In one word, this thing is massive.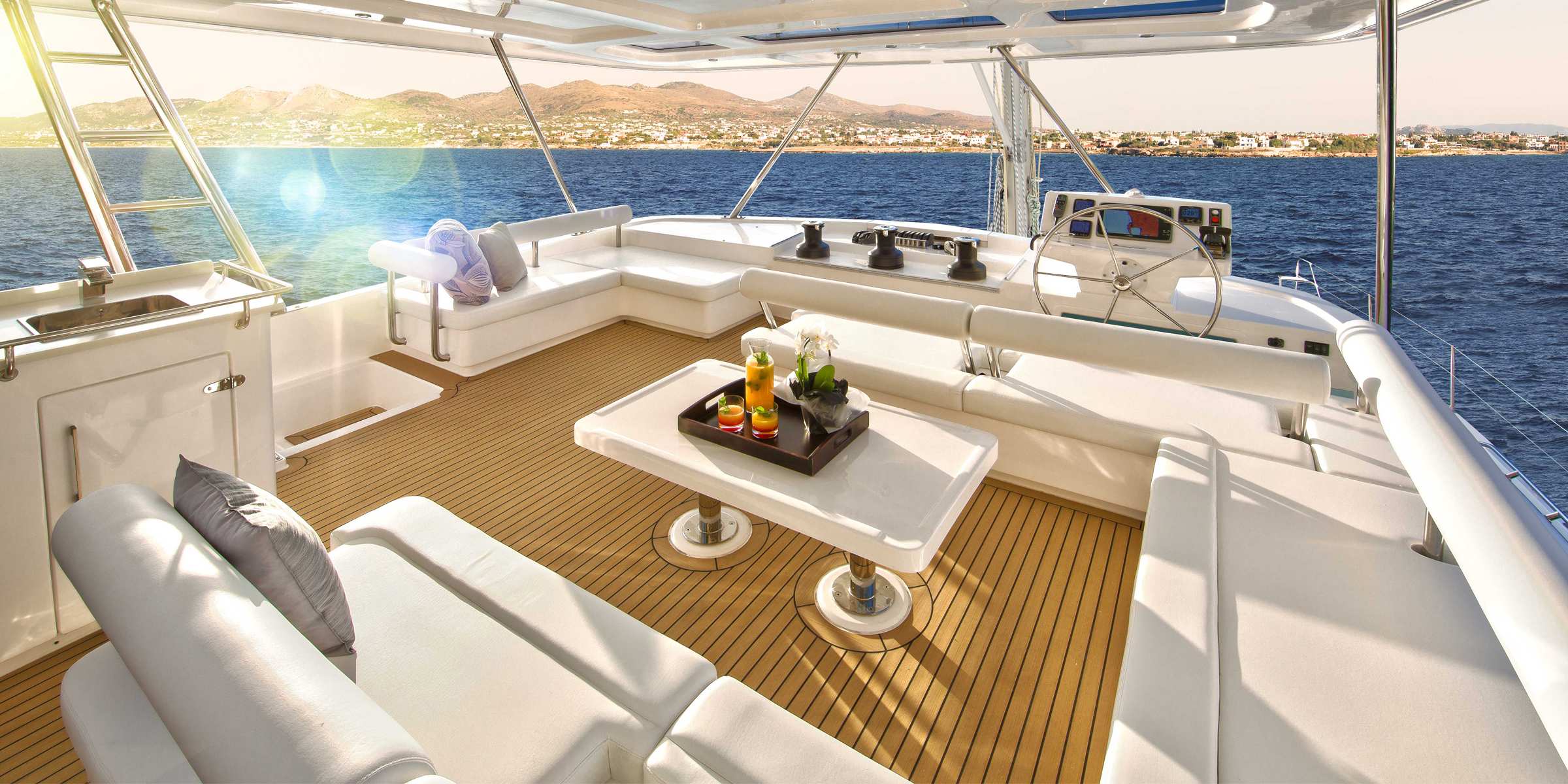 There are a few features that separate this boat from any other yacht in the fleet. First and foremost, while the 5800 does offer the traditional 4-cabin layout of its smaller counterparts, it also includes two additional cabins on the main level, each with forward facing doors leading to the bow. Secondly, the yacht offers a full flybridge complete with helm station and wet bar, perfect for those evening sunset cocktails or for basking in the breeze while leisurely sailing from one island to the next.
I was especially impressed by the larger center-console tender, which got us to-and-from shore in comfort, and style. It also had a much more powerful outboard than your average dinghy, so we enjoyed some fun tubing and wakeboarding sessions on multiple occasions.
The large dining table in the aft dining area was also an added bonus, which easily accommodated our entire crew and was somehow decorated with a different table setting for each meal throughout the trip. That extra touch and attention to detail really made a difference.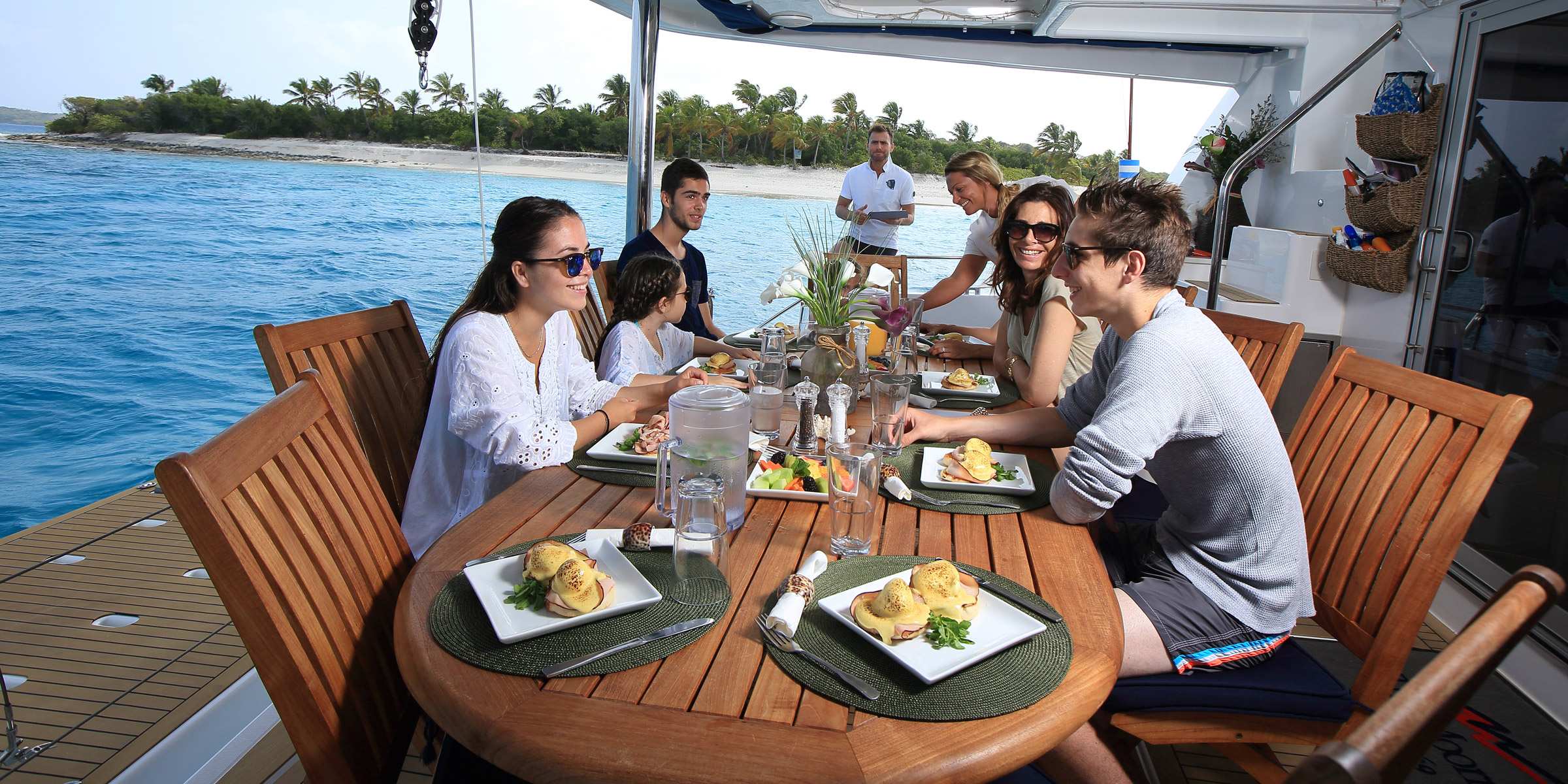 The Experience
While the yacht itself is a perfect platform on which to enjoy a tropical island-hopping adventure, it is the onboard service that makes this vacation truly exceptional. With a 3-person crew, everything you could possibly want or need is usually provided before you even ask for it. Seriously, this is carefree relaxation in all its glory.
Each morning, we woke to our own little breakfast buffet with fresh fruit, pancakes, coffee, juices, omelets and freshly-baked pastries. And while we feasted on the delicious spread, our beds were being made below deck.
Upon arriving at the first anchorage of the day, the crew would stir into action to have kayaks, stand up paddleboards, and snorkel gear ready to go. Then, while we enjoyed an expertly-selected snorkeling spot, our personal gourmet chef would be busy in the galley preparing a light but tasty lunch, which paired perfectly with a refreshing glass of white wine. And I'm not ashamed to admit that I had a hard time keeping track of how many glasses I actually had, because the glass was seemingly always full thanks to our extremely diligent stewardess. Come sundown, we never said no to cocktail time on the flybridge before sitting down for a delectable three-course dinner under the stars.
While on board a Crewed 5800 yacht, all your cares just melt away. Say good-bye to worrying about boat maintenance, navigation, anchoring or picking up a mooring ball. Plus, all mooring fees are already paid for so that's another convenient perk. And if your ice supply is running low, not to worry—your Moorings captain has already run ashore for more.
After one bliss-filled week aboard your own Crewed yacht, it's really difficult to readjust to the "real world", and the 5800 experience takes it to the next level. I can honestly say that this sailing trip will outshine any other vacation from now on.
If you are interested in experiencing a yacht charter aboard the flagship Moorings 5800 sailing catamaran, you can do so in the British Virgin Islands, Croatia, the Seychelles, St. Lucia, St. Martin, and Tahiti.
Did you find this useful?