Published:
July 28, 2017 Tina Huewe
Comments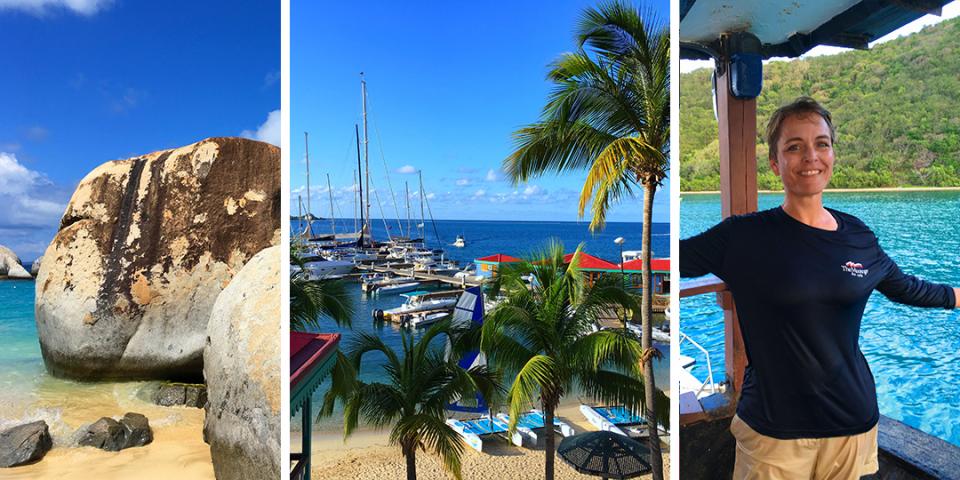 The Moorings has a long-standing relationship with Boat Owners Association of The United States (BoatU.S.) – an organization that supports the interest of recreational boaters. In 2014 we partnered to create the annual BoatU.S. Flotilla, which invites members to come together in a beautiful destination, mingle and of course get out on the water!
The 2017 BoatU.S. BVI Flotilla departed from The Moorings' base in Road Town in the beginning of April to explore the beautiful BVI together.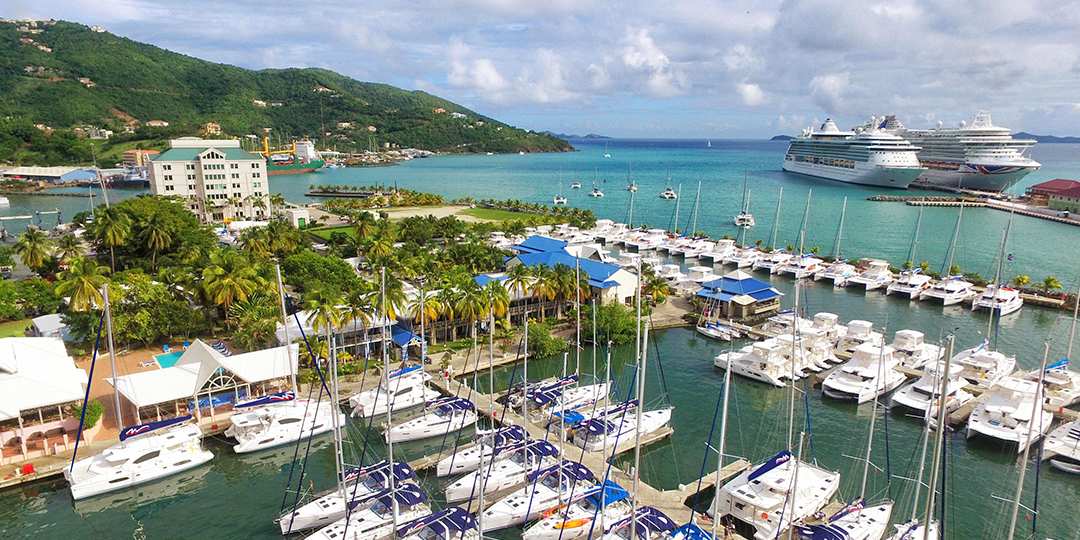 By: Tina Huewe
It was a superb week on the water. I love that our flotillas bring people from all walks of life together with at least one common interest – their boats! Over the course of the week we discovered that we had more than one thing in common and shared many interesting stories about jobs, travels, children, parties, and boating!
None of our participants owned a boat the size of their charter vessels, but all of them got used to their new vacation platforms quickly and the presence of our experienced lead flotilla skipper Captain Dunbar gave everyone enough confidence to throw themselves into this new adventure. Cruising in the Caribbean is different from the lakes and rivers most of our BoatU.S. Members call home, but the BVI with its short sailing distances and line-of-sight navigation is an excellent cruising ground for first timers.
At each stop, Skipper Dunbar hopped into his dinghy lending a helping hand with mooring or anchoring where necessary.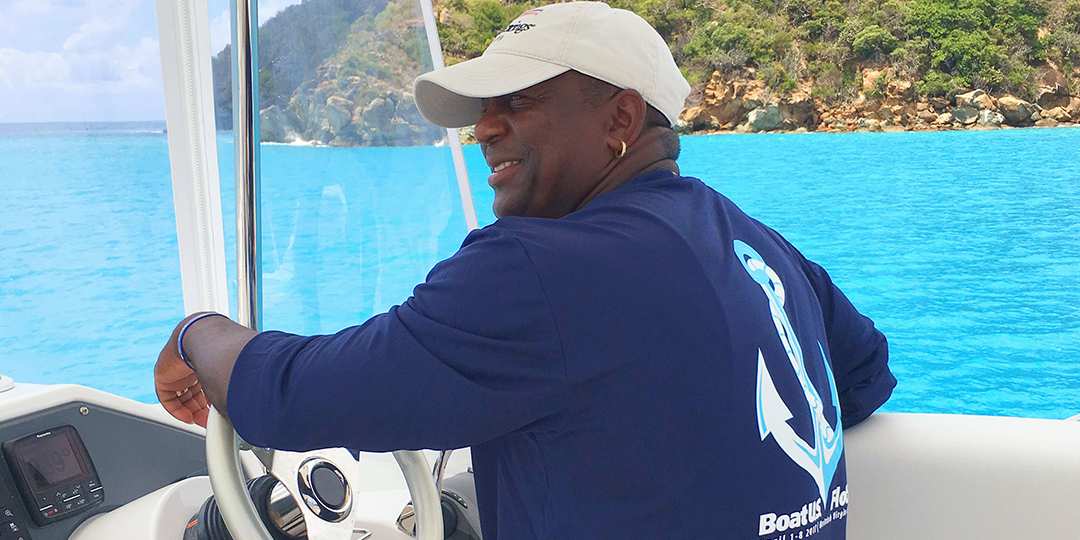 Flotilla boats do not have to stay together, but most of us did, making for a fun group to meet up at our anchorages for the night. Not only did we usually run into each other at the most popular restaurant ashore that each night had to offer, but we also made friendly visits to other Flotilla participants' boats to share some adult beverages, exchange cruising experiences, or play card games together.
Our fun-filled Welcome Cocktail night at the base showed us early on that we had an excellent group of people together to discover "Nature's Little Secrets" in the week to come.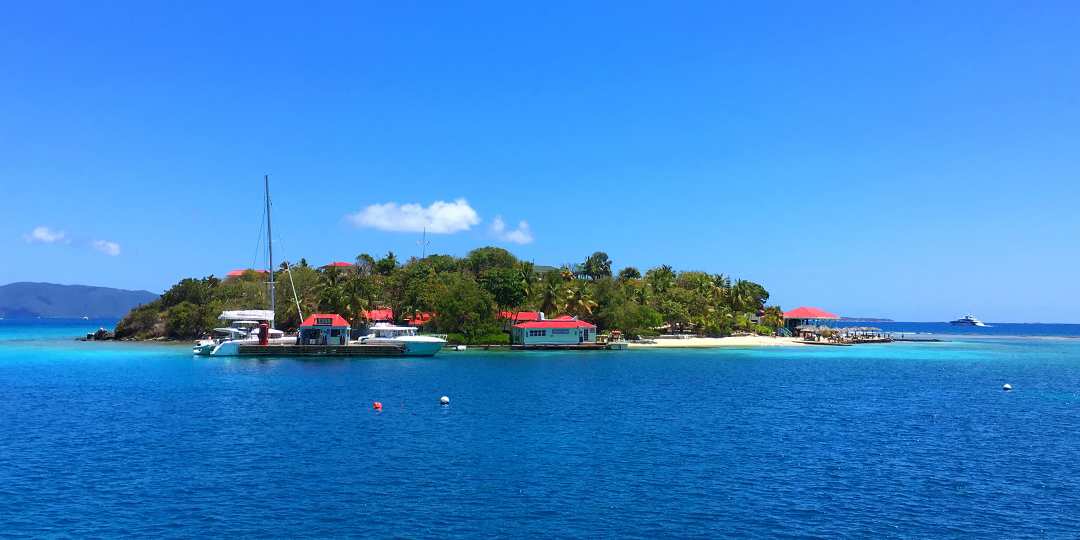 The first overnight at Marina Cay gave us the opportunity to try some Pusser's Rum and – for those that had decided to rent some – try their water sports equipment. Lesson for the day: Don't underestimate the currents!
Next came a breathtaking stop at The Baths. It's always advisable to get there early. The dinghy line separating the cruising area from the swimming/snorkeling area was well made use of that day. Lesson for the day: Remember your dinghy number!
And on we went for an overnight stop at Leverick Bay. Visiting "pirate" Michael "Beans" made for a fantastic show with live music and the food in the upstairs fine dining area was simply AMAZING! The good choice of music there even made for some dancing…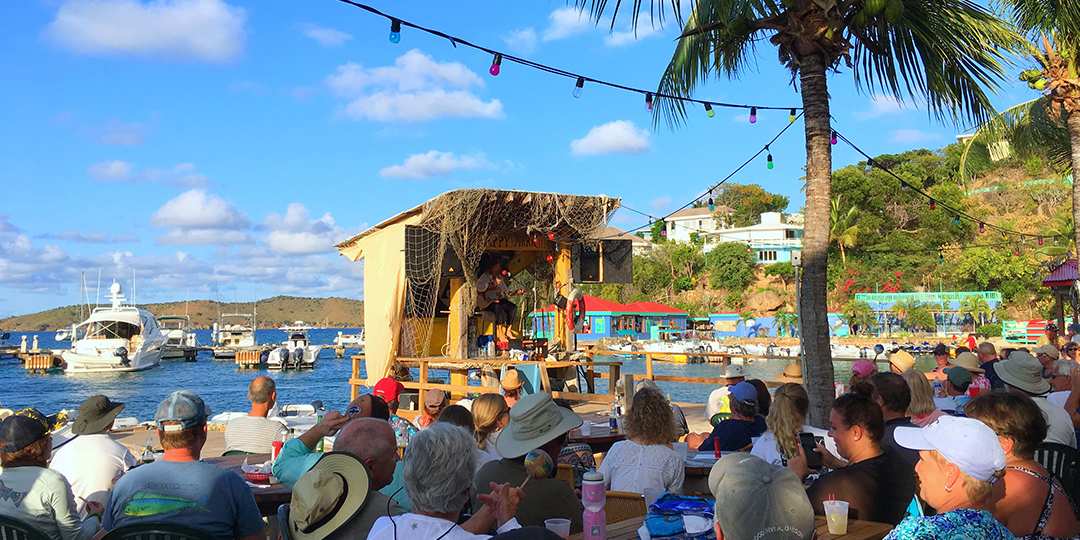 After a quick pit-stop at Bitter End Yacht Club we set out to the BVI's most northern island – Anegada.
While the Northern swell made for a bumpy ride on our way back from Anegada this island was certainly one of the highlights of our week. The long, deserted beaches there provide some first-class photo opportunities and beach walks, and the famous Anegada lobster ensured an unforgettable dinner experience. As the evening progressed we also discovered that we had some talented limbo dancers in our group …
Adjusting our itinerary due to the weather conditions we did not spend a night in Cane Garden Bay as planned, but opted instead to proceed directly to Jost Van Dyke with its well-known beach bars, Foxy's and the Soggy Dollar Bar. Painkillers! Need I say more???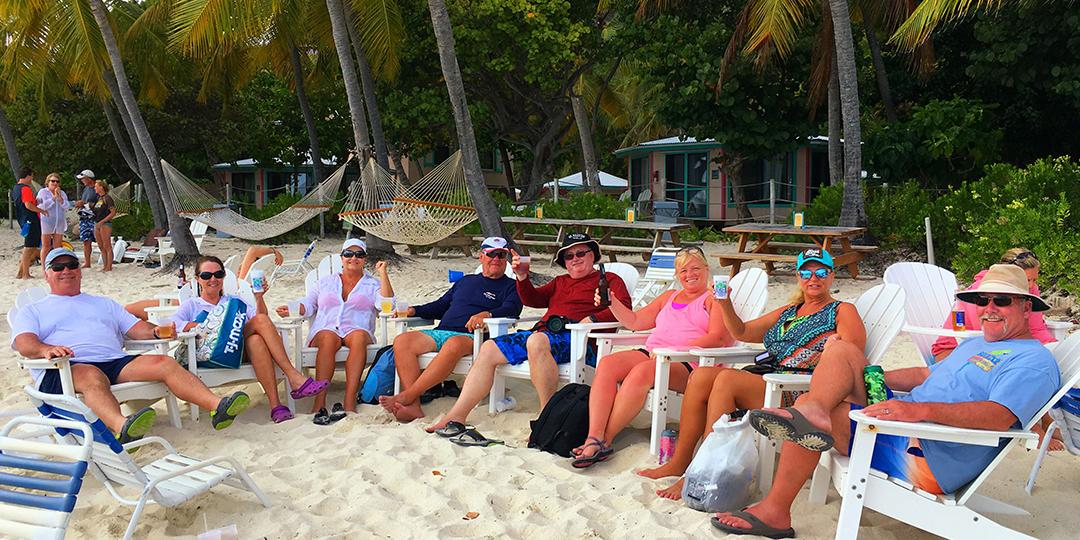 Due to the continuing northern swell we decided to spend a night at the more protected Peter Island and everyone enjoyed a quiet day just relaxing, snorkeling, paddle-boarding, or exploring the private island, home to the beautiful Peter Island Yacht Club.
Our last memorable day (and night) we spent in The Bight on Norman Island. Some brave souls set out to Willy T's swimming bar in the afternoon and it got wild… There were belly-shots and (non-permanent) tattoos in places that we cannot picture on this site – and of course there was jumping! And yes, after I'd seen many from our group jump over and over again, I decided to give it a try myself as well. Fully clothed of course ;-)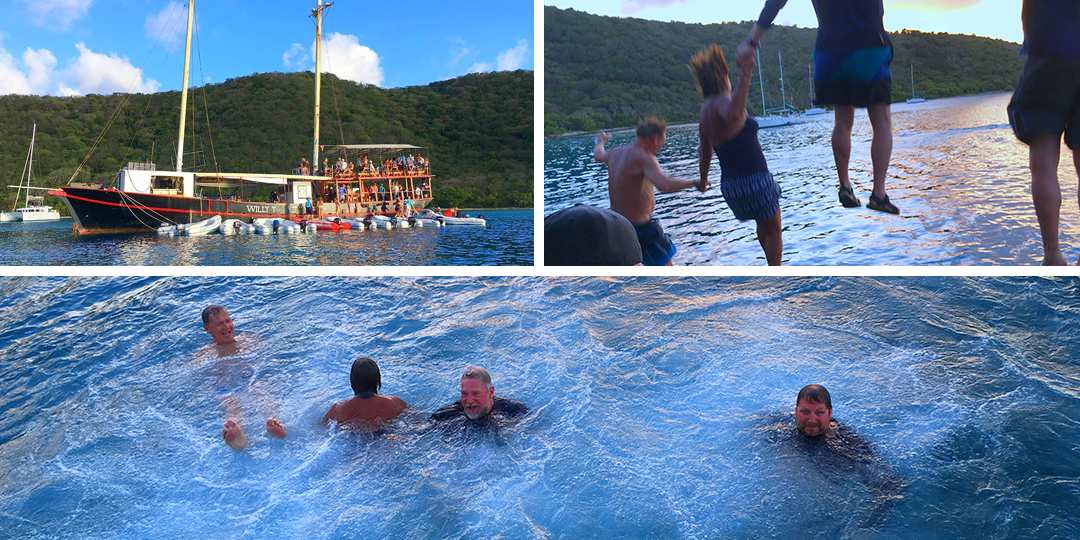 In the evening, the interior design of the Pirate's Bight Restaurant and it's upscale but relaxed atmosphere with live music was a wonderful finish for the 2017 Flotilla. 
We look forward to seeing everyone and hopefully also some new BoatU.S. Members again on the water soon! Come with us, it's fun!
View 2018 Information & Itinerary

Here's what some past BoatU.S. Flotilla guests had to say about their experience:
"Our flotilla leader Dunbar was a long time Moorings captain (21 years) and was terrific. …You couldn't ask for a nicer or more capable leader. And at the beginning, I had many things to ask, and was not too adept at the helm. The itinerary included 6 separate overnight mooring locations at different islands and although there were only 5 boats in the flotilla, we all had a terrific time."
- 

Edward M., BoatU.S. Flotilla 2017
"This trip was the trip of a lifetime that we were fortunate enough to share with 6 very special friends of ours. The beauty of the islands and water, the people we met along the way, the food and drinks, as well as all the laughter shared and time spent together on our beautiful boat, No Worries cannot be expressed enough in this note. The boat accommodations and the itinerary that you put together was top notch; everything certainly surpassed all our expectations!"
- Don C., 

BoatU.S. Flotilla 2015
"This flotilla has been such a fantastic adventure! Better than we ever hoped for.  Hate that it's winding down, knowing the reality check is coming soon; but all good things must end. You did a wonderful job putting this flotilla together!  It was such a great idea, as we never would have attempted this trip on our own.  You took good care of us!   Thank you for patience -- and for making it all possible!" 
– Rick and Suzi D., 

BoatU.S. Flotilla 2014
Did you find this useful?