Published:
October 21, 2016 The Moorings
Comments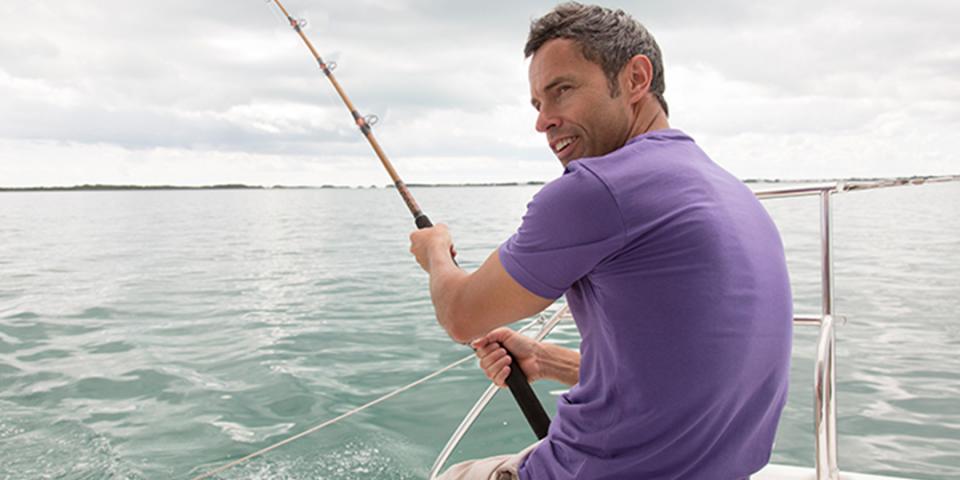 From top-notch secluded dive spots to a warm welcoming local bar scene, from dazzling turquoise waters to easy-breezy cruising conditions, the British Virgin Islands are brimming with top-ranked beaches, exquisite cuisine, and some of the best fishing you'll ever encounter. 
It doesn't matter what your experience level is or how you like to get your fishing fix, the BVI has it all, including bragging rights to multiple world records in game fishing. This place is a sailor's paradise and a fisherman's dream come true.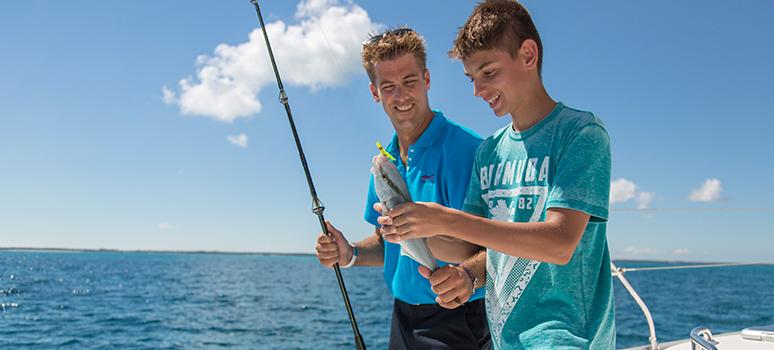 If you want to reel in the biggest catch, get familiar with these ten simple, but significant, things before you go:
1. Beef Island Bridge
There is a small fishing hot spot located just off the west side of Beef Island Bridge that is a best-kept little secret in the BVI. This easily accessible area is ideal for dragging your line because of the fairly strong current, which will likely catch some surface feeders along the way – mackerel, kingfish, or tuna.
2. Bonefishing
Not surprisingly, the bonefishing in the British Virgin Islands is well above average, but Anegada in particular is the "mothership". If you've got a hunkering for hunting some feisty bone fish on the fly, then anywhere within range of Anegada's reef-fringed flats should be on your radar.
3. Inshore
If you're seeking seclusion from fickle weather and sea conditions, inshore fishing is ideal for catching small fish or larger fish lurking on their prey in shallow waters. A solid choice for those with children in their crew, inshore fishing focuses on cruising shallow flats regions, where the islands themselves offer protection.
Common inshore catches and where they are typically found:
Barracuda – bays, banks, reefs, mangrove lagoons
Bonita – inshore, drop-offs
Hardnose – inshore
Jacks – inshore
Kingfish – reefs, drop-offs
Mackerel – inshore
Permit – bays, reefs, shallow seaweeds, flats
Yellowtail Snapper – reefs, banks
Tarpon – bays, harbors, mangrove lagoons
Please note: Barracuda may be poisonous and should always be released.
4. License
Before you can engage in any kind of fishing activity in the BVI, the Virgin Islands government requires every vessel to be registered with the Conservation & Fisheries Department. In addition, each patron must purchase a 30-day fishing license ahead of time or upon arrival in Road Town, Tortola.
5. North Drop
Approximately 18 miles north of St. Thomas, the offshore shelf area ends and the depth drops from a couple hundred feet to 1000's of feet deep. This notable region is known as the North Drop, where Atlantic Blue Marlin spawn during the summer.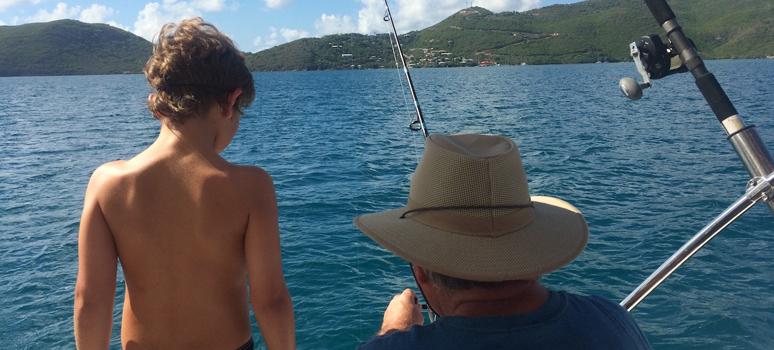 6. Offshore
Weather and sea conditions permitting, offshore fishing in the BVI is bigger and better than almost anywhere else because of the distinguished list of trophy fish that inhabit those deep Caribbean waters.
Common offshore catches and where they are usually spotted: 
Blackfin Tuna – shelf areas
Blue Marlin – North/South drops
Mahi Mahi – North/South drops, shelf areas
Sailfish – North/South drops
Wahoo – shelf areas
White Marlin – North/South drops
Yellowfin Tuna – North/South drops
7. Onshore
Believe it or not, the British Virgin Islands even offer some decent onshore fishing. Even if you're just hanging out on shore, it's possible to reel in photo-worthy kingfish, triggerfish, or yellowtail snapper after you drop a line.
Please note: There are three different kinds of triggerfish so you need to be able to tell them apart. Rule of thumb: black = poisonous, dark = commercial use only, yellow = rare breed/must release.
8. South Drop
Just like its' northern counterpart, there is another drop-off located about 6 miles out from the southern side of St. Thomas where the shelf area ends and the ocean depth increases dramatically. The South Drop is a famed fishing spot in the BVI because of its incredible trophy fish population and easily accessible location.
9. Trolling
Trolling a line behind your yacht during your British Virgin Islands adventure can prove to be very worthwhile. Even at slow sailing speeds between 2 and 3 knots, trolling can still snag you decent catches of mackerel, jacks, barracuda, and yellow tail snapper, especially. Troll your way towards Anegada at about 5-7 knots and you could score Wahoo and Mahi Mahi.
10. Working the Drop
This BVI fishing term refers to trolling back and forth across the drop-off areas. Depending on how serious of a sportsman you are, it might be worthwhile to hop aboard a day charter for some expert-guided inshore or offshore fishing. If so,The Moorings has made it easy for you by partnering with Ocean Surfari fishing charters – TripAdvisor Certificate of Excellence recipient (2015-2016) – to ensure your British Virgins Islands vacation is nothing short of extraordinary. As an added benefit, our Captain's Rewards members are eligible for a 10% discount with Ocean Surfari.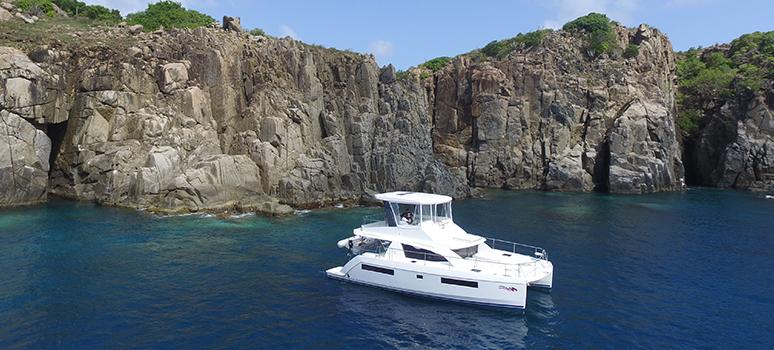 Did you find this useful?