Published:
October 5, 2021 dom.wright
Comments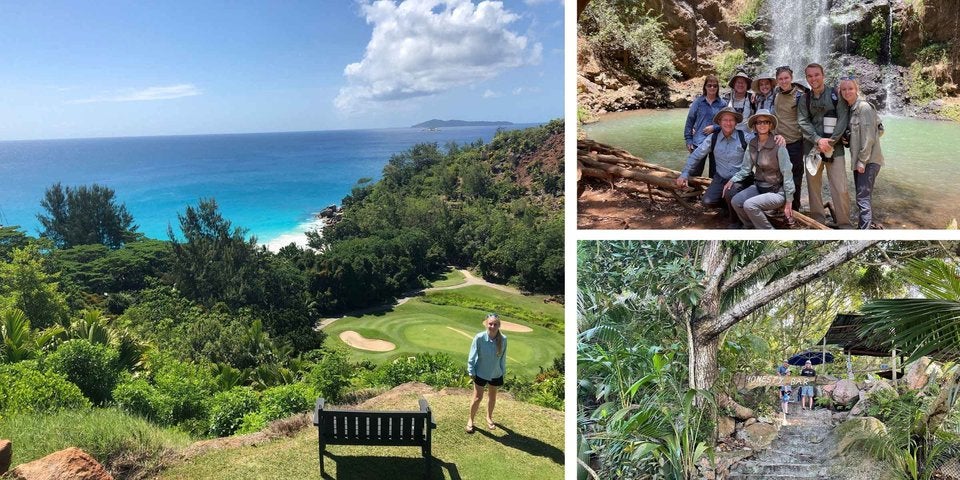 Editor's note: Our charter guest Mike Strickland recently submitted the following blog, recounting his "Royal Vacation" to the Seychelles on a Moorings 4800.
The Seychelles are a collection of 115 islands about 1,000 miles off the coast of Kenya. You have likely seen beautiful pictures of granite boulders on the beaches of some of the 42 granitic islands. With a week of sailing, you can visit the key islands, with an itinerary that comes within 20 miles of where Prince William and Kate Middleton honeymooned. And after some long flights to get there, you might as well do a pre or post sail safari in Kenya, where you can come close to where this royal couple got engaged. Thus, the "Royal Vacation"!
Navigation is straightforward but I brought my 78sc Garmin again for anchorage locations, watching the tracks after anchoring, and anchor watch.
Beau Vallon: great stop with SE winds.  We stayed at the basic Berjaya hotel pre-sail where we arranged with Dive Seychelles to rendezvous with us at 2p for Coral Garden dive and snorkeling – L'ilot also recommended if visibility is good. For dinner, Baobab Pizzeria is recommended on the L side of the bay – get the Garlic Bread w/Cheese & Oregano appetizer!
TIP: Our USA cellphones roamed to AirTel but with mixed results. The boat wifi bandwidth was variable from under 1 Mbps to 30 Mbps. Phone numbers are +248, then 2 if cell or 4 if landline plus 6 digits. I recommend getting a local SIM before your trip or at the airport.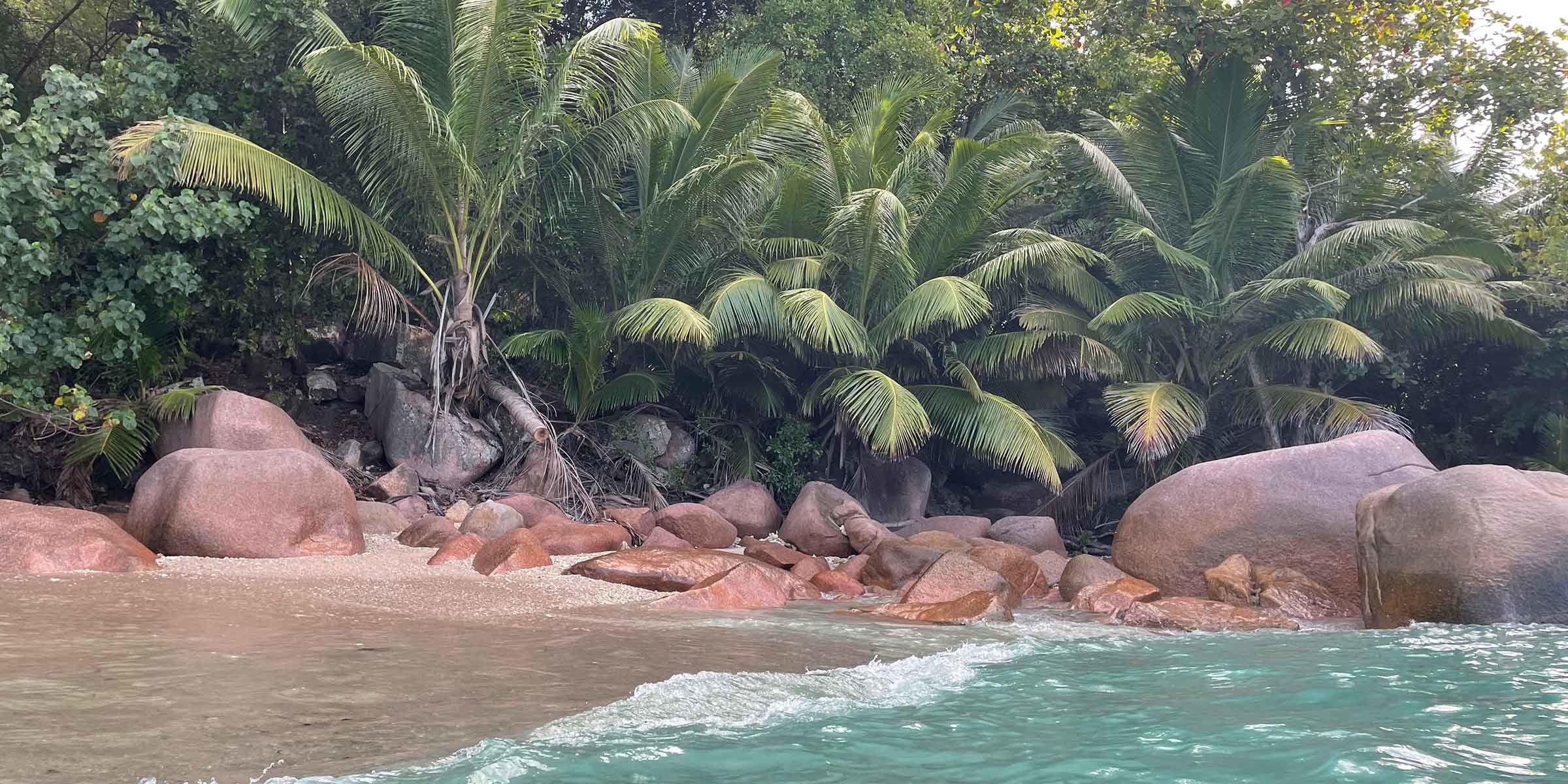 Anse Lazio: the beautiful beach.  Land your dinghy to the R passing between two rocks, to avoid waves crashing on the beach.  Garbage drop ashore.  Day trip to anchor off beautiful Anse Georgette before returning for the 2nd night – six crew went to Lemuria resort by dinghy to enjoy excellent golf and to grab a cab to a supermarket for ice/bread before we returned to Anse Lazio.  Visit Cousin bird sanctuary on weekdays.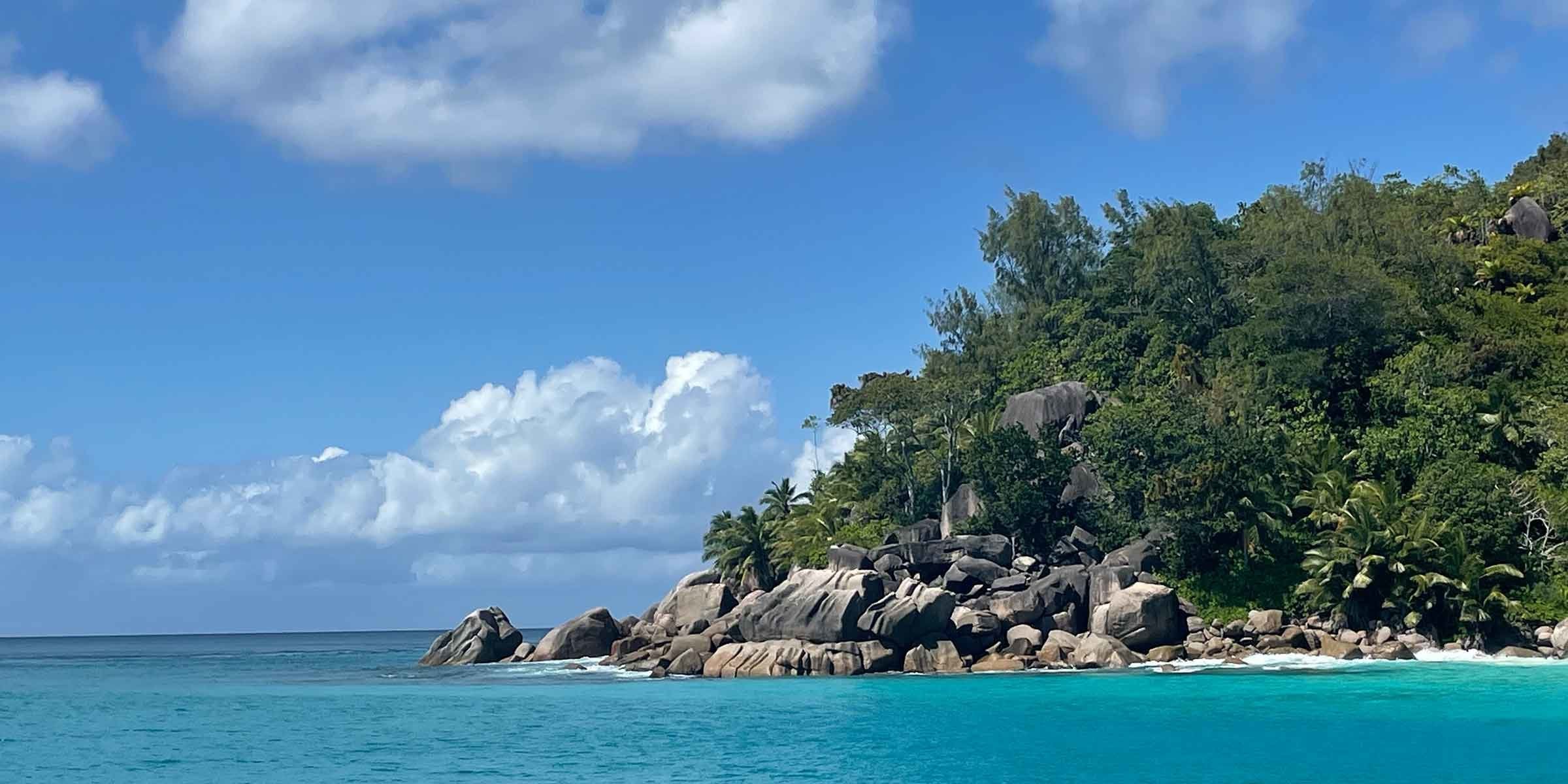 Anse Petite Cour: 9 a.m. visit to Curieuse to see the giant tortoises, park pass allows for snorkeling at nearby Saint Pierre – anchored in 30 ft over sand off of Anse San Jose and it is a 45-minute moderate hike to the tortoises. At 2 p.m., a 2-hour van w/Praslin Tours (2 543 707) to visit Valle du Mai in 1 hour, and then dinner is recommended at the Paradise Sun restaurant.
TIP: coordinate with Le Domaine de la Reserve front desk for beach access.  They were o.k. for us to pass through to grab our van if we had a round of drinks by the pool – they make a great margarita.  Or bring your dinghy ashore to the west on Anse Possession.
Coco Islands and Grand Soeur: 7 a.m. start to snorkel Coco Islands at 9 a.m., 10:30 a.m. stop at Grande Soeur's beautiful beaches (weekdays), and on to med moor at La Digue harbor if you are early and lucky, or you will drop anchor outside the harbor.
TIP: Ricky helped us with our stern lines for med mooring as we arrived and got us basic bicycles for an afternoon and the next day for SCR 200 (usually ~ 160 SCR/day for medium quality bikes).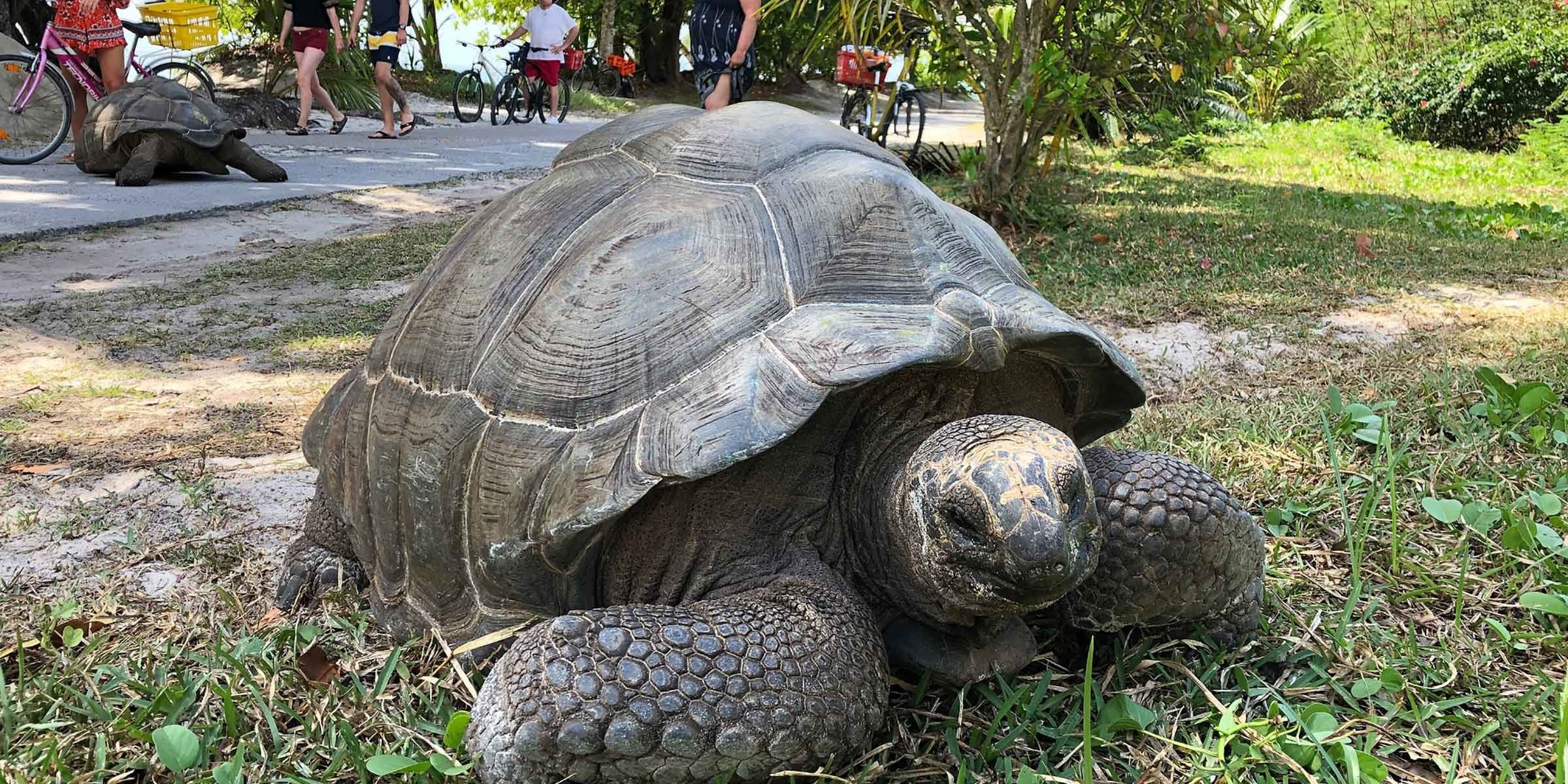 La Digue: Great dinner at Le Nautique our first night – the Fish Trio was excellent.  The next day we rented some bicycles and paid the 115 SCR fee to enter L'Union Estate Farm to get to incredible Anse Source d'Argent and the Fruita Cabana Bar.  Grand Anse Beach also worth checking out.  Snorkeled Anse Severe to look for the hawksbill turtles.
Saint-Anne Island: anchored for the night off the west coast in SE winds. For NW winds, if you anchor off Anse Cimetière with calm seas, contact JA Resorts for an upscale dining experience.
TIP: We used O'quay shop provisioning (248 2 811 220 WhatsApp) in addition to Moorings provisioning to get yogurt, wide cheese selection, and some chocolates/desserts. Contact them a few days in advance to confirm delivery. We also used Ocean Blue Travel for several on-time transfers.  Post sail we enjoyed the Fisherman's Cove Resort.
We did our safari pre-sail, staying at the Elewana Lewa Safari Camp for 3 days and at the Mara Serena Safari Lodge for 2 days in late August, which usually coincides with the annual wildebeest migration through Masai Mara. The Elewana Lewa Safari Camp is higher end, and worth it, with outstanding service, beautiful location, relaxed game drives, and only 13 tented bedrooms.
In Masai Mara, we saw huge numbers of wildebeest and zebra, and also enjoyed seeing a large number of hippos in the Masai Mara river – the Mara Serena Lodge was busy on Sunday, but more enjoyable and relaxed on Monday. While we saw the "Big 5" in Lewa, there are few hippos there.
Our 4 Millennials recommend Elewana Lewa if you only have 3 days – more relaxed, great service, and closer to animals vs Masai Mara where 4 by 4's need to stay on roads in "High Use" areas. We stayed at the Nairobi Serena hotel pre and post safari – nice rooms, great breakfast, and they will store your sailing luggage while you are on safari. 
The "Royal Vacation" combo is top 3 of the over a dozen sailing trips which we have taken.  Go in early October for calmer winds.  For lower cost but with higher risk of rain in Kenya, go in late May. You will get better at snorkeling when there are calmer winds.  Bring good quality binoculars and cameras for safari – my son Chris took the lion, leopard cub, and bird shots with an expensive telephoto lens.
TIP: You can save up to $1K per person if you directly book your safari camp and flights within Kenya. Ask your Nairobi hotel to book international airport transfers.  For other transfers, I used the cheaper and sometimes late Perfect Wilderness Tours (WhatsApp +254 723 441764). &Beyond Kichwa Tembo Tented Camp in Masai Mara is another option for an authentic "tent" experience versus the Mara Serena Safari Lodge hotel room. There are a few nonstop Nairobi to Seychelles flights each week.  Also, Safarilink is a reasonable option for custom flights if you have a larger group.
Did you find this useful?