Published:
July 23, 2018 Carol Hansen
Comments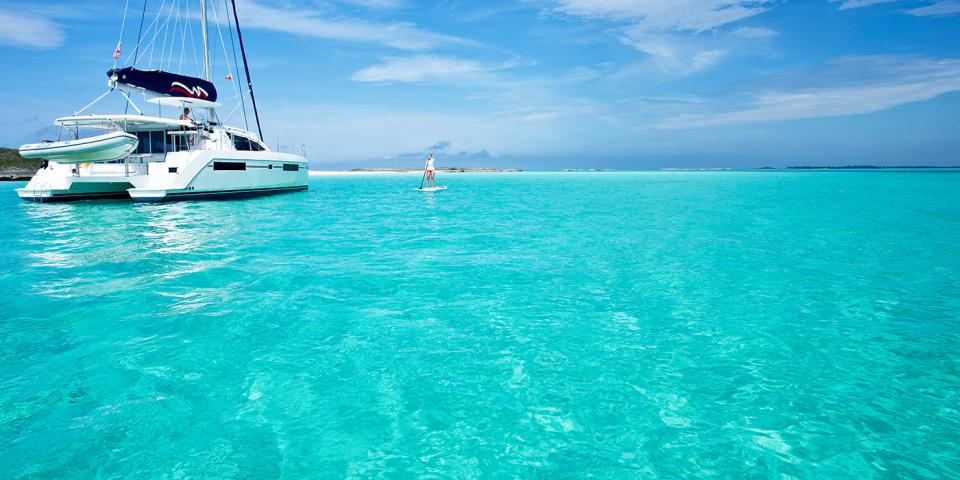 If you're considering a yacht charter in the Abaco out islands of the Bahamas, I'm here to tell you it's an easy decision! Having just completed my second Abacos charter, I can't say enough positive things about this spectacular cruising ground. As much as I'd love to keep it a best-kept secret, I simply can't stop talking about it.
As a first-time charterer years ago, the British Virgin Islands seemed the obvious choice – easy line-of-sight navigation, deep waters, and rave reviews to boot. 10 years and many charters later, I had been to the BVI several times, and St. Martin twice, and I still say neither destination ever gets old. But after hearing reports of the stunning and very different cruising grounds found in the Abacos, it was time to try the Bahamas. 
I had a few concerns with chartering in the Abacos – primarily navigating the shallow water that the Bahamas are so well-known for. (Which, of course, is also the reason the waters here offer up an absolutely stunning kaleidoscope of vibrant blues.) In fact, I also learned that the name "Bahamas" comes from the Spanish baja mar, meaning shallow sea!
Let me take this opportunity to assure you that – for those that love cruising and discovering new islands – the Abacos are simply not to be missed. So, I've put together this basic Abaco cruising guide that I hope will provide the information you need to put this little-known destination on your "must-do" list. 
Start Exploring Abacos Charters
Currency
For those visiting the Bahamas, the Bahamian dollar and the U.S. dollar are used interchangeably. Items are priced using the dollar and either currency can be used throughout the islands. For those traveling from the U.S., this couldn't be more convenient. Be careful when paying with large U.S. bills. Your change is likely to be in Bahamian dollars which you probably won't want to return home with! 
Most establishments throughout the Abacos accept credit cards. Just be aware that some companies charge foreign exchange fees.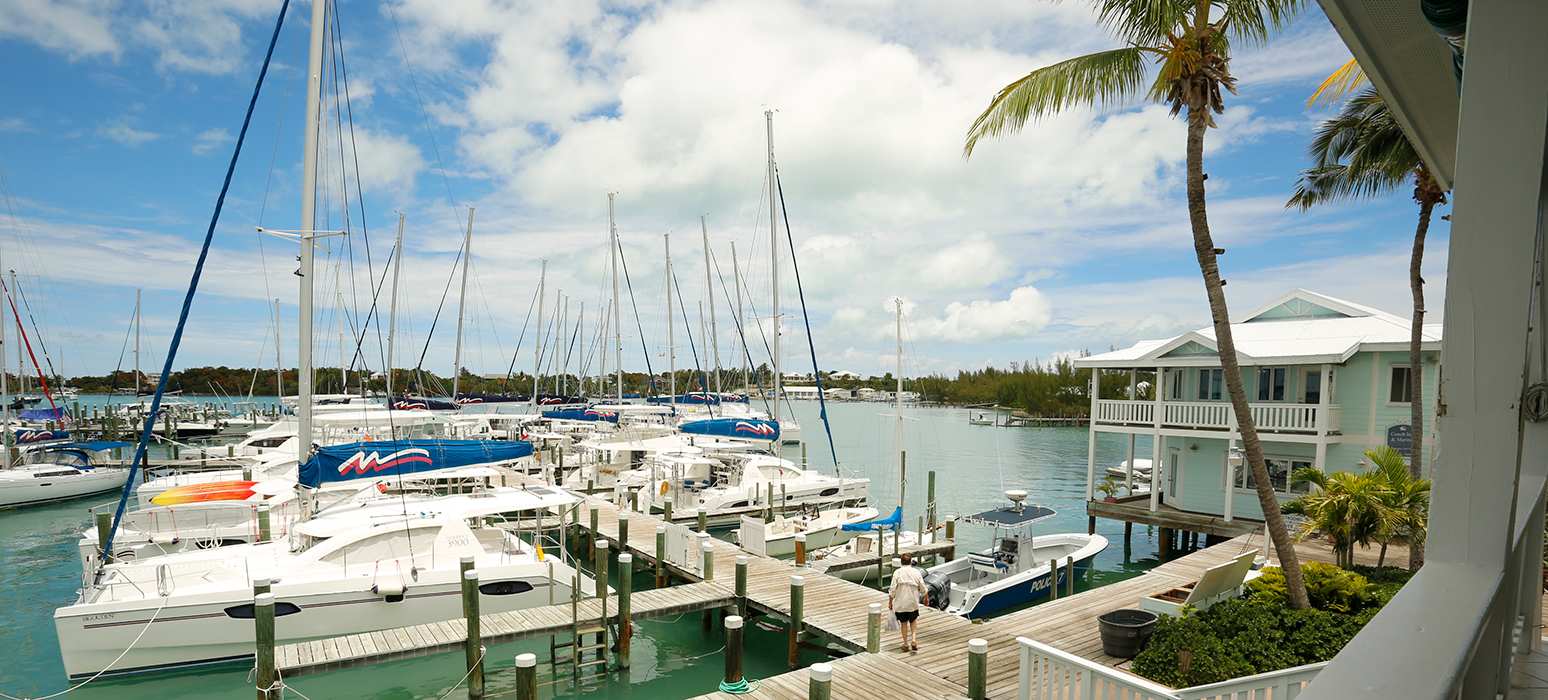 Provisioning
OK, there's no denying that food and supplies are expensive in the Abacos. Brace yourself for some sticker shock at the local supermarkets – I'd say at least 25 to 50% more than standard US prices! But, the prices aren't high on everything across the board. Some types of items are inexplicably pricy, while others seem more in line with prices you would find in the States. So if you're flexible you can keep your provisioning spend under control.
We shopped a combination of online provisioning with The Moorings, along with a trip to a nearby market (Maxwell's) for some additional specialty items. Overall, the variety and selection at Maxwell's are good. We found some fruits and produce to be very expensive like lettuce, berries, and grapes, but apples and avocados were reasonable. Some canned goods and most soda is expensive. Cheese is priced very high, sometimes double the price I would spend at home. One small wedge of brie cheese was priced at a shocking $27. 
Beer is also more expensive, but we found hard liquor to be priced more reasonably – with most of the popular brands in the US being available. Menu pricing in restaurants seemed comparable to other destinations serving popular tourist areas. 
Know that the added expense is well worth it. Cruising the Abacos will be an amazing vacation experience you'll treasure. And I also like to keep in mind that my vacation helps support the local economy, an added bonus.
Communications – Cell phones and Wi-Fi
While I didn't have any cell service while in the Abacos, one person in our group had business to attend to back home so he was careful to check with his service provider before we left to verify coverage. If it's an option for you, I'd recommend it. We found it very helpful to have the cell service available when VHF was out of range. 
Complimentary Wi-Fi is available at The Moorings yacht charter base in Marsh Harbour, but once you're out on the water you may want to consider a pre-paid service. Bahamas WI MAX has set up hotspots at the major marinas around the Abacos. They offer pre-paid Wi-Fi charged by the day or by the week. The service doesn't work everywhere – but was available at the larger anchorages where we moored for overnights. Fair warning, the service is slow. Sometimes painfully slow. But still helpful if you need Wi-Fi during your charter.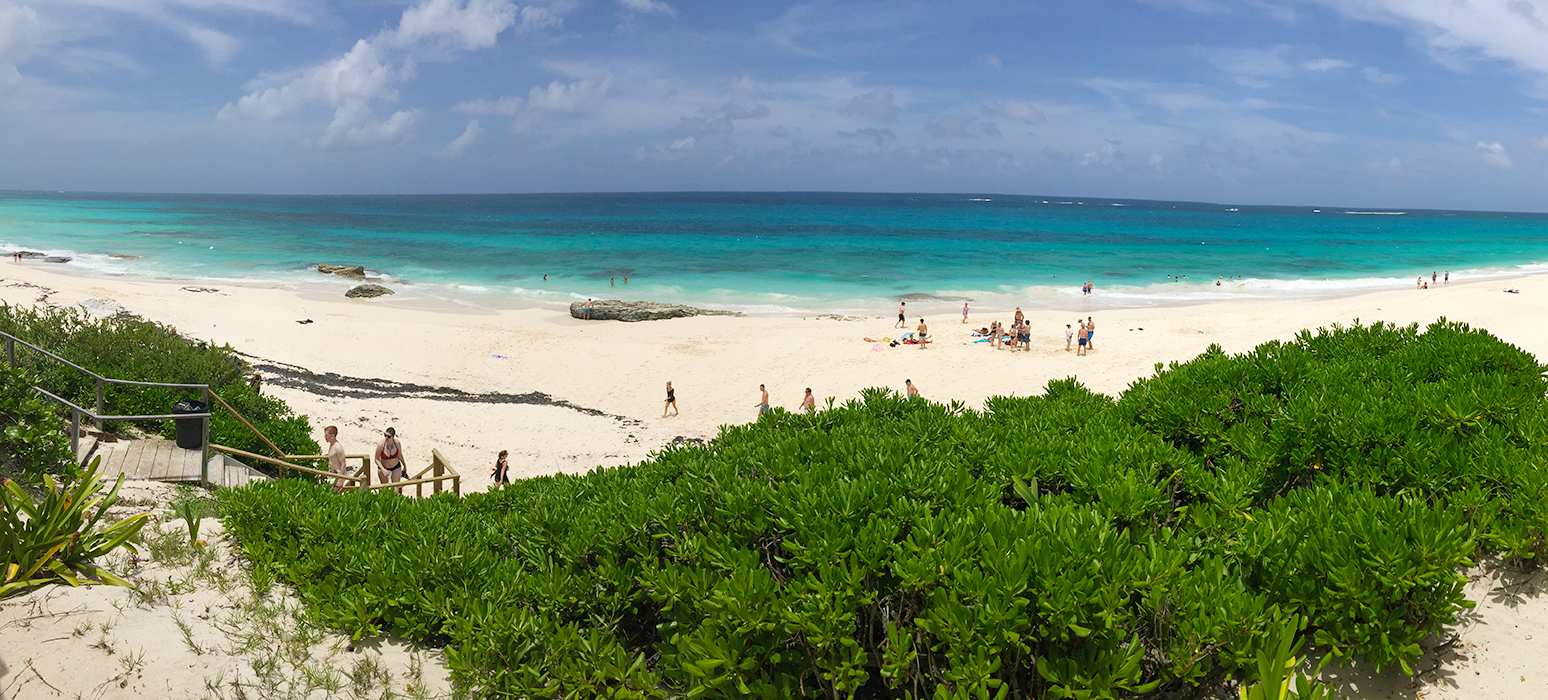 The Cruising Area  - The "Lay of the Land"
When chartering in a new area, I find it helpful to get a handle on the general lay of the land in advance. I spent a little time looking at online maps and getting familiar with the location of the main islands before our trip. Our chart briefer at The Moorings suggested thinking of the Abacos as divided into 2 parts – the north and the south – with "The Whale" being the dividing point. (I like to divide it further into north, south, and central). Whale Cay Passage is where the great expanse of the Atlantic meets the more protected Sea of Abaco. All but the most shallow-draft vessels (and most charter boats) must go through The Whale and into the open Atlantic for a short 1.5 nautical mile passage to access the cruising area to the north.  Some popular northern islands include Green Turtle Cay, No Name Cay, and Manjack Cay.
If you're chartering a catamaran you're certain to hear more about Whale Cay Passage. It's not to be taken lightly, as it can be a treacherous area under some circumstances. Strong easterly winds or large swells generally make this area a no-go. The Moorings makes it easy. A quick call to base for current conditions, and you're on your way. 
Just to the south of Whale Cay is what I considered the "central" cruising area – islands closest to The Moorings base in Marsh Harbour. This area includes Treasure Cay, Great Guana Cay, Scotland Cay, and Man-O-War. 
Further south you'll find Elbow Cay, Lubbers Quarters, Tilloo, and Little Harbour (the furthest south that we ventured during our visit). 
I found that being familiar with these basic areas and island locations allowed me to focus on other things while underway. Also, your chart briefing will make a lot more sense if you're already familiar with the basics. They'll go into more detail about areas where extra caution is called for.
Another general rule for charterers is to stay west of the barrier islands, in the Sea of Abaco (except for The Whale passage). It seems most charter problems occur when this guideline isn't followed.
Navigating
As I mentioned, navigating in the Abacos was a concern for me, as I'd simply grown too comfortable with my favorite deep water destinations. And honestly, it did take some getting used to following the British Virgin Islands. That said, it was completely manageable with a little attention and planning. 
If you're anything like me, the water in most places you go throughout the Abacos will initially look scary-shallow. Sometimes it actually is scary-shallow. Very lucky for me, I was aboard a Moorings 48-foot catamaran with a 4 ½ -foot draft, which I can highly recommend for this cruising ground. 
Our chart briefing was excellent and gave me a nice confidence boost from day one. Pay close attention, ask questions, and bring your first mate with you! One the water, first and foremost, keep a sharp eye out and make sure you have polarized sunglasses. Learn a bit about how to "read the water"— Steve Dodge's Cruising Guide to the Abaco has a nice overview of this topic. It's a good idea to keep this Guide close by and reference it each day to learn the detail about where you're headed next. The Moorings provides a copy onboard your yacht.
Tips
Consider purchasing the Navionics+ app. While the RayMarine GPS Chartplotter onboard our yacht was more than adequate, I loved using the app as a backup. I kept the boat's GPS zoomed-in tight while using the app on an iPad for longer range navigation. Be sure to download the charts for the Abacos before you leave home.
Arrive at your overnight anchorages early. Again, if you're new to the cruising area it makes sense to play it safe. You're more likely to get a mooring ball or have time to scout out a place to anchor outside the harbor while you still have good light.
Tides
Tides range by about 4 feet in the Abacos. And the shallow waters make it even more important to keep an eye on the tide tables (again reference Dodge's Cruising Guide!), especially for entering and exiting harbors (some can only be accessed at high tide). When anchoring, consider the tides when calculating the scope needed. For example – 7:1 scope at low tide will no longer be a 7:1 scope at high tide.
Weather
Tune into VHF channel 68 each morning at 8:15 am for the Cruiser's Net radio program that provides the daily weather forecast. It can be heard from most areas in the cruising ground from Green Turtle Cay all the way south to Little Harbour. I confess that I missed the program most mornings. The Moorings base staff was wonderfully cheerful and accommodating when I called to get a report.  
Some Popular Anchorages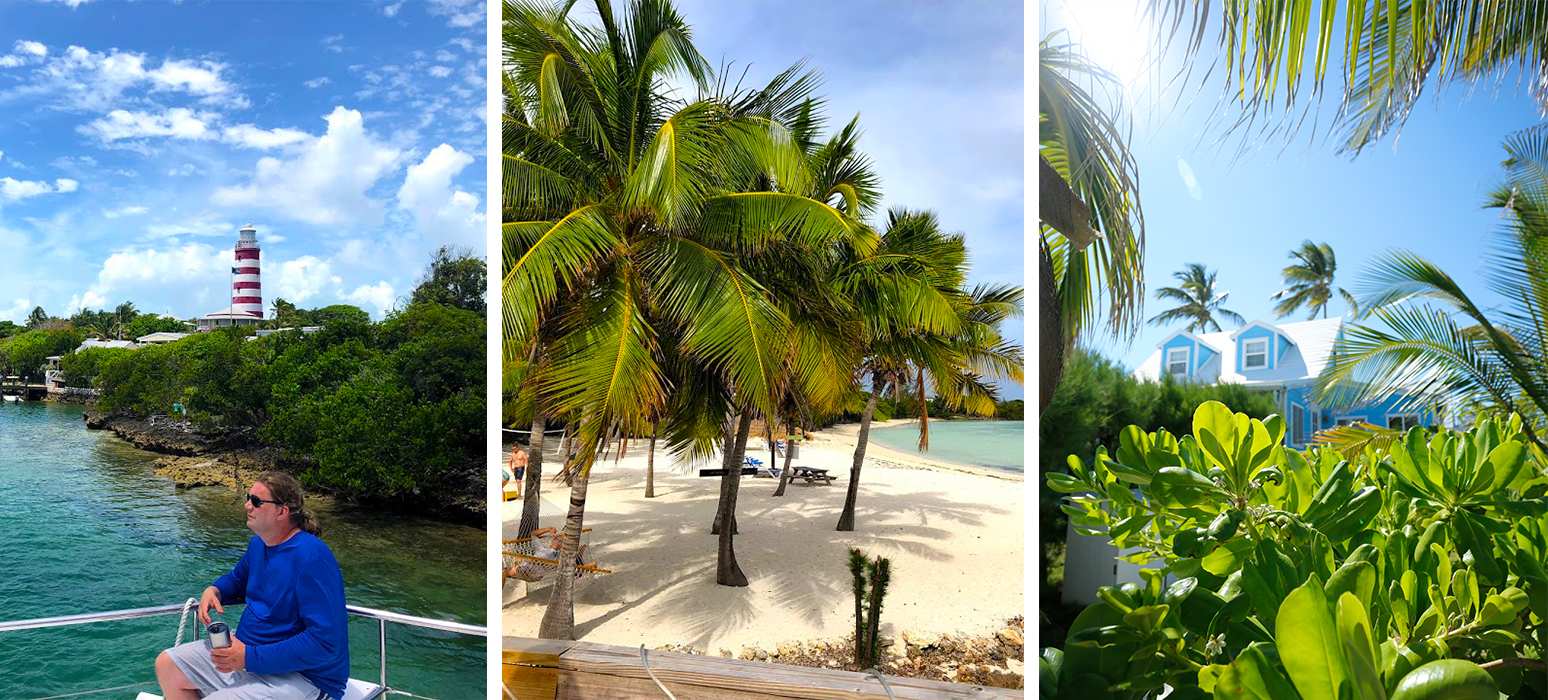 "North" Cruising Area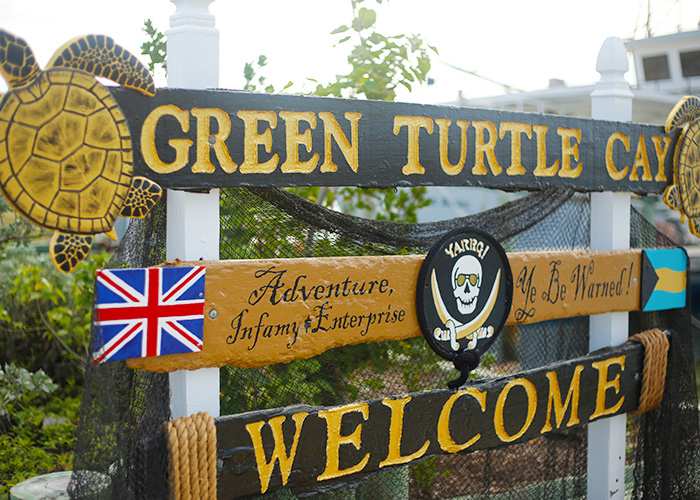 Green Turtle Cay – A charterer favorite offering lots to see and explore! The lovely small village of New Plymouth is located at Settlement Harbour, but it's best to anchor just outside the harbor and dinghy in. For a longer stay, enter White sound just to the north and pick up a mooring. Here, you'll find two resorts to visit. Be sure to make the walk to the other side of the bluff at the Bluff House Resort for a lovely beach and a visit to the Green Turtle Club. This is a great place to rent a golf cart to explore the entire island!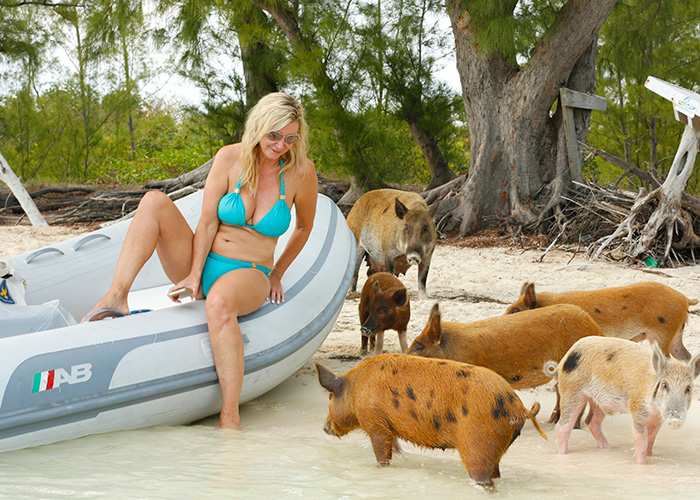 No Name Cay – A perfect day stop for visiting the famed "swimming pigs" of the Abacos. Anchor out and dinghy to shore. Be sure to bring along some leftover veggies and give them a treat!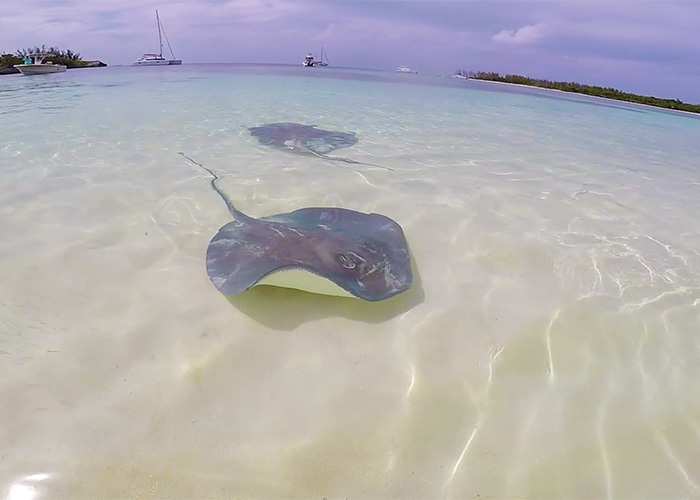 Manjack Cay – Gorgeous and secluded, this is a great place for a day stop. Anchor in the cove at the northern end of the island and swim into shore. There's a good chance you'll have the opportunity to swim with stingrays and nurse sharks, should you choose to do so! If you decide to stay for the night move to a less exposed harbor to the south. You won't find any restaurants here so fire up the grill and dine under the stars.
"Central" Cruising Area (close to Marsh Harbour)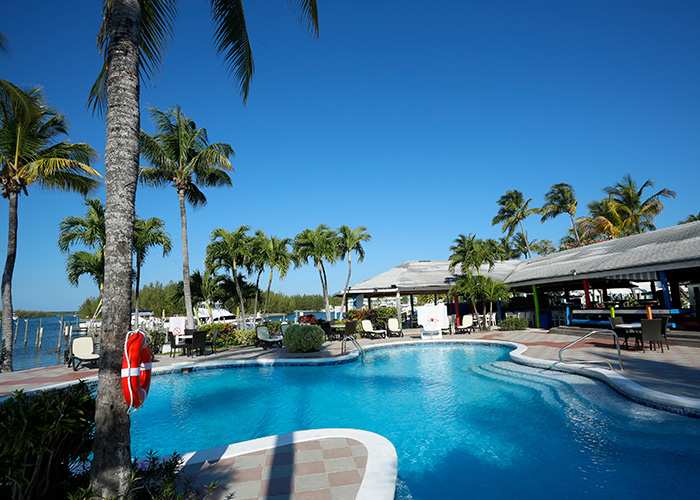 Treasure Cay – A resort area on the main island of Great Abaco with a lovely marina and pool area that's open to visitors. Plenty of mooring balls are available here, as well as dockage for a fee. It's a short walk from the marina to one of the most stunning stretches of beach in the Caribbean. Enjoy dinner beachside at Coco's Beach Bar & Sea Grille – on Thursdays nights they have a fun beach bonfire.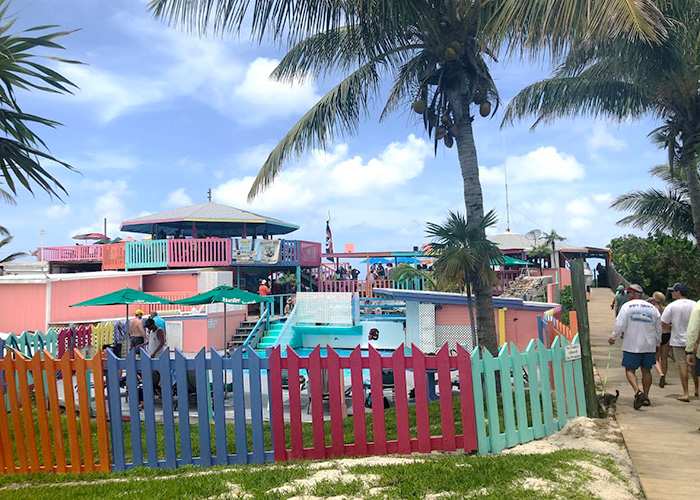 Great Guana Cay – Perhaps most famous to tourists for its rowdy Sunday afternoon parties at Nipper's Beach Bar & Grill, this cay has much to offer. You can pick up a mooring ball in Settlement Harbour, or anchor at nearby Fisher's Bay and dingy into the beach at Grabber's Bar & Grill. From either, it's an easy walk to the ocean side of the cay. There you'll find a lovely stretch of beach for swimming and snorkeling – Nipper's sits high on the bluff, offering an incredible view.­­­­­­
Man-O-War – This small island settlement has a quaint, laid-back feel and an interesting background. It's been the center of the Abaco boat building and repair for many years. The Sail Shop is well known and worth a visit. This was a completely "dry island" with no alcoholic beverages sold until very recently when the restaurant overlooking the harbor added beer and wine to its menu. The entrance channel into the harbor at Man-O-War is very narrow, so use caution. Once in the harbor, there are mooring balls available.
"South" Cruising Area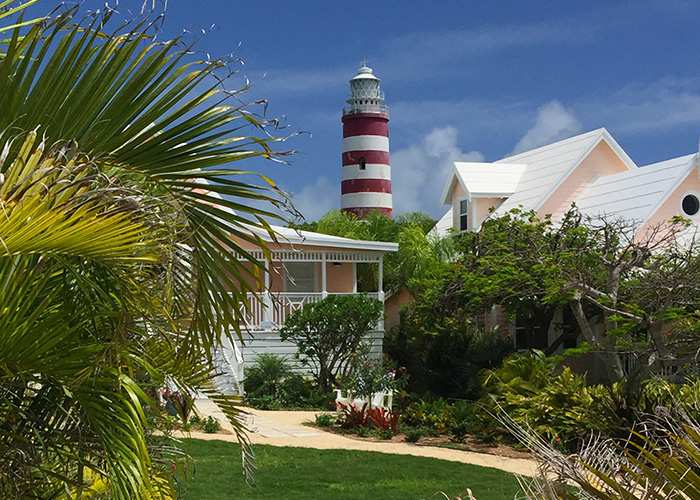 Elbow Cay – This island's claim to fame is Hope Town and its candy-striped lighthouse. Plan to spend some time here, as there's so much to see. The town is beautiful, with charming colorful houses and shops lining the cobblestone streets – and no motor vehicles allowed! This is another island that's definitely worth a golf cart rental for exploring. My charter group agreed that this is a "must-do" for visiting the beach bars and to drive to dinner at FireFly (another must-do). Hope Town Harbour can get crowded in season, and mooring balls are first-come-first-serve so arrive early in the day if you can. You may also anchor just outside the harbor north of Eagle Rock.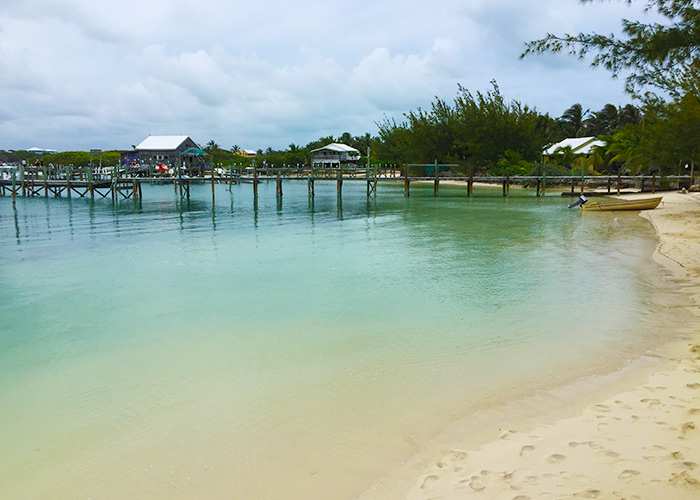 Little Harbour – Here you'll find Pete's Pub & Gallery, which a friend of mine described as her favorite place in the world! The unique pub is located on the harbor but also has a wooden walkway spanning the peninsula over to the open ocean and beach. The gallery next door features stunning bronze castings for sale. If you visit, make sure it's not low tide when the shallowest part of the channel is only 3 ½ feet deep!
Overall, I found the Abacos to be a delightful experience in almost every way. On sunny days the water is stunning, the same color you'd find in a swimming pool with views all the way to the white sandy bottom. The beaches and snorkeling are second to none, with abundant fish and wildlife. The villages are quaint and full of history. Conch.  Did I mention the conch fritters? And to top it all off, the locals are extremely friendly and helpful. All-in-all, the Abacos stack up to be one incredibly perfect charter destination that I can't wait to visit again and again. 
Start Exploring Abacos Charters
Did you find this useful?