Published:
February 1, 2017 Terese Kerrigan
Comments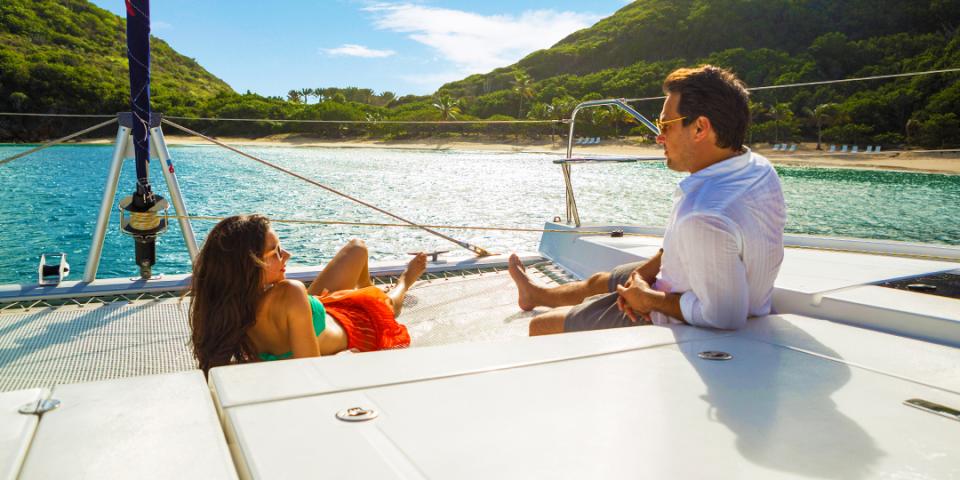 You've chosen a yacht charter vacation in the British Virgin Island, gathered your fun-loving crew, and selected the perfect island-hopping vessel. What's next? Fortunately for guests of The Moorings, we make the entire charter vacation planning process, from packing to provisioning, documentation to departure, a seamless and stress-free experience.
Your Moorings BVI yacht charter vacation begins on the island of Tortola, the largest and most populated of the British Virgin Islands.  A common question that charterer guests express when planning a BVI yacht vacation is, "What's the best way to get there?" We're pleased to tell you that with just a few simple pointers, you'll be well on your way choosing the best travel route for you and your vacation companions.


Pick Your Connection
There aren't any direct flights from the U.S. or Canada to the British Virgin Islands. In order to get to The Moorings base in Road Town, Tortola, choose from one of the two travel options: 
Flight Only:
Fly into San Juan, Puerto Rico (airport code SJU) then hop on a short connecting flight directly into Tortola's Beef Island Airport (EIS). From the airport, take a taxi to the charter base in Road Town. This option sometimes requires an additional flight connection before landing in San Juan. This option is usually more expensive, but comes with the added benefit of convenience and time efficiency.
Here are some of the major airlines that currently fly into San Juan: 
American Airlines
Delta
Spirit Airlines
Southwest Airlines
United Airlines
JetBlue
Air Canada
And here are some of the airlines that fly from San Juan to Tortola:
Seaborne Airlines
Cape Air
American
InterCaribbean Airways
Flight & Ferry:
Fly into St. Thomas airport (STT) in the U.S. Virgin Islands, then take a 10-minute taxi to Charlotte Amalie ferry dock. From there, you'll hop on the Road Town Fast Ferry and enjoy a 1-hour scenic ride over to Road Town, Tortola. The ferry runs regularly but the last departure each day is usually around 4:30PM, so you'll need to check the Charlotte Amalie to Road Town ferry schedule and be sure you choose a flight that is scheduled to arrive at least 1.5 hours prior to the ferry departure. Upon arrival in Road Town, the charter base is located a short 5-minute taxi ride away. This travel option is typically a little longer in total time, but much more cost effective. For those with frequent flyer mile accounts, the following airlines operate in St. Thomas:
American Airlines
Delta
Spirit Airlines
JetBlue
United
Use Our Services
The Moorings Vacation Planning team is glad to make your BVI flight and connection arrangements for you and because they do it frequently, you are likely to get the best rate. Plus, whatever additional questions you might have regarding your travels can be answered by one of our Vacation Planning Specialists. You can also visit the British Virgin Island Travel Notes page to see more details about various taxes, fees, and schedules.
Friendly Reminder – Update Your Passports!
It's important to make sure everyone in your charter party has a valid passport. The sooner this is taken care of the better. Also, keep in mind that the expiration date on each passport cannot be less than 6 months following the date of return.
Did you find this useful?