Published:
February 8, 2021 Cindy Riquier
Comments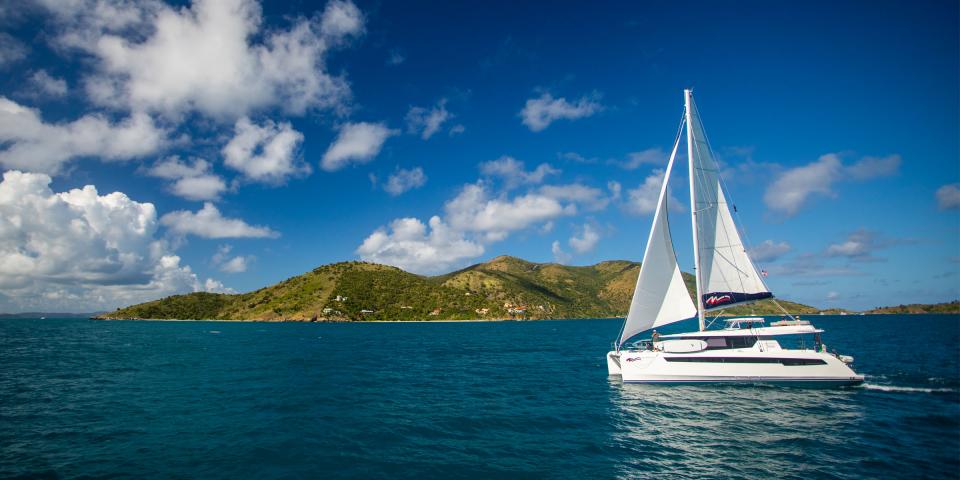 Many of us have experienced the disappointment of having our travel plans postponed, and although this is understandable in the circumstances, like us you are probably dreaming of sunny shores, sparkling Caribbean waters, and relaxing evenings under the stars.
And as we all do our best to weather the storm of the pandemic, it's important to remain positive, stay inspired, keep focused on the future and appreciate the importance of living life to the fullest.
To help navigate you through these uncharted waters, we've pulled together a handy guide to traveling to the British Virgin Islands (BVIs).
Blessed with year-round warm weather, steady trade winds, calm, cobalt-blue waters and Bougainvillea-clad hillsides, the uncrowded and unspoiled British Virgin Islands are a truly magnificent vacation destination.
No matter where you land, you'll find friendly people, incredible beaches and fun activities to exceed all expectations. From snorkeling in secluded reefs and turtle spotting, to gazing out to the horizon from exclusive hilltop bars, you are sure to make unforgettable memories aboard your own luxury yacht with The Moorings.
Can I go on vacation to the British Virgin Islands right now?
Depending on which destination you are flying from, entry requirements and restrictions may still apply to you. The BVI is open for tourism, and guests are required to apply through the government's newly-implemented online portal BVI Gateway at least seven days before their departure date, if they would like to visit the islands. An official negative PCR COVID-19 test must also be uploaded within five days of arrival.  For further information, visit the Statement By Premier and Minister of Finance on Phase One Re-Opening of The Tourist Industry.
The Moorings has renewed its booking terms and conditions to offer guests flexible rebooking terms and peace of mind in these uncertain times. The luxury charter company has also introduced a thorough set of health and safety measures and protocols, which strive to make guests safe and provide them with the confidence to make the most of their time on the water.
Should I apply for a visa to travel to the British Virgin Islands?
If you are an American citizen, you do not need to apply for a visa to travel to the BVI. However, you will need to ensure that you have a valid passport, with at minimum six months remaining before its expiration date. Visas only apply if you stay longer than a month.
How long can I stay in the BVI without a visa?
When you arrive, the BVI immigration authorities with a one-month entry stamp, however, it is worth noting that you may need to show proof of your return ticket. You may need a visa if you decide to stay longer than a month. Extensions for up to 6 months are approved on the discretion of the Chief Immigration Officer provided that the individual can show proof of independent financial means. You may need to provide evidence of accommodation and your plans to leave the BVI at the end of your stay.
When is the best time of the year to go on vacation in the British Virgin Islands?
The temperatures are pleasantly warm all year round, so really the best time for you and your guests entirely depends on your individual preferences.
From December to February, you can anticipate clear skies, a moderate daily temperature reaching up to 25°C (77°F), little chance of rain, and winds blowing at 25-30 knots for a few days at a time.
February to May are the driest months of the year. The weather hots up and the winds sit at around 15-20 knots.
End of March/early April is the perfect time to visit if you would like to experience the excitement of the annual BVI Spring Regatta. It takes place over the course of one week and is a firmly established date in the Caribbean yachting calendar.
Island life begins to settle down in May and June, and so does the wind. It's the perfect time to enjoy ample space for anchoring and far less visitors. In September and October, the winds are at their weakest. This is also part of the hurricane season, so check the weather if you're planning a trip then.
If you are a foodie, November may be the perfect time for you as this is when the BVI Food Fete takes place. Celebrate all that BVI food and drink has to offer during a month-long series of events. These include 'Taste of the BVI' events on Tortola and Virgin Gorda, featuring cookery demonstrations, mixology competitions and live music.
Are COVID-19 restrictions in place in the British Virgin Islands?  
Right now, all businesses can operate, providing social distancing measures are in place. You should wear a face covering in all public settings and premises will only allow entry if you are wearing a face mask. Beaches are open, and gatherings are restricted to 100 people, but faith-based services such as weddings and funerals are permitted to have a up to 200 people. A daily curfew is also in place between 2am and 5am. More information on the current BVI restrictions can be found at the website of the Government of the Virgin Islands, including detailed information on continued school closures and restrictions in place, both within the Territory and in the BVI's territorial waters.
How can I travel to the British Virgin Islands?
For effortless and hassle-free booking, The Moorings' expert vacation planners can arrange flights and transfers through its portfolio of premier airlines, to combine the best-value prices with flight times to suit specific requirements. Return flights can be booked through our private charter flight partners, an excellent opportunity to travel differently during this uncertain time.
Whether it's an all-inclusive luxury crewed charter, skippered or bareboat sailing yacht charter, or a stylish powerboat charter, The Moorings' team of dedicated vacation planners are looking forward to helping customers find their perfect 5-star BVI vacation experience.
Start planning your next unforgettable adventure so you can return home with incredible experiences and stories worth re-telling again and again.
Did you find this useful?