Published:
May 22, 2018 Terese Kerrigan
Comments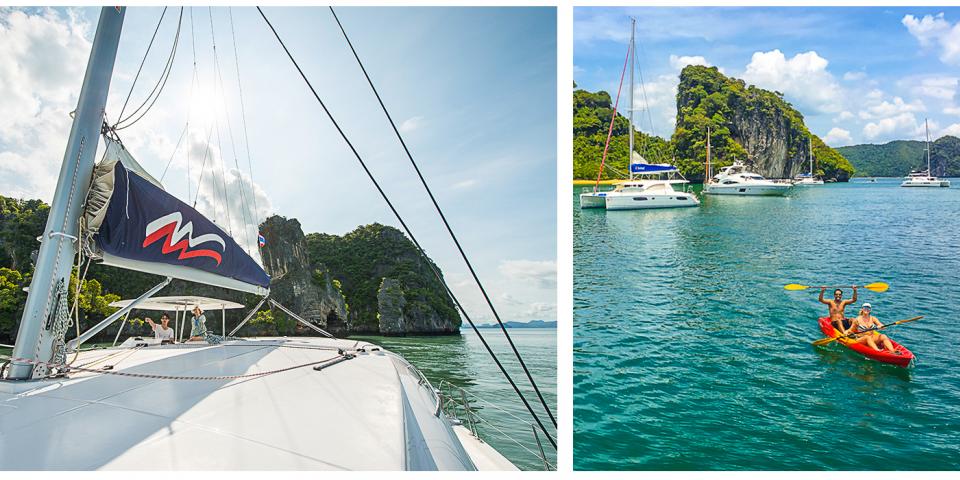 There is something to be said for the appeal of the white-sand beaches and crystalline waters of the Caribbean. Here, the balmy trade winds and quaint beachside bars will always have their place. But if you are looking for something more, something richer and wholly unique, then add Thailand to the top of your travel list.
Nestled in Southeast Asia between the neighboring nations of Myanmar, Cambodia, Laos and Malaysia, Thailand is a vibrant destination that is rapidly defining its place on the international travel scene. Best known for its capital city of Bangkok, the "Land of Smiles" is also a land of stark contrasts, with ultra-modern city views jutted up against traditional Buddhist temples and ancient ruins.
Explore the Andaman Coast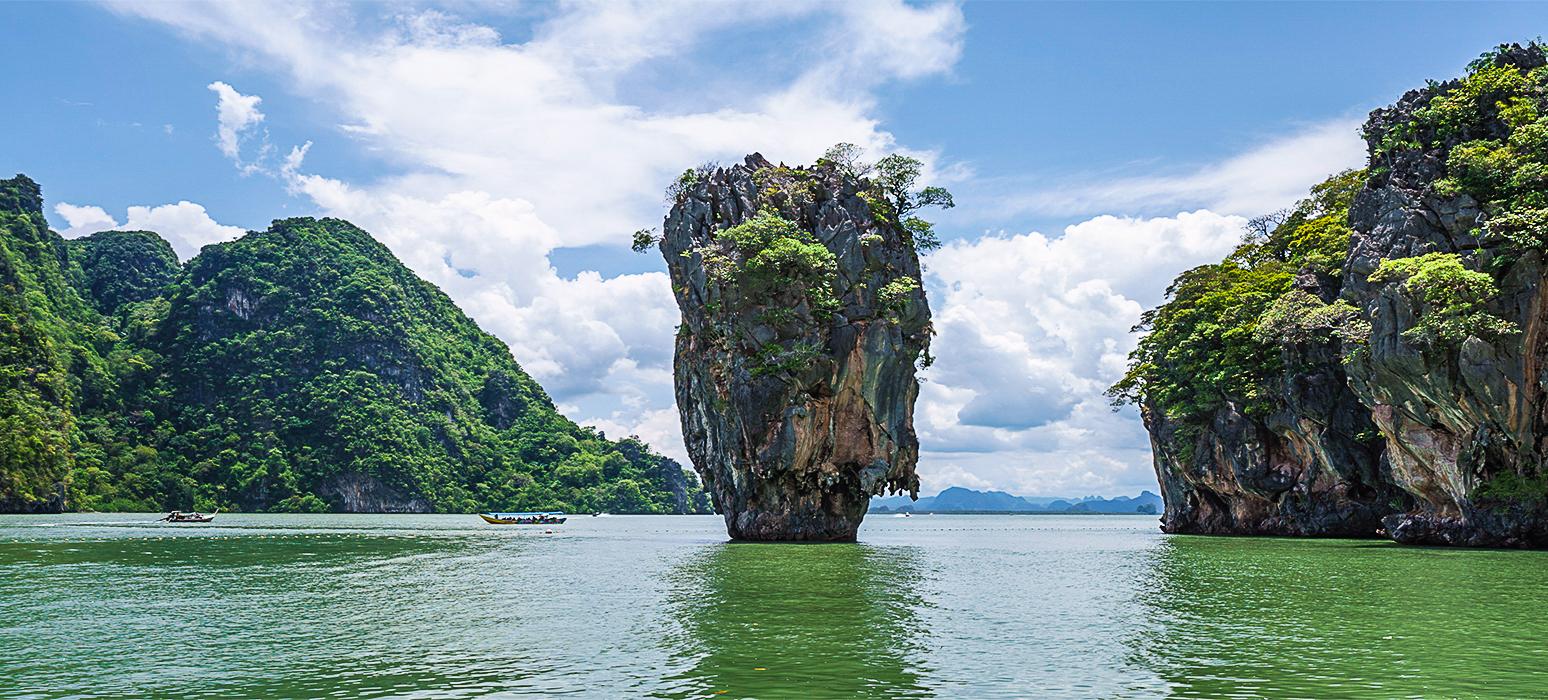 With Power, Sail, and all-inclusive Crewed charters undocking from our base located on the tiny southwest island of Phuket (pronounced pu-get), you can explore the splendid Andaman Sea and all its hidden gems in the best way possible—aboard your own private yacht, in the company of your best travel companions.
Famous for locations like Ko Phi Phi, Phang Nga Bay, James Bond Island and Ko Phi Phi Leh (the location where The Beach was filmed), the Andaman Sea is exactly as you would imagine based on what you've seen and read about Thailand in travel books. Jagged cliffs and imposing islands rise directly out of the sea in all directions, providing one of the most beautiful and unique backgrounds for an unforgettable vacation, but the real beauty of this place is discovered only once you look closer…  
Kayaking and stand-up paddle boarding in Thailand are an absolute must. Otherwise, you are left observing the natural wonder of these spectacular islands from afar, when the most spectacular views lie within the islands.
Head into the Hongs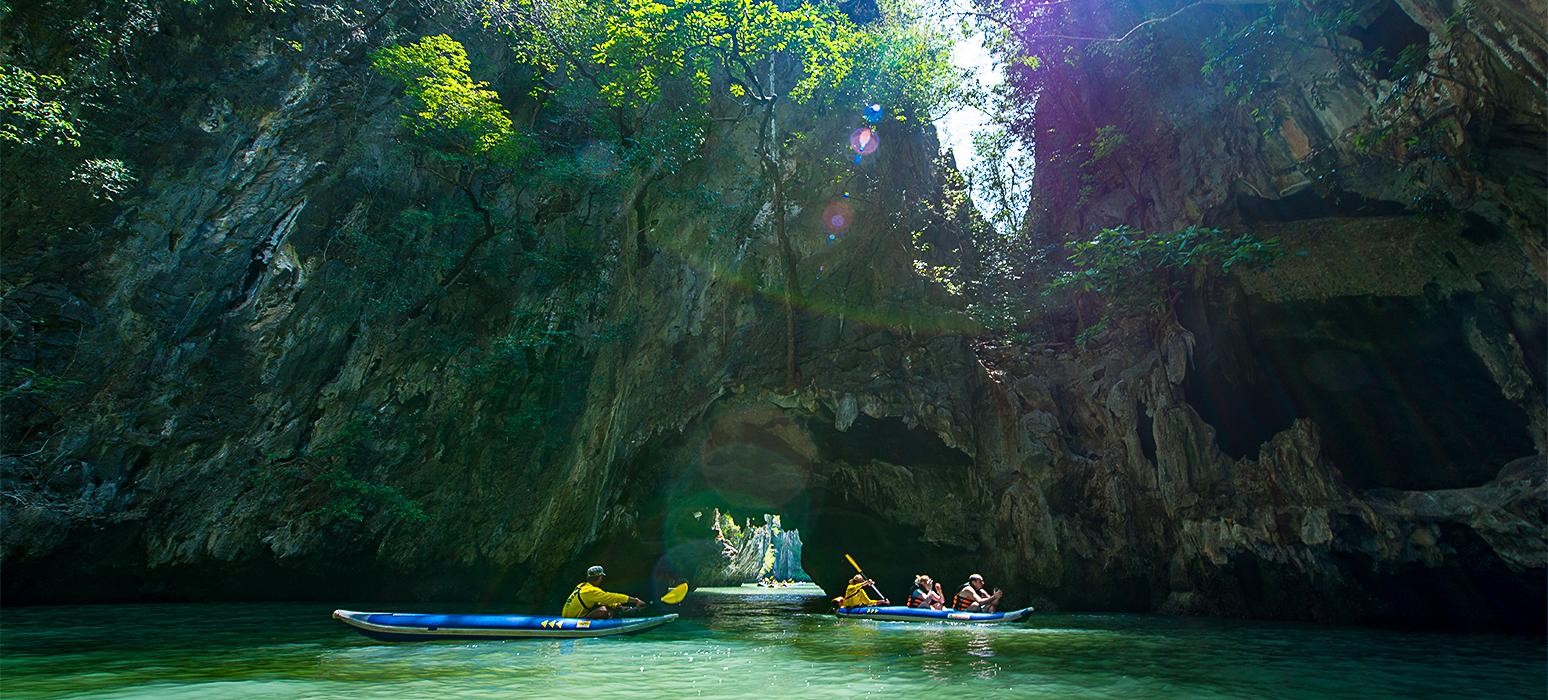 Thailand is home to geological formations called Hongs (Thai for "room"), which can best be described as skylights in the hollowed-out center of the islands you encounter throughout the cruising grounds. From afar, what looks like an imposing, solid island is actually a hollow shell. Drop anchor (mooring balls are few and far between in Thailand), grab your kayak and paddle closer. You can even enter these Hongs through small caverns and caves in the rock wall which then open up into beautiful, hidden lagoons featuring all manner of wildlife, from tropical birds to monkeys and even bats. Thus is a must-see for any nature-lover, and they can only be viewed by kayak or paddleboard.
To capture the most rewarding paddle-drawn experiences during your Thailand vacation, here are a few places that come highly-recommended from The Moorings staff...
Phang Nga
Ao Phang Nga is a designated national park and is located in the far northern region of the Andaman Sea. From the Moorings marina at Ao Po on Phuket, you can see the limestone cliffs of Phang Nga in the distance, a series of sheer rock faces jutting out of the water. This is "Hong Central", so to speak, and a place where you can literally and metaphorically get lost exploring one magnificent Hong after another. It is also an extremely popular site for tourists staying at surrounding hotels and resorts, who flock to the area around mid-day aboard large ferries, speedboats and traditional longtails to kayak, so get here early in the morning before the crowds arrive.
Ko Hong Krabi
A solitary island on the eastern side of the Andaman Sea (on a map, you will find it due East of the larger island of Ko Yao Noi), Ko Hong Krabi is a perfect spot for charterers to avoid the crowds typical of Phang Nga. Ko Hong Krabi boasts a large, deep bay, and a wide crescent-shaped beach. Once on shore, visitors will find a low arch carved out of the rock wall. Pass underneath and you will find yourself in an enormous Hong that you can easily walk around in low tide.
Tha Lane Bay
Continue northeast from Ko Hong to the mainland on the eastern coast of the Andaman Sea, where you will encounter Tha Lane Bay. Located in the region of Ao Nang, Tha Lane is an estuary at the mouth of the Nai Sa River. Sheltered by limestone cliffs on either side, this bay is considered one of the best mangrove forests in the region. Kayak through the imposing landscape and be on the lookout for exotic wildlife sightings.
Ko Racha
The northern reaches of the Andaman Sea are an estuary, where much of the water from numerous rivers empties. For this reason, the water is high in silt deposits and can look rather opaque. For clearer water ideal for snorkeling and diving, venture further south to the Phi Phi Islands, or Ko Racha Yai and Ko Racha Noi. The farther you get from the mouth of the river system, the clearer the water gets! Much of the exploring via kayak in Thailand is meant to observe the geography and ecosystems above the water, but in the Racha islands the water is so clear you can see to the bottom.
With an oar in your hands and a smooth-cruising kayak as your transportation platform, you're free to explore the real hidden treasures of the emerald-green Andaman Sea. It's something that every visitor truly must experience for themselves and a Phuket yacht charter vacation is the best way to do so. This place just radiates with old world charm and exotic flair. It's no wonder the "Land of Smiles" has earned a spot on so many traveler's bucket lists.
Check Thailand Off My Bucket List
Ian Pedersen has been working for The Moorings for 7 years. He has traveled to the BVI, St. Martin, Croatia and Thailand in that time and is passionate about sharing his experiences and getting more people out on the water. His favorite activities while on charter are snorkeling, paddle boarding, and kayaking. He hopes to someday travel French Polynesia while on charter.
Did you find this useful?