Published:
March 11, 2019 Terese Kerrigan
Comments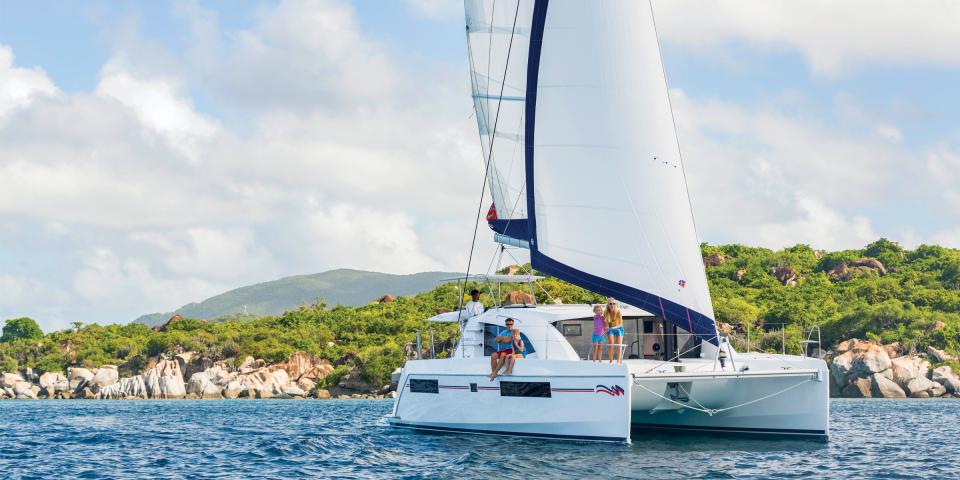 When it comes to sailing, having access to the most innovative, top quality yachts does make a difference. This is how a vacation on the water goes from ordinary to extraordinary. The Moorings catamarans are exclusively designed by renowned boat builders Robertson & Caine, a South African company best known for their Leopard brand of ownership yachts. We are especially proud of the fact that The Moorings was chosen as the only charter company that can offer the award-winning Robertson & Caine catamarans to its clients.
What is a Catamaran?
Are you looking for maximum comfort when sailing and next-level relaxation while on your charter? Then a sailing catamaran is the right choice for you. In contrast to a monohull, the catamaran has two hulls that are connected by crossbeams. Located in the hulls are the staterooms, each with their own private head. The deckhouse and the bridge deck are used as the saloon and galley, and for navigating. Some catamarans even feature another level known as the fly bridge. The Moorings Sailing catamarans provide an idyllic vacation platform for creating unforgettable moments on the water. Additionally:
Thanks to their two hulls, catamarans offer a lot of individual living space, which makes the time on board a lot more relaxing.
Catamarans generally do not yaw. They lay like a raft on the water and sailing them is easy without any heeling.
Catamarans can anchor in almost any bay as their low drafts make it possible to get closer to shore than a monohull.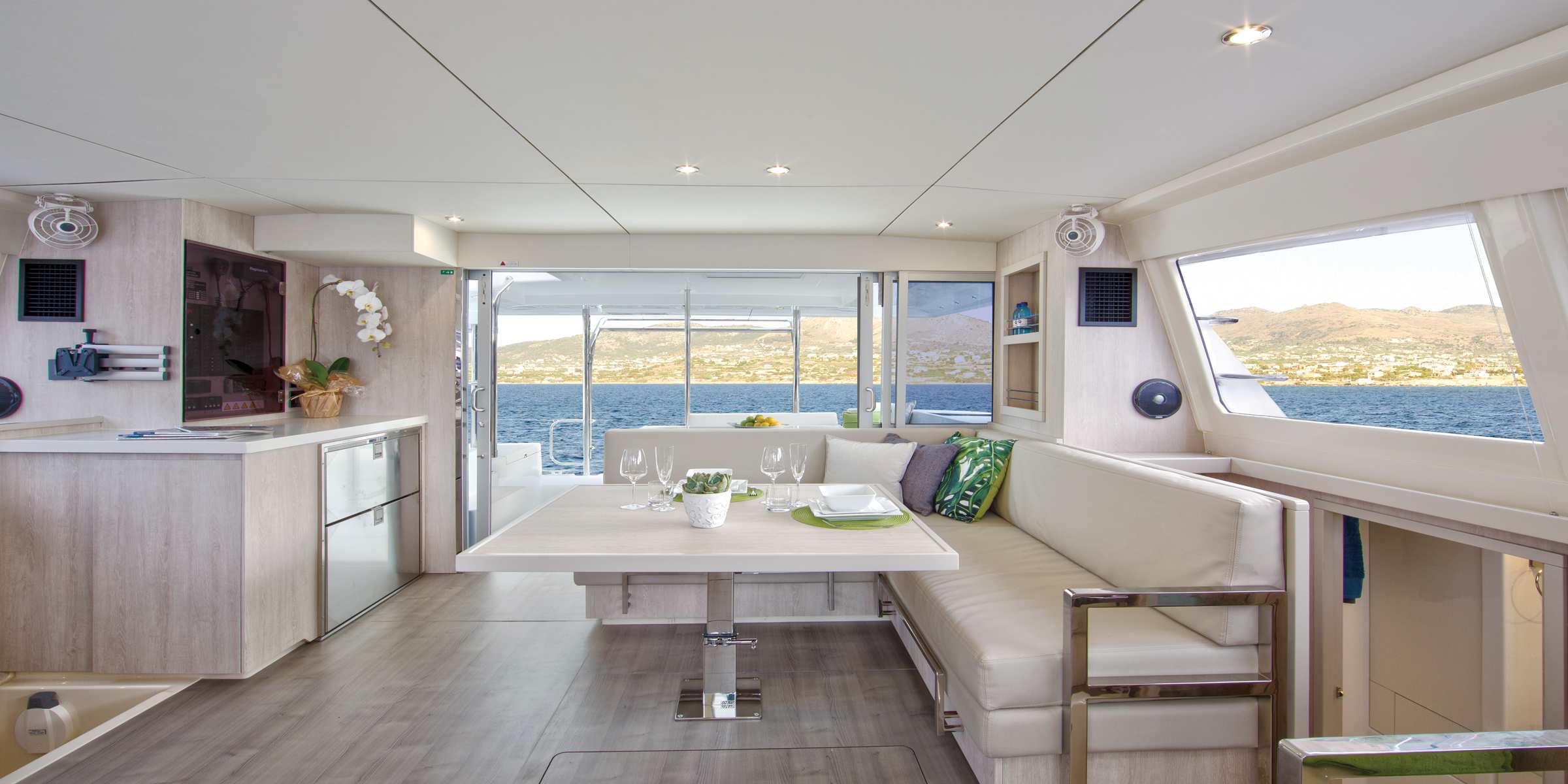 Advantages of a Catamaran
Sailing – The helmsman is able to execute almost all sailing maneuvers single-handedly as the necessary lines are being redirected to the helm and he can rely on the autopilot for support. Maneuvering, especially inside the marina, is simplified by having two engines and two propellers. Catching a mooring ball is also simpler with a catamaran.
Hulls – The catamaran's low draft helps in navigating shallow reef passages and enables you to anchor closer to shore. They are also often lighter and have less wave impedance, therefore sometimes making them faster than a monohull, especially when sailing at reaching angles.
Deck – Catamarans have been created with more living space in mind as well as additional areas for enjoying the outdoors. Electric davits make lifting the dinghy easy and the spacious fly bridges offer additional space for lounging and entertaining. As catamarans don't heel, everyday activities like cooking can be performed at ease.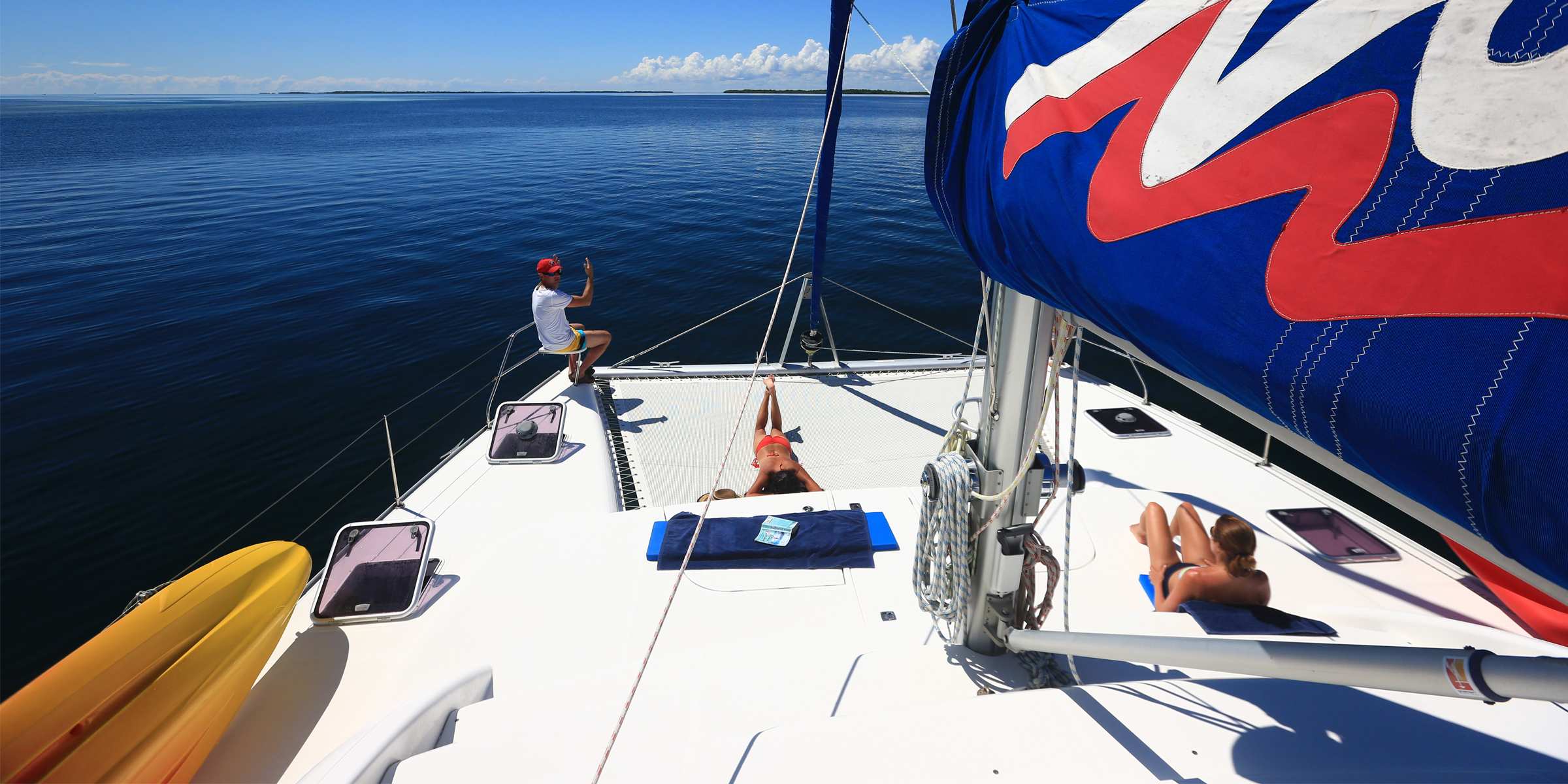 Differentiating Features
Navigation – An important feature of a charter yacht is safety, which includes easy access to the control panel and the ability to communicate effortlessly with crew in the deckhouse, saloon and on deck. Our catamarans offer a large sail area, making it easy to sail and maneuver even with little wind.
Set-Up – The clients' needs should determine the design and construction of a sailing catamaran as comfort and quality are pivotal. This includes optimal hull design for more volume in the interior, spacious deckhouses, interior and exterior living spaces that are connected with each other, and seating options on the bridge deck for taking in the beautiful views.
Safety – Duplication of many systems relevant for onboard safety are an additional benefit of catamarans. For example, there are two engines, one in each hull, and two rudders. A catamaran offers flat, even decks, wide, safe passages, and no climbing when having to move from bow to stern.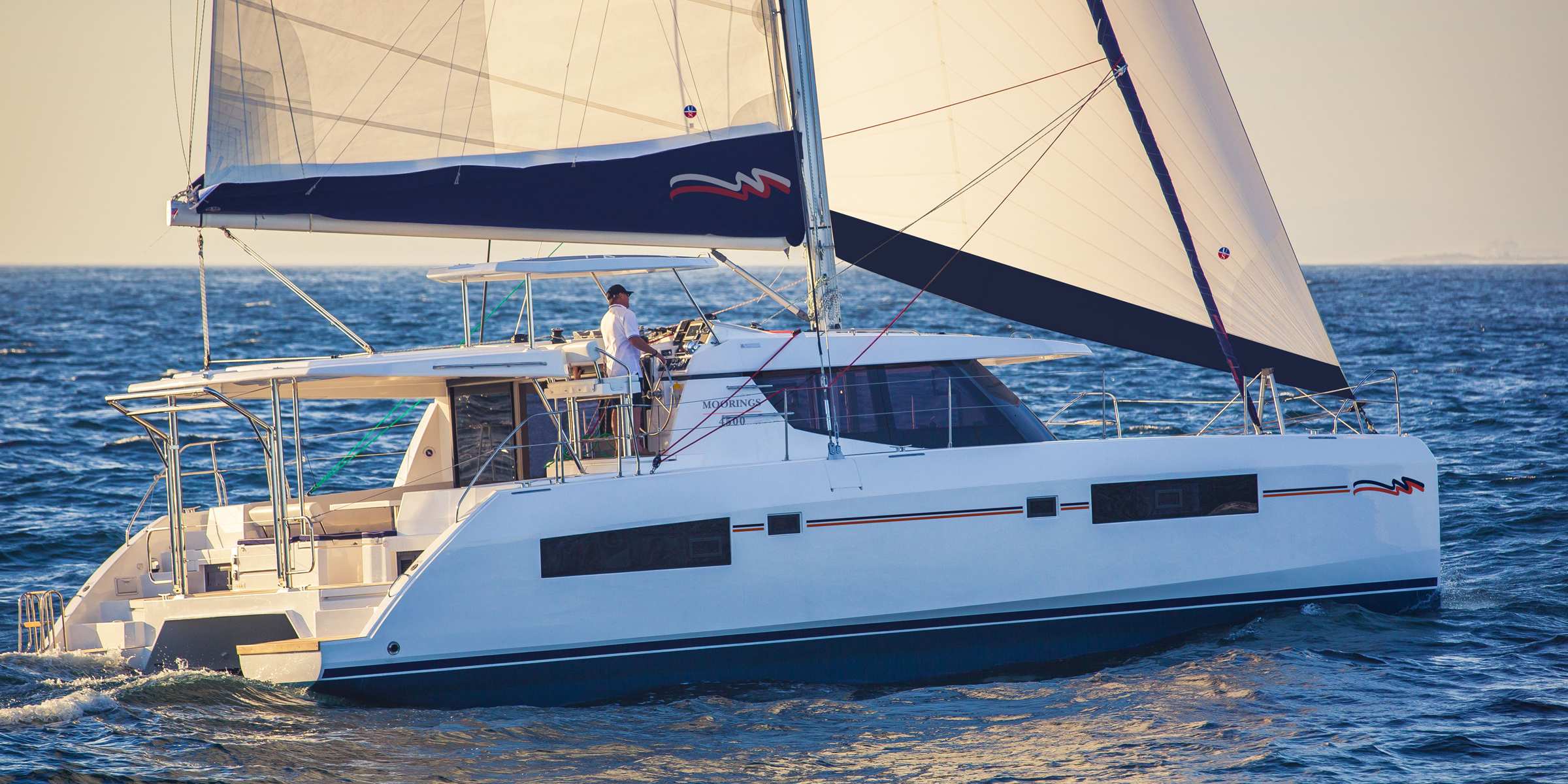 Tips for Sailing a Catamaran
With its large area exposed to wind and its low draft, a sailing catamaran can drift off easily so anchoring should be performed as swiftly as possible, especially if the wind blows from the side.
In order to use the engines rather than the steering wheel when maneuvering it's best to turn the wheel to twelve o'clock and work exclusively with the throttle control.
When making a turn it's best to approach fast, possibly letting the jib luff so that the wind can push the bow around.
Because of their wide beam, catamarans are usually more expensive when it comes to docking. You can avoid these extra costs by looking for a secluded cove and anchor there while enjoying the tranquil scenery.
FIND YOUR PERFECT SAILING CATAMARAN
Did you find this useful?