Published:
November 8, 2019 The Moorings
Comments
By Mike Strickland - Repeat Charter Guest
While The Moorings celebrated their 50th anniversary, my wife and I celebrated our 30th anniversary for our wedding and our honeymoon, which was our first sailing vacation as well! We had not discovered The Moorings yet in 1989 but when the charter company that we used went out of business two weeks after our trip, I realized we were quite lucky to have gotten our deposit back and should travel with a more established company moving forward.
Every year or two since we have been enjoying excellent charters with The Moorings all over the world—Tahiti, Australia, Thailand, Seychelles, Tonga, Croatia, Abacos, Belize, and most of the Caribbean. I honestly can't say enough about how great it has been to lose track of what day of the week it is while enjoying the company of family and great friends.
At this point, we have been getting a bit spoiled with all the conveniences of the latest Moorings catamarans—the first time we chartered a catamaran my wife proclaimed that there was no going back.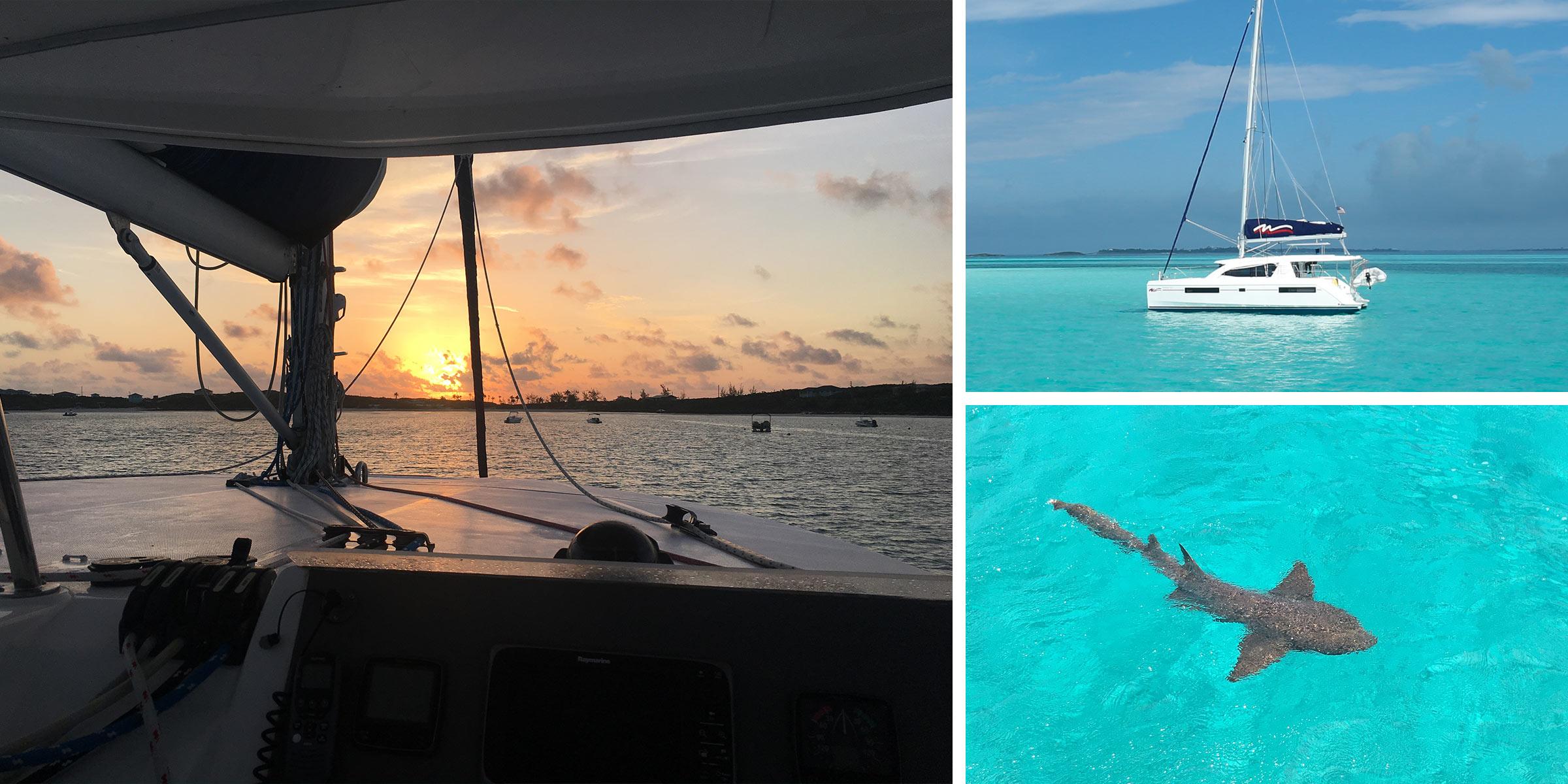 Choosing Our Next Charter Destination
Looking at The Exumas, it was a great cruising destination, but the 38 miles from Nassau to the first anchorage would consume the better part of a day and the idea of a one-way sail down to Great Exuma seemed like an excellent idea if there was a way to make this happen. The Moorings offers one-way sail options from St. Lucia to Grenada, so I asked about the possibility of a one-way sail to Great Exuma and was delighted when they put that together for me.
I enjoy doing some planning beforehand to ensure that everyone will get the best trip for their hard-earned vacation time.
TIP: I recommend using Garmin Homeport on a tablet with HXUS604 2018 edition as sandbanks tend to shift around in The Exumas a bit over the years.
Planning my routes ahead of time and downloading them to my 78sc Garmin gives me peace of mind. With some TripAdvisor and sailing blog research, I identified the 4 restaurants and 6 activities that I would target if the weather cooperated.
TIP: Check the tides as many of the activities are tide dependent – the waterslide at Shroud Cay is best at high tide, while Thunderball Grotto is best at low tide and no current. Also, the "Explorer Chartbook, Exumas and Ragged Islands" 8th edition is excellent and was on our boat.

What to Know Before Your Exumas Charter Vacation
Highborne Cay: It's a long haul from the Moorings base in Nassau down to Highborne Cay. If the wind is against you, run the engine and if swells aren't too bad you can leave by noon and get there in time for an 8pm dinner reservation with a beautiful view and sunset. With less drowsy Dramamine for my crew, we were all fine.
Allen's Cay/Norman's Cay: Bring grapes for the iguanas at Allen's Cay and feed them with a stick – very entertaining! Don't miss the sunken plane off Norman's Island next – the airplane parts are all identifiable and you might catch a nurse shark under the cockpit. We anchored for the night off McDuff's – getting a reservation is a hit or miss as the superyachts may book the whole place. We only got confirmation a few days in advance by phone.
TIP: Be good dinner guests, and they may sell you a couple of bags of ice when you depart. And the Mango daiquiri with rum topper was awesome!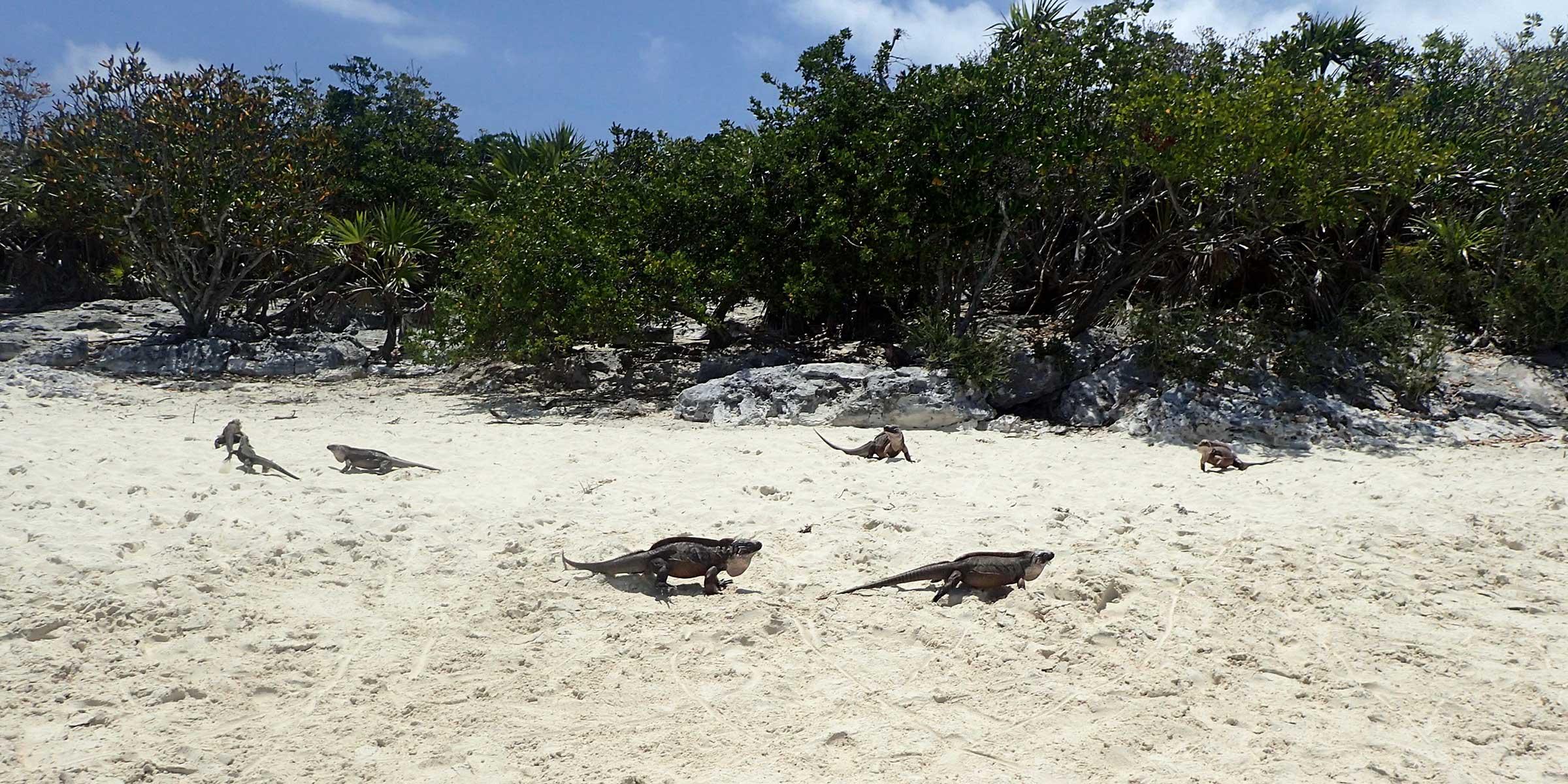 Shroud Cay: 7 am a departure for us to catch the high tide for the Shroud Cay waterslide. Put the coordinates to the entrance of Sanctuary Creek into your portable Garmin so you dinghy right to it, and you might want to bring some beers and lunch. I thought the beach was "Top 5" of the 100+ beaches I've seen!!
Warderick Wells Cay: You might be able to get a mooring ball in the "north field" assigned to you if you radio the day before. Else, the park does a 9 am announcement on VHF16 and then you queue on VHF12 for a mooring ball. For "northern field," the channel is equally wide to either side as you head down the mooring balls so go to the side which is open. They sell ice during park hours, and your cell phone may work from the northern side of the HQ balcony.
Staniel Cay: Lots to pick from en-route: Dundas Rocks at midday, Aquarium snorkel, Rachel's Bubble Bath, and Compass Cay marina to swim with sharks on your way to Staniel Cay Yacht Club (SCYC).
TIP: If Compass Cay feels expensive you can catch nurse sharks in the late afternoon at the SCYC dock and "pet" them for free!
The chart plotter map on your boat may be old as sandbanks shift frequently, so rely on recent charts in the boat or a Garmin recent chart for shallow areas. We picked up a mooring ball for the night and the flood tide current eased considerable until the next morning. Book a dinner at the SCYC the morning of and request the outside table if you like. SCYC also a "Top 5" Caribbean/Bahamas bar.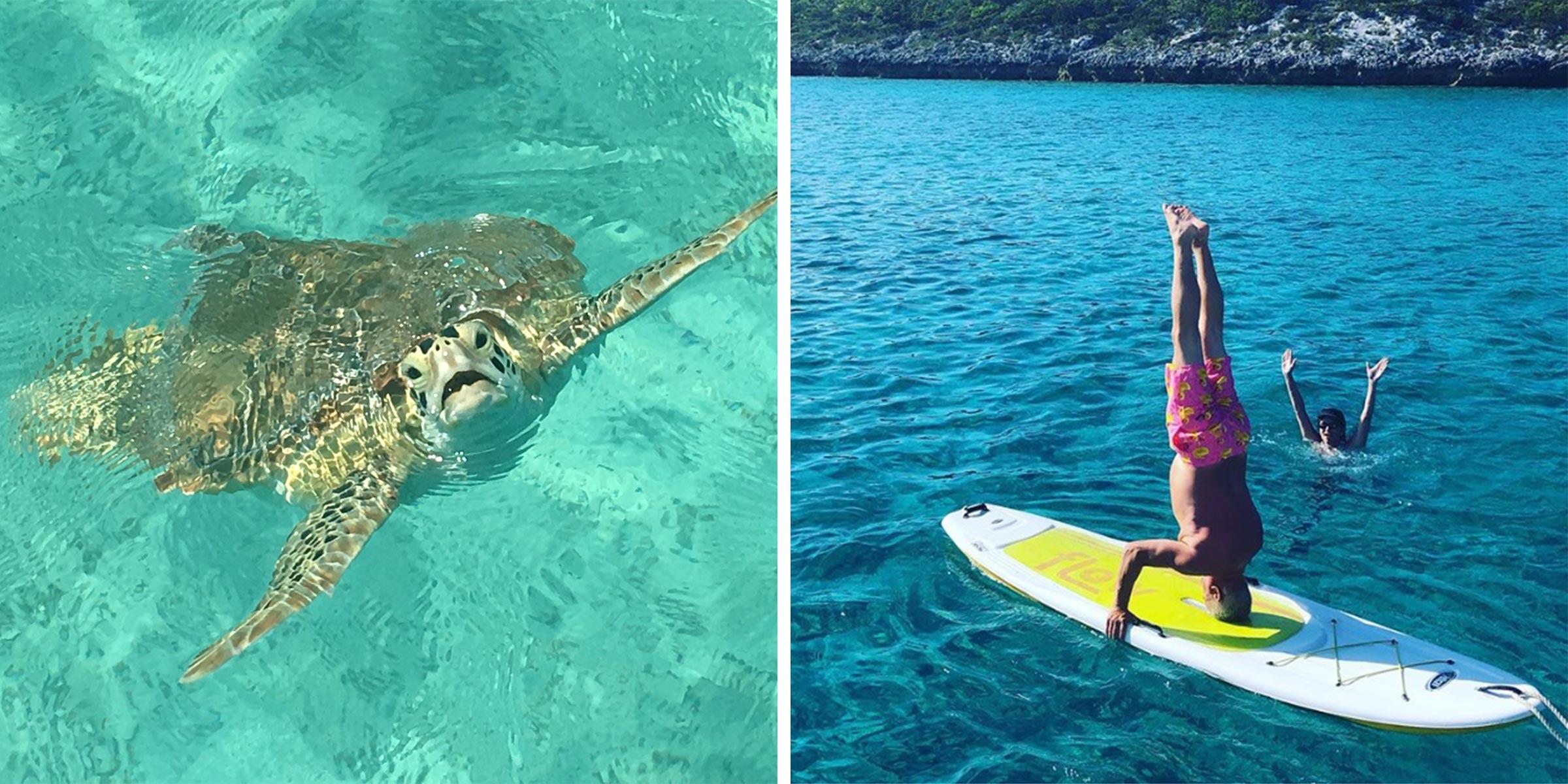 Great Guana Cay: At Staniel Cay pick a low and slack tide to swim at Thunderball Grotto with a snorkel and mask to catch lots of fish at the entrance. Visit the swimming pigs at Big Major Spot (beach on the right) in the Bay of Pigs.
TIP: Bring carrots to feed the pigs on the beach and don't feed from your dinghy or they may climb in with you!
Enjoy an easy sail to Black Point, where you can book dinner in advance at Lorraine's – as you arrive for dinner buy a loaf of excellent Bahamian coconut bread next door!
Lee Stocking Island: Start early (7 am for us) with a stop to admire David Copperfield's sunken grand piano statue off Rudder Cut Cay.
TIP: The piano is at 23° 52.174' N, 76° 14.171'W and anchoring in the next bay to the north there is a nice cave to visit – visitors are discouraged however on the beach.
The abandoned Perry Institute is fun to visit if it's still there. Tidal current rocked the boat that evening but the holding was good.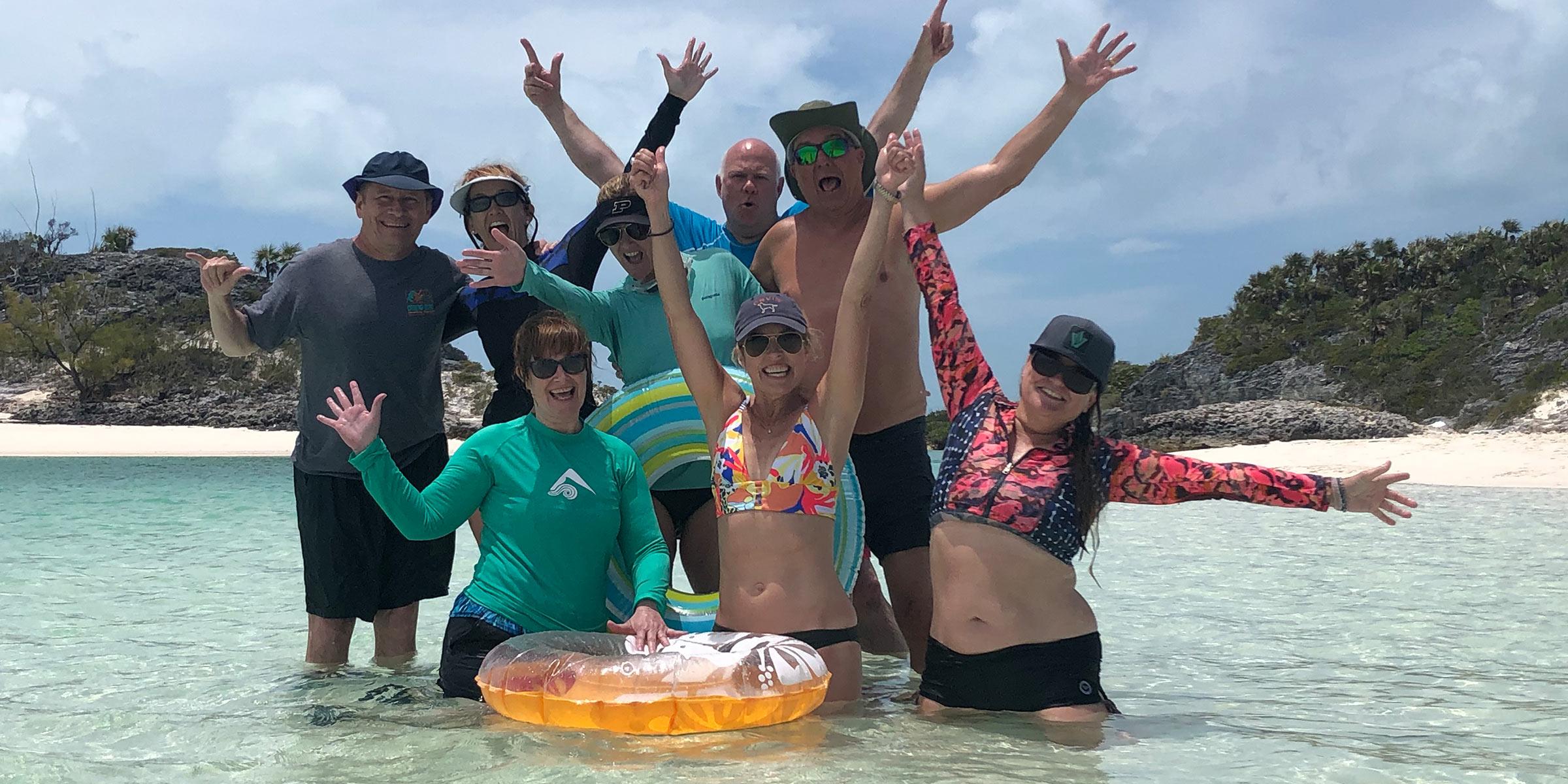 Barraterre/Post Sail: A 7 am start and timing was good to have a recommended +2 ft tide to get to Barraterre where we dropped anchor to end our one-way charter with The Moorings by 10 am.
We had arranged for Island Boy Adventures private tour to pick us up with our rollaboard luggage and with some luck, we had a calm day to transfer our luggage to a 35 ft center console speedboat. At 30 mph over flat seas, it didn't take long to go 20+ miles to get to the dock of the St. Francis Resort to unload our luggage. From there, great tunes, and some great stops at Lazy River with spectacular green and blue waters (now another "Top 5" beach), Roll Town sand bar, snack at Chat 'n Chill (Top 5 Caribbean/Bahamas bar, ask the bar for stingray food and place it next to your big toe in the water), and feed some beautiful turtles. St. Francis rooms are all ocean-front on one of the nicest and deserted Exumas beaches – comfortable accommodations, good food, breakfast on a deck facing the bay, kayaks for guests to paddle to Chat 'n Chill – can it get any better?
TIPS/INFO: myislandwifi shared hotspot worked great except for Shroud Cay and Warderick Wells Cay. I brought a 40-quart Igloo Roller Cooler just for ice. The wind was against us a lot so we ran the engines 75% of the trip at 2000 rpm and with nightly generator and air conditioning in one of the pontoons used half the diesel fuel on a Moorings 4800.
Did you find this useful?