About the Marina
Address  
Palm Cay Marina
Yamacraw Hill Rd
Nassau, The Bahamas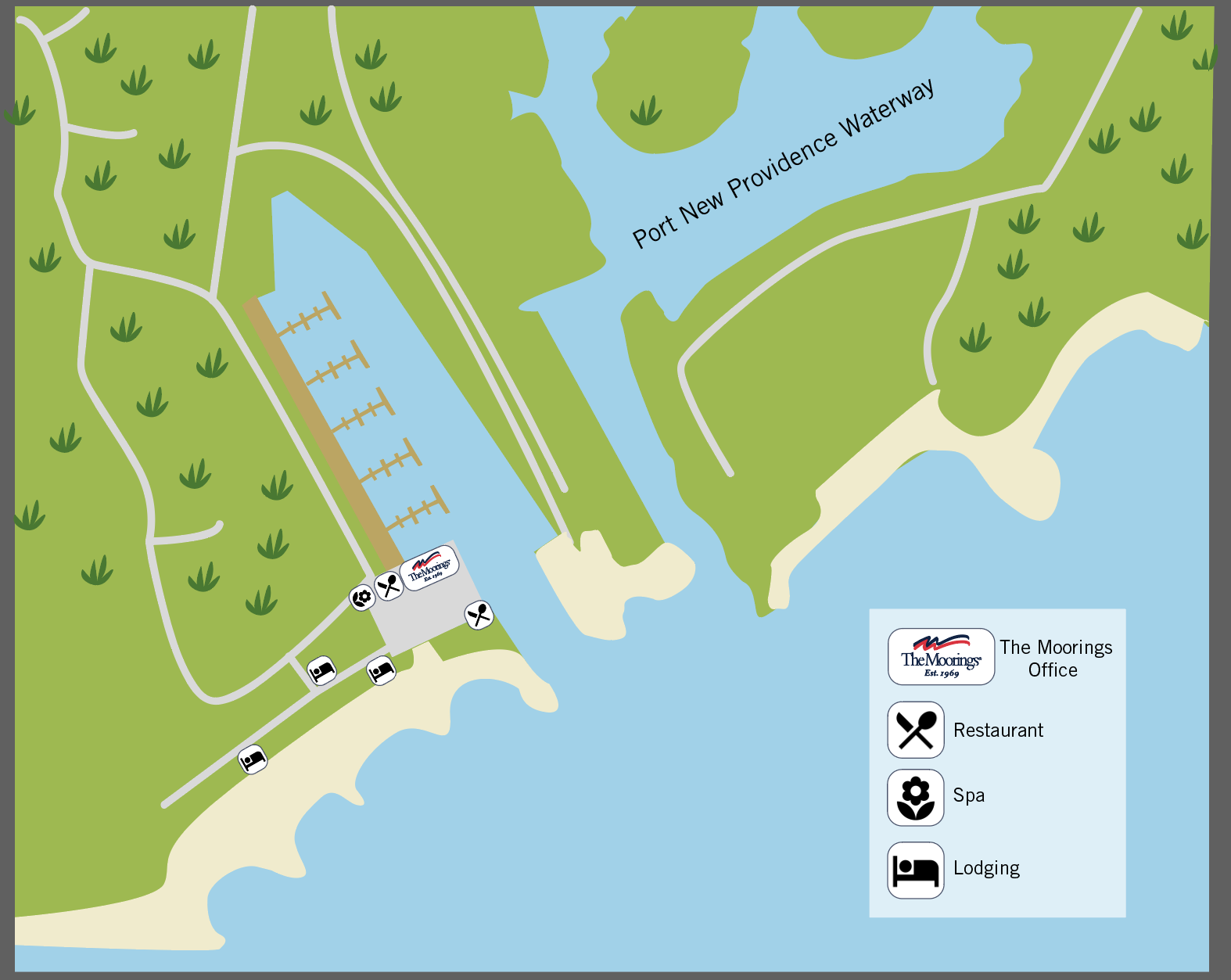 Base Hours 
The base is open from 8:00 a.m. to 5 p.m., seven days a week (evening staff to cover until all flights have arrived).
Marina Facilities
Laundry
Restaurant
Hotel
Boutique
Dive shop
Showers & Bathrooms
Telephones
Fuel & Ice
Shopping
Use of pool, pool bar, and private beach available for an additional fee ($12/person).
Diving and Snorkel Equipment
Dive Exuma - Dive Shop
Open 24 hours · (242) 357-0313
Staniel Cay Adventures - Tour Operator
7:30AM - 5:30PM · (242) 524-8062
Bahamas Scuba Diving Services
Open 24 hours · (242) 535-8396
Dock Facilities
Dock space can be reserved (credit card requested) at most harbors prior to arrival by calling ahead on VHF channel 16 or by requesting confirmation via The Moorings office on VHF channel 16.
Cruising Grounds
Experience Level
A formal sailing license is not mandatory to charter here. A completed Sailing or Power resume is required to ensure you have the necessary experience required to charter yourself.
Cruising Area
The cruising area streches from Nassau in the north to Great Guana Cay in the South East.  In and around Nassau we recommend to anchor in Nassau Harbour and at Green Cay.
Cruising Area Restrictions 
Permission from the base manager is needed to go outside the Exumas. 
It is strictly forbidden to sail alone, we require two persons minimum on board.
Charts & Pilot Books
All the charts and pilot books you will need for the sailing area are issued at your chart briefing.
Nighttime Sailing 
You must be moored at least one hour before sunset. Night Sailing is not allowed without permission from the base manager. The decision to allow night sailing is based on your skill level and can be requested in advance. You will need to fill out the Sailing or Power resume for the base to review but we cannot guarantee approval.
Cruising Permits & Taxes
Within the Exuma Cays Land and Sea Park, headquartered at Warderick Wells Cay,  there is a cost of $10 USD per person to go on land. All fishing is prohibited in the park.
Moorings Fees & Taxes
Mooring and dock fees are based on the size of your vessel. Moorings fees range between $30 and $50 USD. The dock fee schedule ranges from $2.50 to $3.50 per foot.
Around the Base
Accommodations
Comfort Suites Paradise Island
The Ocean Club
The Cove at Atlantis
Harborside Resort
Warwick Paradise Island Bahamas
Graycliff Hotel & Restaurant
Courtyard Nassau Marriott
Banks
Nearby ATMs can be found at Scotiabank and FirstCaribbean International Bank
Post Office 
The Post office is situated on the main island in Nassau.
Dining
Onsite tiki bar restaurant named Green Parrot. 
Nearby Restaurants include Margaritaville and Anthony's. The Atlantis resort offers many restaurants.
Shopping
Convenience Store and Dunkin' Donuts nearby.
Taxis
Cheryl's Taxis is very reliable: 1-242-423-4982 (also on WhatsApp)
Scuba Diving 
Collie at Bahamas Scuba Services: 1-242-535-8396 (also WhatsApp). Tanks $15/day (other places $25 or $35). Pick up/drop off - $20
Provisioning
The Moorings Provisioning
Online Provisioning is available. Provisioning must be ordered 6 days prior to the start date of the charter for this destination 
Visit our Provisioning Page to learn more about delivery direct to your yacht.
Supermarkets
Supervalue Quality Market , a large supermarket, is situated 15 minutes drive by taxi from base. Open Monday through Saturday fro 7 a.m. to 9 p.m. and Sunday from 7 a.m to 5 p.m.  
Solomon Fresh Market, a large Supermarket is situated 15 minutes by taxi from base. Monday through Thursday from 7 a.m. to 8 p.m., Friday and Saturday from 7 a.m. to 9 p.m., and Sunday from 7 a.m to 5 p.m.  Solomon's also delivers, free of charge - arrange delivery through their website.
Small provisioning stores can also be found while sailing at Highbourne Cay Marina and Staniel Cay Yacht Club Marina.
Things to Do
Tours
We recommend you visit the Itinerary Page or consult your chart briefer and cruising guides for the best places to visit, but among our favorites – Highborne Cay, Allan's Cay, Norman Cay, Shroud Cay and Warderick Well Cay. A must do is Staniel Cay with the famous swimming pigs.
Golf  
Visit the One and Only Ocean Club for a round of golf.
Water Toys & Sports
For your convenience, you can add water toys to your charter prior to arrival at the base. They will be waiting on your boat upon arrival. You are able to rent these at the base; please keep in mind that we have limited availability. For more information, please view our Water Sports Options.
Scuba Diving 
We recommend renting the gear at Bahamas Divers P.O. Box SS 5004, East Bay Street, Nassau.  Staniel Cay Yacht Club offers instructors but you need to bring your gear with you there.  
Snorkeling 
The Moorings provides snorkeling fins for all charters for your pleasure. Children's sizes are very limited; you may wish to pack your own snorkeling gear.
Fishing
Fishing is allowed and a licence is not required for charterers. To protect the marine environment, spear fishing using scuba gear and possession of spear guns are illegal in The Bahamas. This area is protected and fishing is not permitted: Within the Exuma Cays Land and Sea Park, from Shroud Cay to Cambrige Cay, all fishing is prohibited.
Spiny Lobster season is from August 1 - March 31. Minimum size is a 5 1/2 inches tail length or 3 1/4 inch carapace length (measured from the base of the horns to the end of the jacket). Unlike Florida, lobster may be taken by spear. It is illegal to take or possess female lobster with eggs. The vessel bag limit is six per person at any one time.
There is no closed season on conch, but it's illegal to take or possess immature conch. In order to be legal, conch must have a well formed lip (or flared-lip). The vessel bag limit is ten per person at any one time.
The vessel bag limit for scale fish is 20 pounds per person. The minimum size for any member of the grouper family is three pounds.
Stone Crabs may be taken if the claw length is four inches or greater. The season is closed from June 1 - October 15. It is illegal to harvest female stone crabs.

For more information on what's included on your yacht, please view the full list here for Bareboat Charters or here for Crewed Charters.