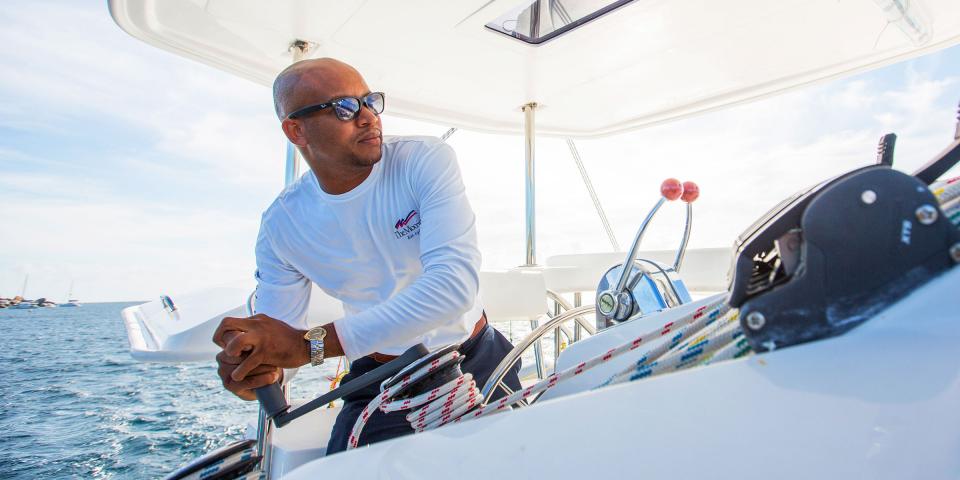 One family's tale of how hiring a Moorings Skipper can go incredibly right... 
Hiring a skipper wasn't an instant decision for the Luberto family, but it's one they'll likely never forget. In the midst of planning a charter for the fourth of July in the BVI, Donny Luberto, along with his wife and two daughters, faced a challenge. While he enjoyed the speed and accommodations of a Moorings Power yacht, all of the boats were reserved in advance for this popular destination during peak vacation time.
"My wife and I had chartered before with another couple and they'd always captain the boat," Donny Luberto said. "We wanted to sail, but weren't quite experienced with all the things that go into it. Plus, being with our daughters, who are 17 and 22, we wanted to spend as much time as we could with them, not working on the boat."
And that's where the possibility of hiring a Moorings skipper entered the picture. It seemed like a great option — someone who'd take care of all the particulars of sailing and navigating, allowing for maximum relaxation — but the Lubertos had some reservations…
"What exactly will the skipper do when we're not sailing?"
"Are we comfortable staying aboard with someone we don't know for a week?"
Naturally, the benefits outweighed the reservations, and the Lubertos soon found themselves arriving at the Mariner Inn and Marina, eager to get on board and explore the islands. They soon met Kedon, a young skipper from Grenada, and were on their way. What followed defied all their expectations.
"It's funny. At first he was willing to stay out of the way, but we're friendly people, so he quickly became like another kid of ours."
With Kedon at the helm, they were free to explore wherever and whenever they wanted. They snorkeled around the caves of Norman Island, visited famed schooner-turned-bar The Willy T., relaxed at the Bitter End Yacht Club and, on the Fourth of July, watched fireworks light up the night sky over nearby St. John.
"Obviously, he did all the stuff like sailing the boat around and parking, but he went above and beyond to help the girls with stuff like stand up paddle boarding and fishing off the boat. He'd even come out to dinner with us on most nights."
By the end of the charter, the Lubertos and Kedon had all become great friends. The girls even made it official by adding Kedon on Facebook so they could stay in touch. Reflecting upon the trip (and already set for another in November), Mr. Luberto happily shared his favorite thing about chartering with a skipper:
"Not having to worry and having someone who really knew the place was probably the best part of it all."
All charters with The Moorings include an optional "Friendly Skipper" who will join you for up to a half-day on the first day of your trip at no additional cost. You may also choose to hire a skipper for as little as one day, or for your entire charter. For the ultimate charter experience, choose an all-inclusive Crewed yacht, which includes the service of your very own captain and a gourmet chef. Learn more about The Moorings Skippers and all the things they can do to make your charter incredible at moorings.com/skipper.
Did you find this useful?