Published:
February 18, 2021 Tina Huewe
Comments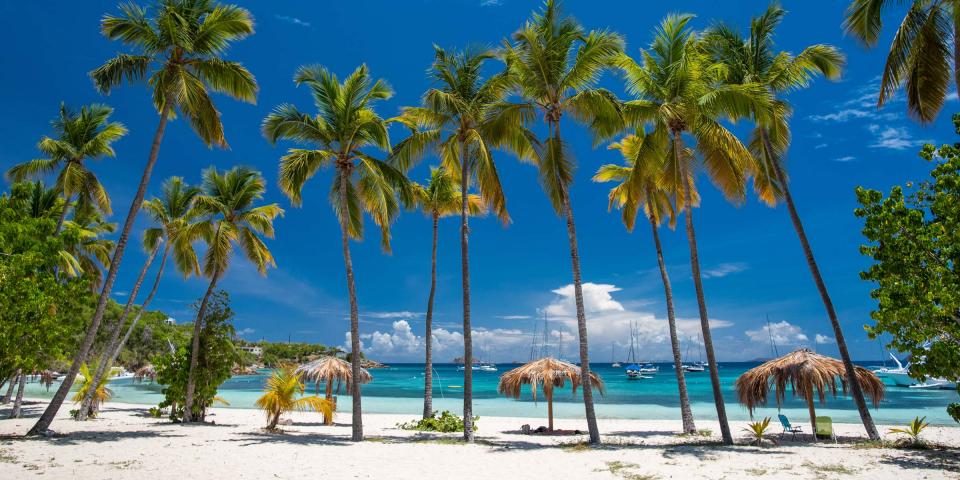 When planning a charter vacation, one inevitably finds themselves asking "Which is the best island to visit in the U.S. Virgin Islands?" The answer will almost certainly depend on your individual preferences and interests. All the U.S. Virgin Islands, which consist of St. Thomas, St. Croix, St. John and their surrounding smaller cays, are stunningly beautiful, with bright turquoise waters splashing on their shores. Their gorgeous beaches - some famous, some off the beaten path - can be found on many travel bloggers' top-beaches lists.
Our St. Thomas sample itinerary lets you explore a variety of U.S. Virgin Islands attractions, from rum distilleries to nature reserves and first class shopping and dining, while gliding across those translucent waters. To let you make the most of your charter vacation in this mesmerising part of the Caribbean we set out to help you learn a bit more about the individual islands and to discover which U.S. Virgin Island has the best beaches.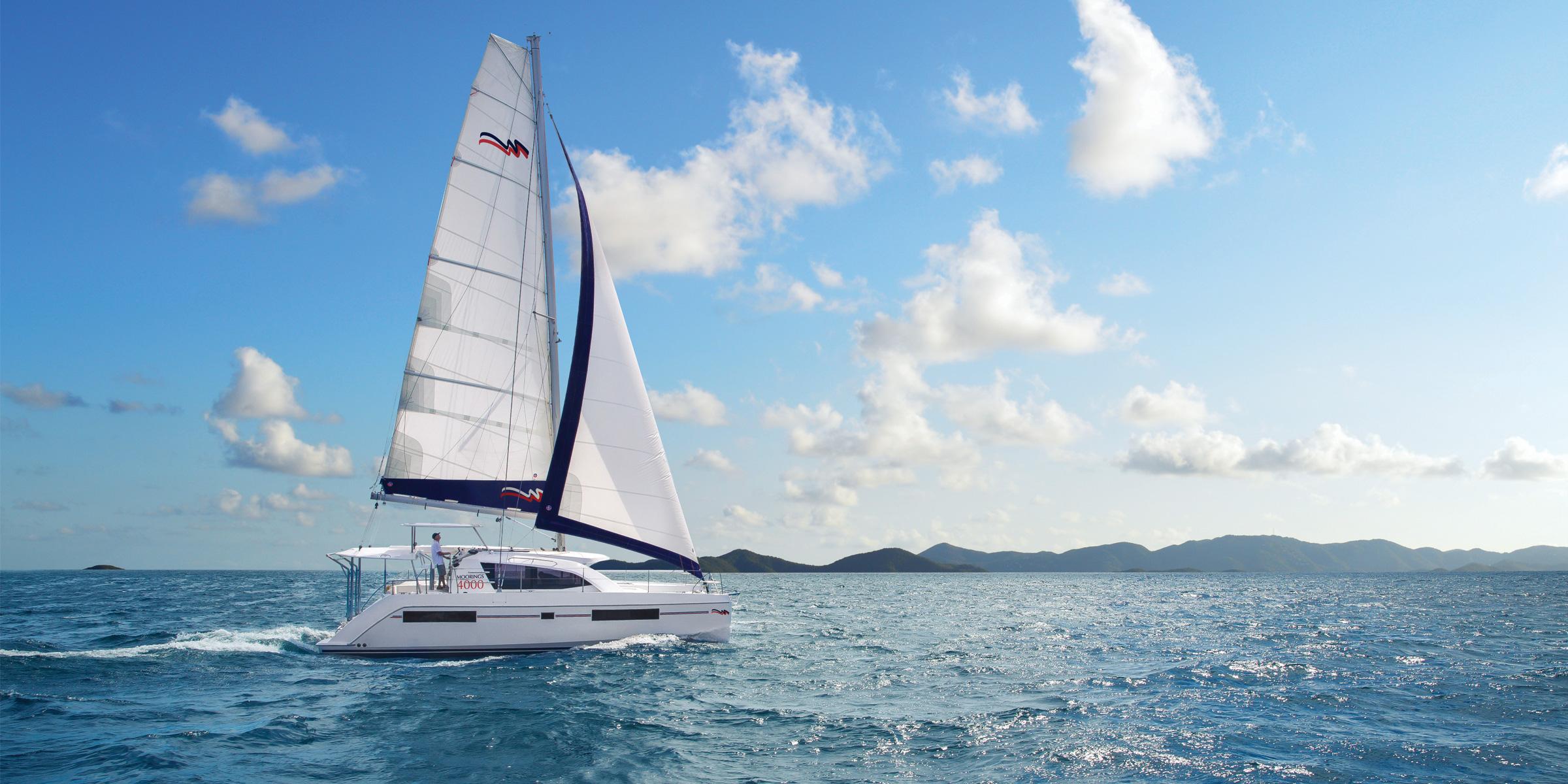 St. Thomas
St. Thomas is the largest and most populous island in the U.S. Virgin Islands, and the starting point for your USVI yacht charter vacation. Due to its busy cruise port and international airport St. Thomas is popular with tourists, offering plenty of shopping, upscale dining and nightlife options. It is glitzier and more highly developed than its sister islands St. John and St. Croix which is part of the pleasant diversity when chartering in the U.S. Virgin Islands. St. Thomas sports more than 40 beaches along its coastline; lined with swaying palm trees they are a beach bum's dream. Whether you prefer long lively beaches with convenient facilities or quiet tucked-away coves, St. Thomas can deliver. Here are our top 3 beaches on St. Thomas: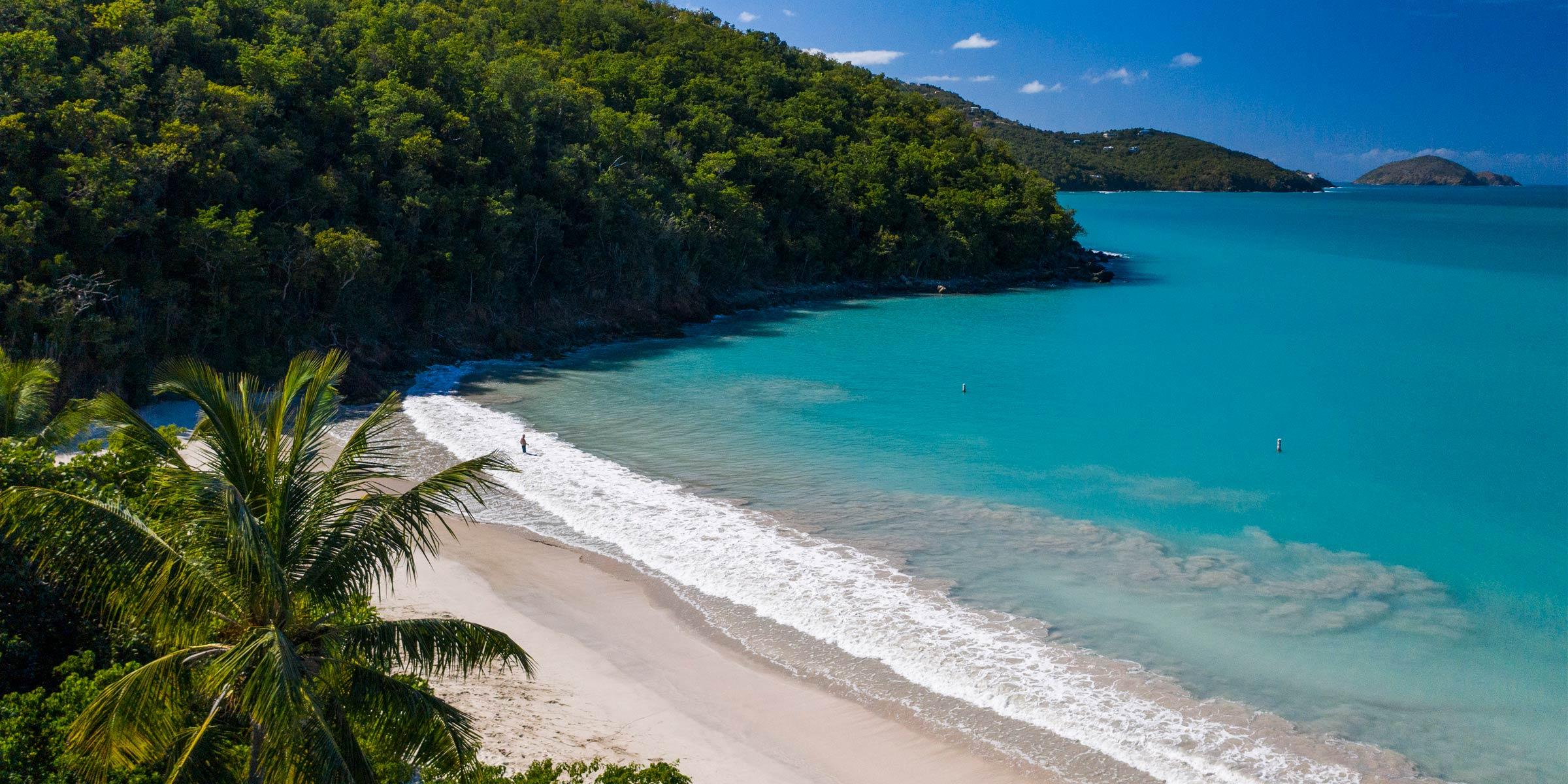 Magen's Bay
Magen's Bay is St. Thomas' most popular beach. Located on the north side of the island, a sugary mile of white sand lines a heart shaped bay with crystal clear waters. Magen's Bay is part of the U.S.V.I. national park system and the government charges a small entry fee of $5 per person to maintain the area. Public bathrooms, showers, a bar and restaurant as well as equipment rentals are available. A lifeguard is also on duty. Its gentle slope and calm water make this beach perfect for small kids. Magen's Bay can get crowded and is especially popular on the weekends when the residents have time to meet with family and friends, or on days when a cruise ship is in port.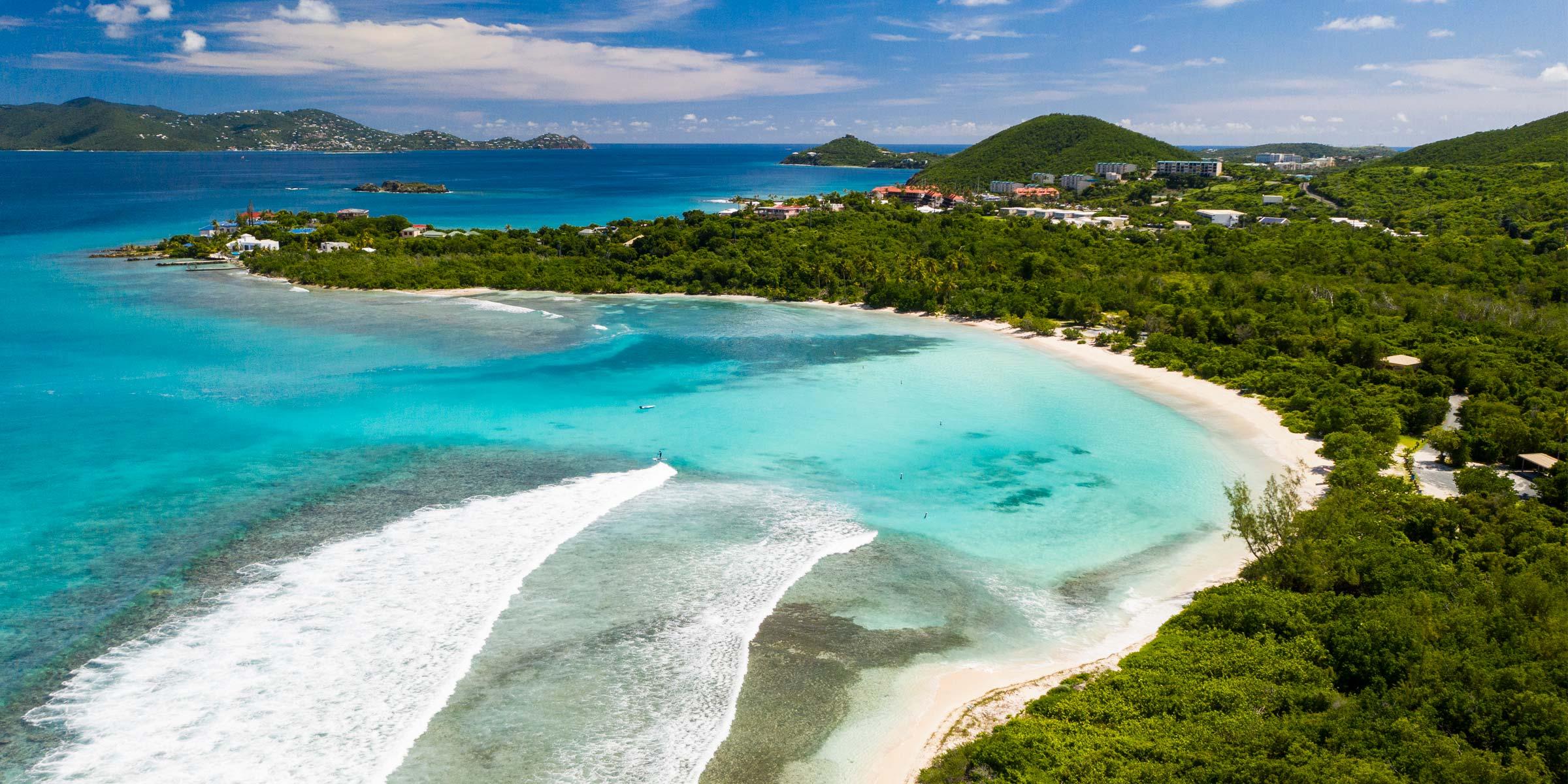 Lindquist Beach
At Lindquist Beach there is also a $5 charge per person. This lovely, undeveloped beach on the East End is smaller than Magen's Bay and usually not crowed. It is clean and well maintained and one of the locals' favorites. The water at Lindquist Beach is pristine and features the perfect turquoise blue Caribbean color visitors crave. Bathrooms, showers, and picnic tables are available. This area offers good snorkeling off to the left side of the beach due to a nearby reef. From here you can enjoy beautiful views of Thatch Cay, St. John and the British Virgin Islands in the distance.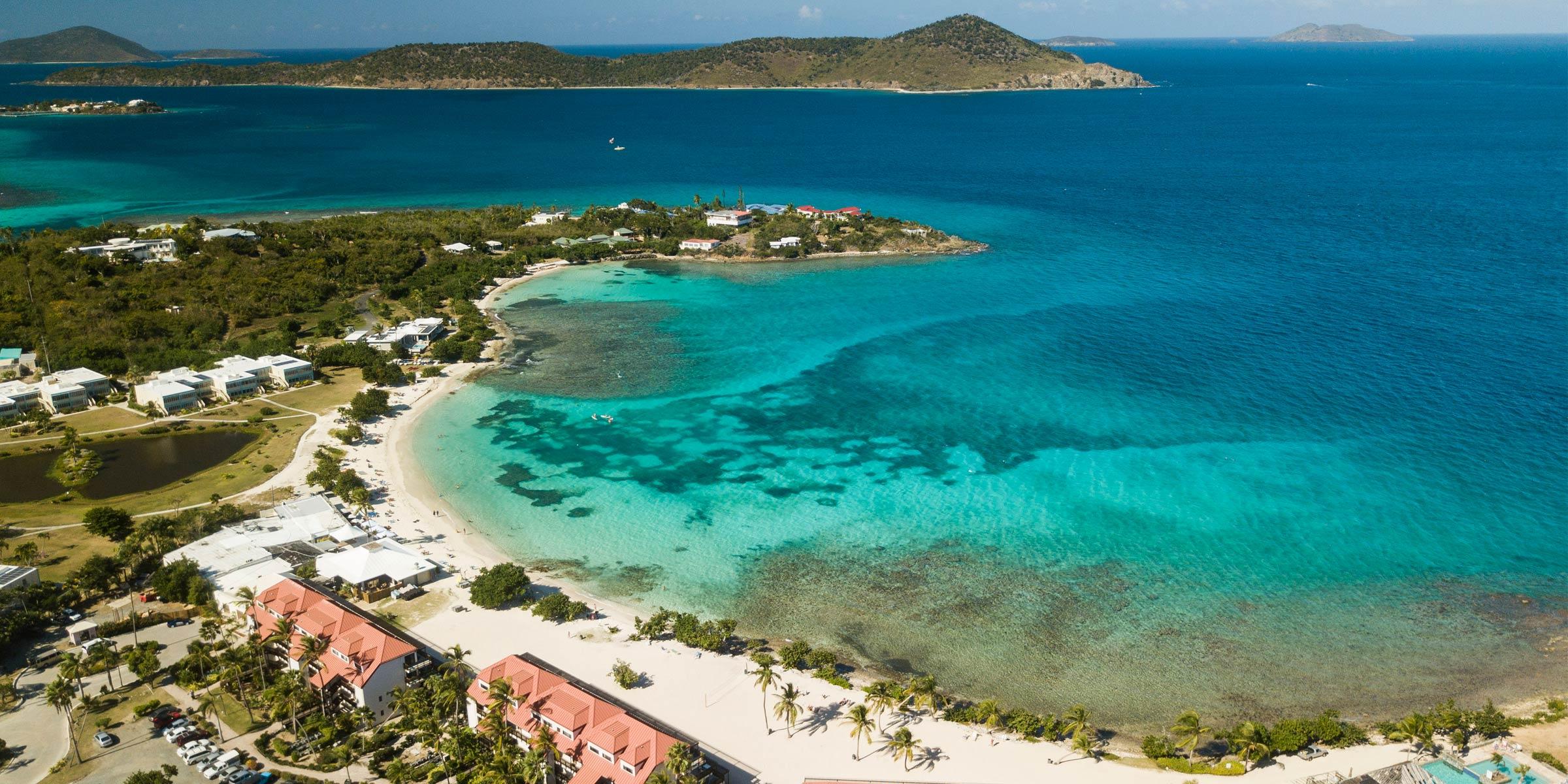 Sapphire Beach
Sapphire Beach is also located at the East End. It is a lively beach with parasailing, kayaking, jet skis and other water sports activities, and many local boaters stopping by. Equipment rentals are available. The beach offers good snorkeling and you can find quite a few places to perch in the shade and relax. Sapphire Beach is also known for its beachside bistro with a fun bar that often features live music.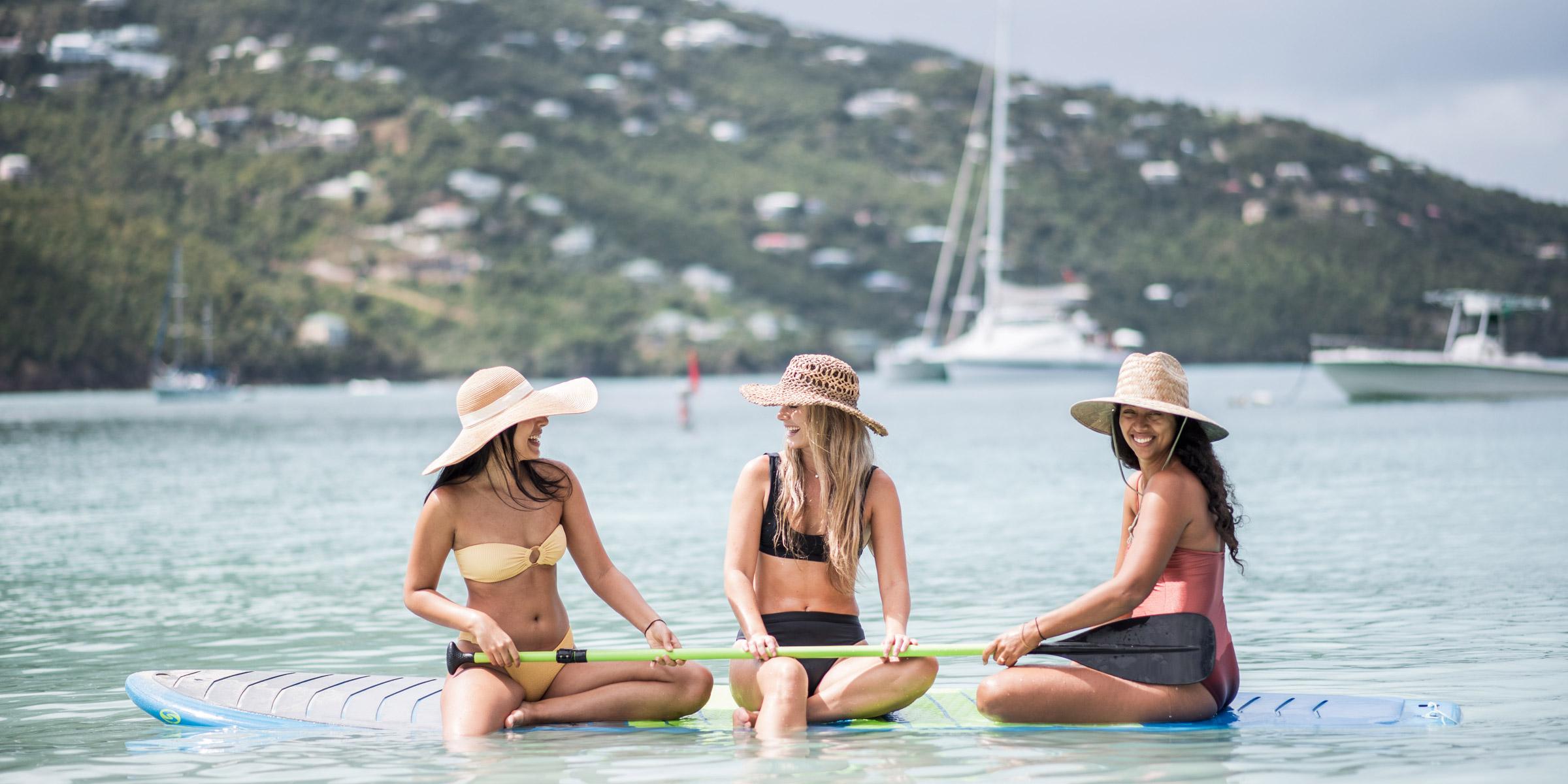 St. Croix
Of the three U.S. Virgin Islands St. Croix is the most remote. It is less commercialized than St. Thomas and St. John and the spotlight is on history, culture, and outdoor activities. The Cruzan Rum Distillery as well as Captain Morgan's Rum call St. Croix their home and during non-COVID times both companies offer factory tours to show you their craft and to enjoy a tasting. St. Croix offers its visitors plenty of beaches to relax and let the world go by, like Rainbow Beach, Judith's Fancy, Shoy Beach and Dorsch Beach, just to name a few. Rocky Northside Valley Beach and The Monk's Bath Tidal Pools deserve a shout-out too. They are very secluded and a lot of fun to explore, but we believe Caribbean beaches should come with plenty of white sand, swaying palm trees, and a tropical breeze; so without further ado, here are our top three beaches on St. Croix:
Turtle Beach
On the west side of Buck Island, an uninhabited island off St. Croix's north western shore, you can find Turtle Beach. Buck Island is a national monument including land, water and coral reef systems, and is only accessible by boat (permit required). The view on St. Croix from Turtle Beach is incredible and the water absolutely stunning. It is possible to hike to the top of Buck Island for even more gorgeous views of the surrounding Caribbean. A picnic area with grills and bathrooms is available. Turtle Beach was voted one the "world's most beautiful beaches" by National Geographic.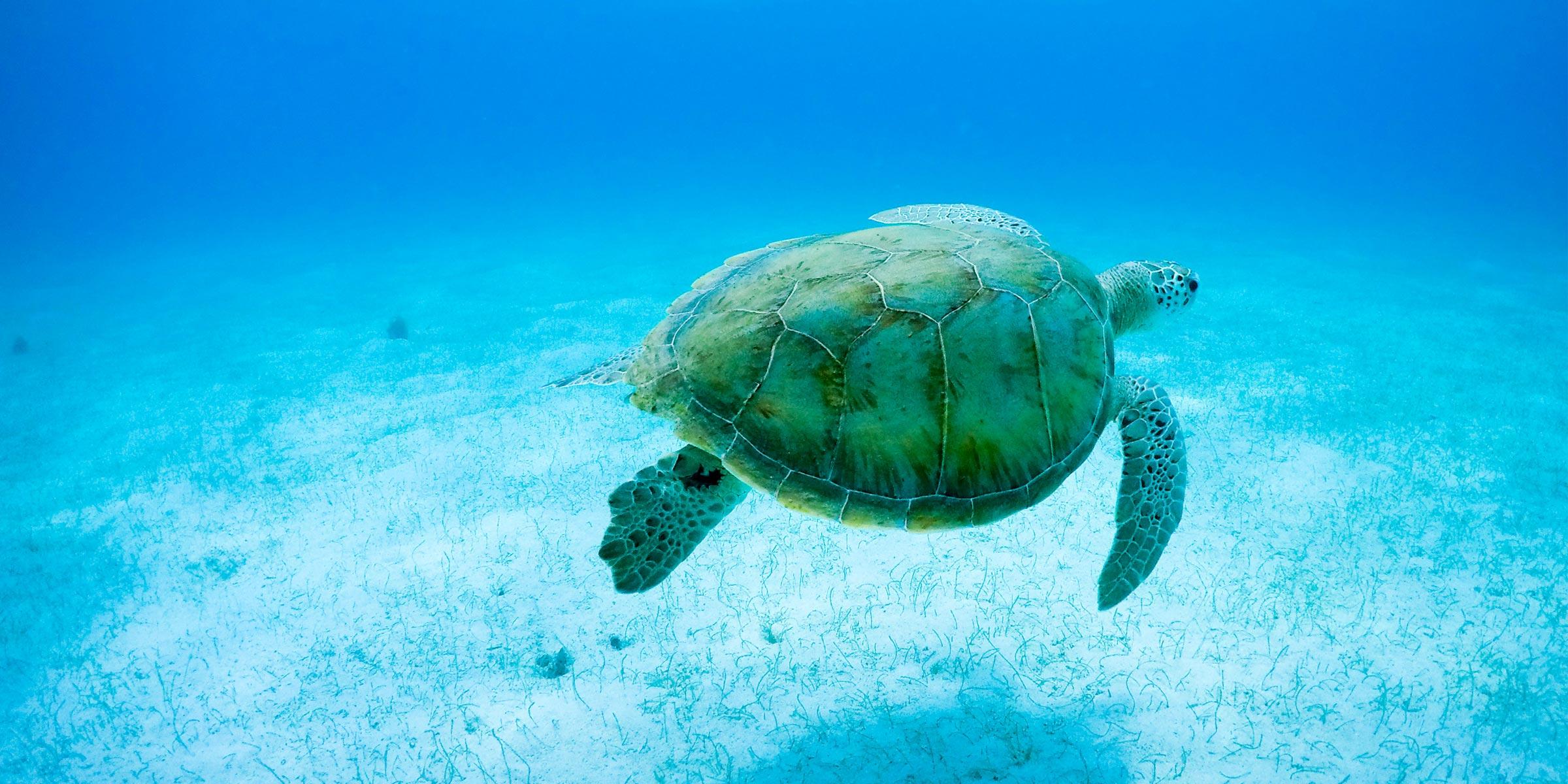 Cane Bay Beach
Cane Bay Beach on the northern side of St. Croix is popular with visitors and locals alike. Families like to come here with their children because it offers easy access to a few restaurants and bars right off the beach and plenty of space to run around and dip into the clear water. Cane Bay is great for snorkeling and known for its famous dive site - the Cane Bay Wall - where divers can spot lobsters, moray eels, turtles, crabs, seahorses, and other species of fish. A dive shop, chair rental, and water sports rentals are available. Try to avoid the weekends when it can get crowded.
Sandy Point Beach
Sandy Point Beach at the island's West End is part of the Sandy Point National Wildlife Refuge and home to more than a hundred species of birds. The beach is only open on Saturday and Sunday and there are no facilities, but it is a great spot for hiking, nature photography and wildlife observation. With its white soft sand and aquamarine water Sandy Point Beach is a nesting habitat for the endangered leatherback sea turtle and therefore closed from April to August. Due to its stunning beauty the 2-mile long beach has been used as production spot for various TV commercials and movies, most notably the final, redemptive scene of "The Shawshank Redemption".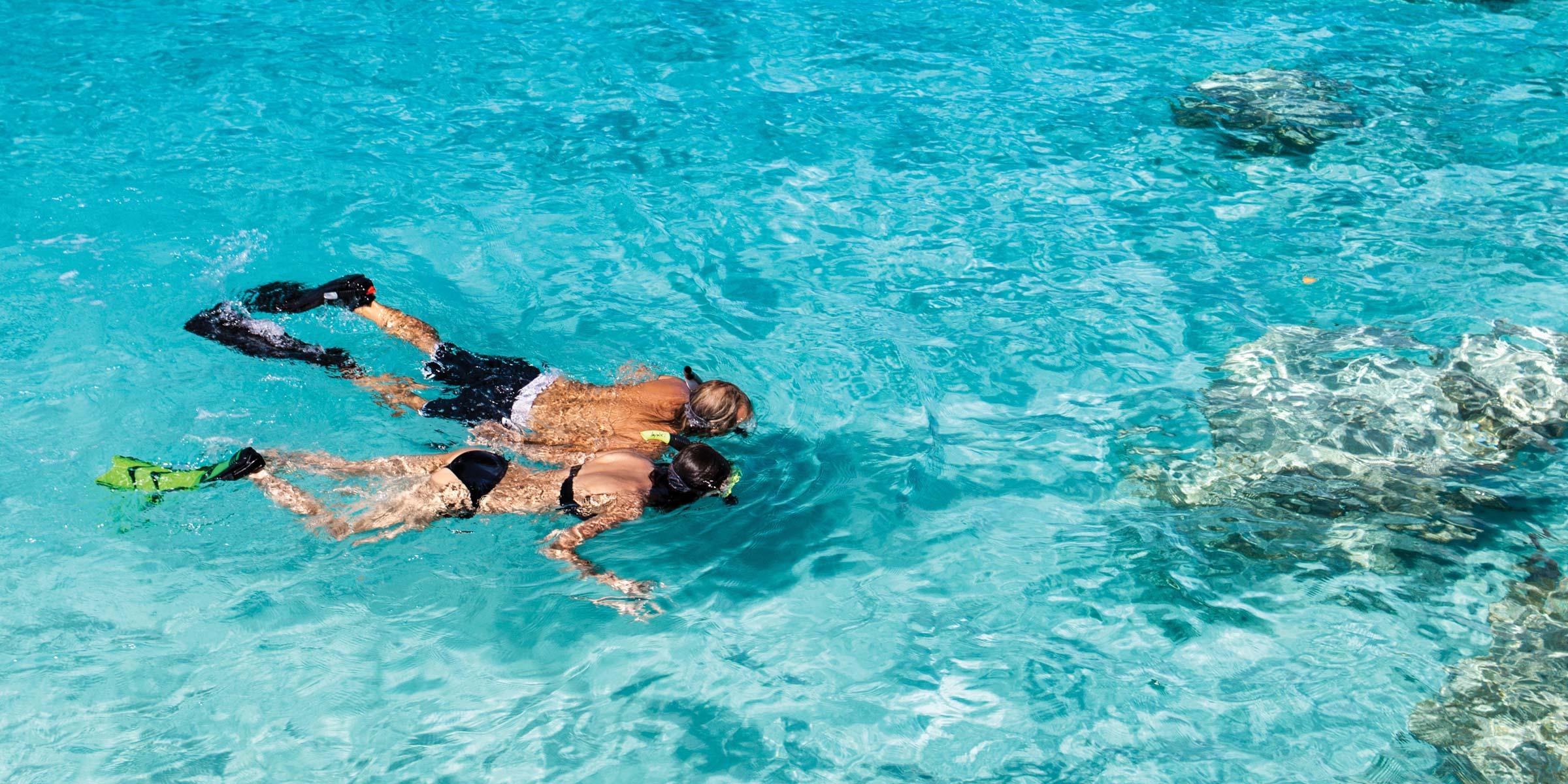 St. John
St. John is the smallest of the three U.S. Virgin Islands. 2/3 of its territory and the surrounding reefs is protected by the U.S. Virgin Island National Park. The island has a laid-back yet exclusive vibe to it and is home to many celebrity residences. Its inviting green hills are ideal for hiking and nature watching and are popular among those who seek solitude. On the island's southern side Salt Pond Bay features a secluded beach with good swimming and snorkeling. Visitors can enjoy a walk along the graded hiking trail that leads to and from the beach and picnic area.
Most of the white-sand beaches that St. John is known for, however, span the island's northern shores. While Honeymoon Bay, Caneel Bay, Hawks Nest Bay, Peter Bay, and Cinnamon Bay all make for enjoyable beach visits when trying to figure out which U.S. Virgin Island has the best beaches, we would like to introduce you to our top 3 beaches on St. John: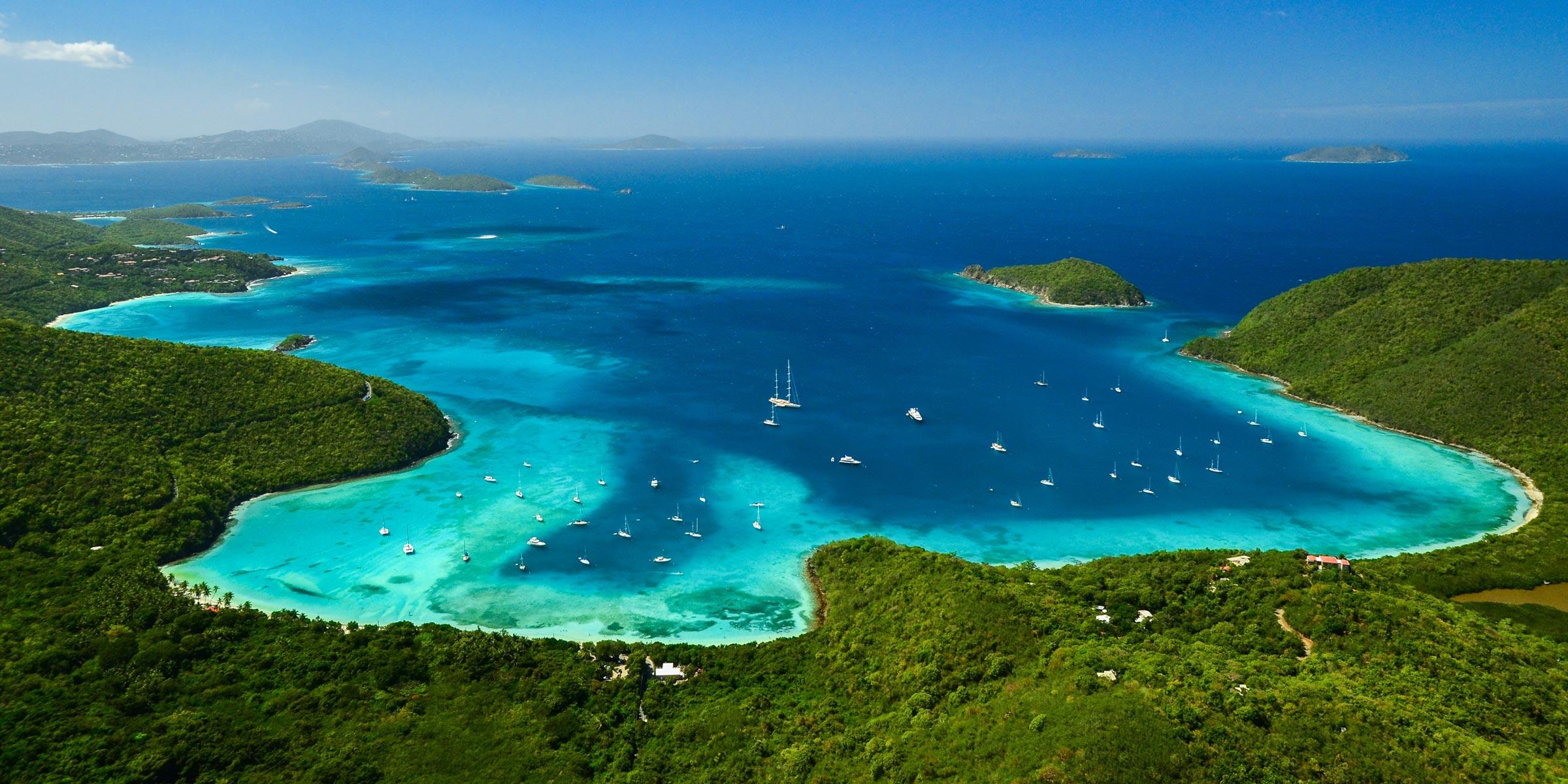 Maho Bay Beach
Maho Bay Beach is well known for its sea turtle population that feeds in the seagrass patches off its shores and is a must-visit on a U.S. Virgin Islands charter vacation. The reefs on the eastern and western side of the beach are great for seeing reef fish during your snorkeling excursion. The gentle sandy beach is wonderful for families with kids that can enjoy the shallow water snorkeling and turtle sightings, and offers plenty of shade. Food trucks, drink stands, and facilities are located on the western end of the beach. Maho Bay Beach is easily reachable via the main road and can get busy due to its sea turtles and convenient location. The beach received a "Best of the Best" 2020 Travelers' Choice Award on Tripadvisor.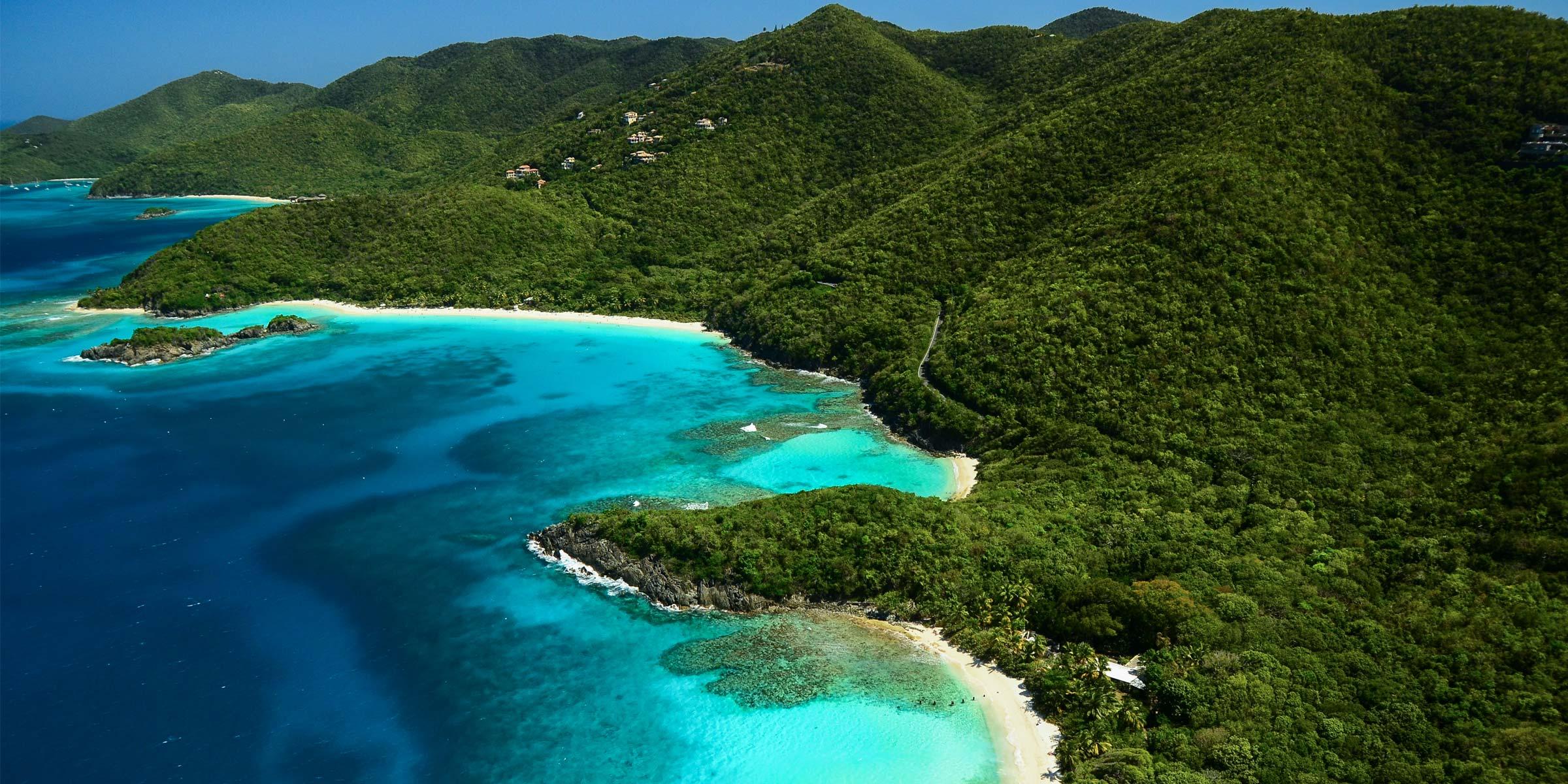 Trunk Bay Beach
Trunk Bay Beach is the most photographed and most visited beach on St. John. Also awarded with a "Best of the Best" Travelers' Choice Award on Tripadvisor in 2020 the beach is part of the U.S. Virgin Island National Park and comes with a small entrance fee (approx. $5/person). One of its unique features is the marked underwater snorkeling trail, the first of its kind worldwide which, like an on-land-nature-trail, offers its visitors informational signs on the various sea creatures you are likely to encounter on a snorkeling trip here. At Trunk Bay you will find a variety of tropical fish, like parrotfish, stingray, tarpon, and squid. The beach also has public bathrooms and showers, and a snack bar. Due to its popularity the beach does get crowded, so come early.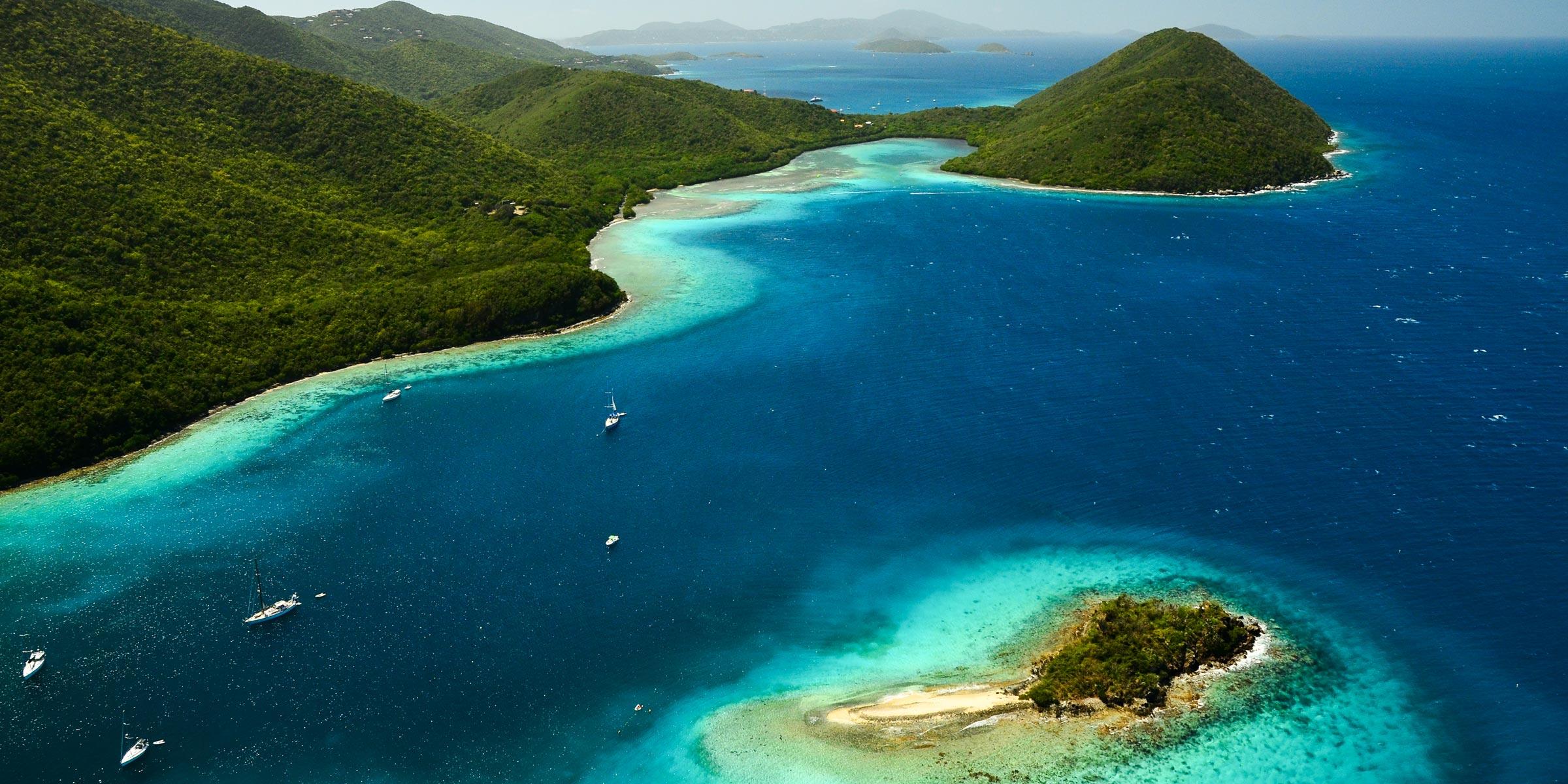 Leinster Bay / Waterlemon Bay
Leinster Bay and Waterlemon Bay offer lovely, often quiet beaches. An easy hike takes you to the old Annaberg Sugar Plantation ruins which make for an interesting visit and great photo opportunities. Just off the coast you will find Waterlemon Cay with some of the best snorkeling on St. John. This little offshore island is surrounded by an abundance of vibrant sea life, like sea urchins, nurse sharks and all sorts of reef fish buzzling around its rocks. The shallow water in the mangrove area are home to juvenile fish. The protected mooring field makes it an ideal stop on a yacht charter vacation. Anchoring is not permitted, to protect the fragile seabed and coral areas.
As you can see the beaches in the U.S. Virgin Islands are as diverse as the islands themselves. We hope that you have found some inspiration to set sail and explore them, and that you will find your perfect beach during your next yacht charter vacation with us.
Did you find this useful?