Published:
March 8, 2017 The Moorings
Comments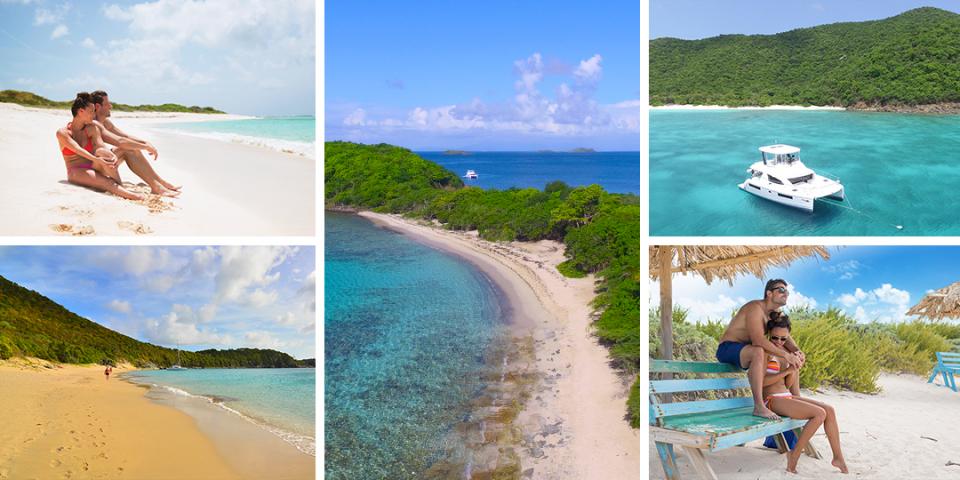 What is it about tranquil turquoise waters accompanied by postcard-worthy palm trees and white sand so soft it feels like sugar in between your toes that transports us to a place of pure relaxation? Pair it with the perfect tropical cocktail complete with a mini toothpick umbrella and suddenly all your cares from the real world are replaced by laid-back hammock vibes and Jimmy Buffett background tunes.
Since nowhere captures the essence of this blissful image like the world-class cruising grounds in the Caribbean, we'd like to share with you some of our favorite hidden coastal gems. So the next time you retreat to the Caribbean for some rejuvenating island time, keep these seven best-kept secret beaches on your radar.
Cow Wreck Beach, Anegada, BVI
Out of the way from the rest of the busier destinations in the BVI, Cow Wreck Beach feels like a little slice of heaven. It is unusual to stumble across a place that boasts both a rave-reviewed bar & restaurant, as well as some of the most pristine scenery around. Declared by many as the "best beach in the BVI", Cow Wreck Beach simply can't be beat.
Loblolly Bay, Anegada, BVI
After spending a day on Anegada's Loblolly Bay, chances are you'll never want to leave. Prepare to immerse yourself in impeccable snorkeling conditions featuring the most vibrantly-colored coral reefs and an array of beautiful tropical fish. This place truly is a secluded piece of paradise.
"We are beach people, raised in Florida and make it a point to visit highly rated beaches not only in Florida, but in all of our travels, and had never heard of this place. How sad. By far, it is the most impressive beach that we have ever seen. Clean clear water, breathtaking color, unique natural soft sand with tiny specks of red coral and the best snorkeling we have ever experienced."
– TripAdvisor Review
White Bay, Guana Island, BVI
If you're enticed by breathtaking views and unrivaled peace & quiet, then White Bay at lushly-green Guana Island is your sanctuary. This ever-enchanting beach in the BVI is home to a set of parallel patch reefs, endless glistening white sand, and calm crystalline water that looks too blue to be true. The snorkeling here is phenomenal and onshore nature's preserved beauty abounds. White Bay beach is a haven away from home.
Prickly Pear Cays, Anguilla, St. Martin
Leave your worries behind at Prickly Pear Cays, where you'll be greeted with pure sugar-like sand, soothing island scenery, and a delightful beach bar serving up delectable drinks and the freshest lobster dishes. This pair of small uninhabited cays, separated by a narrow channel, is one of six marine protected regions in Anguilla. Iconic volcanic rocks characterized by reef limestone offer unique above-water views with a distinctive underwater canyon of ledges and caves below.
"The highlight was when we ordered a lobster. The owner was suddenly gone, and then he returned all wet with a live lobster that he just pulled from the ocean!"
– TripAdvisor Review
Tintamarre, St. Martin
Nestled within the boundaries of the St. Martin Nature Preserve, the island of Tintamarre is a prime location for second to none scenery and once in a lifetime experiences both on and offshore. This uninhabited island is a popular destination for those on a St. Martin yacht charter, as it offers a desirable feeling of seclusion. If you're interested in marine life sightings and snorkeling with sea turtles, Tintamarre is your hot-spot.
Anse du Gouverneur, St. Barths
Even on "crowded" days, Anse du Gouverneur's crescent-shaped beach still feels remote and extremely relaxing. The calm warm water, enchanting rocky coastline, and picturesque stretch of pristine sand invites visitors back to this St. Barth location time and again. In fact, many vacationers describe Anse du Gouverneur as their favorite beach in the Caribbean. Even the passage there offers pleasant cruising conditions and enjoyable moments both on and in the water.
Playa Tamarindo, Culebra (SVI)
Playa Tamarindo is a small pebbly beach located in the unspoiled Spanish Virgin Islands. Just off the coast of Culebra, this stunning place just exudes "paradise". One of the top-ranked snorkeling spots in the world, Playa Tamarindo is a must-see destination during any Puerto Rico yacht charter vacation, especially if you're eager to swim with sea turtles in their natural protected environment.
—
No matter which of these superb beaches you choose to explore first, a Moorings yacht charter is your all-access pass to secluded paradise, where the only thing better than the surroundings is the company. Come aboard and enjoy a healthy dose of sunshine, serenity, and vitamin sea from the deck of your private vacation platform with your favorite VIP crew.
Did you find this useful?