Published:
March 12, 2020 The Moorings
Comments
Grab your fins and get your mask fog-proof ready because we're kicking our way through nature's island-hopping paradise to reveal the best snorkeling in Caribbean sailing destinations. But no matter what sun-and-sea activity you crave most on vacation, you can always count on the Caribbean for extreme relaxation, fun-filled adventures, and unforgettable memories.
This warm-weather wonderland is certainly not lacking in praiseworthy snorkeling spots but there are a handful of locations that really stand out, and they are conveniently sprinkled all throughout the idyllic cruising grounds. Regardless of where you're headed on your next yacht charter vacation, a rave-reviewed snorkeling experience is within reach. And here are the 11 best Caribbean snorkeling spots to put on your radar right now.
Best Snorkeling in the Caribbean:
BVI Snorkeling 

The Indians
Nestled just off of Norman Island, the emerging rocks found at the Indians are popular among charterers so plan to arrive early for several hours of superb Caribbean snorkeling. The four wondrous rock formations are just as remarkable underwater as they are at sea level. Swim through unique narrow passages near the bottom of this protected area where a variety of coral, sea fans, and schools of reef fish flourish.
The Caves
Another Norman Island snorkeling hot-spot, the world-famous Caves are located off of Treasure Point. This series of three caves is riddled with hidden gems but you'll need to bring a flashlight with you for optimal treasure hunting in the areas that are deeper than the 4-foot average here. In addition to harboring colorful coral clusters and a vast marine population, this protected snorkeling site was once used by pirates so you may get lucky and find real buried booty. 
Puerto Rico Snorkeling

Cayo Diablo National Park
Not far from The Moorings base in Fajardo, you can capture a once in a lifetime snorkeling experience at Cayo Diablo National Park. Feast your eyes on the elegant Elkhorn and Staghorn Coral distinctive of this top-rated location where your dream to swim with sea turtles will come true. Cayo Diablo's healthy sea turtle population is the primary reason for this snorkeling destination's claim to fame.
Culebra
Sitting pretty in the middle of the unspoiled Spanish Virgin Islands off the east coast of Puerto Rico, Culebra is home to some of the best snorkeling in the Caribbean, if not the world. Unpolluted waters, undisturbed reefs, and uncrowded cruising grounds offer the most impeccable snorkeling conditions in this best-kept secret Caribbean vacation sanctuary. 
St. Lucia Snorkeling

Anse Chastanet Beach
Stunning St. Lucia's Anse Chastanet beach pairs teeming reefs with abundant marine life for a truly picture-perfect place to snorkel in the Caribbean. The extensive reef, which ranges in depth from 5 to 150-feet deep on the far end, offers superior conditions complete with some less common sea creature sightings including octopus, peacock flounders, puffers, and sea horses.  
The Pitons
Near the base of St. Lucia's vastly popular Pitons, there is an incredible snorkeling site called Anse de Pitons. The wondrous Pitons are breathtaking to look at, but underwater they provide the perfect habitat for a number of aquatic animals.
St. Martin Snorkeling

Happy Bay
Known for its onshore style and top-rated beaches, St. Martin is also home to off-the-beaten-path Happy Bay, a secluded little beach and best snorkeling spot. In addition to the smile-worthy name of this place, there are also plenty of dazzling sights below the surface stretching from one end of the beach to the other where schools of reef fish are frequently spotted.
Turtle Reef
Ranging from 6 to 25-feet deep, it is not surprising that circular Turtle Reef is also a highly-recommended snorkeling destination in St. Martin. Living up to its name, Turtle Reef harbors healthy populations of both Green and Hawksbill sea turtles, as well as a wide range of other marine species. And due to its unique location, you never have to worry about Turtle Reef being crowded.
U.S. Virgin Islands Snorkeling

Coki Beach
From consistently warm temps to calm conditions and excellent visibility, Coki Beach is a slice of snorkeling heaven in St. Thomas. Standing safely in chest-deep water, with plenty of playfully-swimming tropical fish throughout, this serene location can even be explored by snorkelers at night time.
Secret Harbor
Boasting the same superior snorkeling conditions as Coki Beach, Secret Harbor offers a similar experience in a more secluded St. Thomas region. It is not uncommon to encounter sea turtles, porcupine puffers, parrotfish, and manta rays in their natural environment here. 
Waterlemon Cay
Not only does Waterlemon Cay have bragging rights to "#1 St. John attraction" on TripAdvisor, but no Caribbean snorkeling bucket list is complete without it. Conveniently situated atop the north side of the island, Waterlemon Cay is a mecca for thriving marine life and an impressive array of corals amidst the most immaculate conditions.

Collectively, the Caribbean is an island oasis blessed with endless opportunities for unforgettable snorkeling experiences, each one delightful but different from the last. So put your fins up and go discover your favorite snorkeling spots in the British Virgin Islands, St. Lucia, St. Martin, or U.S. Virgin Islands. Or, go all-in and visit all of them!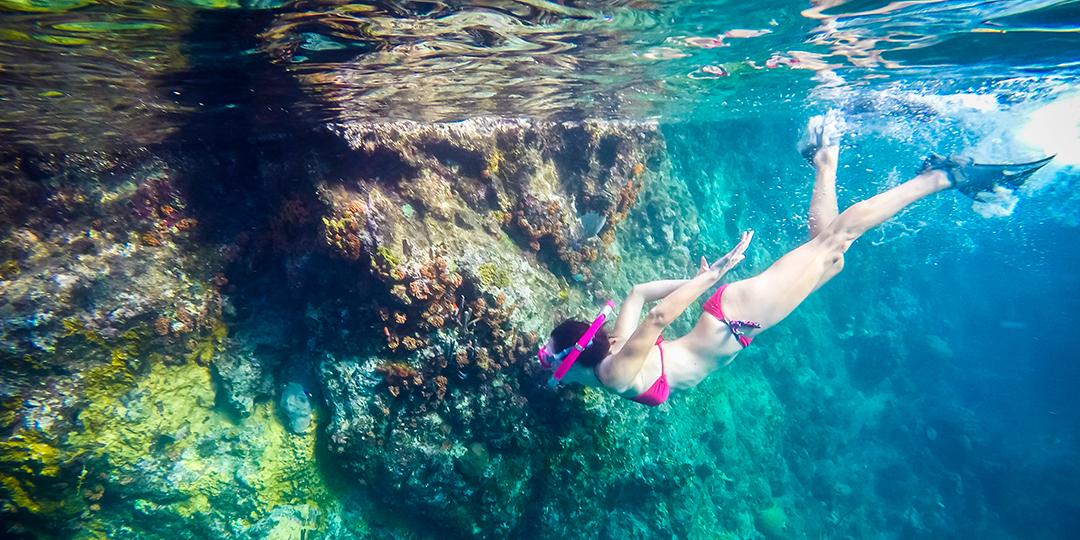 Did you find this useful?