Published:
May 15, 2018 Terese Kerrigan
Comments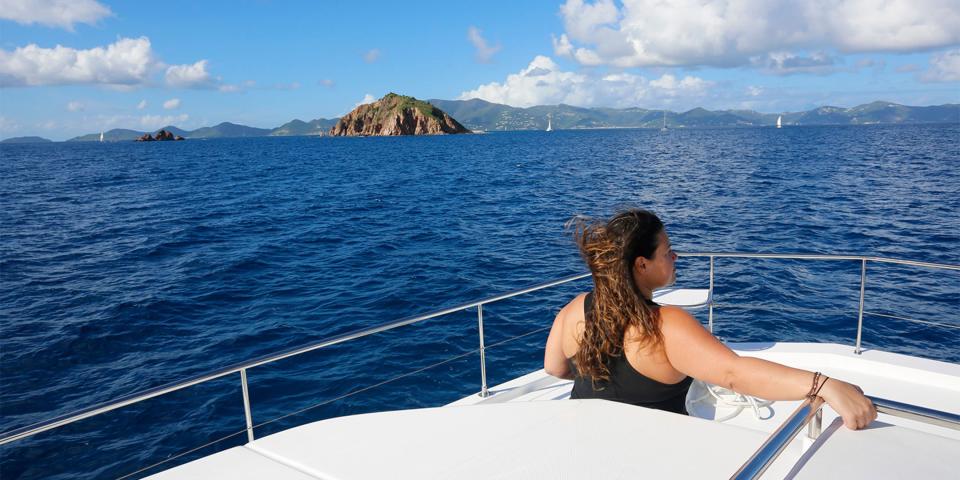 It still feels like yesterday...when the eyes of the world turned towards the Caribbean and watched as Mother Nature proved that she is a force to be reckoned with. And although nothing could have prepared us for the heartbreak and devastation that September's record-breaking storms brought to our beloved British Virgin Islands, we continue to be awe-inspired by the strength and resiliency demonstrated by the local BVI community.
Since the passing of Hurricanes Irma and Maria, this fan-favorite charter destination has not only bounced back in impressive fashion, but many of the local establishments that we have all grown to love have reopened for business, including recent notables such as: 
Cooper Island Beach Club
Corsair's Beach Bar & Restaurant
Hog Heaven Bar & Restaurant
Pusser's Marina Cay – patio dining
Scrub Island Resort
Seddy's One Love Bar & Grill
The Willy T
Recently, we have traveled to the BVI to help you stay in the loop with all the latest news and cruising ground updates. During our visit, we have discovered that the white-sand beaches and turquoise waters are still remarkably beautiful, and snorkeling, diving, kayaking and paddle boarding conditions remain incredible. But don't just take our word for it – read what recent Moorings charter guests are saying and view recent BVI pictures!

Continue browsing our detailed chart below for an updated list of cruising ground establishments that are currently open in the BVI.
What's Open
Airports & Transportation

Terrance B. Lettsome Airport - Beef Island (EIS)
Cyril E. King Airport – St. Thomas (STT)
The Moorings taxi transfers
Road Town Fast Ferry (2 brand new ferries)         

National Park

Markets, Provisioning & Services

One Mart Superstore, Road Town
Rite Way Food Market, Road Town
Cash & Carry, Road Town
Bobby's Marketplace, Road Town         
TICO, Road Town
The Chef's Pantry, Leverick Bay
Trellis Bay Market, Beef Island

 

At The Moorings Base

Sail Caribbean Divers
Renport - Electronics Rentals
Pool
Shower court
Amara Spa
Water Sport Rentals
Online Provisioning
Mariner Inn – Ocean view only
Charlie's Bar & Restaurant     
Mariner Yacht Club Restaurant
Ginny's Coffee Shop

Fuel & Water Locations

The Moorings base
Virgin Gorda Yacht Harbour, Spanish Town, Virgin Gorda
Great Harbour, Jost Van Dyke
Nanny Cay Marina, Tortola
Restaurants
Road Town

Aroma's Cigar Bar
Crandall's
French Deli "La Baguette"
Marche Bar & Grill
Panchie's Food Truck
Pusser's Road Town
Roti Queen
The Watering Hole
Village Cay Restaurant

Tortola – Other

BananaKeet Café, Carrot Bay
Brandywine Estate Restaurant, Brandywine Bay
D' Best Cup, West End
Genaker, Nanny Cay
Gene's, Sea Cows Bay 
HVM Restaurant at JY Marina, East End
Matcha's Bar and Grill
Mulligans, Nanny Cay
Myett's, Cane Garden Bay
Nanny Cay Beach Bar, Nanny Cay
Nigel's Boom Boom Beach Bar & Grill
Paradise Club, Cane Garden Bay
Peg Leg Landing
Pusser's Road Town
Pusser's, West End
Red Rock Restaurant
Tamarind Club, Josiah's Bay

Other Islands

Pirate's Bight Restaurant, Norman Island
Cooper Island Beach Club, Cooper Island
The Willy T, Peter Island
Scrub Island Resort Restaurant, Scrub Island
Pusser's, Marina Cay - patio dining only

 

Virgin Gorda

CocoMaya
Fischer's Cove Beach Restaurant, Spanish Town
Hog Heaven Bar & Resteraunt
Jumbies Bar at Leverick
Oil Nut Bay Restaurant
Restaurant at Leverick Bay    
Snapper's Bar & Grill
Top of the Baths

Jost Van Dyke

Abe's By The Sea
B-Line Beach Bar, Little Jost Van Dyke
Coco Loco's Beach Bar
Cool Breeze Café, Great Harbour
Corsair's Beach Bar & Restaurant
Foxy's Tamarind Bar & Restaurant, Great Harbour
Hendo's Hideout, White Bay
Ivan's Stress Free Bar
LSL Bake Shop & Restaurant
Mimi's Kitchen
Seddy's One Love Bar & Grill
Soggy Dollar Bay, White Bay
Sydney's Peace and Love

Anegada

Anegada Beach Club
Anegada Reef Hotel Restaurant
Big Bamboo, Loblolly Bay
Cow Wreck Beach Bar & Grill
Lobster Trap
Neptune's Treasure Restaurant             
Potter's by the Sea                  
Wonky Dog
Other Notes and Recommendations: 
Bring any specialty food, or items needed for special diets along with you.
Bring extra cash – some establishments are not able to accept credit cards and ATMs are limited.
Bring bug spray, and any required specialty toiletry items/medications.
Restaurant hours are subject to change – radio or call upon your arrival. 
Reservations are recommended where available. 
For more on the latest updates visit the BVI Traveller website at:  www.bvitraveller.com
*Opening information for BVI establishments are up to date as of August 28, 2018, and are subject to change.
Please check establishment websites and/or call them directly for the most up to date information.

Did you find this useful?