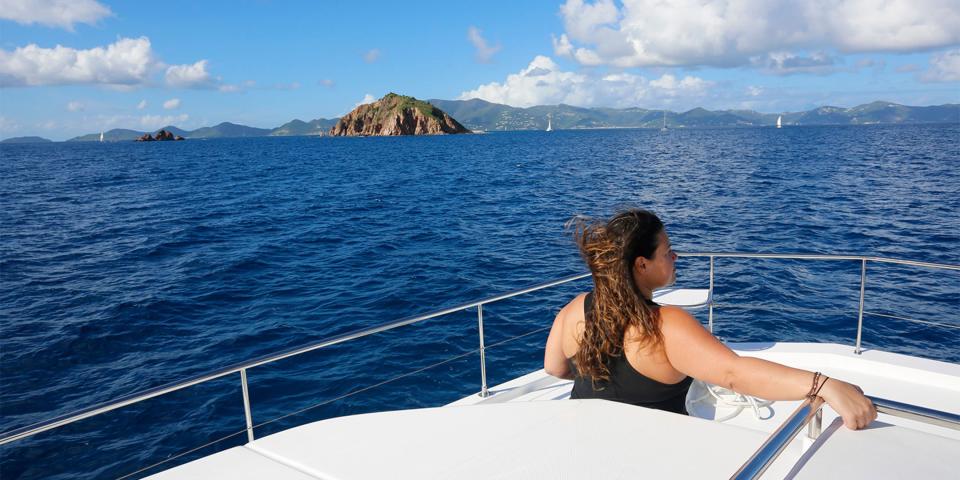 BVI Open for Business
Restaurants & Stores Open after Hurricane Irma
Planning a yacht charter vacation in the British Virgin Islands? Use our convenient listing to stay up-to-date on what's open in the BVI cruising grounds following September's record-breaking hurricane activity.
In December of 2017, we sent two Moorings staff members to tour the BVI to bring you even more first-hand accounts of current conditions. BVI beaches and waters are still absolutely beautiful, and snorkeling, diving, kayaking and paddle boarding conditions are excellent as well.
Use the following as a quick reference to some of our charter guests' favorites, but keep in mind that this is not a comprehensive listing. Rest assured, though, there are hundreds of establishments throughout the islands that are open and waiting to welcome you back! You may also wish to view our BVI Comeback Tour blog and video – a detailed review and recommended itinerary from our recent staff yacht charter in the British Virgin Islands.

Airports & Transportation

Terrance B. Lettsome Airport - Beef Island (EIS)
Cyril E. King Airport – St. Thomas (STT)
The Moorings taxi transfers
Road Town Fast Ferry (2 brand new ferries)         

National Park

Markets, Provisioning & Services

One Mart Superstore, Road Town
Rite Way Food Market, Road Town
Cash & Carry, Road Town
Bobby's Marketplace, Road Town         
TICO, Road Town
The Chef's Pantry, Leverick Bay
Trellis Bay Market, Beef Island

 

At The Moorings Base

Sail Caribbean Divers
Renport - Electronics Rentals
Pool
Shower court
Amara Spa
Water Sport Rentals
Online Provisioning
Mariner Inn – Ocean view only
Charlie's Bar & Restaurant     
Mariner Yacht Club Restaurant
Ginny's Coffee Shop

Fuel & Water Locations

The Moorings base
Virgin Gorda Yacht Harbour, Spanish Town, Virgin Gorda
Great Harbour, Jost Van Dyke
Nanny Cay Marina, Tortola
Restaurants
Road Town

Aroma's Cigar Bar
Crandall's
French Deli "La Baguette"
Marche Bar & Grill
Panchie's Food Truck
Pusser's Road Town
Roti Queen
The Watering Hole
Village Cay Restaurant

Tortola – Other

BananaKeet Café, Carrot Bay
Brandywine Estate Restaurant, Brandywine Bay
D' Best Cup, West End
Genaker, Nanny Cay
Gene's, Sea Cows Bay 
HVM Restaurant at JY Marina, East End
Mulligans, Nanny Cay
Myett's, Cane Garden Bay
Nanny Cay Beach Bar, Nanny Cay
Peg Leg Landing
Pusser's Road Town
Pusser's, West End
Red Rock Restaurant
Tamarind Club, Josiah's Bay

Norman Island

Virgin Gorda

CocoMaya
Fischer's Cove Beach Restaurant, Spanish Town
Oil Nut Bay Restaurant
Restaurant at Leverick Bay    
Snapper's Bar & Grill
Top of the Baths

Jost Van Dyke

Abe's By The Sea
B-Line Beach Bar, Little Jost Van Dyke
Coco Loco's Beach Bar
Cool Breeze Café, Great Harbour
Foxy's Tamarind Bar & Restaurant, Great Harbour
Hendo's Hideout, White Bay
Ivan's Stress Free Bar
Soggy Dollar Bay, White Bay
Sydney's Peace and Love

Anegada

Anegada Beach Club
Anegada Reef Hotel Restaurant
Big Bamboo, Loblolly Bay
Cow Wreck Beach Bar & Grill
Lobster Trap
Neptune's Treasure Restaurant             
Potter's by the Sea                  
Wonky Dog
Other Notes and Recommendations: 
Plan more meals aboard, as there are fewer restaurant options available.
Bring any specialty food, or items needed for special diets along with you.
Bring extra cash – some establishments are not able to accept credit cards and ATMs are limited.
Bring bug spray, and any required specialty toiletry items/medications.
Restaurant hours are subject to change – radio or call upon your arrival. 
Reservations are recommended where available. 
Visit the BVI Tourism Board for further updates:   bvitourism.com/tortola-update      
*Opening information for BVI establishments are up to date as of January 10, 2018, and are subject to change.
Please check establishment websites and/or call them directly for the most up to date information.

Did you find this useful?