Published:
April 22, 2019 Paula Carvalho
Comments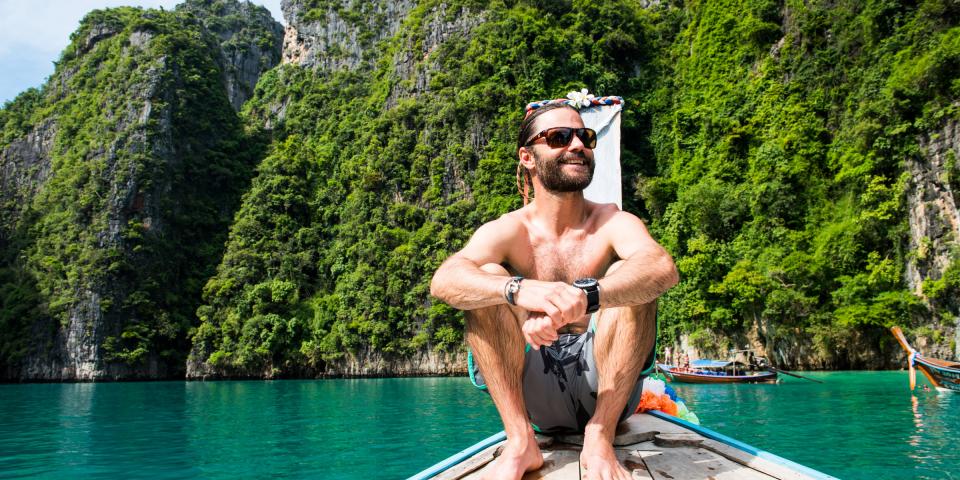 The Moorings Sales Advisor Paula Carvalho sure likes to travel. In her 4 years with our company, she has explored our cruising grounds near and far from St. Martin to St. Lucia and from the Bahamas to the British Virgin Islands! Recently, Paula and friends island-hopped their way through exotic Thailand and she can't wait to share some valuable insider tips on what you should know before you go...
Thailand. An exotic destination. A far, exotic destination. A mysterious, yet recently popular place. What to share? Should I emphasize one of the most magnificent cruising grounds with breathtaking limestone cliffs and emerald-colored waters or focus more on the cultural beauties that it offers from friendly smiles, relaxing massages and delicious Thai cuisine? Should we dive into the activities ashore or focus more on the benefits of a charter vacation?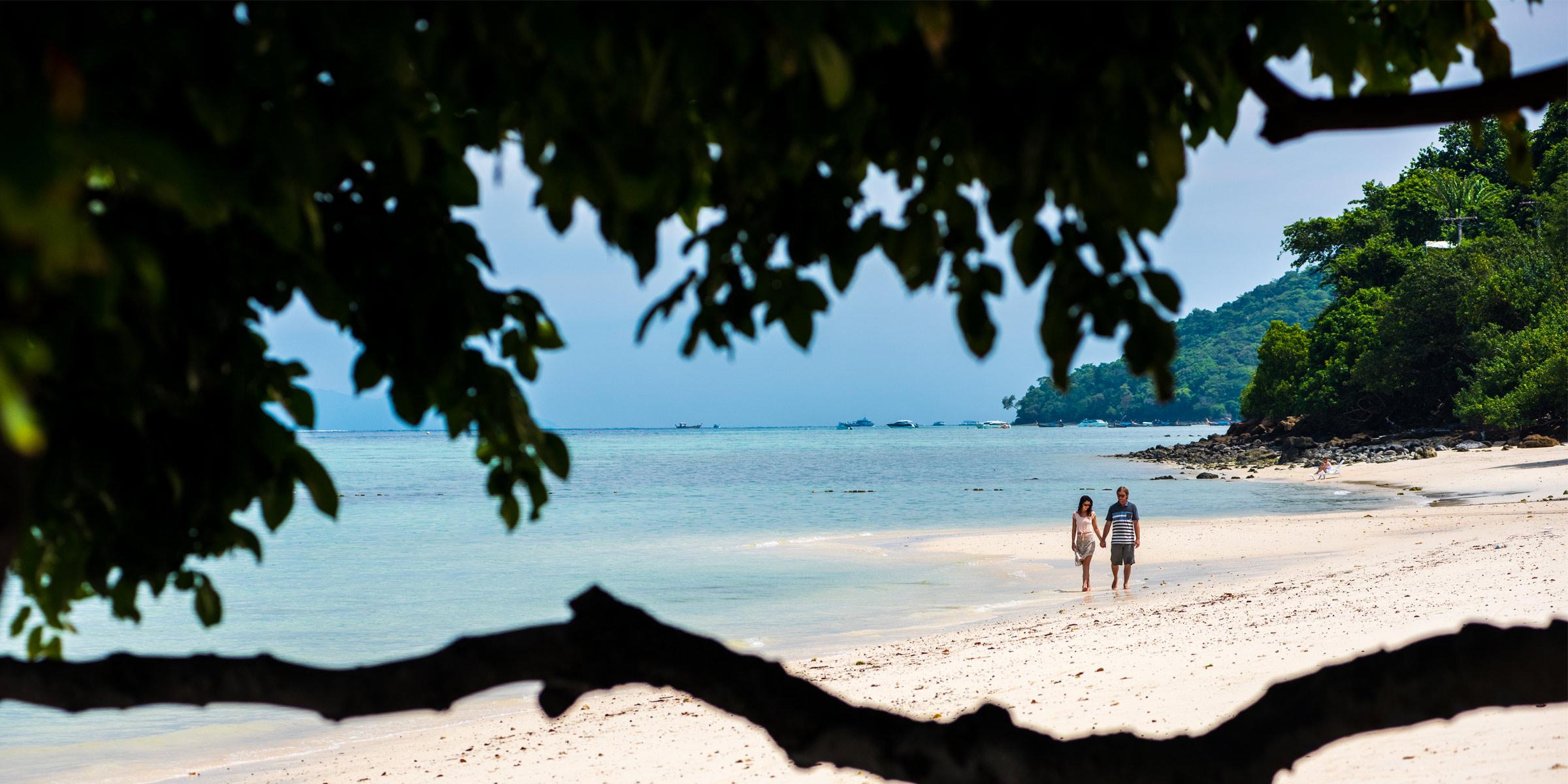 The first thing is: GO! Experience this place for yourself. Chances are, if you are reading this, you are probably traveling from somewhere far. I promise it will be worth the long travel time. My tip here is to plan well. This is an extensive and distant trip, so make sure you are also considering the travel and adjustment times. If possible to overnight where your main connection is, I strongly recommend doing so. This is where you can get creative and think of somewhere fun for that connection, we, for example, flew via Dubai and our friends via Bangkok.
The Thai sailing grounds aren't difficult per se but can be very tricky in terms of high and low tide, being classified as a level 2 difficulty (on a scale of 1-5). If looking to cruise by the southern parts of the Andaman Sea the passages will be longer with 3-6-hour crossings. We took out the Moorings 514PC and really felt that we had the power advantage on our side, allowing us to be more flexible with longer distances. We went early February, NE Monsoon season when it is consistently dry, sunny and hot.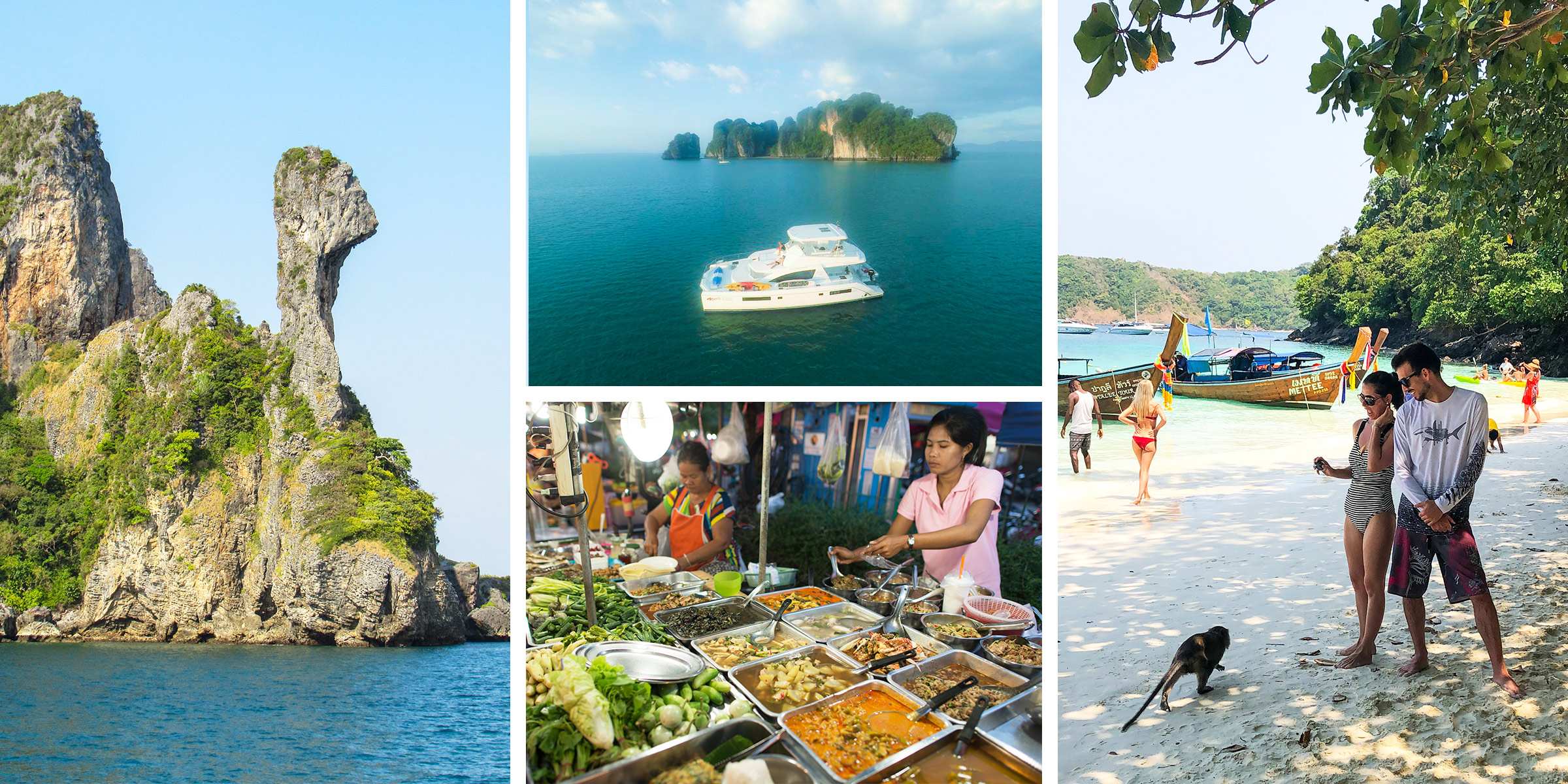 Thailand has become a very popular tourist destination, which comes with some downfalls. This is where being aboard your private yacht charter really sets apart the experience. Early in the morning or as the sun is setting you to get to enjoy a peaceful almost remote feel. During the day, however, there is overwhelming traffic from loud long-tail and hotel speedboats coming in and out of the islands - one of the main reasons why we preferred the southern islands of Ko Rok. Being far out, the long tail boats don't really come here. Secluded from the mainland, Ko Rok was also our favorite because of the beautiful turquoise pristine waters and tranquility it offered. Best snorkel spot that we found too!
On the positive side, Thailand is so popular because of its unique diversity, having something for everyone to enjoy. The options are endless, from doing all of the popular tourist attractions like playing with monkeys on Monkey Beach, taking your most-liked Instagram picture on James Bond island, and visiting and snorkeling by the famous Phi Phi Islands, to enjoying a more low-key life and hanging out at the Ao Po Marina with its stunning infinity pool, fitness center and restaurant, to being more adventurous and heading south on the Andaman Sea to enjoy a more exclusive experience by Ko Lanta where we got to kayak, cave tour, and much more.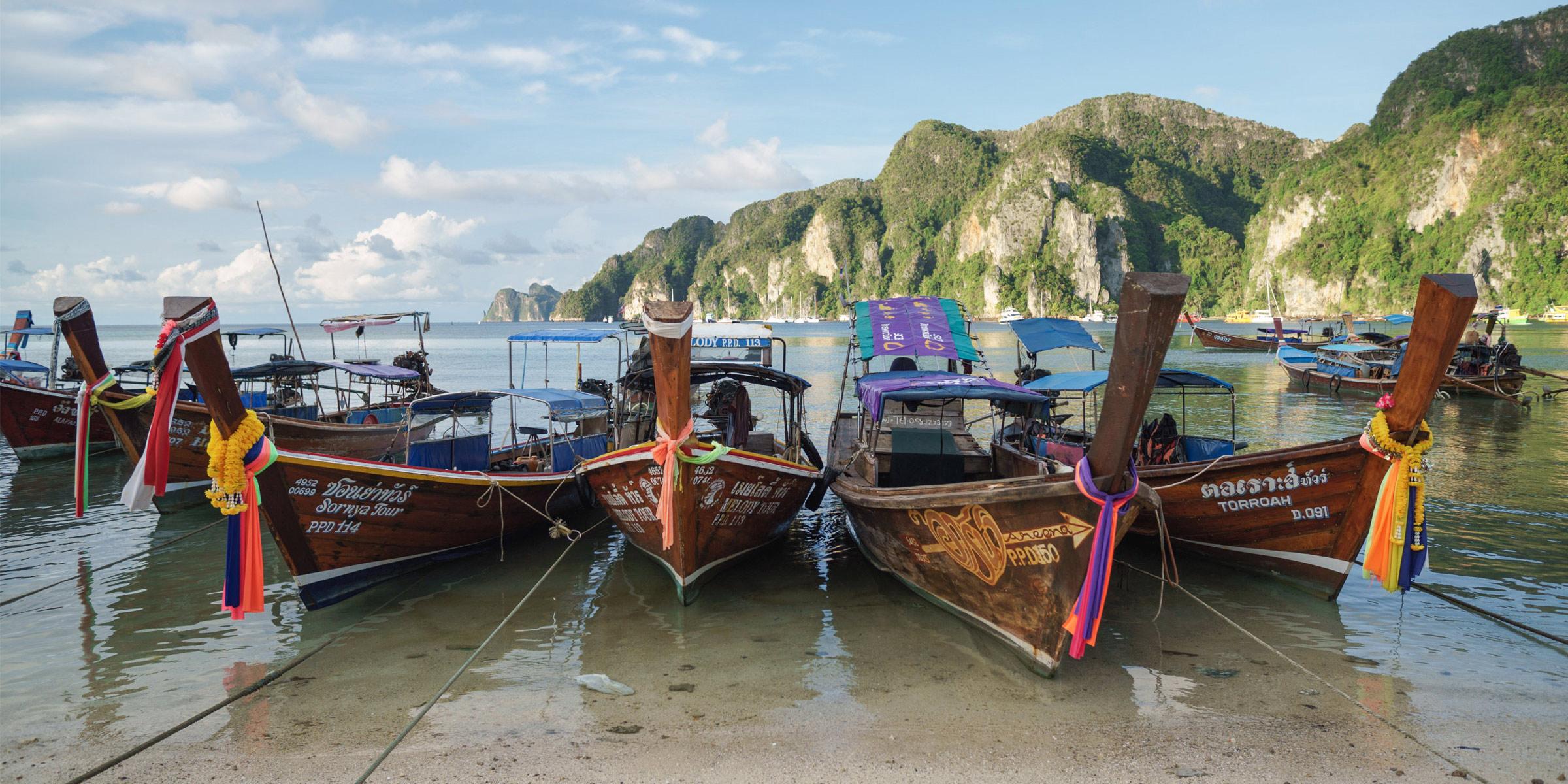 Besides having a low exchange rate (1$ Thai Baht = 0.031/32 USD), Thailand is also a VERY inexpensive destination. My husband and I each took out less than $500 USD / roughly 15,800$Baht (ATM available at the Ao Po Marina) which lasted us the entire trip. All our expenses through the charter were paid in cash and we came home with about 200Baht (8$) leftover! We chartered for about 9 days. To really put things in perspective, one of our favorite nights was when we overnighted at Amphoe Ko Lanta and the six of us went ashore for massages and dinner. We each got a 1-hour massage (coconut oil or aloe vera available for those with sunburns), had dinner with appetizers, drinks and desserts, and total, per person, was less than $40 USD including the massage, the tip, and the feast! Pad Thai, morning glory, fried rice inside the pineapple, mango sticky rice, banana fritters, and bottles of Shanghai are just some of the goodies that we relished on that night.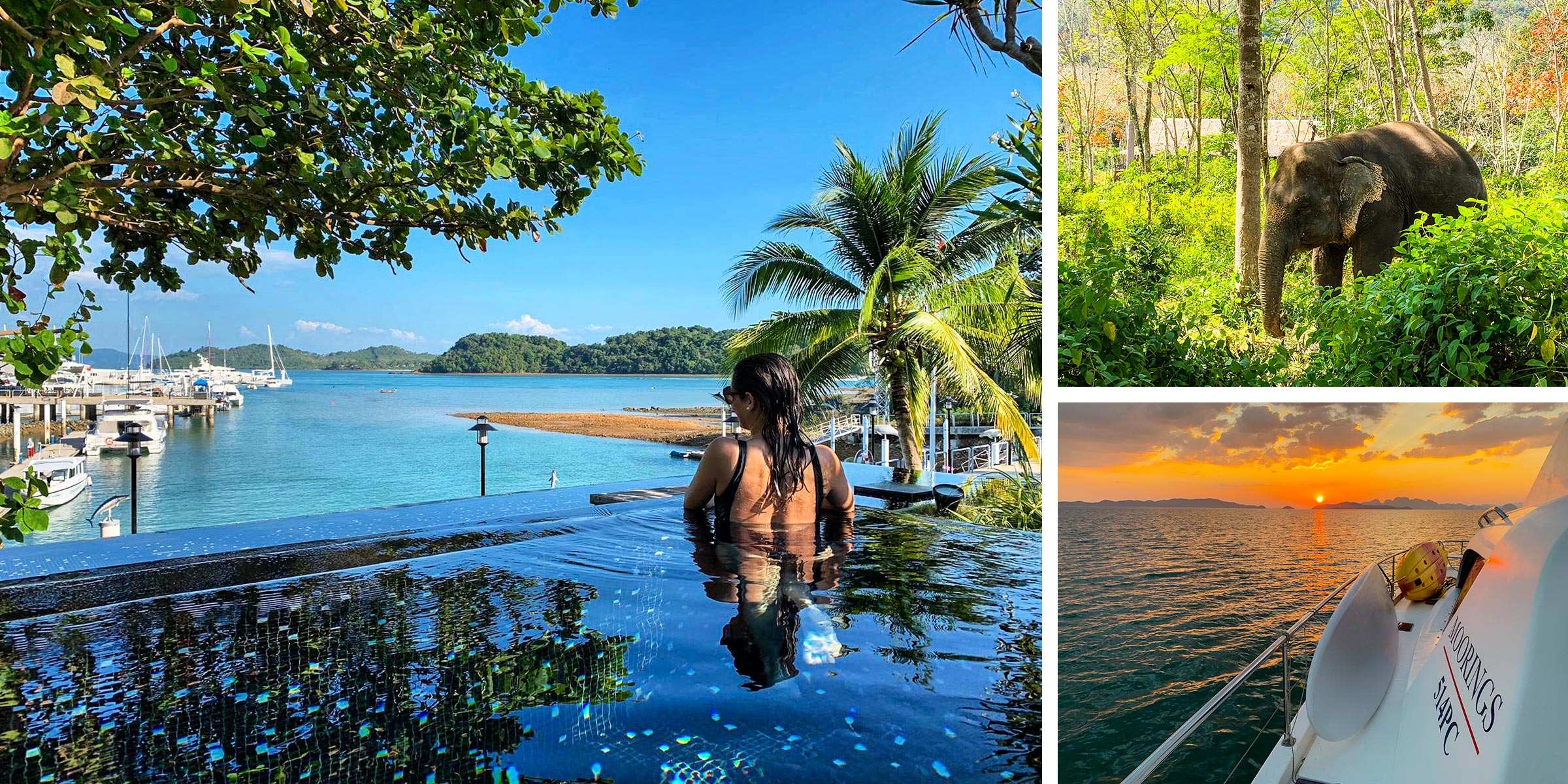 For me though, even before the massages and cuisine, the highlight of it all was the elephant sanctuary tour. Sadly, even though the elephant is the national animal of Thailand, they are terribly exploited for work and leisure. The Phuket Elephant Sanctuary does inspiring work in rescuing these brilliant creatures. We got to feed them, learn about their past and see them enjoy living a happy free elephant life in their natural habitat. This experience was really moving and emotional and I hope you have the pleasure of enjoying it too. It was $100 USD per person, plus any extra tip, shopping or donation you want to make there and just a quick 10-to-15-minute taxi ride from the Ao Po Marina, where the Moorings staff easily helped us arrange everything. They have two tours available during the day and I recommend doing the earlier one due to the afternoon heat. They welcome you with fresh breakfast and thank you with a delicious Thai lunch (all included in the fee). They also provide boots so no need to pack "appropriate shoes," if wanting to save room in the luggage.
Thailand was as inspirational and humbling as expected, and yet, it completely took my breath away and I will be forever grateful for this unique experience.
"Ka Pom Ka" (Thank You)
Did you find this useful?