Published:
May 18, 2021 The Moorings
Comments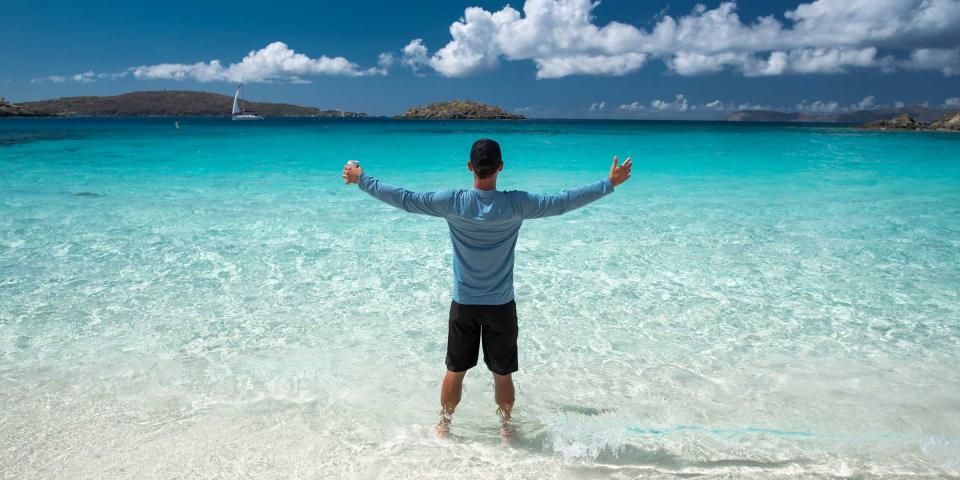 By Ian Pedersen
In ten years of working in the charter industry, I had inexplicably never sailed the U.S. Virgin Islands. When The Moorings opened a new charter operation in St. Thomas, finally I had the opportunity to explore what had previously only been hills on the horizon to me. I instantly fell in love, and in fact many of the preconceived notions I had about the USVI were completely dispelled. If you are interested in chartering a yacht the U.S. Virgin Islands, here is everything you need to know before setting sail in this beautiful cruising ground.
Editor's note: I only had a few short days on charter, so we did not have time to visit St. Croix on this trip. The outline below only encompasses St. Thomas and St. John, but if you are on a 6- or 7-day private yacht charter you can easily include St. Croix in your U.S. Virgin Islands sailing itinerary.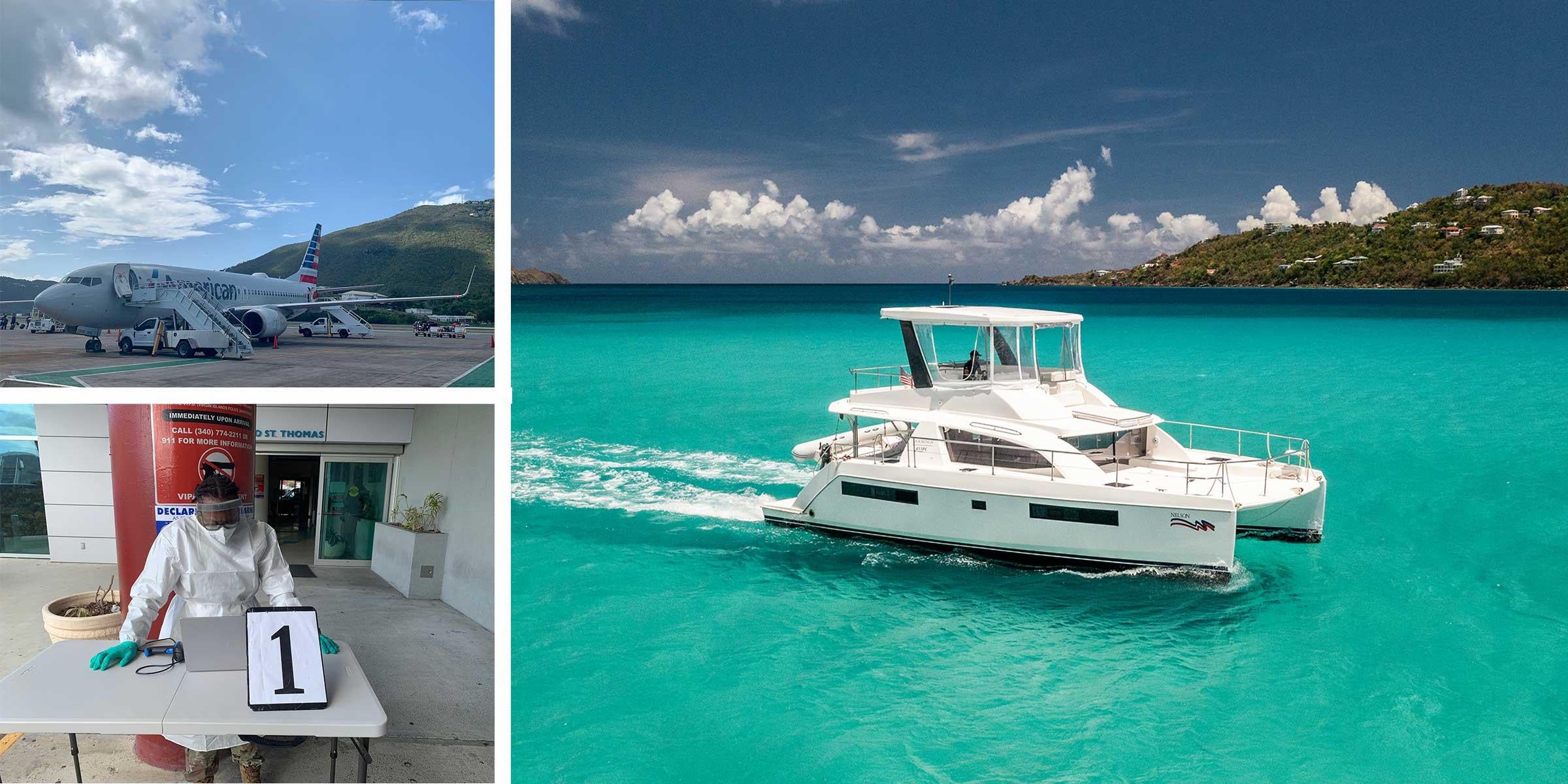 Getting There
The first thing that is readily apparent is just how easy it is to get to the U.S. Virgin Islands. Cyril E. King Airport in St. Thomas is a major hub in the Caribbean, accommodating direct flights from multiple U.S. cities including Miami, New York, Atlanta and Dallas, just to name a few. No passport is required for U.S. residents.
The COVID travel protocols to get to the U.S. Virgin Islands were very manageable. They accept a rapid test, which I took on a Tuesday afternoon prior to my flight on a Friday. I then plugged in my negative test results into the USVI Travel Portal, which consisted of maybe 8 questions and my personal information and received approval to travel within 24 hours.
Upon arrival visitors are treated to the distinctly Caribbean experience of walking down the stairs from the plane directly to the tarmac to make your way to the terminal. There is no Customs officer here for U.S. Travelers, but we did have to stand in line for perhaps 20 minutes while each passenger was temperature checked, and your negative test result was verified with your valid ID. That was it.
Tip for Moorings guests: When hailing a cab from the airport, tell your driver to go to Yacht Haven Grande Marina in Charlotte Amalie. Cab fare was $12 per person and it took 10 minutes from the airport to the marina. Interestingly they still drive on the left side of the road even though it is a U.S. territory.
Upon arrival at Yacht Haven Grande, tell the driver to drop you off at "Badass Coffee". It is right in the middle of the marina complex, and the shortest route to The Moorings office to check in.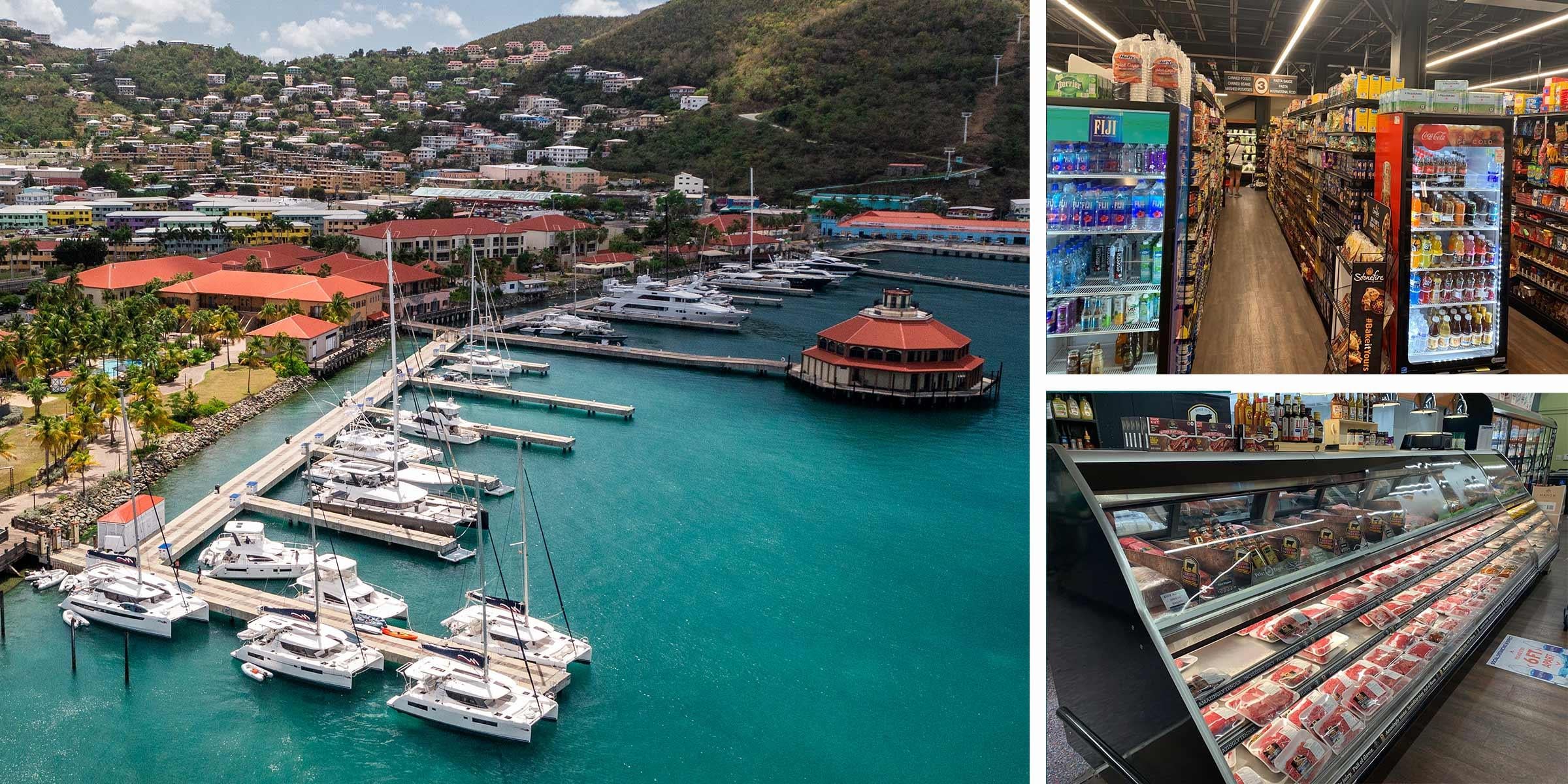 The Marina
Yacht Haven Grande is beautiful and has everything a weary traveler could want: a sushi restaurant right next to The Moorings office, high-end shops, a Caribbean restaurant, bars, outdoor seating, a pool, volleyball court, bathrooms (but no showers), and Moorings passengers have free access to all of the amenities.
Moe's Market is a decent-sized grocery store right on the marina property. It is on the other side of the marina and so is a bit of a walk from the boat, but they offer the option to deliver the groceries for you once you do your shopping. We were settled into our boat and provisioned in no time, ready to begin our adventure the next day.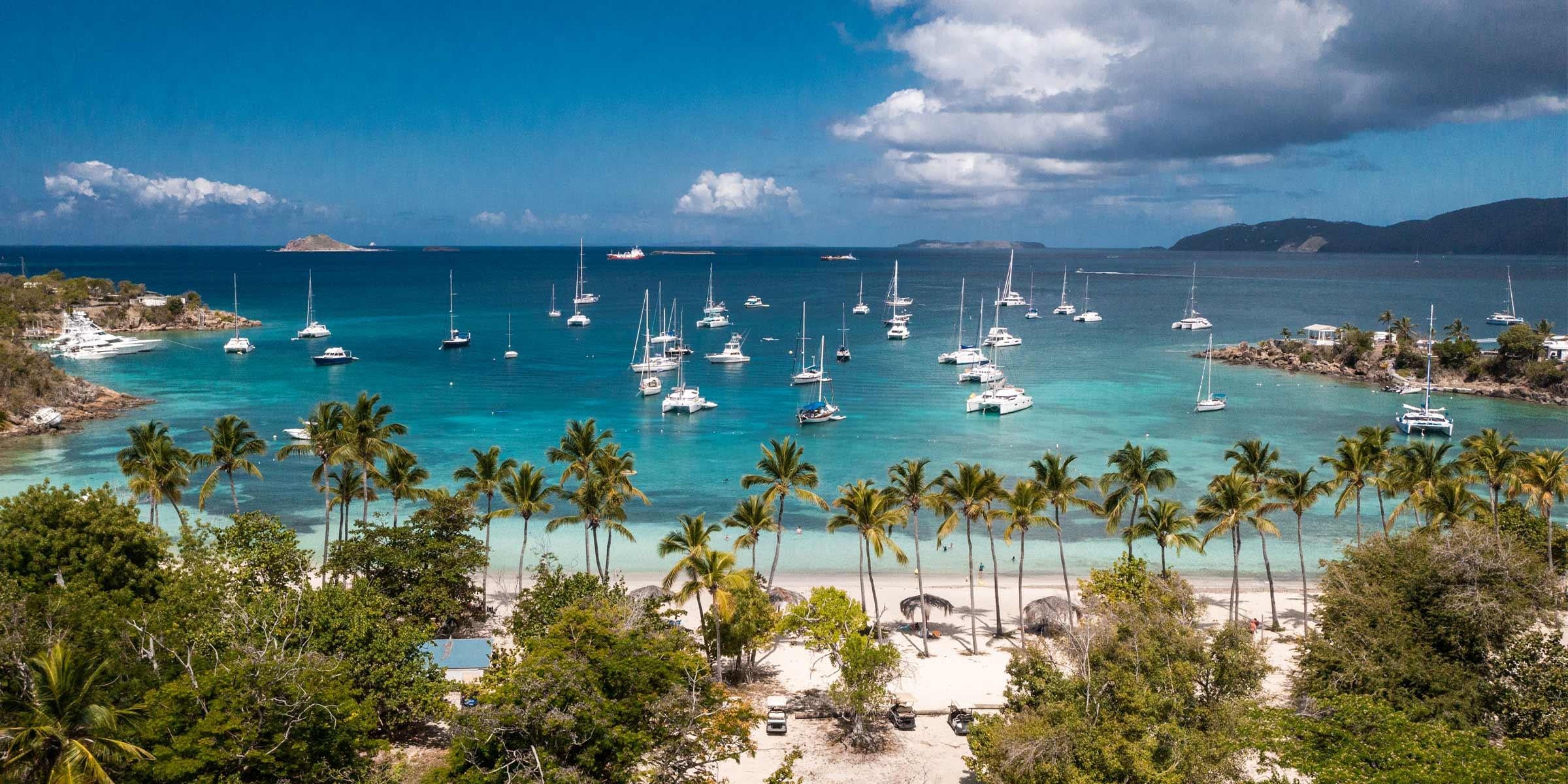 Day 1: Southern Side of St. Thomas
We started our first full day on charter later than we had originally planned, but went through a short chart briefing and boat briefing and were still underway by about 9:30 a.m. The staff do the boat briefings and chart briefings individually on each yacht, which was a welcome personal touch.
Our first stop upon departing from Charlotte Amalie was Water Island, home to Druif Bay. Water Island is directly opposite Charlotte Amalie, about 3nm from the marina, and we arrived in less than 20 minutes. It's a nice harbor, packed with boats both on moorings and at anchor, and there is a beach bar on shore called Dinghy's that serves the essentials like wraps, salads, burgers and cold beer.
From Water Island we motored east to Buck Island, about 5nm away. This was the one tough stretch of water we experienced the whole trip as you head directly into the prevailing wind and waves. Visitors are not allowed to go ashore, but it was a spectacular little harbor with just a handful of mooring balls, and it was an ideal spot to hang out and have lunch. A Dive boat showed up shortly after us and it looked like it could be a decent place to go snorkeling. Unfortunately, we had other plans and moved on after an hour or two.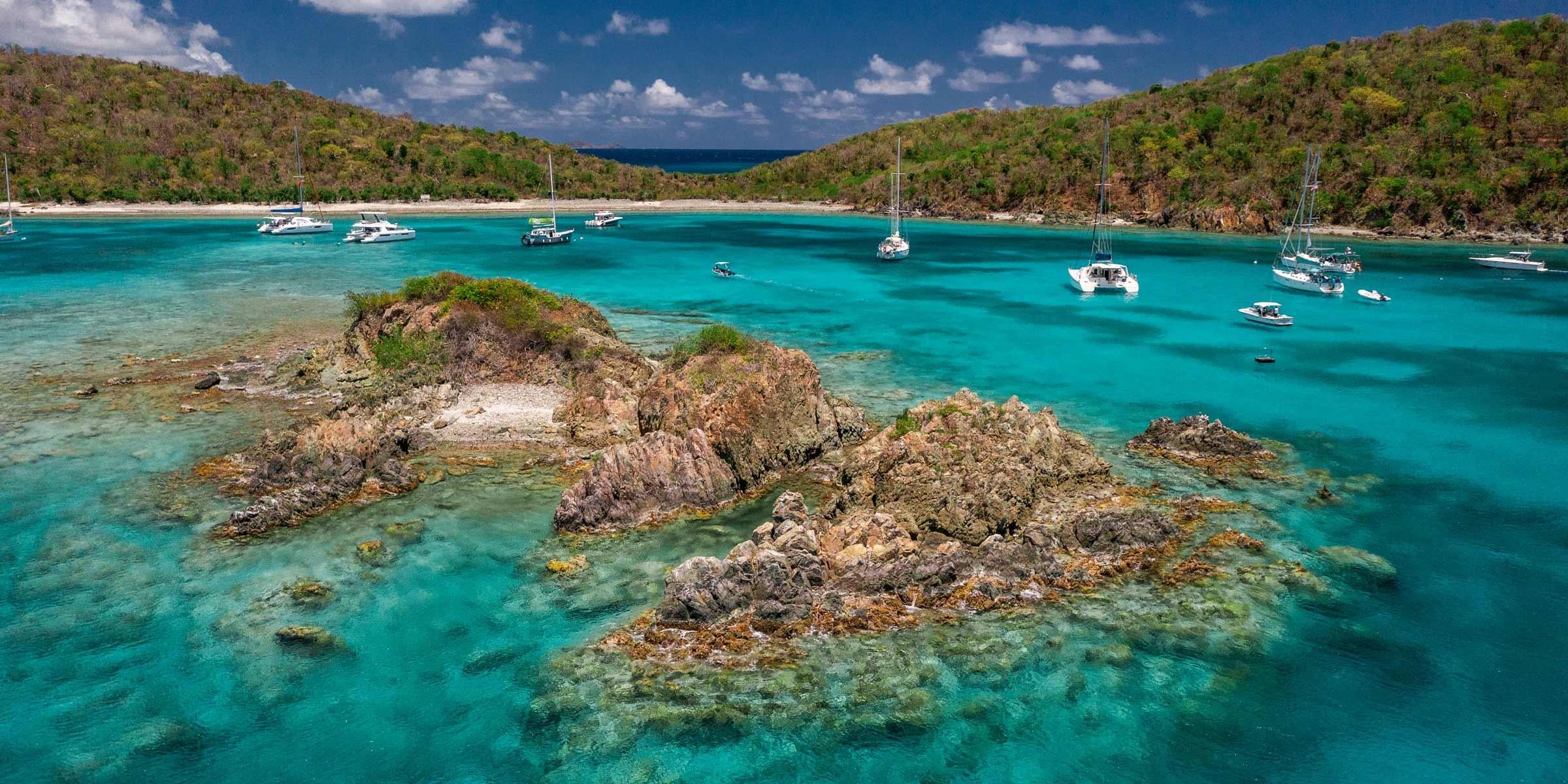 Next, we motored to Great St. James Island just off the eastern tip of St. Thomas, just over 5nm from Buck Island. It is directly adjacent to Little St. James Island, the now infamous former vacation home of Jeffrey Epstein, but Great St. James Island is magnificent. There are numerous mooring balls here, but it is also a very popular stop, so anchoring is a distinct possibility. This is a great place to snorkel as well, and it is home to the social-media-famous "Pizza Pie" boat that does oven-baked pizza right there in the anchorage. They call you on the VHF when it is ready, and you roll up to pick it up with the dinghy. Simple, efficient, and delicious.
From Great St. James we left for St. John, passing bustling Cruz Bay and heading straight for Caneel Bay, in all about 4nm. There were numerous mooring balls here, but only one was still available, so we grabbed it and settled in for the first night out on the boat with a spectacular sunset behind us over St. Thomas.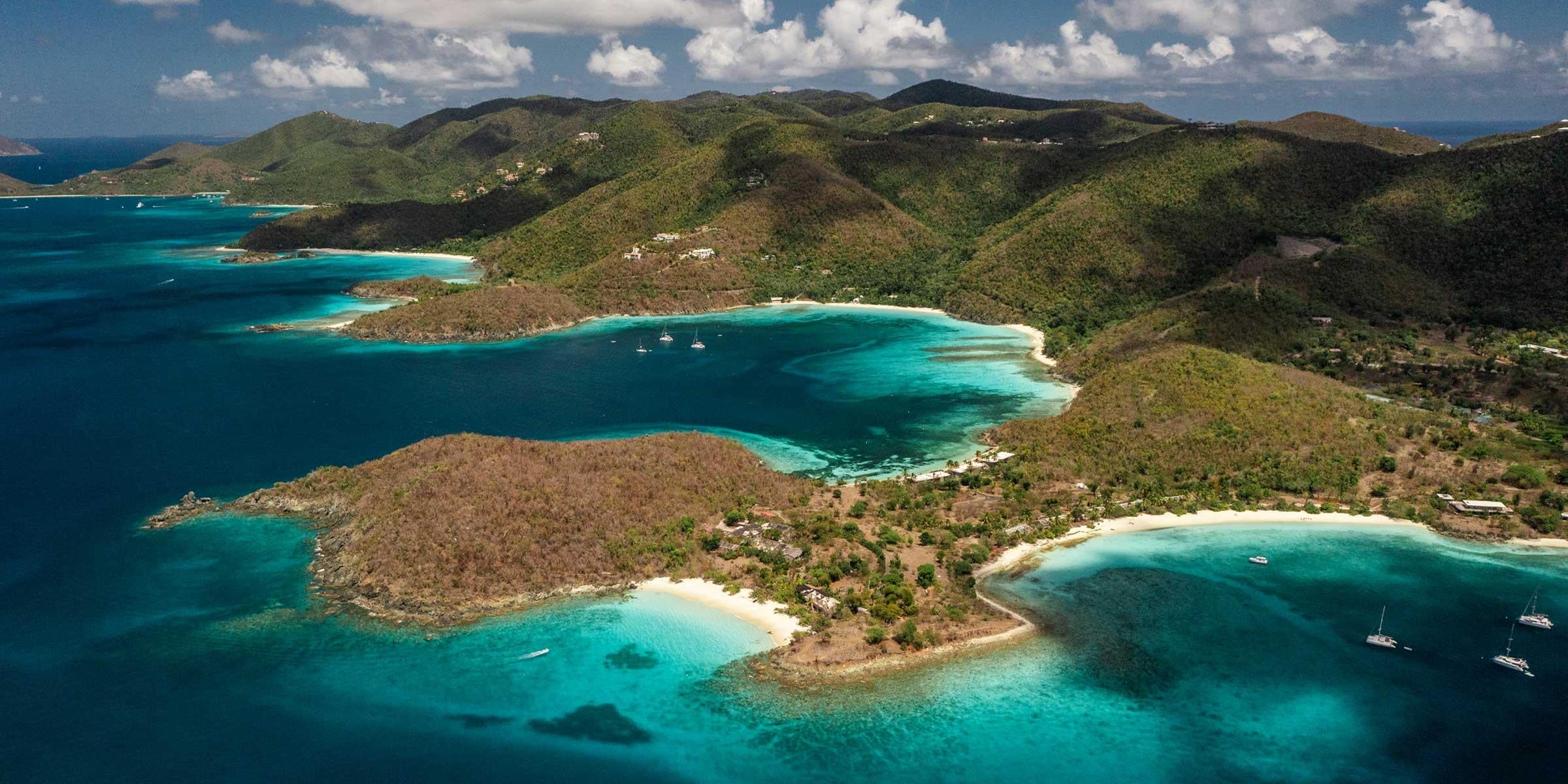 Day 2: St. John
We woke up early on the second full day of our charter, at about 7:00, had coffee and breakfast, and set sail by 9:00 a.m.
The stretch of St. John from Caneel Bay north to Maho Bay is the crown jewel of the U.S. Virgin Islands and is arguably one of the most beautiful stretches of land anywhere in the world. This 3.5-mile stretch is part of the Virgin Islands National Park, and the beaches, the water and the snorkeling here really shine as a result. This stretch boasts one highlight after another: Caneel Bay, Hawksnest Bay, Trunk Bay, Cinnamon Bay, and Maho Bay are each spectacular, and the proximity of each allows for a truly relaxing charter pace. The next beautiful bay is just around the bend, so what's the rush?
Caneel Bay and Maho Bay both feature lots of moorings, but Hawksnest, Trunk, and Cinnamon most likely require you to anchor.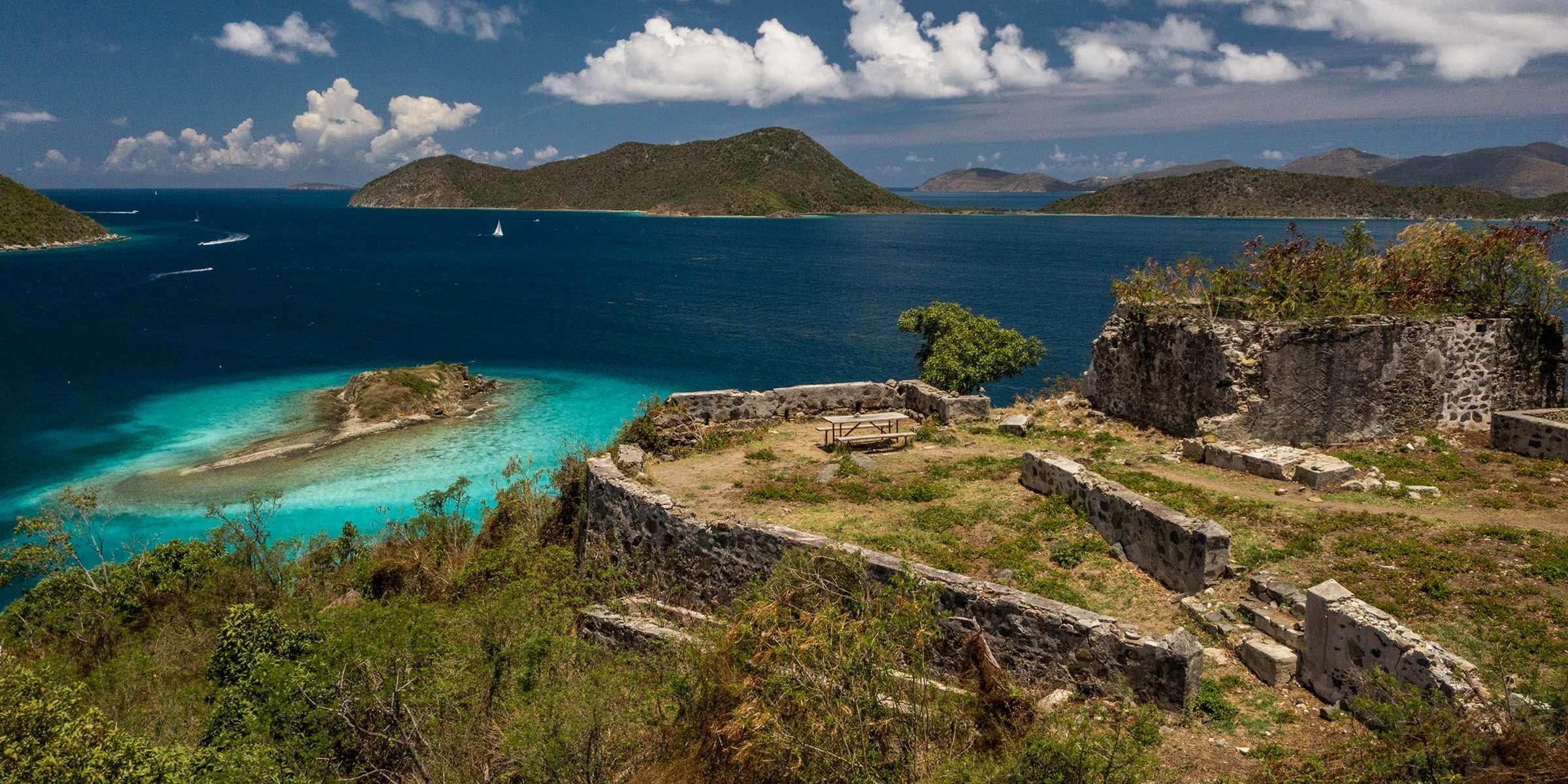 From Maho Bay, we continued north to Waterlemon Cay. Waterlemon Cay has roughly 12 moorings sitting in about 50 feet of water, and the main attraction here is to go snorkeling at a rock formation similar to the Indians in the BVI. You can snorkel around its entirety in about 30 minutes and see some live coral and plenty of fish. We snorkeled, had lunch, and overall were there for a little over an hour (by this time it was still only about 12:30 p.m.), before continuing our whirlwind journey around St. John.
The northern side of St. John facing the British Virgin Islands is completely empty. Nothing but sheer cliffs, nothing to see, nowhere to stop. Heading east, the next accessible stop for boaters after Waterlemon Cay is around the East End, about 5 miles around the eastern tip of St. John. If you are looking for the first available stop here, I would recommend stopping at South Haulover Beach, a tiny, sheltered bay with beautiful calm water. Otherwise, keep heading west to Coral Harbor. 
Coral Harbor, on the Southern side of St. John, is just 2 miles from South Haulover Beach. Coral Harbor was very active with lots of mooring balls mostly occupied by liveaboard yachts, or by numerous day-trip speedboats. The town was quaint, but the attraction of Coral Harbor was undoubtedly Lime Out, a lime green floating taco bar right there in the bay that always seems to attract a fun crowd.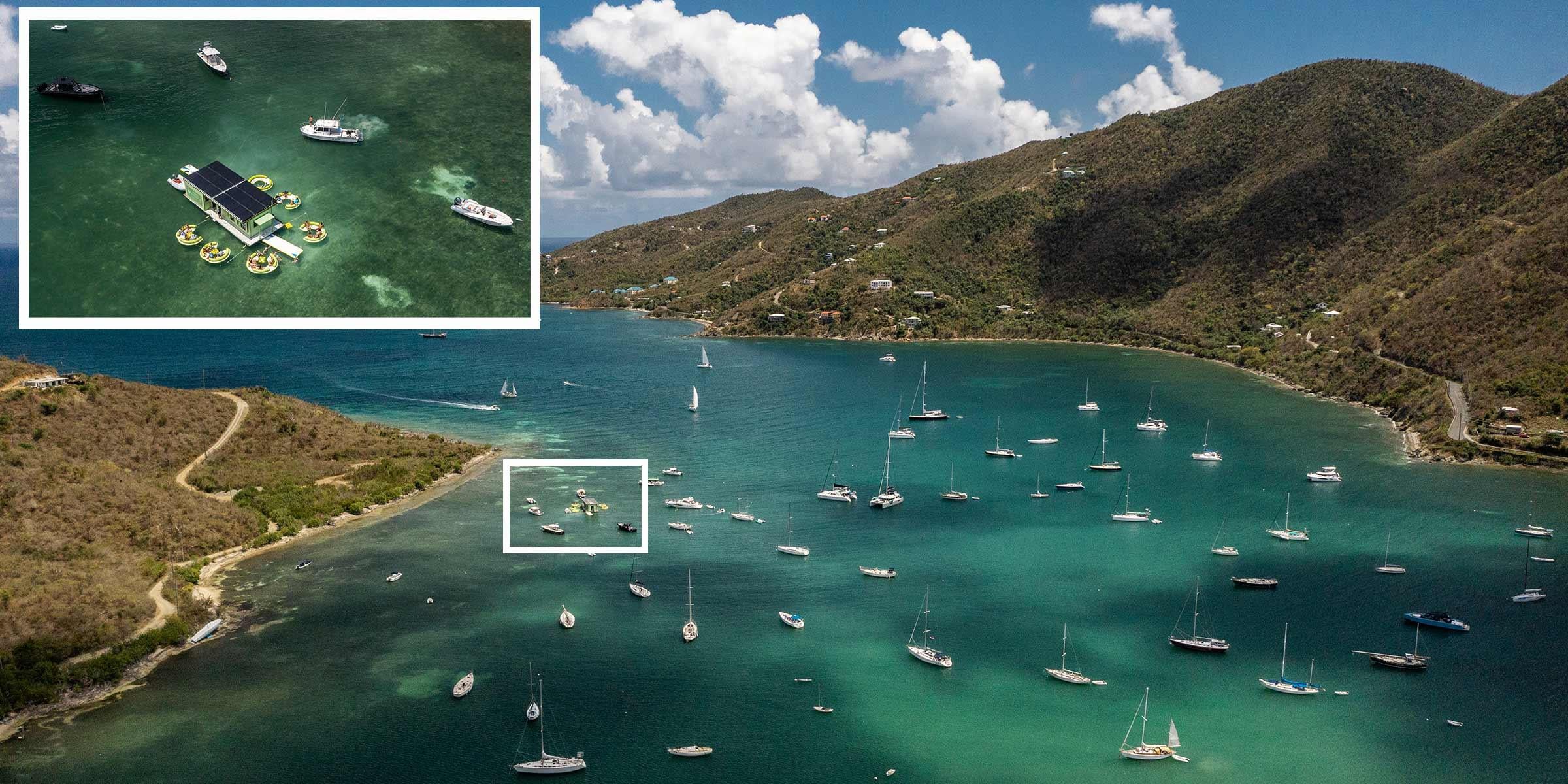 From Coral Harbor you can keep heading around the southern end of St. John, heading west now, to Salt Pond. Salt Pond Beach is beautiful, and I would classify it as a must see on this itinerary. Salt Pond Bay itself has about 5 mooring balls, so it is very small, and the beach is small and itimate, but this bay also features a lovely hiking trail called Ram Head Trail for those wishing to stretch their legs ashore. About a mile past Salt Pond is Lameshure Bay, which features more mooring balls, maybe 10-12, and another nice snorkeling spot. (There were around a dozen people swimming at the reef at the mouth of the bay when we arrived).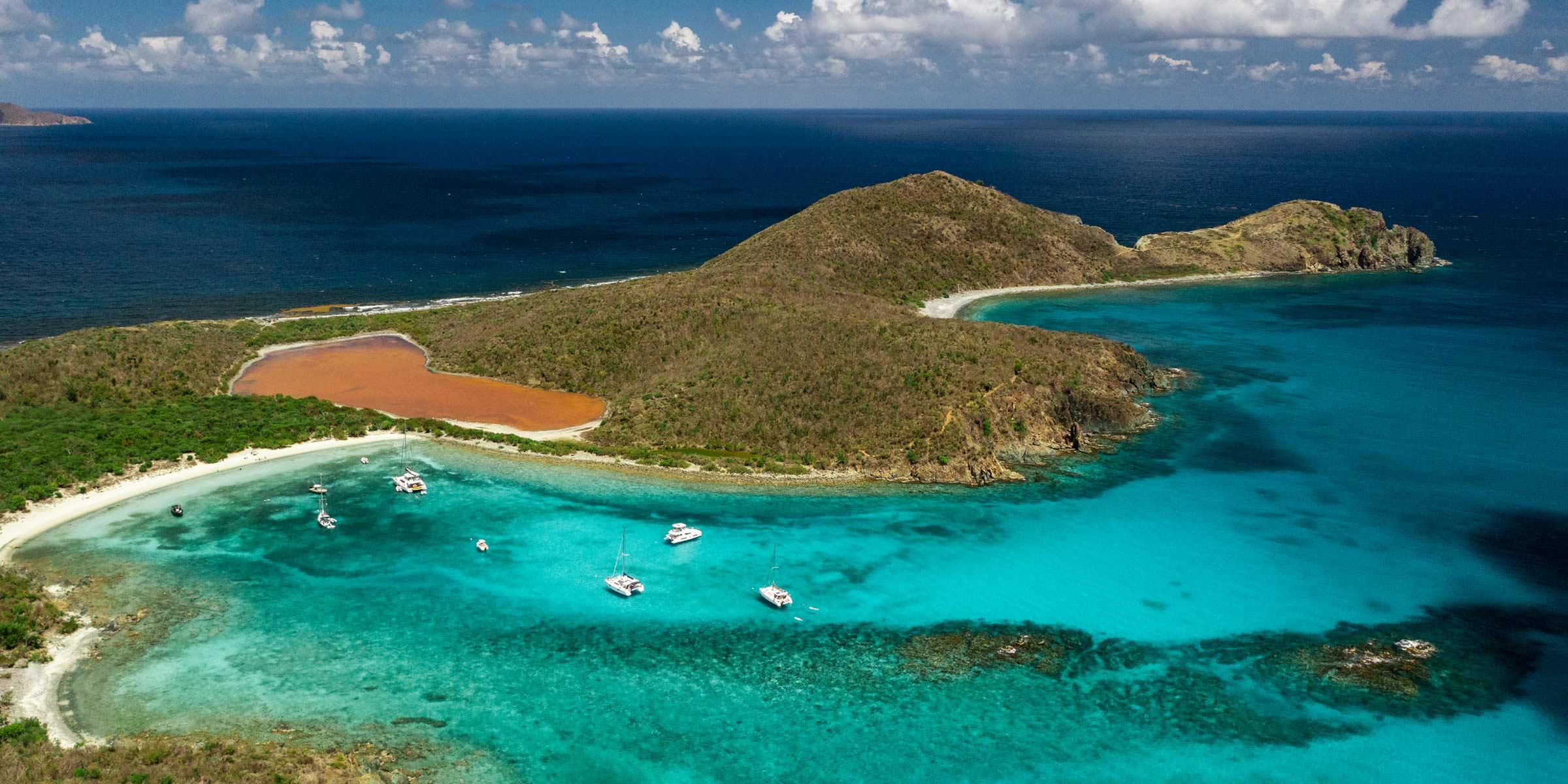 After Lameshure there looked to be almost nothing else of note on the southern side of St John, just more cliffs, so we dashed back to Cruz Bay to pick up a ball for the night. Cruz Bay was very busy (it seems to always be busy) so we passed it and went around the bend, back to Caneel Bay and, as fate would have it, picked up the last available mooring ball in the bay, which was the exact same mooring ball that we had used the night before. None of the other yachts in the bay had moved from the previous night, which really drove home just how relaxing a charter here can be.
To end the day, we took the dinghy from Caneel around the bend to Cruz Bay. On the left-hand side of the harbor there is a fueling dock passengers can use, and past that there is a dinghy dock. We stopped there and explored Mongoose Junction, a newer complex with restaurants, breweries, bars, and shops. From there you take a right and walk down the street to the main town and the beach, where there are plenty of stores, beach bars and lots of restaurants to choose from. There is also a full grocery store up the hill. Overall Cruz Bay was a cool stop, and perhaps the only place on St. John that passengers can refuel, get fresh water and go ashore to a restaurant or bar or get groceries. After so many stops without seeing much ashore, it was nice to get a taste of sweet touristy civilization again.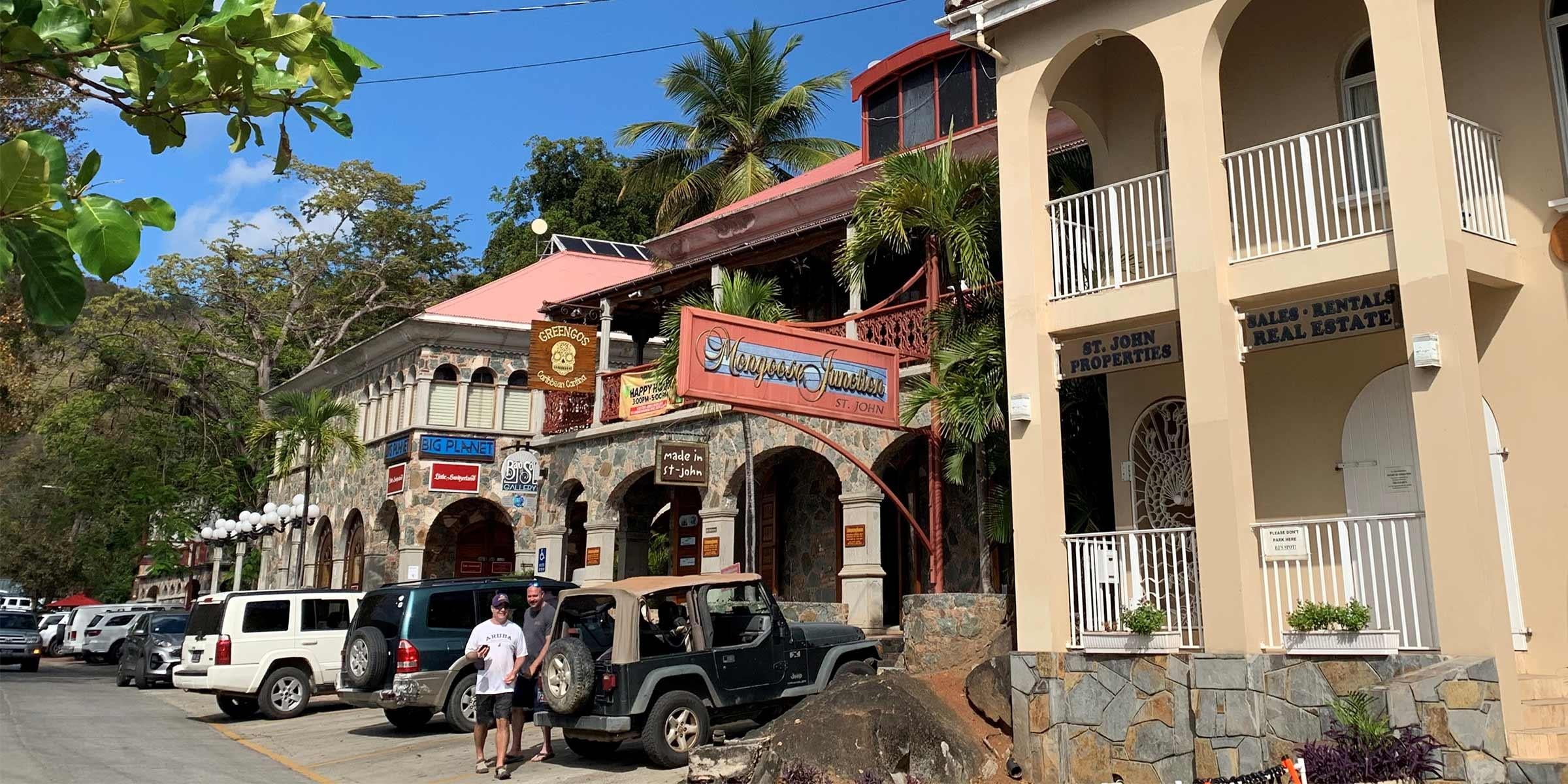 Day 3: Northern Side of St. Thomas
On our final full day, from Cruz Bay we sailed back to St. Thomas with the intention of anchoring in some lesser-known bays that our local photographer knew about. As it turned out, most of these seemed inaccessible by boat, including Smith Bay, Coki Bay, and Hans Lollik Island. We ended up skipping them rather than trying to anchor in this relatively rough and unprotected side of St. Thomas.
Instead we went straight into Magens Bay (pronounced like the name Meghan), which is the most impressive bay in the USVI. It is probably the largest bay I have ever seen; very long, very calm, shallow, and protected. The water is clear, and the sandy bottom allows for easy anchoring. There are no mooring balls available. We anchored here, spent the whole afternoon with about 5 or 6 other yachts at anchor in the bay, swam ashore and got some dinner and drinks at the restaurant/bar ashore, of which there is only one. Magens is a must-see, and a place you can easily spend a day or more enjoying.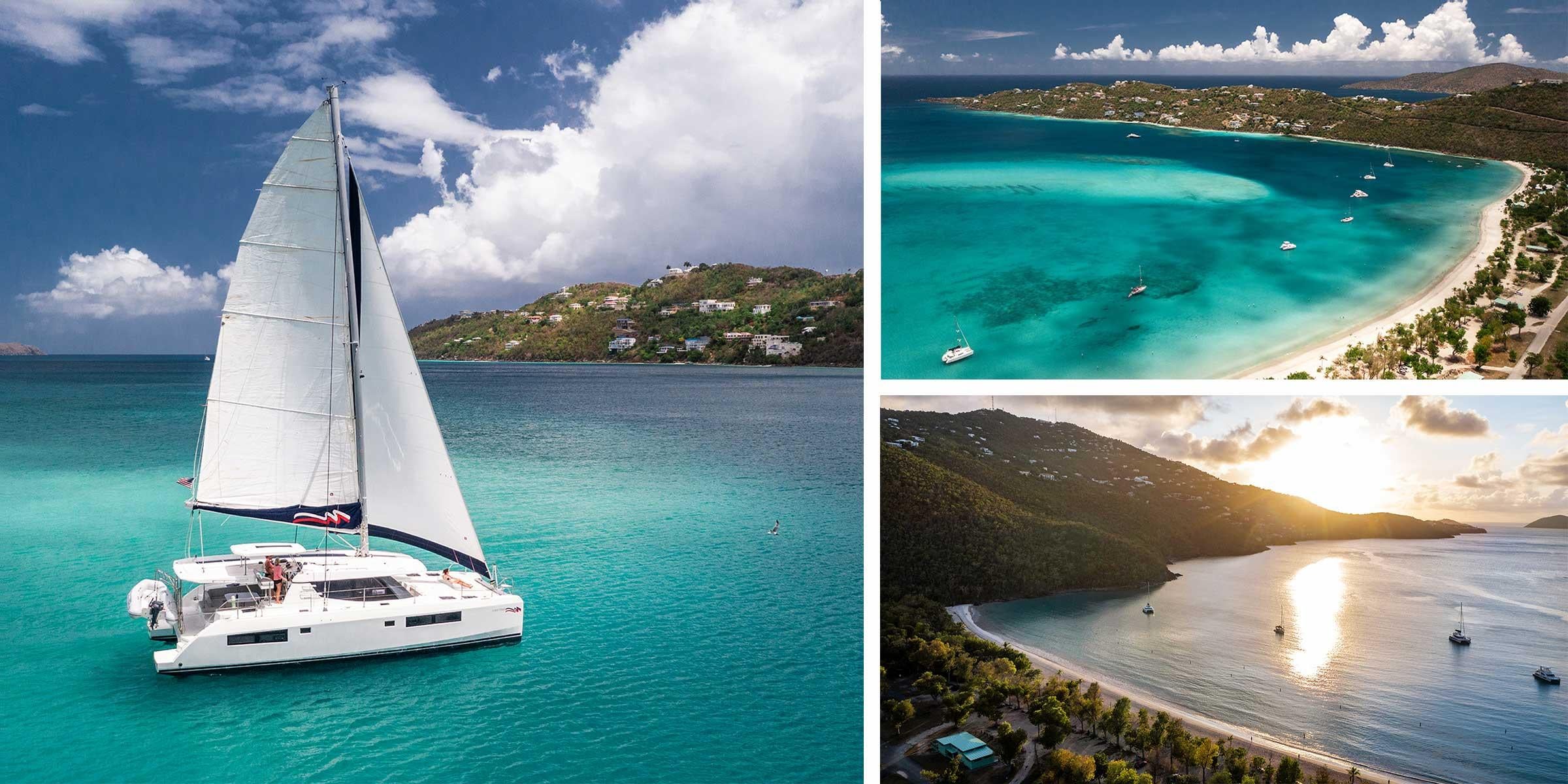 Final Day: Return to Base
We awoke on the final day of our brief trip with the yacht due back at the marina at 10 a.m. We woke up early, and at about 7:45 set off from Magens Bay, deciding to continue west and complete our circumnavigation of St. Thomas, essentially resulting in a figure eight pattern around St. John and St. Thomas. Overall the trip from Magen's Bay to the marina took us an hour and a half, and we arrived there just after 9 a.m. The only remaining attraction we passed on the way which we needed to skip unfortunately was Brewer's Bay, located right next to the airport, akin to Trellis Bay in the BVI.
The base provides you with a cell phone number to call when you arrive and a staff member will dinghy out to pilot you into the fuel dock, then back to The Moorings dock to disembark.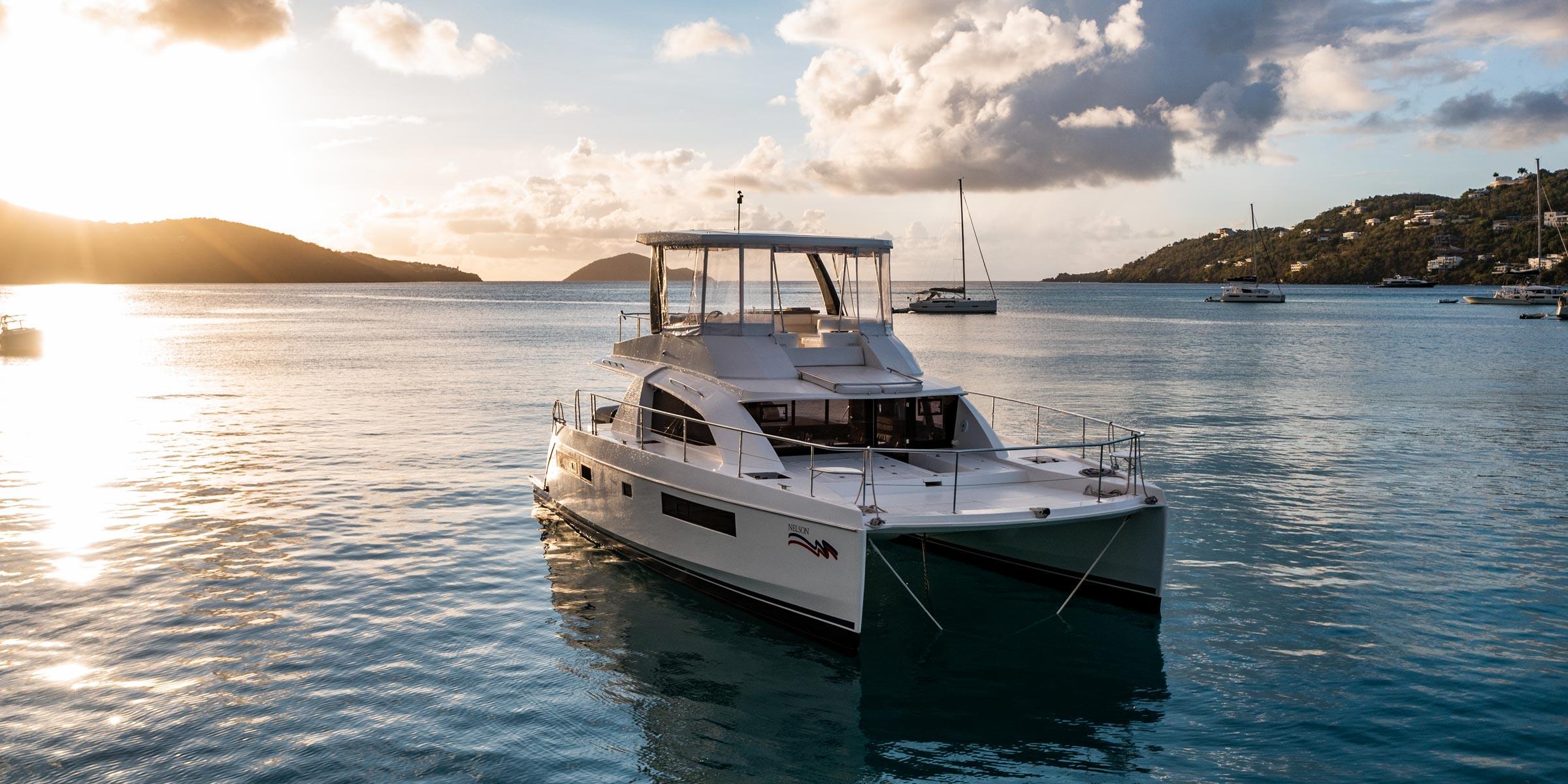 Departure
The airport in St. Thomas was a bit chaotic, so I would recommend giving yourself plenty of time to get through customs and security before your flight. We left at 12:45, getting to the airport at 1:00 for a 3:20 p.m. flight, and it took us almost an hour and a half of waiting in lines to get to the gate, so be sure to plan some extra time to account for this on your return trip home.
In all, I found the U.S. Virgin Islands to be the ideal charter destination for a relaxing getaway. There were surprisingly few restaurants and beach bars in most of the harbors, which made for a much more leisurely trip than other charter destinations where the goal seems to be to island-hop from one bar to the next. St. Thomas and St. John are also relatively small, so there is not much pressure to have to get up early to get to the next location – our longest sail of the trip was no more than 5nm at a time. For anyone searching for a Caribbean getaway away from the crowds, the USVI should definitely be next on your list.
Did you find this useful?