Published:
December 3, 2015 The Moorings
Comments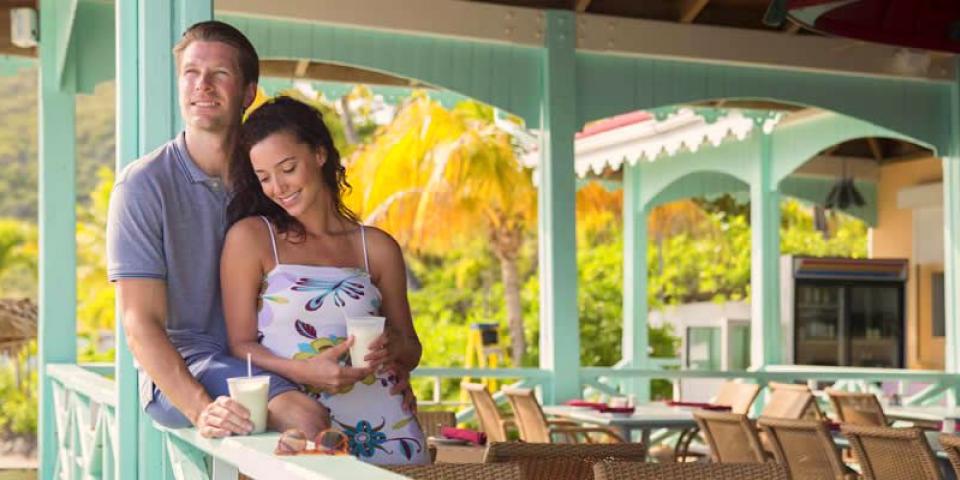 With all the effort that goes into a wedding, it's not hard to see why so many newlyweds go for the easiest honeymoon option available. After all, the last thing you want after months of planning and preparation is more planning and preparation, but that doesn't necessarily mean you have to settle for any ordinary honeymoon.
Crewed yacht charters are an incredible alternative, offering you and yours an all-inclusive vacation aboard your very own luxury catamaran. Complete with a dedicated crew of a captain and gourmet chef, it's an extraordinary, and surprisingly easy, way to honeymoon in the British Virgin Islands and beyond. Find out why below.
1. The All-Inclusive Gourmet Meals, Beverages and More
Thanks to your skilled gourmet chef, you'll be treated to a mouthwatering array of beautiful dishes and drinks you'll love. Prior to your departure, we'll contact you to learn about your dietary preferences and any particular requests you may have. After that, all you need to do is step aboard, kick back, and relax as your chef prepares a near-endless variety of fresh meals, hors d' oeuvres and cocktails throughout the day. 
2. The Attractions and Activities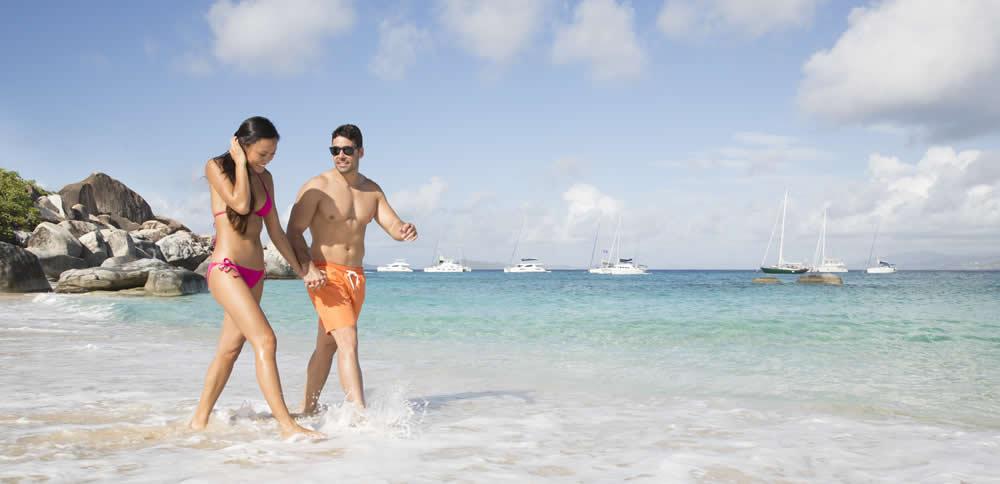 From snorkeling vibrant coral reefs in water as clear as glass to sipping some famed Painkiller cocktails at one-of-a-kind beachside bars, there's an abundance of things to do in the BVI on your honeymoon. For a romantic daytime activity, be sure to check out the "Bubbly Pool" on Jost Van Dyke. Located on the east side of the island just a short walk from Foxy's, the pool turns into a natural Jacuzzi when the waves splash over the rocks between it and the ocean. Bring towels, blankets and lunch supplies for an unforgettable picnic experience.
3. The Privacy
The Moorings crewmembers can be as discreet or interactive as you need them to be. If you're feeling friendly, our crew members will be happy to chat or help you out in the common areas both inside and outside of the yacht. Your stateroom is yours, and only yours, though. Either way, you can rest assured knowing that many of our guests become great friends with their crew by the end of their trips, and often hire the same ones when they return.
4. The Convenience of Your Very Own Captain
Navigating a new destination by land is one thing, but the sea presents an entirely different challenge. Lucky for you, you'll have a professional captain aboard to help you every step (or, sail) of the way. Just say where and you'll soon be whisked away to all the must-see spots on your list. Or, share what you're in the mood for and we'll be happy to oblige. With a wealth of local knowledge, your captain will know just the place for dining, swimming, snorkeling, drinks, shopping and more.
5. The Comfort of a Contemporary Catamaran
Your Crewed Yacht vacation includes five-star accommodations aboard a spacious air-conditioned catamaran. It starts with our ultra-stylish staterooms, which sleep two guests and include en-suite lavatories and showers. Our Crewed yachts include three or five guest staterooms depending on the model type. If an entire yacht is more than you need, opt for a single Sail Away Stateroom package, available exclusively in the BVI.
Regardless of your yacht choice, you'll enjoy features like elevated fly bridges* with 360-degree visibility, well appointed galleys, flat screen TVs/DVD players, onboard Wi-Fi and dinghies with outboard motors included on all of our Crewed yachts. 
For more information including a full list of everything included with your honeymoon charter, available dates, destinations and pricing, visit moorings.com/crewed today.
*Excludes The Moorings 4600 & The Moorings 4800
Did you find this useful?