Address & Map
Address
Hurricane Hole Marina
1 Marina Drive
Paradise Island
Nassau, Bahamas

Map
PLEASE NOTE: The Moorings is temporarily located at the Hurricane Hole Marina while our permanent location undergoes renovations. Please confirm pickup location with your Vacation Planner prior to your vacation.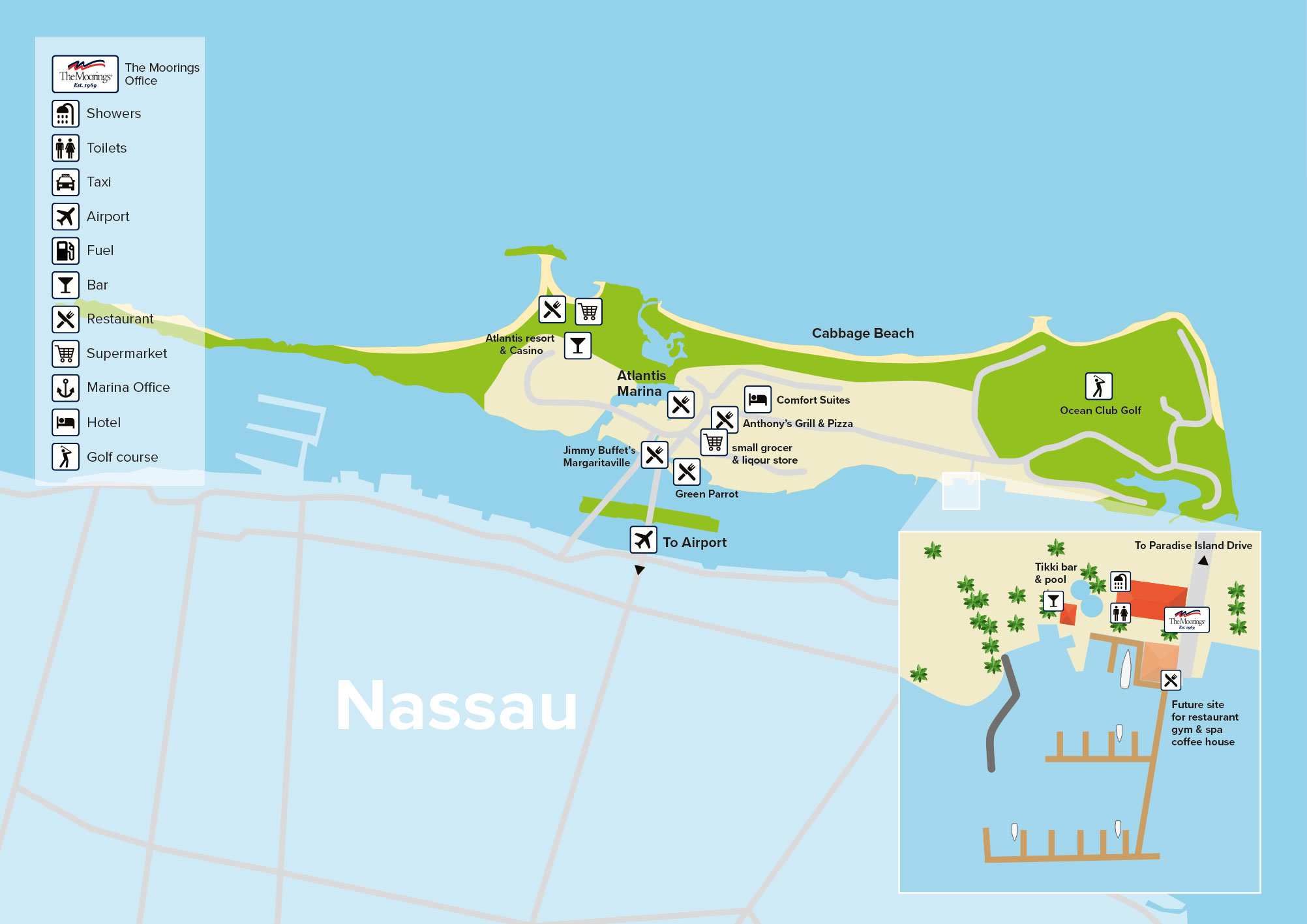 Hours of Operation 
7:30am- 6:00pm, 7 days a week.
Base Facilities
Laundry, bar/restaurant, hotel, boutique, swimming pool, dive shop, showers/toilets, telephones, fuel, ice, dive equipment, and shopping.
Arrival & Departure
How to Get There  
Fly to Lynden Pindling International Airport (NAS) in Nassau. Take 30 minute transfer to the base.   
Charter a private seaplane with Tropic Ocean Airways from South Florida and fly directly to where your yacht is located.
Servicing Airlines
Delta
United
American Airlines
Air Canada
Tropic Ocean Airways
Sky Bahamas
Silver Airways 
Various charter airlines

Due to the number of flights we organize, the Moorings can offer some great rates to many destinations. Please make sure you contact your Vacation Planning Specialist before you book your flights.
Customs & Immigration 
A valid passport (for U.S. citizens) is mandatory for clearance. No visa is required for US citizens.
An Immigration arrival card must be completed before you enter the country; an Immigration departure card must be completed before you depart.
Bahamas Drone Regulations
A Certificate of Registration must first be secured from the Civil Aviation Department in order to import a drone. The Customs Department will detain drones at the border if a Certificate of Registration has not been obtained. To register your drone online visit the Bahamas Civil Aviation page. Further details on the Special Regulations may be obtained from the Civil Aviation Department, at 242-397-4700 or email: [email protected]
IMPORTANT: All-inclusive Crewed Yacht Charters and Sailing Yacht Charters with a Moorings Skipper and/or Cook onboard must advise your Vacation Planning Specialist prior to departure if you intend to visit any of the other Bahamian Islands.
Arrival / Departure Procedure 
Embarkation: Charters start at 10:00am or 4:00pm (with a Sleep Aboard).  
Briefing Times: Boat/chart Briefings are scheduled at: 9:00am for morning starts; 3:00pm for a Sleep Aboard. All Skippers are required to attend the briefings. 
Disembarkation: All charters end at 10:00am at which time the boat must be returned and ready for debriefing and checks.
Late Arrival Procedure 
The Customer Service Desk is open until 6:00pm. If clients arrive after office hours, a message will be left with the security guard. A welcome aboard will be on your yacht.
Your First Night 
There's a lot of nearby resorts by the Paradise Harbour Club or book  a Sleep Aboard to stay on your yacht the night before your first charter day.
When driving, British rules apply, so please drive on the left and watch those roundabouts! Visitors may use their home license for up to three months and may also apply for an international driver's license.
General Information
Area: 5382 sq miles (13,940 sq km)  
Population: 382,600 
Capital City: Nassau  
Official Languages: English 
Ethnic groups: Black 85%, White 12%, Asian and Hispanic 3% 
Religion: Baptist, Anglican, Roman Catholic 
Government: Constitutional Parliamentary Democracy and a Commonwealth Realm 
Industries: tourism, banking, cement, oil transshipment, salt, rum, aragonite, pharmaceuticals, spiral-welded steel pipe 
Tipping: Tip according to quality of service.  Porters usually receive US$1 per bag, while most other servers (waiters, taxis, etc.) receive 15%. Some establishments include the gratuity in their bills.  
Currency: The local currency is the Bahamian Dollar. U.S. currency is accepted by all vendors.  
Electricity:
The electrical service on The Bahamas is normally 120 volts, 60 cycles AC, in which case North American appliances are fully compatible, while European appliances will need both converters and adapters. Voltage varies with location, however, and some places in the islands may have 220 volt electrical service. Call your hotel ahead of time to find out which system they use. The standard voltage on all yachts is 12volts in order to use electronic equipment that is 110v or 220v; you will need an inverter suitable for use in a cigarette lighter. 
Time: UTC/GMT - 5 hours
Festivals & Holidays  
Holidays 
1 January: New Year's Day  
1st Friday in June: Labour Day  
10 July: Independence Day  
1st Monday in August: Emancipation or Kadooment Day  
12 October: Discovery Day  
25 December: Christmas Day  
26 December: Boxing Day

Hotels
Comfort Suites Paradise Island
The Ocean Club
The Cove at Atlantis
Harborside Resort
Warwick Paradise Island Bahamas
Graycliff Hotel & Restaurant
Courtyard Nassau Marriott 
Mobile Phones 
Your mobile phone may work in the Bahamas, check with your service provider for coverage.
Tourist Information Centres 
Head Office - Nassau 
P.O. Box N 3701 
Tel: 242 322-7500 / Fax: 242 328-0945  
Banks & Money Exchange
Banks 
Currencies / Money Exchange
Accepted Forms of Payment - The local currency is the Bahamian Dollar. U.S. currency is accepted by all vendors. Visa and MasterCard are also accepted in most places. American Express is usually NOT accepted.
Water Toys & Sports
For your convenience, you can add water toys to your charter when booking and they will be waiting on your boat upon arrival.  You may wait to rent these at the base when you arrive, though there may be limited availability. For more information, please view our Water Sports Options.
Snorkeling
The Moorings provides snorkeling gear (flippers, masks & snorkels) for all charters for your pleasure.  Please check availability for children sizes prior to your charter.  You may wish to pack your own snorkeling gear.
Kayaks & SUPs
We offer kayaks and stand up paddle boards for rent.
Fishing
Fishing is allowed and a licence is not required for charterers. To protect the marine environment, spear fishing using scuba gear and possession of spear guns are illegal in The Bahamas. Two areas are protected and fishing is not permitted: Pelican Cays Land & Sea Park Fowl Cay Preserve.
Spiny Lobster season is from August 1st - March 31st. Minimum size is a 5 1/2 inches tail length or 3 1/4 inch carapace length (measured from the base of the horns to the end of the jacket). Unlike Florida, lobster may be taken by spear. It is illegal to take or possess female lobster with eggs. The vessel bag limit is six per person at any one time.
There is no closed season on conch, but it's illegal to take or possess immature conch.  In order to be legal, conch must have a well formed lip (or flared-lip). The vessel bag limit is ten per person at any one time.
The vessel bag limit for scale fish is 20 pounds per person. The minimum size for any member of the grouper family is three pounds.
Stone Crabs may be taken if the claw length is four inches or greater. The season is closed from June 1 - October 15.  It is illegal to harvest female stone crabs.
Cruising Information
Marina Information
Local Dockage Facilities: Dock space can be reserved at most harbors prior to arrival by calling ahead on VHF channel 16 or by requesting confirmation via The Moorings office on VHF channel 16.
Sailing Area Restrictions 
Interesting Sites 
We recommend you visit the Itinerary Page or consult your chart briefer and cruising guides for the best places to visit, but among our favorites – Highborne Cay, Allan's Cay, Norman Cay, Shroud Cay and Warderick Well Cay.
Provisioning
This destination offers the convenience of our Online Provisioning Service. Let The Moorings take all the hassle out of provisioning your yacht with the highest quality beverages, fresh foods, and non-food items. Order complete packages when booking online or over the phone. Or choose to order online from our Online Provisioning Store which also offers all packages and an extensive a la carte inventory. We'll coordinate the details and guarantee that everything is aboard your yacht when you arrive. Visit our Provisioning Page to learn more.
Health & Safety
Travel Insurance 
Moorings offers comprehensive travel insurance for your complete peace of mind. If you have your own travel insurance, please make sure that it covers all of the destinations and activities of your Moorings vacation. Click for more details  
Travel Advisory
A Travel Advisory is in place for Nassau/Exumas. For complete details please visit Travel.State.Gov.
Vaccination and Immunization Information - Disclaimer 
The Bahamas are generally risk-free of contagious disease.  Travel Insurance 
Travel Advice 
Current travel and safety information can be obtained by visiting Travel.State.Gov
*Please note country entry/exit and vaccination/immunization requirements can and do change. The Moorings is not accountable for these requirement changes and we advise visiting the destination's authority website to receive the latest updates.