Published:
December 4, 2020 Tina Huewe
Comments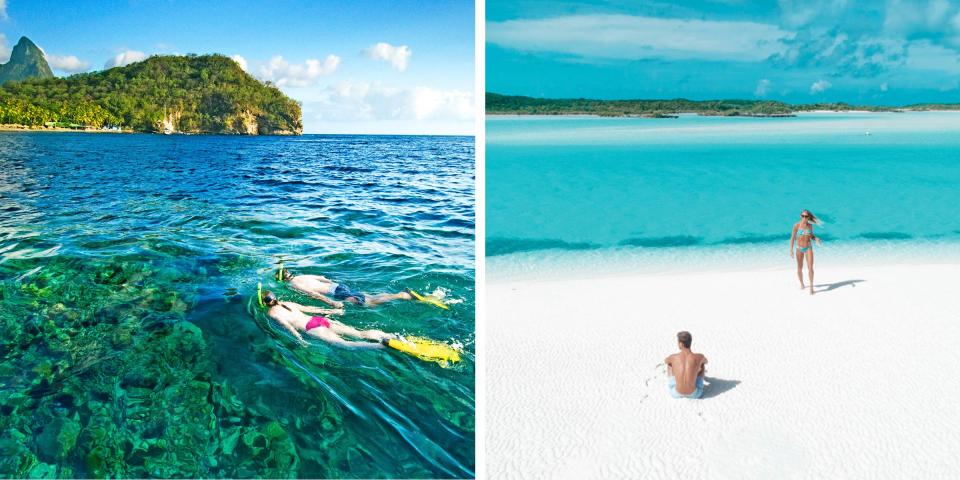 Where to go for your next charter vacation… The choices seem endless, and after many months confined to your own home the world is calling your name. While COVID travel restrictions certainly haven't made traveling any easier, at time of writing more and more yacht charter vacation destinations have reopened their borders for international travelers to come and enjoy their white-sand beaches, amazing cuisine, cultural heritage, and first-class sailing grounds once more.
Below we will be looking at two popular charter destinations to help you decide if a yacht charter in the Bahamas or a yacht charter in St. Lucia is the right choice for you.
Is it cheaper to go to the Bahamas or St Lucia?
Many factors play a role in the decision-making process when deciding on where to spend your precious vacation time. Cost is certainly one of them. So, is it cheaper to go to the Bahamas or St. Lucia? The answer is… it depends.
For example, the summer months are considered the off-season in the Caribbean where St. Lucia is located, while it is the high season in the Bahamas. A charter fleet in St. Lucia will include some smaller, less expensive sailing monohulls, while the shallow waters of the Bahamas are best suited for yachts with a low draft that only catamarans can provide. The type/size of your yacht will naturally influence its price.
Food
According to expatistan.com the cost for eating out in a restaurant is slightly lower in St. Lucia than in the Bahamas, while alcohol, apples, and gas are cheaper in the Bahamas. Locally grown fruits can often make for an inexpensive, and more interesting, healthy addition to your menu plan if you don't feel like splurging on imported goods. 
Costs for flights
Costs for flights will again depend on your travel dates, but generally speaking airfares from the U.S. are cheaper to Nassau in the Bahamas than they are traveling to St. Lucia. Due to the number of flights we organize, our in-house flight specialist at The Moorings can help you find great rates to any destination and even organize private charter flights.
In order to decide whether it is cheaper to go to the Bahamas or St. Lucia you will have to take all these factors into account.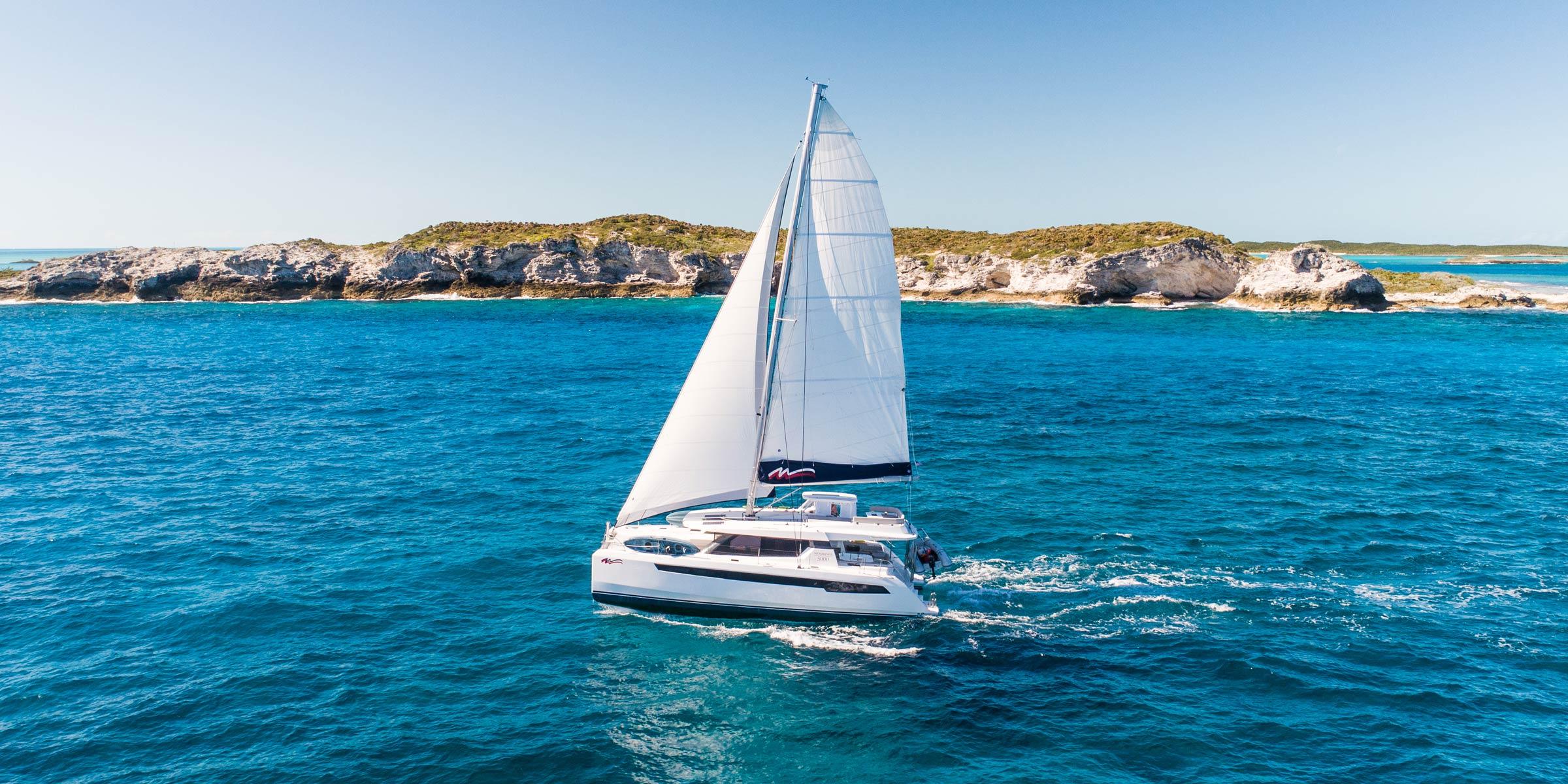 When is the best time to visit the Bahamas and St Lucia?
St. Lucia's position in the Windward Islands provides wind for lively sailing all year round. The summer months from June to September bring more humidity and rain to the region with temperatures around the mid-80s. But even in winter temperatures rarely drop below the mid-70s. There will always be the occasional rain shower in the Caribbean making for St. Lucia's lush green landscape. January to April are usually the busier season in the Windwards as tourists from colder northern countries flock to the islands to enjoy the warm breeze and laid-back island vibes a yacht charter in St. Lucia offers.
The best time for a yacht charter in the Bahamas is April to June. Although winds are favorable for sailing and the climate is agreeable throughout the year, temperatures in the winter in the Bahamas can drop into the low 60s, making the summer months a more pleasant time to visit with lows in the low 70s and highs in the high 80s. Overall the Bahamas receive less rain than St. Lucia with the driest months being the winter months.
What can I visit in the Bahamas and St Lucia?

St Lucia
A yacht charter in St. Lucia will usually include stops at some of the surrounding Windward islands. St. Lucia itself is best-known for the towering twin peaks of the Pitons offering magnificent views and the opportunity for an unforgettable hike up to the top. Waterfalls, natural springs, botanical gardens, horse-back riding, ATV and zip-line tours all make for an amazing adventure when exploring St. Lucia. Other islands to visit on a St. Lucia 7-day-sailing-itinerary include Bequia, the Tobago Cays – a popular film location, Mustique and St. Vincent, each with its own individual charm, fishing villages, exclusive resorts, hidden coves and beaches, and surrounded by pristine waters with excellent visibility for diving and snorkeling. Enjoy a variety of French, Creole and Caribbean cuisines while watching the sunset.
The Bahamas
The Bahamas off the coast of Florida encompass 700 islands stretched out over 100,000 square miles of ocean, a first-class boating oasis. Nassau, gateway to a charter vacation in the Exuma islands of the Bahamas, is well connected to the U.S. mainland and other international cities via a number of flights and airlines and can even be reached by private seaplane from Fort Lauderdale. An Exumas-7-day-itinerary features an amazing nautical wonderland of secluded harbors, white sand beaches, little restaurants and beach bars, as well as pristine reefs and even a plane wreck to explore. Interesting animal encounters rank high on a yacht charter in the Bahamas. At Allan's Cay visitors will find friendly three-foot-iguanas, swimming pigs await at Big Major Cay, and those brave enough can jump into the waters at Compass Cay to mingle with the resident nurse sharks. The Exuma Cays Land and Sea Park, the first land and sea park in the world, features 20 marked nature trails, and protects 176 square miles of pristine water, land and beaches in this breathtaking marine environment.
What are the most expensive and cheapest cities in Bahamas and St Lucia?

St Lucia
The city of Soufriere just north of Petit Piton is the most expensive city in St. Lucia. Its popularity stems from the nearby Pitons and other tourist attractions like the Diamond Falls Botanical Gardens and Sulphur Springs. Cities like Canaries and Gros Islet offer cheaper options regarding overnighting and eating out. Local restaurants away from cruise ports and resorts tend to offer more budget friendly menus than those in touristic areas.
The Bahamas
The Bahamas was recently listed as one of the 10 most expensive countries in the world to live in by CEOWORLD Magazine, but luckily it does not rank among the most expensive places to vacation. The city of Nassau, which did make it into the top 5 most expensive cities to vacation in 2015, is now not even among the top 25. Nevertheless, Nassau still features some of the most expensive hotels in the Bahamas. At the same time Nassau offers such a wide variety of tourist attractions and shops that it is also home to some of the least expensive options at which to stay.
Generally speaking, Bahamian islands less visited by tourists like Cat Island, Andros, Long Island or Inagua tend to be cheaper to visit, especially when considering local inns or Bed & Breakfast places as accommodation. Luxury resorts on remote islands on the other hand tend to be more expensive due to the cost of maintaining and sourcing food, drinks and everything else to provide a first-class experience far away from civilization. 
The good news is that you are completely independent of hotel fares on a private yacht charter in the Bahamas. The islands of the Exuma chain are a remote location and we recommend to use our online provisioning service, which will provide you with more flexibility in planning your itinerary.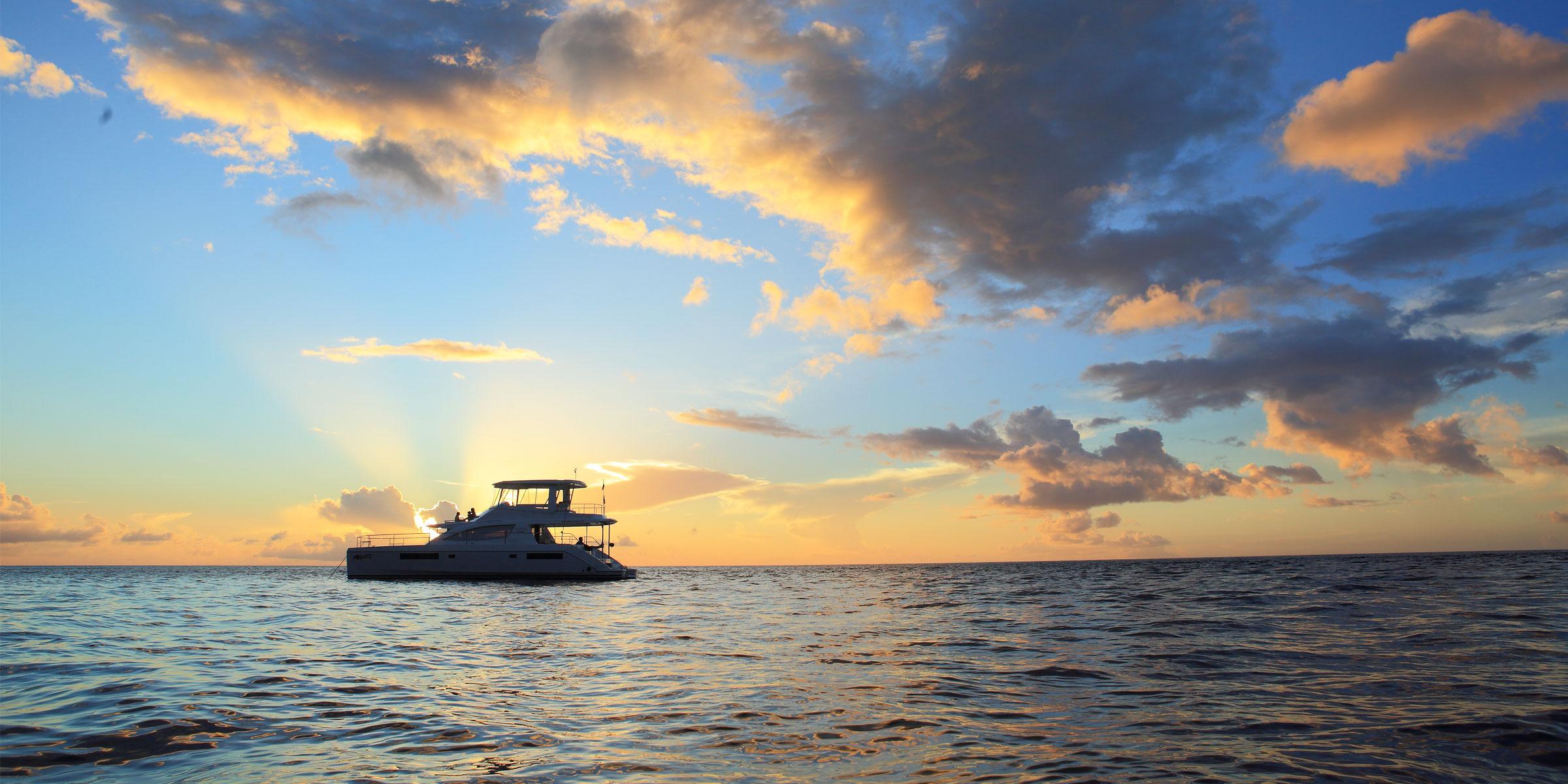 Which country is safer to visit: Bahamas or St Lucia?
The U.S. Department of State's Travel Advisory Page is a good first source of information when it comes to safety in your vacation destination.
The Bahamas
Crime in the Bahamas is mostly limited to the "Over the Hill" area in Nassau and Grand Bahama island. The tourist areas in the Bahamas are very safe and especially remote areas like the Exuma islands are a haven of tranquility with sparsely populated islands, small waterfront restaurants or beach bars, and the occasional resort or yacht club. The Bahamian people are friendly and will make you feel right at home with their wide smiles, traditional Bahamian cuisine, and handmade artisans.
St Lucia 
The U.S. Department of State does not list any specific travel advisories for a yacht charter in St. Lucia, but advises that when visiting the Eastern Caribbean tourists should adhere to general personnel security measures, as you would in any major metropolitan area of the U.S., like not leaving valuables in public view, avoiding walking alone - especially at night, avoiding flashy jewelry, etc.
Tourism is a very important source of income for the Bahamas and St. Lucia alike and local authorities foster a safe environment for travelers.
The chart briefing that you receive prior to leaving the base will also cover which areas to visit and, if applicable, which to avoid during your charter vacation. Your base team staff is readily available to answer any questions you might have. They are the local experts.
Whether you prefer the Windward islands with St. Lucia and its majestic mountain views or the endless low-lying beaches of the Bahamas for your next yacht charter vacation, rest assured that The Moorings can provide you with the professional service, experience, innovative fleet, preventive safety measures, and flexible booking terms you desire in a yacht charter company. Now the rest is up to you…
Did you find this useful?