Welcome Aboard
The Mariner Inn and Marina is the epicenter of everything travelers would need before and after your charter. When you arrive, you'll be greeted by our wonderful desk staff, who will help you arrange everything you need to set sail quickly and easily. Depending on your arrival time, the procedure may vary. Review the list below to get an idea of your journey through the base.
When you Arrive
Check in at reception
Pick up general base information
Arrange Chart Briefing time & On-Board Briefing time
Review boat paperwork and yacht damage waiver
Collect your Free phone from Renport along with any pre-booked electronics
Collect any pre-booked fishing equipment from SCD
Enjoy a meal at Charlie's or Ginnie's
Relax by the pool or visit the Amara spa
Enjoy other off site activities
Board your yacht
On-board briefing - 60 minutes
Set sail!
Address & Hours
The Moorings, located in Wickhams Cay II
PO Box 139, Road Town
Tortola, British Virgin Islands
Opening Hours:
7:00am – 11:00pm
7 days a week


Your First Night
Stay at the Mariner Inn or book an Evening Start to stay on your yacht the night before your first charter day.
There are other accommodations available on Tortola and other nearby islands. Call one of our Vacation Planners to arrange your travel plans and get the most from your charter vacation.
Start & End times
Start: Charters start at 12:00 noon.
Evening Start: Board your yacht at 6:00pm.
End: Sailing Charters end at 11am and Power Charters end at 10am. Your boat must be vacated for debriefing/checks by these times.
Chart Briefing times
All head charterers are required to attend the briefings.
Sail & Power Chart Briefings 
Mon–Fri: 9:30am, 12:30pm, 4:00pm & 7:00pm *
Sat–Sun: 8:30am, 12:30pm, 4:00pm & 7:00pm *

*4pm and 7pm briefing times are sometimes available for customers who have booked an Evening Start as part of their reservation and cannot be guaranteed on a daily basis. Please inquire with the base staff upon check-in to confirm that days briefing schedule.
. 
Late Arrival Procedure
The Customer Service Desk stays open until 11:00pm or until the last scheduled flight arrives. If you arrive after office hours, a message will be left on the front door indicating where your boat is located on the dock.
Phones, WiFi & Electricity
Internet Connectivity: Free Wi-Fi is available throughout the Mariner Inn and Marina, but not on the docks. For Internet access on your charter, mobile Wi-Fi routers are available for rent from our partners at Renport. These rentals can be pre-purchased through your Moorings Vacation Planner. Free Wi-Fi is included on all Crewed yacht charters.
Cellular Phones: Your cellular phone may work in the Caribbean, check with your service provider for coverage and roaming costs. All guests are provided with a phone from The Moorings allowing them to contact the base for free. This phone must be collected from Renport (with a security deposit) before departure. Ask Renport about their great international service with better rates than roaming.
Electricity: In the BVI, 110/60 volts AC, 60 Hz are standard US 2-pin plugs used. The Moorings docks are equipped with 110V power outlets. All yachts are equipped with power cables and 110V plugs. Yachts must be hooked into shore power or must have the generator on (if applicable) to use the boat outlets for hairdryers, computers, etc. There is a 12V cigar lighter outlet by the chart table on all of our yachts and many yachts now have USB ports.
Drone: The use of flying drones may be restricted in some areas. For current drone regulations in this destination, please visit http://www.bvi.gov.vg/media-centre/drone-users-are-subject-aviation-rules
Base Facilities
Upon arrival, you'll be welcomed at the spacious open-air reception area, recently updated and reserved exclusively for greeting our Moorings guests – for a fast and efficient check-in. Adjacent to the reception area, you'll find modern and spacious air conditioned shower facilities available for your use before or after your yacht charter.
The reception area opens onto a landscaped plaza, with panoramic views of the Sir Francis Drake Channel. From here you can explore all that The Moorings Village has to offer, including shopping, dining and relaxing.
Enjoy your choice of 2 restaurants, coffee/snack shop, watersports rentals, and electronics rentals, as well as an on-site hotel.
The Moorings Village's spacious gathering areas and amenities can comfortably accommodate large group charters and events. Private meeting rooms and restaurant dining areas may also be reserved for private parties or special occasions.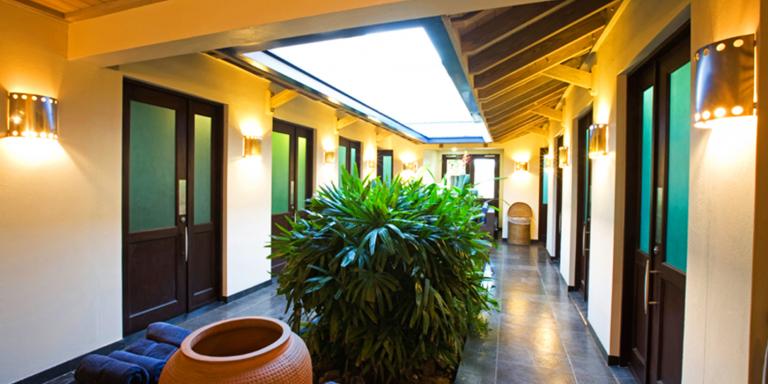 Restrooms & Shower Court
Those choosing an Evening Start or simply wishing to freshen up prior to departure can take advantage of our modern club-style shower facilities with private dressing area.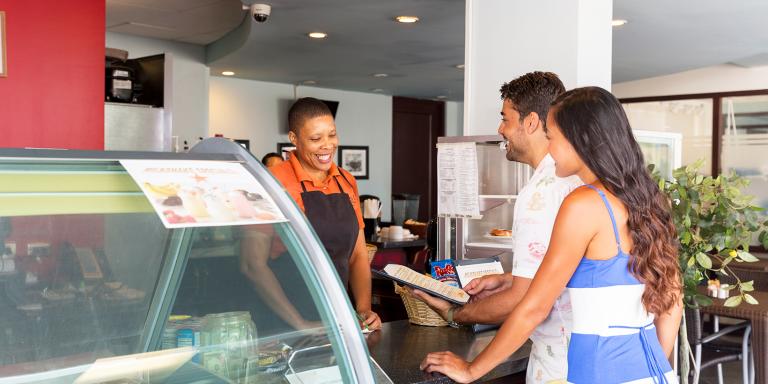 Ginny's Coffee Shop
Named after Charlie's beloved wife, Ginny's offers an array of fresh-made morning and daytime treats. Stop for everything from coffee drinks and tea to juices, pastries, homemade Italian gelato, sandwiches and more.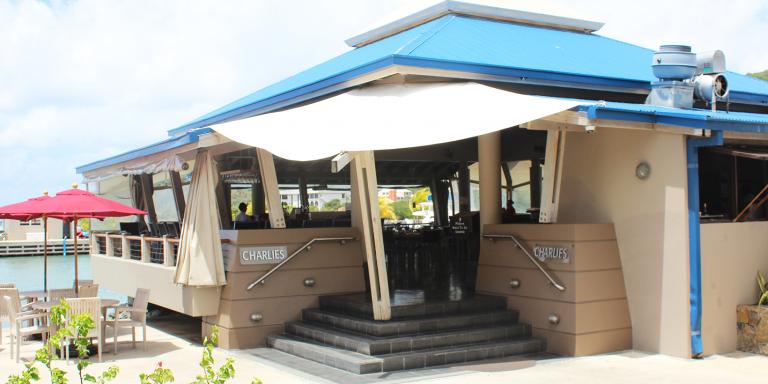 Charlie's Bar & Restaurant
A highlight of the Moorings Marina is Charlie's Bar & Restaurant. Named after The Moorings founder, Charlie Cary, this open-air, full service Italian restaurant is built out over the water and offers a casually elegant atmosphere including fantastic harbor views and cooling breezes. Sleek furnishings, a soaring natural wood ceiling, the coldest cocktails and a blazing pizza oven all make Charlie's a must-try during your stay here.
Pool & The Mariner Inn Restaurant

Charter guests enjoy full access to the relaxing pool next to the Mariner Inn Restaurant – now renovated for a resort-like atmosphere including luxurious poolside lounge chairs and umbrellas, as well as upgraded pool bar seating with outdoor televisions. Cool off with an easy swim or sunbathe in complete comfort with your favorite drink in hand.
Serving a variety of local and international cuisine, The Mariner Inn Restaurant – also recently updated – offers an open-air dining experience overlooking the harbor with daily happy hour specials and music on weekends. This spacious area can comfortably accommodate a maximum of 280 guests, making it a premier location for banquets and large wedding receptions. The bar also offers an extensive wine list as well as beer and cocktails best enjoyed poolside.
Amara Spa
The full-service Amara Spa offers an elegantly tranquil atmosphere in the heart of the Mariner Inn and Marina. Begin or wind down from your charter vacation with variety of professional spa services.
Massages
Acupuncture
Manicures & Pedicures
Facials
Waxing & Body Treatments
Wedding Services
Reserve your treatment ahead of time by filling out the form on the Amara Spa Appointment Request page.

Yoga by Yoganimity 
Suitable for all levels, this flowing Hatha yoga class will teach you the fundamentals and foundations of yoga asanas (poses), to develop strength and flexibility in both body and mind. Creative sequencing and synchronizing breath work will have a calming effect on your nervous system leaving you feeling energized and centered.  Private classes available on request. Classes take place on the deck in the garden by the pool. Mats provided - $15 per class. Schedule available at the front desk. 
Water Toys & Sports
For your convenience, you can add water toys to your charter when booking and they will be waiting on your boat upon arrival.  You may wait to rent these at the base when you arrive, though there may be limited availability. For more information, please view our Water Sports Options.
Snorkeling
The Moorings provides snorkeling gear (flippers, masks & snorkels) for all charters for your pleasure.  Please check availability for children sizes prior to your charter.  You may wish to pack your own snorkeling gear.

Kayaks, Stand Up Paddleboards & Floats

We offer 1 man kayaks, 2 man kayaks, beginner SUPs, intermediate SUPs, and floats.
Diving

The Moorings dive partner, Sail Caribbean Divers is the only PADI 5-star dive company in the British Virgin Islands. SCD offers rendezvous excursions to any one of the BVIs 73 official dive sites, as well as equipment rentals, instructional courses and more. Sail Caribbean Divers has four custom dive boats ranging from 26'-46'. They can accommodate parties from 6-24 people per boat.

With a location at the Mariner Inn and Marina, SCD makes it remarkably easy to add diving to your charter. Advance reservations are recommended, especially during the holiday and peak seasons. Our Vacation Planners can add one of the 2 rental packages directly to your charter. To arrange your rendezvous dive, call 284-495-1675 today!

Rendezvous Diving:
Choose from a variety of options and arrange a meet-up at any of the locations listed below. SCD will bring their custom dive boat(s) and everything you need for a safe and fun scuba excursion.
Discover Scuba – for those who do not have certification
2 tank dive AM – must show certification, must bring it with you
2 tank dive PM – must show certification, must bring it with you
1 tank dive PM – must show certification, must bring it with you
Pick up locations for Rendevouz Diving:
Cooper Island
Marina Cay
Norman Island
Trellis Bay
Mariner Inn & Marina (our base)
Dive Equipment Packages:
You must show certification when picking up this equipment.
Atlantis Package: The Atlantis Package includes everything you need for your dive - 2 tanks, weights, storage rack plus Regulator & BCD (Buoyancy Compensator Device).
Explorer Package: For those divers who are supplying their own regulator and BCD, the Explorer Package includes 2 tanks, weights, and storage rack
Fishing
Fishing equipment can be added to your Moorings Power  or Sail Catamaran Charter and is included in all Moorings Crewed Yacht Charters.
Due to recent regulations set by the British Virgin Islands Conservation and Fisheries department, we are no longer offering fishing equipment aboard Moorings monohull charters in the British Virgin Islands.
Vessel registration is required for any boat wanting to fish in the BVI. We offer this on all of our sail and power catamaran fleet in the BVI. The cost is $50 USD per boat. Please contact a Moorings Vacation Specialist to register your yacht.
In addition to the vessel registration, a personal fishing license is required for any adult fishing in the BVI's. Fishing permits are required for any fishing in the BVI. The Moorings diving and fishing equipment partner, Sail Caribbean Divers, has provided this Fishing License Application for your convenience. The cost is $65 USD per person and permits are valid for 1 month. Please email your application to [email protected] at least 2 weeks in advance of the charter to allow for government turnaround time.
You will be able to pick up your fishing permit and sign-out your equipment at Sail Caribbean Divers, in the pink hut, when you arrive at the base.
Please note that you may not fish in the National Parks, and unless fishing well offshore, fish should not be eaten due to Ciguatera poisoning. No spear fishing allowed.
Fishing Season
The Closed Season schedule in the Virgin Islands is as follows. During this time, no person shall catch, sell, offer for sale or buy.
Margate: January 1 - March 31
Red Hind: January 1 - March 31
Nassau Grouper: March 1 - May 31
Turtles: April 1 - November 30
Lobster: July 31 - October 31
Conch: August 15 - October 31
Whelk: August 15 - October 31
Provisioning
This destination offers the convenience of The Moorings Provisioning Service! Let The Moorings take all the hassle out of provisioning your yacht with the highest quality beverages, fresh foods, and non-food items. Order complete packages when booking online or over the phone. Or choose to order online from our Online Provisioning Store which also offers all packages and an extensive a la carte inventory. We'll coordinate the details and guarantee that everything is aboard your yacht when you arrive. Visit our Provisioning Page to learn more.
Nearby Stores
There are also a number of grocery stores within walking distance, or a short car ride, from the base. Hours of operation vary based on the day of the week as well whether it's the low or high season, so be sure to call your desired store ahead of time.
Electronic Rentals
Renport Entertainment
Check out the packages offered by our Partner, Renport Entertainment.  Renport, located at the base, offers entertainment and communication packages for Moorings Charterers departing in the BVI.  For your convenience, we can add these directly to your charter package and if you are booking online, you can add them to your charter in the booking process.  Preview the packages here: http://www.renport.com/
Mariner Inn
Extend your stay in Tortola at one of the most popular Road Town hotels. Conveniently located at the base, the Mariner Inn features spacious rooms with beautiful views, an outdoor pool, and an on-site restaurant and bar. View available rooms and book a few nights on land before or after your charter.
Other Hotels, Restaurants & Things to do around the Base
Hotels
Tamarind Club (close to airport)
Maria's By The Sea
Treasure Isle Hotel
Nanny Cay Hotel
Restaurants
Brandywine - approximately 15 minute taxi ride - scheduled to reopen January 2018
Bananakeet - approximately 25 minute taxi ride
Pusser's – approximately 5 minute taxi ride
Things to do around the base
Take a tour of the island - Explore the cruising ground from high up in the mountains. Hire a taxi and go for a drive through many of the steep hills. 

Zip Line - Gear up, lock in and whiz through the hills overlooking Tortola on a fun-filled zip line tour. It's a thrilling experience that's perfect for the entire family. Front desk reception can arrange zip line excursions for customers as needed.

Brandywine Bay - Taxi out to this Tortola restaurant for one of the best fine dining experiences in the BVI. With stunning views, lush décor and a mouthwatering array of Mediterranean cuisine, Brandywine is an excellent setting for celebrating a special occasion or simply commemorating your first or last night in Tortola. Popular menu items include Moules a la Mariniere (steamed mussels in white wine), lobster and fennel salad, lamb shank and filet mignon.

Explore North Shore - Take a taxi out to the north shore and explore an array of beautifully secluded beaches like Smuggler's Cove and Long Bay Beach. 

Helicopter Tour of the BVI - Get a breathtaking bird's-eye view of islands on helicopter tour from the Beef Island airport. Front desk reception will arrange for customers as needed.