Before You Travel
Address 
Sailitalia/The Moorings
Via Roma No. 10
80079 Procida
Italy
Tel:+39 3666811487 
Email: [email protected]
After hours & Sunday:
Tel: (+39) 333 603 9299
We suggest you notify family and friends of how you may be reached in case they need to contact you.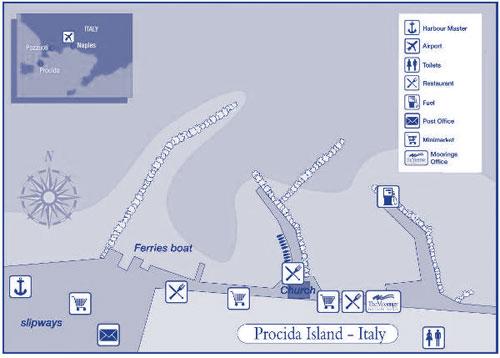 Base Hours 
Monday to Saturday: 9am - 1pm and 3pm - 7pm
Time Zone
UTC/GMT +1 hour.
Tourist Information Center
Graziella Travel 
+39 081 8969564 
www.isoladiprocida.it
General Information
Area: 187,244 sq. mi.
Population: 58,126,212
Capital city: Rome
People: Italian (includes small clusters of German-, French-, and Slovene-Italians in the north and Albanian-Italians and Greek-Italians in the south)
Language: Italian (official), German (parts of Trentino-Alto Adige region are predominantly German speaking), French (small French-speaking minority in Valle d'Aosta region), Slovene (Slovene-speaking minority in the Trieste-Gorizia area)
Religion: Roman Catholic, other (includes mature Protestant and Jewish communities and a growing Muslim immigrant community)
Government: Republic
Major industries: tourism, machinery, iron and steel, chemicals, food processing, textiles, motor vehicles, clothing, footwear, ceramics
Tipping:  This is a matter of personal discretion. Although bills normally include a service charge, it is customary to tip in restaurants and other places that cater to tourists.
Currency: Euro
Electricity:  voltage 230V/50Hz (European or Italian plug)
Time: UTC/GMT +1 hour.  Daylight saving time: +1 hour
Some Major Events
* January - Fair of Sant'Orso in Aosta
* February - Feast of the almond-blossom in Agrigento
* February/March - Carnival in Venice, Viareggio and Ivrea
* March/April - "Scoppio del carro" in Florence
* May - Candle race in Gubbio; "Cavalcata sarda" in Sassari; "Maggio musicale" in Florence
* May/June - "Festival of the Two Worlds" in Spoleto
* June - Flower festival in Genzano
* July - "Palio" horserace in Siena; "Festa del Redentore" in Venice; "Umbria Jazz"
* August - Quintana tournament in Ascoli Piceno in Siena ana tournament in Arezzo
* August/September - "Settimane musicali" in Stesa al & Opera seasons in Milan and Verona
* September - Historical regatta in Venice Game in Marostica in Asti national Cinema Festival in Venice
* October - Grape feast in Merano
* November - Feast of the Madonna della Salute in Venice
* December - Franciscan crib in Greccio
Check In/Check Out
Check In Procedures
Embarkation: Charters start at 3:00 pm.
Briefing Times: Chart briefings are scheduled between 1 pm and 3 pm local time depending on arrival followed by the boat briefing.   
All skippers must attend the briefing and everything you need to know will be covered from customs regulations, use of the radio, making dinner reservations, how to get help etc. please save all questions of this nature until then. The Moorings operations manual will be on board your yacht for your use throughout your charter.
All skippers must attend a Chart Briefing which covers all you need to know about the cruising area, use of the VHF radio, how to call for assistance, and more. A Boat Briefing will also be provided onboard your yacht.
Late Arrivals 
If arriving after hours, a message will be left on the front door indicating the location of your boat. The Chart Briefing and Boat Briefing will be held the following morning prior to departure.
The Base personnel wait for you until 9:00 pm. After 9:00 pm, you will find an information sign at our reception office with a message for you indicating your yacht's name and berth. Your boat will be open and indicated by a sign with your name. The boat's equipment will be ready for the night. The Base personnel will be available the next day from 9:00 am.
Check Out Procedures
Charter End Time: All charterers must return to base by 5:00 pm the night before disembarkation for debriefing and checks. Disembarkation is at 9:00 am the following morning. 
A debriefing and final walkthrough will be done upon return so please allow enough time to complete this before the charter end time.
Pre-charter briefing
- All head charterers are required to attend a pre-charter briefing and yacht orientation prior to the charter start.  
- You will be advised of navigation and customs procedures between the various islands, points of interest, proper yacht and equipment operation, and emergency information.  Please hold all questions of this nature until that time.
- Specific yacht operation and navigation questions will be addressed during this briefing.
- A yacht operations manual will be aboard the yacht for your use.
Returning paperwork
In order to provide you with the flawless charter you expect from The Moorings, we require that specific information be provided in a timely manner.  
Please return all items, such as the guest list, transfer form and resumes to us at least 30 days prior to your charter start.  
Any information provided or changed within 90 days of your charter start date, which The Moorings considers crucial to the planning process, is subject to an additional fee.  
Security Excess If you haven't purchased Yacht Damage Waiver, a security deposit (amount as per your invoice) is payable at the base by traveler's checks, Visa or Master Card, and is refundable at the end of the charter subject to there being no loss or damage. The liability includes loss or theft of the dinghy and/or outboard.
What to Bring
Customs & Immigration
A valid passport (for each passenger) and crew list is compulsory for clearance. Expiration date must be no earlier than 6 months after your planned return. A customs declaration form must be completed at the port of entry.
Entry, exit, and visa requirements depend on the locations you are departing from and traveling to. You are responsible for having the correct documents so make sure to check with the consulate of the countries you plan to visit before you travel. Visit travel.state.gov for the latest information.
Cruising Licenses
  A formal license is required to sail in Italy.  Click here to review the sailing requirements.
Luggage & Packing List
Soft-sided luggage or duffel bags are best, as luggage storage space on your yacht may be limited. We have no facilities for holding luggage at the base. Pack lightly and review our suggested packing list for required and necessary items to bring.
Pack essential prescription medicine and change of clothing in a carry-on bag*
Passport and other travel documentation
Tickets and paper confirmations for pre-planned activities
Light-colored, light-weight clothing
Formal wear for upscale dining establishments
Swimwear and cover up
Hats and sunglasses
Sandals and flip-flops
Athletic shoes and hiking boots
Travel-sized toiletries and hygiene products
Insect repellent and OTC pain relievers/ointments

AUX cable for playing music through your device

12V DC to 110V AC power inverter (for boats without generators**)

12V to USB power adapter for charging mobile devices
*We would highly recommend packing prescription medicine and essential clothing (swimsuit, t-shirt and shorts) in your hand luggage as occasionally your luggage may arrive at the base after you do.
**All boats include a 12V DC outlet (a "car" outlet). Boats with generators have 110V outlets in the Caribbean and 220V in the Mediterranean and Exotic locations.
Drones
The use of flying drones may be restricted in some areas. For current drone regulations in this destination, please visit  https://uavcoach.com/drone-laws-in-italy/
Currency
You can exchange currency and traveler's checks in Italy at most major banks, airports, large hotels, or at one of the many money exchange centers. Generally, banks will give you better rates so check around.
Always carry additional cash to cover both anticipated and unanticipated expenses.  The following are anticipated expenses to aid your advance planning.  A Vacation Planning Specialist can assist you in approximating costs:  
- Airport/Shuttle Transfers
- Taxes & service charges
- Customs & Duty fees
- Refundable deposits
- Additional beverages
- Additional meals
- Personal incidentals
- Gratuities
Taxes & Fees
You might incur some costs while on charter such as mooring and docking fees or cruising taxes. We highly recommend bringing enough of the local currency to cover these costs as they are not always payable by USD, debit, and/or credit cards. Please see our Base Notes for additional information.
There is no departure tax payable.
Security Deposit
A security deposit must be paid at the base by Visa or Master Card and is refundable at the end of your charter subject to there being no loss or damage. To significantly decrease your security deposit, purchase our Yacht Damage Waiver insurance ahead of time.

*Please note country entry/exit and vaccination/immunization requirements can and do change. The Moorings is not accountable for these requirement changes and we advise visiting the destination's authority website to receive the latest updates.
**Our bases in Italy are partner locations of The Moorings operated by Sailitalia. Gift certificates or charter credit certificates cannot be redeemed in these locations. For further information, please contact a Vacation Planner.