How would you like some of the best diving in the Caribbean just steps away from your dining table? Your gear ready, set up and logistics taken care of? All you need to do is stride off the back of your boat after a sumptuous breakfast. Sound appealing? Then the Moorings Crewed yacht dive charter could be perfect for you!
The British Virgin Islands includes over 60 islands and an abundance of fabulous dive sites. Your Captain takes care of selecting the best diving for given weather conditions while your gourmet chef and steward take care of you.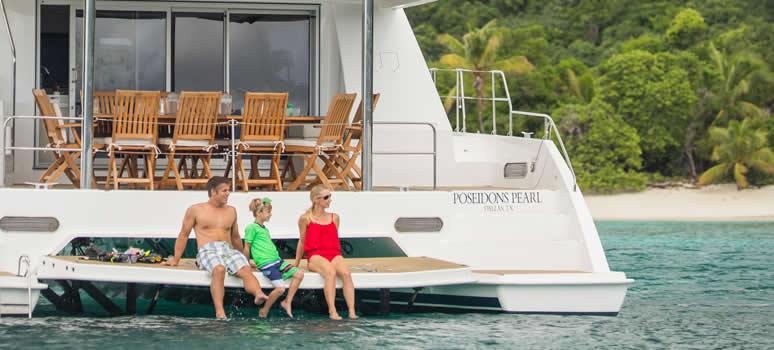 The Moorings offers this fully insured and equipped dive vacation aboard the spacious 5800 sail catamaran 'Poseidon's Pearl'. This service is available for up to 6 certified divers wanting to experience the luxury of a 5800 yachting vacation plus the convenience of scuba diving at your leisure. The boat carries all the equipment needed for diving including BCD's, regulators, weight, cylinders and emergency oxygen. Your Captain, a PADI licensed Divemaster with over 20 years of experience, will advise and guide you on your BVI underwater odyssey.
Diving in the BVI has great variety. Colorful easy reef dives, eerie wrecks like the RMS Rhone and The Chikuzen, and also impressively large geologically significant granite boulders as seen ashore at the island's most loved attraction, The Baths. Heading under the water in this volcanic archipelago is like taking a plunge into prehistoric times.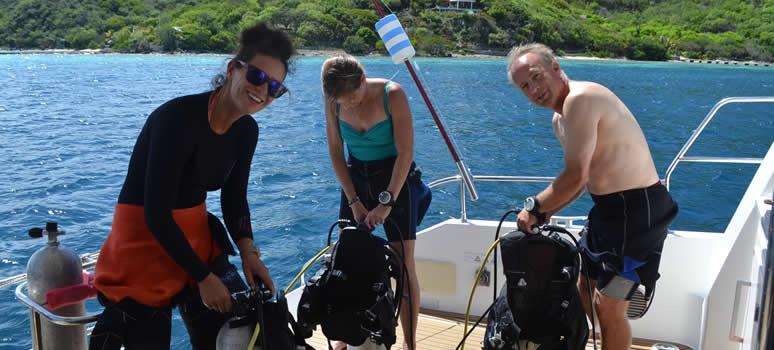 The island's enormous rounded underwater boulders and towering sheer rock faces form caves and corridors revealing crevices to explore. Often home to huge schools of tightly packed fish moving as one, swim through colourful coral encrusted passageways bordered by gently swaying fans bathed in shards of natural sunlight. These year round warm waters are plentiful with turtles, rays, and barracudas as well as smaller delights such as sea horses and colorful trunkfish. Watch the Caribbean current breathe life into the reef through the rhythmic swinging soft corals, graceful dancing of sea grasses and the scuttle and tumble of inquisitive sea life. Whatever enchants you under the sea, the balmy green-blue water of the BVI has much to offer the novice and seasoned diver.
On a Moorings Crewed yacht charter you can expect a professional crew, your meal prepared to your personal preferences, and expert advice on where to go and what to do given your party's interests and needs. The service provided is five-star and includes three restaurant-standard meals a day, turndowns, linen changes, and a fully stocked bar. It's a fully inclusive cruising experience and no sailing skills are necessary. Add diving to this amazing, relaxing vacation and you'll be further immersed in all of the true delights the BVI has to offer.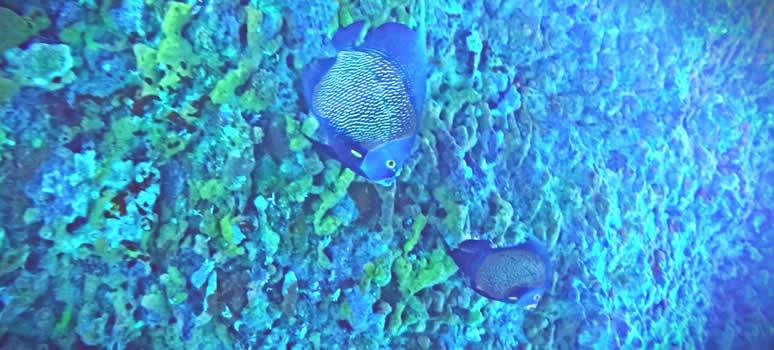 Follow us on Instagram! @diveyacht_themoorings
Guest blog by Captain Anna Orchard, Poseidon's Pearl
Contact your Moorings Vacation Planner to discuss booking a diving Crewed yacht charter aboard Poseidon's Pearl. Dive packages are available for up to 6 dive certified guests wanting to do up to 6 dives a week. Dives are also offered on a pay-per-dive basis to give you maximum flexibility during your vacation.
Did you find this useful?